Your blog content is solid. You have an established readership.
But at the end of the day you're not pulling in enough new leads.
Your boss is breathing down your neck, muttering things like "negative ROI."
Frustration sets in. Your call-to-action banners and click popups are exactly where the experts say they should be.
So why aren't you getting the results you need?
What if there was a way you could pounce on your leads when they least expect it and are most engaged?
It's time to get your ninja on. Follow this 3-step formula to find your blog's hidden potential and capture leads from within.
Strategy Brief
"A call-to-action can simply be a link within your blog post that provides more information on a given topic"– Rachel Sprung, HubSpot
The average person is served over 1,700 banner offers per month.
That's not to say banners at the top and bottom of your blog don't work. But they're far from unique.
There is another stronger way to generate leads from your blog.
The sneaky-but-ethical weapon you need is in-line blog offers.
When you hear call-to-action (CTA) you likely picture a big, colorful button that stands out from the background. But thats just one type.
An in-line CTA offer softly extends your relationship with your reader. It allows you to provide a prized content offer to readers at the exact time that they're engaged and interested. You can direct them to take an action and obtain your offer without interrupting their reading. If they're not interested, they can simply keep on reading. No intrusive graphics involved.
Helpful Analogy
It's like when you're half way through a race and you see a snack station up ahead. You don't necessarily need a banana or an energy bar, they're just additional offers to help you finish. Either way you're going to run the whole route. The snack station won't interrupt your run, but will give you an added bonus that may make the run more enjoyable. In-line CTAs are those additional offers. They're included to make your reader's experience better.
So where should you place offers in your next blog post? And what types of offers should you scatter throughout?
Whether you're a B2B blog or an Ecommerce blog, this guide has got you covered. We are going to use these Topshop and Kissmetrics posts as our two examples.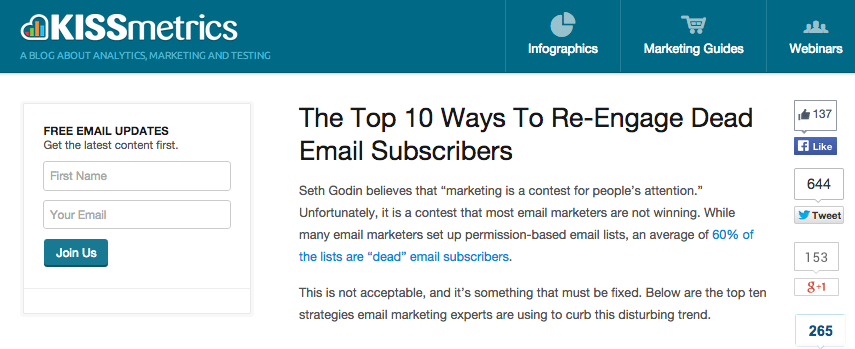 ---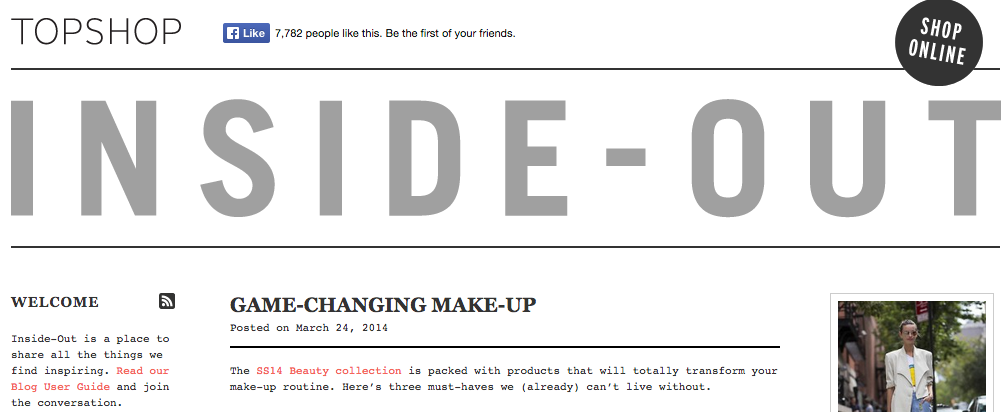 If you're a B2B business or an ecommerce business, follow along and learn…
Where to place in-line offers in your blog posts

The types of value-packed, relevant offers you can present

How to write call-to-action copy for your offers to convince readers to convert
1. Place In-Line CTAs At the End of Article Sections To Make Your Blog Post Flow
Imagine you're reading a fitness article in a magazine. At the end of the article it gives you a number of different exercises you can easily implement into your routine. Not only did you get fitness advice, but you're walking away with an enhanced workout plan.
The end of your blog article is the perfect place for an in-line CTA. The majority of people would love this type of offer. It's free content, it's valuable and it's related to the content they're reading and interested in.
Where You Should Be Placing Your In-Line CTAs
In-line offers are less interruptive than normal CTAs. You need to place them in parts of your post where they're relevant. Your text should flow smoothly from the idea of the paragraph to the in-line call-to-action.
When you place a specific, relevant offer at the end of a section, a reader is more likely to be interested and click. We believe the call-to-action should enhance a reader's blog experience with additional, intriguing content.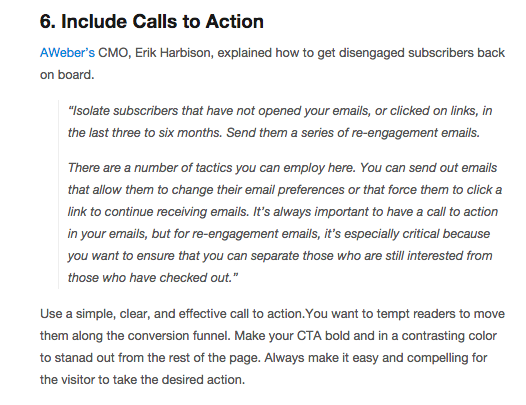 B2B Blog Post Example
This Kissmetrics blog post focuses on various ways to re-engage email subscribers. It is presented in a list format outlining 10 strategies readers can try.
This section "6. Include Calls to Action"is a great spot for Kissmetrics to generate new leads. They're giving best practices and tips about creating an effective call-to-action. But, the section is very brief and readers are not given any examples of what a good CTA looks like.
This makes it a great place to offer readers more. A solution would be to include an in-line offer of a formula pack of CTAs at the end of this article section. Including an in-line CTA at the end of this section expands the post without interrupting the reader.
Find locations for your in-line offers where external content will flow with the rest of the post.
Try and add offers:
When you're finishing an idea
At the end of a paragraph on a specific topic
After a bulleted list
These are all effective places to reach out to readers and offer them more value, at the right moment.
Where you place an in-line offer is crucial to your article and your conversion rate. Whether a potential lead says yes is all about the timing of the ask. Don't make your blog article choppy with CTAs aggressively placed throughout. Instead break up your content into cohesive sections. Find spots where you can easily transition between information and an offer. The key is to make your offer appealing without interrupting the reader's train of thought.
2. How to Create Relevant, Valuable Offers to Generate Conversions
Your business dictates the types of valuable and relevant content you should offer blog readers. A B2B blog should choose offers based on expertise while a B2C should focus their offers on products or services.
For example, you're reading this blog on generating leads from within your blog post and I hit you with a free ebook on a similar topic. Something like Wishpond's free ebook "A Simple Guide to Blogging for Business."
The more relevant the offer is to the content the person is reading, the higher the conversions will be. You want to give them something that they would value at that moment in time.
Helpful Analogy
Think of it as offering free cranberry sauce at the grocery store checkout right before Thanksgiving. While not always valued, customers would love this offer at this time, when their brain is in full on turkey mode.
Want to know 10 ways to generate leads for your business?
Get our free How-to Guide to Incentivizing Lead Generation here!
Ecommerce Blog Post Example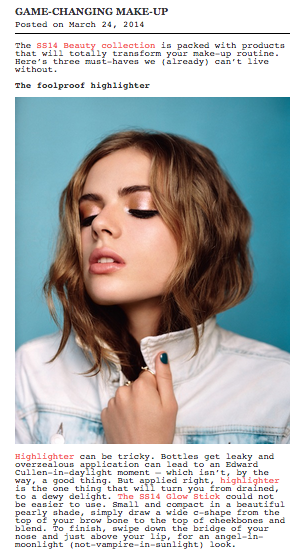 In this first section of this blog post, Topshop can offer readers a free how-to video on highlighter application.
Topshop has explained in text how to apply the SS14 Glow Stick in a couple of simple sentences. But, with a visual product like makeup, a video would more effectively show the application process. A downloadable video visually shows readers the exact steps to take, making them more likely to return to your blog for advice in the future.
If you're selling a product that requires some form of knowledge, a how-to video is engaging and often easier to grasp. In fact, videos increase people's understanding of your product or service by 74%.
Create a Kickass Video Using this step-by-step tutorial
Why are we so attracted to video content?
Viewers spend 100% more time on pages with videos on them. In addition, viewers are 144% more likely to purchase a product after watching a product video.
According to Susan Weinschenk, Ph.D., the Fusiform facial area of our brains are hard-wired to use the human face as a gathering point for information. Being presented with information while seeing the speaker makes it more believable. The sound of a human voice speaking also converts information into meaningful content. This makes video more effective in communicating ideas and the content more memorable to viewers.
Not a marketing blog or a clothing retailer? Here are some examples of in-line offers different businesses can incorporate:
B2C
Restaurant Blogs:
Recipe downloads
Additional Cooking Tip Guide
Video Demonstrations
Grocery Store Blogs (Whole Foods):
Nutritional calorie cutting tips
A guide for shopping gluten free
Family week meal plan download
Yoga Studio Blog:
Ebook with core-building poses
How-to juice cleanse download
Meditation tip guide
B2B
Sales Blog:
How to segment your email list guide
Ebook on customer acquisition
Customer retention best practices
Tech Blog:
Infographic on technology trends of 2013
Video explaining your latest update
Case study of a successful client
Financial Blog:
Risk management podcast download
Tax guide for your business
Financial advisory tips
3. Create an Enticing CTA that Encourages Readers to Click
Your call-to-action is an invitation for your reader to take another action. It drives engagement and drives readers to become leads.
An in-line CTA gives your readers an extra little boost when least expected. They're warmed up from reading and soaking in your information. Now you need persuasive text in your call-to-action to convince them to convert.
"You're not writing copy for visitors who would walk over hot coals to get your stuff. You are most often writing for people who are on the fence and who can be pulled over to your patch of grass with great messages." – Joanna Wiebe, Copyblogger
How to write an In-Line CTA
An in-line CTA and your typical CTA button are very different. While normally a CTA should stand out and grab your attention, you want an in-line ask to flow smoothly.
Your call-to-action needs to be consistent with your article section. The last thing you want to do is interrupt your reader's train of thought.
For example, rather than abrupt copy like "Get my Makeup Guide Now!" an in-line offer may say "Check out how Gisele Bündchen is using TopShop's latest makeup line!"
Ecommerce Blog Post Example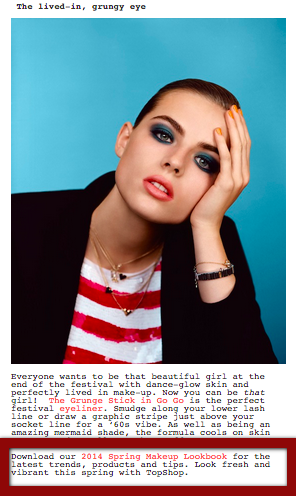 Example taken from the Topshop blog
CTA: Download our 2014 Spring Makeup Lookbook for the latest trends, products and tips. Look fresh and vibrant this spring with Topshop
This last section of the blog article discusses various ways to wear one of Topshop's eyeliner product. It is crucial that the CTA does not come across as too pushy or aggressive at the very end of the article.
The first sentence clearly explains what's in the Lookbook, and why readers should want to download it. The second serves to entice readers with an end result. Who wouldn't want to look fresh and vibrant this spring? A statement like this after your CTA makes readers more inclined to download the offer by persuading them with a desired goal.
This CTA flows with the rest of the section and is very relevant to a reader finishing the article.
**Pro Tip
When linking your blog text as your call-to-action, hyperlink any words that you would want used for SEO. By linking all of "2014 Spring Makeup Lookbook" this article will appear in more searches.
**Differences Between a CTA Button and an In-Line CTA
An in-line CTA isn't salesy. It doesn't stand out in bold colors. It's not in its own fancy little button. Instead, an in-line CTA subtly gives readers new ideas, advice and offers that they can use, ideally right away.
In-Line CTAs…
Flow with the rest of the blog text
Are specific and relevant to a certain section of the blog article
Look like ordinary text, but are linked to external resources, guides or videos
Are subtle prompts to engage readers further
CTA Buttons
Stand out from the blog text (usually in an encapsulated button)
Often more general, relating to the entire article
Stand out with bright, bold, contrasting colors
Are salesy offers or downloads
4. 5 In-Line Offer Examples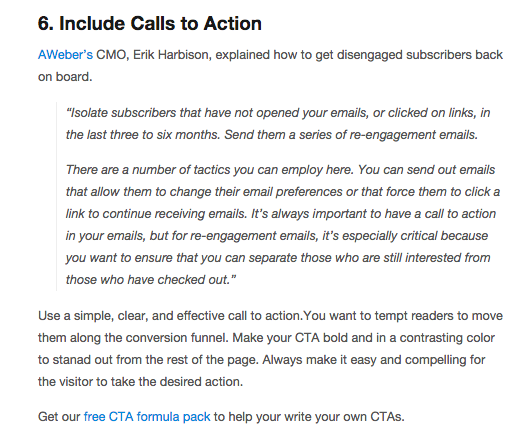 A formula pack is a small downloadable document containing formulas or ideas for readers to use in their own strategy. This type of offer extends the article by giving readers a bonus they can implement immediately.
The CTA makes it clear that downloading the offer is the logical next step to take if readers want to pursue what they've just learned. You've given them the formulas to easily implement the strategy.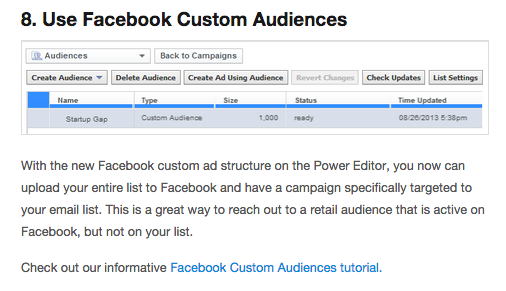 Offer: Facebook Custom Audiences Tutorial
Example CTA: Check out our informative tutorial on how to use Facebook Custom Audiences
A tutorial slideshow would be the perfect offer at the end of this section for readers who aren't necessarily familiar with all of Facebook's advanced tools. Kissmetrics is introducing a new idea in the article, with only four lines of text. A step-by-step tutorial explaining what the Facebook Custom Audience tool is and how they can use it would be very beneficial to readers. The CTA simply and smoothly offers readers more, but is not aggressive or in your face.
Offer: Free How-to Video on Highlighter Application
Example CTA: Get glowing. Watch our how-to video on highlighter application here!
This CTA entices readers by starting with the result they all want – glowing skin. This offer comes across as genuinely trying to help readers rather than a direct ask. It flows with the rest of the section and will get readers excited about learning more.
Offer: A Top Lip Tip Guide
Example CTA: Get more lippy advice with our free Top Lip Tip Guide.
A guide with what lip shades to wear with certain outfits or for different events is an added bonus readers wouldn't expect at the end of this section.
Using a catchy name for content like the "Top Lip Tip Guide" shows personality and is well-targeted at the audience of this article. By saying "lippy advice," this CTA is fun and enticing to female readers.
Offer: A Makeup Catalogue or Lookbook
Example CTA: Download our 2014 Spring Makeup Lookbook for the latest trends, products and tips. Look fresh and vibrant this spring with Topshop
Including a download of Topshop's spring makeup lookbook as a summarizing in-line offer in would wrap up this article, pulling the various sections together. It gives readers the chance to see new looks and products. This benefits the consumer by having various pieces of content and info in one download, while Topshop retains a loyal reader and customer for the future.
Conclusion
In-line offers are an elegant way to give readers more content and more value.
By adding in-line CTAs you'll gain new leads, loyal readers, and future customers.
It's time for you to start creating effective offers for your blog subscribers.
Use the resources below to help you generate more leads from within your blog posts.
– Written by Claire Grayston
Claire is a digital content marketer at Wishpond. When not racking her brain for new content, you'll find her hiking or snowboarding the local mountains or cozied up in bed watching a sappy rom-com..
wishpond