Very suddenly, Christmas is only a few weeks away. Are you ready?
The holidays are stressful, especially when you haven't even started your seasonal marketing strategy.
We thought we might be able to help.
In this seasonal marketing guide, we dive into the most important buying season of the year. Here's a three-part holiday strategy guide that gives you a user-friendly way to get your promotions out there and your customers engaged.
Ready to make this your most successful holiday season yet? Follow these Christmas promotion ideas for retail to maximize your sales this festive season
Strategy Briefing
"The sooner you start planning, the bigger the slice of the holiday pie you will receive" – John Hayes iContact Blog
Tis the season for your most profitable quarter. Shopify has found that certain retailers make over 40% of their annual income in this season alone. Clearly, Christmas marketing is important.
Getting started early means more time for your campaigns to run and more people clicking (and sharing) your offers. As John Hayes of iContact Blog says, "the sooner you start planning, the bigger the slice of the holiday pie you will receive."
If you don't have time to plan your own Christmas promotion strategy or want to try something new, this is the resource for you. Following this three-step guide will help you have your most successful holiday season yet.
Your Three-Step Holiday Marketing Strategy
We'll unpack three of the best Christmas marketing ideas for retailers. Follow these ideas when you create your holiday-themed marketing campaign, and you'll see a big difference in sales this Christmas season.
The three Christmas marketing ideas we'll cover are:
Create a holiday Pinterest contest to encourage people to visit and share your website and products
Create a Holiday Gift Guide so customers know what gifts they should purchase for their loved ones
Host a special week-long post-Christmas sale to get rid of overstocked products

1. Create a holiday Pinterest contest to encourage people to visit and share your website and products
"Shoppers from Pinterest are 10% more likely to make a purchase and the average order value is double the average order of customers from Facebook" – Shopify
62% of retail businesses utilize the "Pin It" button on their product pages. These pins drive more revenue to eCommerce stores than any other social share button. Pinterest users have a high buying intent, so it's important to maximize this social media channel for your Christmas marketing.
According to Shopify, "Shoppers from Pinterest are 10% more likely to make a purchase and the average order value is double the average order of customers from Facebook."
Pinterest works so well because it's like having an online closet. Instead of going to each page to create a look, items can be pinned and compared on the same page. For the holidays go beyond the closet and mix in holiday themes with the products they love.
Get your customers to create a holiday wishlist.
For example, create a contest where 12 pins are required and label it "[Your Company's Name]'s 12 days of Holiday Pins." Each entrant will be required to label their Pinterest board with the same title as your contest. Using Wishpond's Pinterest Contest tool, you can have entrants enter their board into a gallery on your Facebook Page or website, where people can view and vote on the entries. You can even build your following on Pinterest by requiring entrants to follow you.
Here's an example of a Pinterest Contest built using Wishpond's contest app.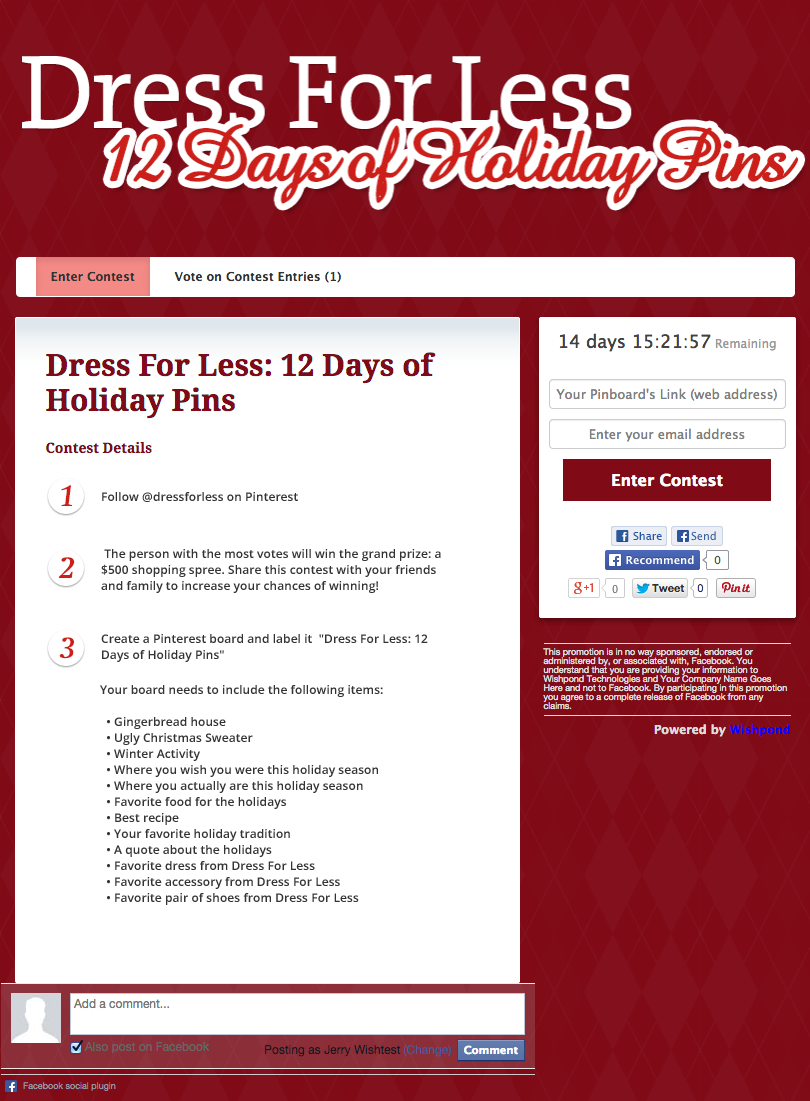 *The bottom three pins should be directly related to your business. For example, if you run a Travel Agency, ask entrants to pin their favorite summer, autumn, and spring destinations.

What should you offer as a prize?
Here are three Pinterest prize recommendations for your Christmas promotion:
A $250 gift card to your business, allowing people to make their wishlist a reality
An exclusive product that won't be available to anyone else until the new year
A time-limited discount code, encouraging prize-winners to do their holiday shopping with you
Give away a prize that is both relevant to your business and valuable to your customers. Picking the right prize means the right people will enter. Giving away something unrelated to your business runs the risk of random people entering just to win the prize.
Start running your contest the day after Cyber Monday to reach the greatest amount of people for your Christmas-themed marketing campaign.
Promoting your contest
To increase the number of people who enter your contest you need to promote it. You can do this by emailing your current list of subscribers (to encourage previous customers to re-engage) and with Facebook ads (to encourage new customers during the holiday season).
Send out an email to your email list. I've given an example of an email you could send to your email list: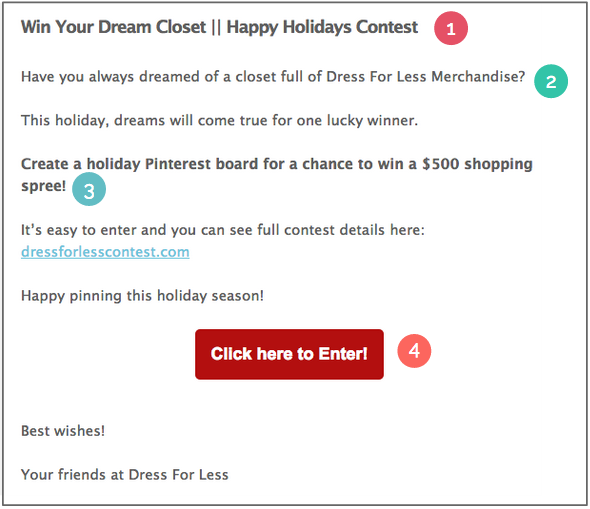 1- The subject line gets people excited about your Christmas-themed contest by revealing the grand prize.
2 – Once they open it keep them reading by asking a question they'll answer "yes" to. Who wouldn't want to win their dream closet?
3 – Describe what the contest entails and what they'll need to do to win.
4 – Reassure them that it's easy to enter when providing your call-to-action. This way they'll be more inclined to check it out.
To extend the reach of your Christmas contest, create a Facebook ad that targets people who use your products. Facebook ads allow you to target people who aren't familiar with your store. You have control as to how many people can potentially see your ad.
You only want people to enter your contest that would like and potentially buy your product. For example, including a 65-year-old man in your ad audience when your products are designed for twenty-something girls isn't going to work. Defining your audience will make sure your ad is seen by your target market exclusively.
2. Create a Holiday Gift Guide so customers know what gifts they should purchase for their loved ones
Once you've created – and promoted – your Pinterest contest, focus your attention on a holiday-themed gift guide.
Every year people are looking for the perfect gift but don't always know what to give. Help alleviate holiday stress by offering your chosen market a holiday gift guide. Offering gift solutions will increase the chances of shoppers buying from you instead of your competition.
This is one of the most essential Christmas marketing ideas to boost your sales and increase engagement.
By simply posting gift ideas on social media and linking this to your online store, retailers can attract a lot more holiday shopping.
3 Types of Holiday Gift Guides
Target Niche Markets by featuring your products in alternative holiday gift guides.
For example you could create a Christmas shopping gift guide like this one by Exclaim for the "Urban Hipster". Each product links to a different product website. This will help expand your reach and get your products out to niche markets.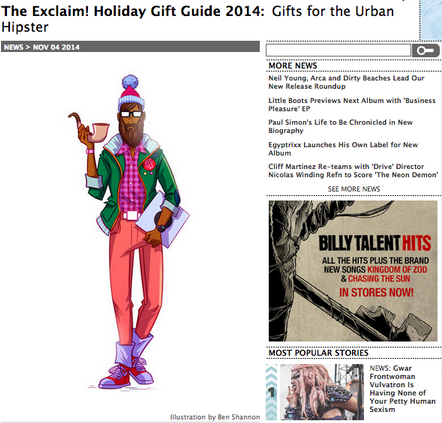 Create a Christmas shopping gift guide to buy gifts for loved ones
Here's a great example from Simply Southern Mom. In this guide, they have everything needed to get the best holiday gift for mom. They start with a one-lined quirky comment. "For those of us who love to cook, this cute cutting board made from non-porous wood fiber is great for meal prep or for serving appetizers at a party."
The person who is buying the gift knows a few things already from this description without having to read further. This gift is perfect for someone who loves to cook, who appreciates items that hold their value and who enjoys cooking for others. It helps create an image of how the person you're buying for would benefit from this gift.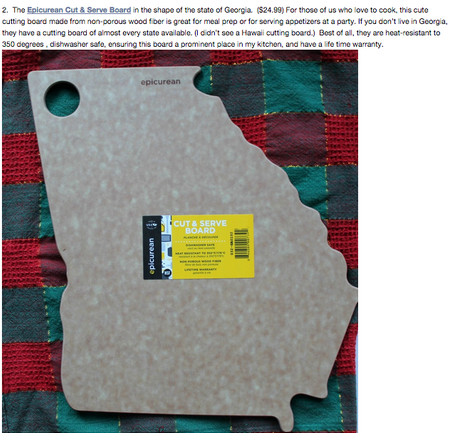 Create a Christmas gift guide to help buy gifts for acquaintances.
A Christmas gift guide could be your customer's solution for secret Santa. Now, instead of buying something random in the hopes that the awkward developer you've said two words to likes the same things you do you can get them something they might actually like.
There's nothing worse than giving someone a well-intentioned gift just to find out they hate it. Make your company the solution this holiday season. For example this holiday gift guide from Uncommongoods makes it easy to buy holiday gifts for anyone on your list. They give you "100 Ready-To-Gift Ideas" which make buying easy.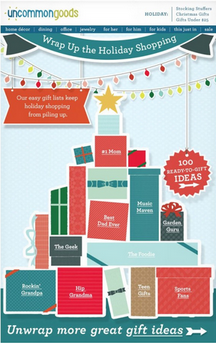 2 Ways to Create a Holiday Gift Guide
Inside your online store: Build a collection of different items for everyone on a Christmas-themed gift list. You can create separate pages on your website that host a collection of different products for every type of person in your target market.
Say that you were creating a holiday gift guide for guys who have no idea what to get their girlfriend for Christmas. Label your holiday gift guide "Don't know what to buy your girlfriend this Christmas?" and underneath provide a brief description of the type of person who will like these gifts. This makes it easy for buyers to browse all of your products and easily find what to buy the special people in their lives.
Your home page would show all of the relationships you've created gift ideas for. Once they open it, the person will see all of the gifts related to that relationship.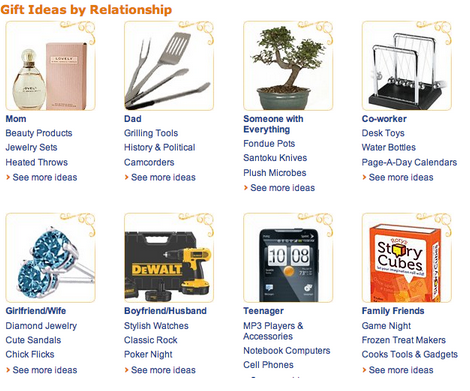 On your blog: Use your blog to create detailed holiday gift guides. In these guides you would include any images, descriptions and links to each of your products. This type of post would provide a more in-depth look into who each gift would be perfect for. It's easier to be more descriptive with each item rather than simply posting items into a set and putting a title on them. Now, instead of just posting the items that are perfect for a guy's girlfriend, you're able to say why it's perfect for them.
Free People is a clothing company that uses this idea. They pick different women, have them describe who they are and then say what they're wearing. This way people buying gifts for women will know which clothes to buy for which women in their lives.
Here's an example from the Free People blog: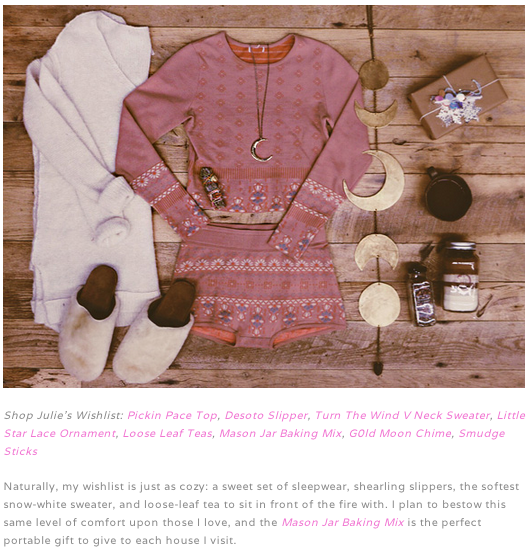 3. Host a special week-long post-Christmas sale to get rid of overstocked products
No matter how successful your holiday season was you're going to be left with overstock. It happens, don't stress. One week after Christmas you'll be diving in your money pool like Scrooge Mcduck. All you need to do is hold a week long post-Christmas sale.
I'm going to show you two simple ways to promote your sale to get people through checkout.
Promote your sale to email subscribers
Let subscribers know your post-holiday sale is on and describe the discounts and promotions you'll be featuring. Mention that you'll be having door-crasher specials for a different item each day – but don't tell them what it is.
It's their job to check it out. Send the email below on the day your sale starts. If you send it on Christmas chances are your possible customers will be busy with friends and family. Instead, send it when they're back at work and missing the holidays.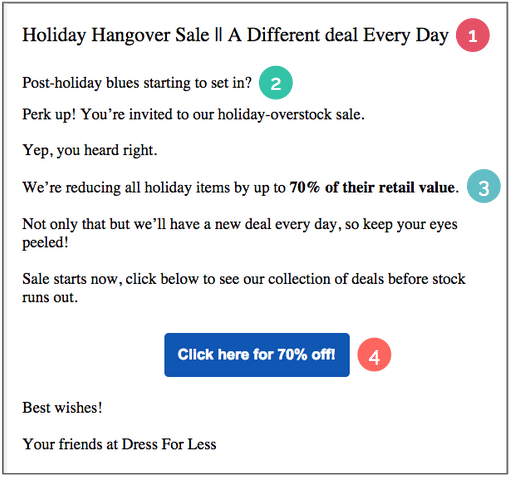 1 – We've all been there post-holiday. After the rush of the holiday season (even without drinks) you feel exhausted but it's still back to work. Using humor in your subject line will perk customers up and entice them to open your email.
2 – Start with a question to show that you understand how they're feeling, sad that the holidays are over. Respond below the question with a solution to their problem, your sale.
3 – Focus on an exact percentage value and use the highest percentage off. This is something that is easy to find while scanning an email. Make it bold so it stands out and it's super easy to find when someone is scanning.
4 – Have an easy-to-find call-to-action so they know when and where the sale is. Entice them to click now by using scarcity. Let them know that you only have limited supplies left. Creating a sense of urgency gets them to act now so they don't miss out on the best deals.
Use an entry popup to showcase a different deal each day of the sale
You can offer a:
Dollar discount – $10 dollars off all jewelry
Percentage discount – 40% off all kitchen appliances
A Buy One Get One offer – Buy a pair of shoes and get the second FREE!
On each day of the sale feature a different "door-crasher" prize on an entry popup. Your entry popup will be the first thing that people see before they visit your website. Visitors to your site will either click on the popup to receive the deal or exit out before continuing to the sale. This is good because it ensures people are seeing your deal.
On the popup you will feature a different item each day. For example, Day one – pants. Day two – shirts. Day three – shoes. Vary the type of deal you're offering them.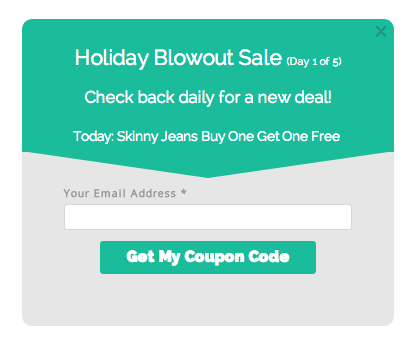 Keep the headline the same each day for consistency. The offer underneath the headline would change when the deal changes. Having the headline "Holiday Blowout: A Different Item Each Day!" will create momentum and get people coming back to check out the new deal.
Conclusion
So there you have it, three steps you can take to ensure a profitable holiday season. These Christmas marketing ideas may seem simple, but they'll help you reach loads more potential customers and increase your sales this festive season.
Hit your customers with the right Christmas marketing ideas, and it will end up being a very merry Christmas!
Get started now to sail smoothly to the new year.
Written by Samantha Mykyte
When Samantha isn't crushing content at Wishpond she performs with her burlesque troupe, casts spells in dungeons and dragons and enjoys baking and eating cookies.
wishpond