3 Steps to Turn Your Webinar One-Night Stand Into a Relationship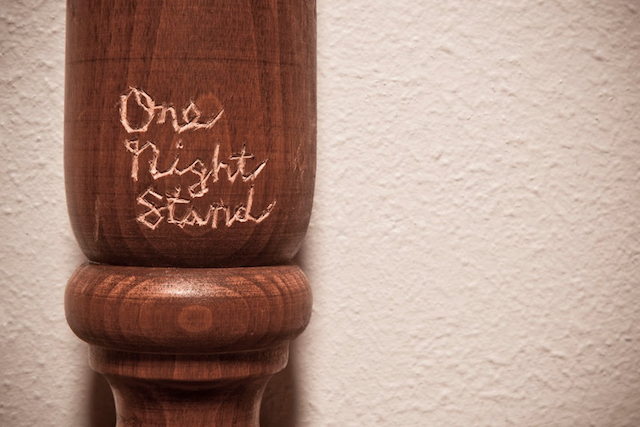 The end of your webinar is only the beginning.
Now it's time to nurture registrants and move them down your sales funnel.
But you don't have much time.
You need to strike while the iron's hot. Right after they gave you a big "yes" by registering for your webinar.
Otherwise, all of your work will be for nothing.
If only you had a great way to nurture them…..
Don't worry, it isn't difficult.
I've devised a fool-proof plan that almost guarantees registrants will move closer to a sale after your webinar - instead of just falling off altogether.
I'll show you, in 3 easy steps.
Strategy Briefing
58% of marketers cite getting registrants to attend their webinar as one of their biggest challenges. But what you need to understand is, webinars aren't always going to fit into everyone's schedule. The great part is, people actually like webinar recordings… Mathew Sweezy of Pardot conducted a study that asked 400 B2B marketers which type of webinar they preferred. Only 16% said they preferred the live event. The rest either didn't care if it was live or not or actually preferred to watch it at another time. No wonder Netflix is so popular…Why would you wait up to watch your favorite program when you know, next day (or anytime), you can watch it commercial free.
Don't forget that your ultimate goal is to turn registrants into customers. Don't focus on who did or didn't show up. Focus on what's important - developing your relationship with registrants after the webinar ends.
Through extensive testing over the past year we've determined the best way to nurture our highly qualified leads into customers. An optimized webinar replay page (see right) is the first step. Taking this page and smartly distributing it to the right people at the right time will win over leads for years to come.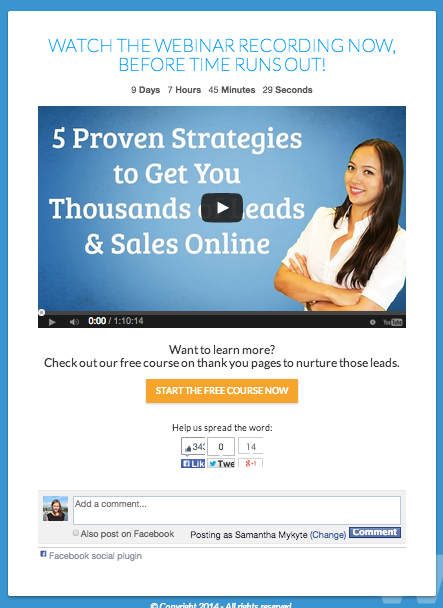 3-step post webinar follow- up strategy:
---
Create a webinar replay page that instills a sense of urgency and encourages visitors to complete another offer
Segment your registrants list and send out personalized emails
Nurture your leads further down the sales funnel using a video mini-course
1. Create a webinar replay page that instills a sense of urgency and encourages visitors to complete another offer
Your webinar replay page is a page that hosts your webinar recording. You don't need to describe in detail what the webinar is about on this replay page. This is because the only people who will see this page have been directed to it from an email-gated landing page or follow-up email
Create urgency on your webinar replay page to encourage people to watch as soon as possible.
The real question comes down to, how do we create urgency in a world that offers replays? Your webinar replay page is a replay. What is going to get them to click and watch now when they know there's an endless amount of opportunity to watch?
Use words like, "Now" or "Today" - there's no actual urgency with these words but it gives registrants a nudge to act now rather than later. You can use these words either in the title "Watch the replay of [Your Webinar Title] Now!" or in the CTA button "Watch the Replay Today!"
State when the webinar will be removed in the sub-title of the page. You can say "This webinar expires at [pick a date/time]" or "This webinar will be removed on [pick a date/time]." You're saying that, with all certainty that they can only watch it until a certain time.
Install a countdown timer - this way registrants can see the actual time that the webinar replay will be expiring.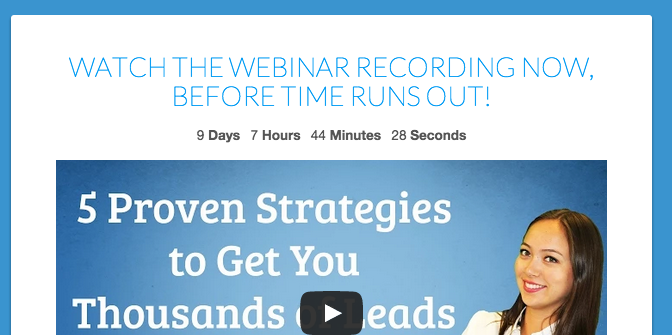 Urgency is displayed twice in the title with the word "now" and the phrase "before time runs out." It's reinforced a third time with the countdown timer.
Provide registrants with an additional offer to keep them engaged with your content:
Below the webinar replay video, you can place an additional content offer. This will give leads an easy next step to take, and keep them engaged with your content. The best type of content for people who like webinars is a video mini-course. You already know that the people who came to this page like learning by video otherwise they wouldn't of signed up to watch a webinar.
A video mini-course is a series of videos around one topic that are emailed to leads in parts over the course of several weeks. We will go into detail of how to set up and run your own video mini-course in section three of this article.
But for now lets see how to get people to click on your button to sign up for the course…

You want to give some insight into what your course will be about. This is done by asking the question "Want to learn more" and answering the question right away"

Formula Pack
Write a benefit statement above the call-to-action button to encourage visitors to signup for the course
"Check out our free course on [what the course is about] to [main benefit]"
It would look like this: Check out our free course on weeding to advance your gardening game
Or like this: Don't miss tips from leading industry experts - they'll show you how to create success in your business
Placement of call-to-action button
You need to place your call-to-action in a place that is easy to find - directly under the video. The more people that see your call-to-action the higher your click-through rate will be. This is simply a numbers game. If a person swipes right to every person on Tinder, no matter how unattractive they are they'll still eventually get a match. This is the same with your call-to-action. Having an easy to find call-to-action button should be top priority.
Include a Facebook comments box on your replay page
Add a Facebook comments box to the bottom of your webinar replay page. Facebook comments are like testimonials. They're giving you the credibility to "sell" your webinar recording without actually having to mention anything about it. This makes visitors more likely to trust you and know that your webinar recording is good.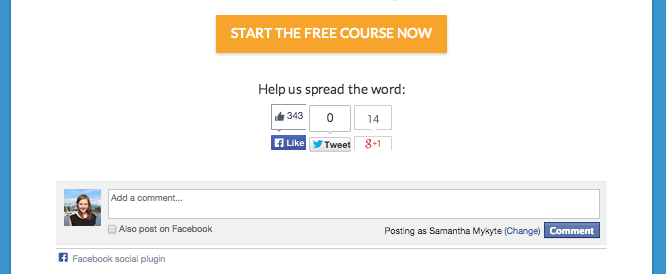 As you can see the call-to-action button is directly below the video with the button text, "Start my free course now." Located directly underneath are the social shares and Facebook comments box to get visitors intrigued.
2. Segment your registrants list and send out personalized emails
It's easy to be lazy and send out the same email to every registrant. But if you segment your emails they'll be more personalized and will resonate stronger with each recipient.
At Wishpond we segment attendees (for a 60-minute webinar) like this:
If they stayed for less than 20 minutes = did not attend
If they stayed for more than 20 minutes but less than 60 minutes = Attended but didn't stay till the end
If the attendee stayed 60 minutes or more = Attended the webinar
As Charles Gaudet of Predictable Profits says, "The more you segment your audience, the better your conversion will be." Segmenting your registrant list will help you see which registrants are already interested in your product, and which ones need a little more incentive.
Segmentation is like when you're picking people for your sports team. If you just throw everyone regardless of skill level onto the same team, it will be chaos. If you assess them beforehand, you will have a more competitive team.
Once the report is downloaded you can determine the most appropriate email to send by looking for the column "Time in Session." Note that if someone didn't attend your webinar it will be blank. The duration of time spent in webinar versus the length of your webinar will determine which category they fall into. See above for how we segment ours at Wishpond.
Based on attendance, webinar registrants should receive one of three emails. They all contain similar information but are worded differently.
Registered and didn't attend
---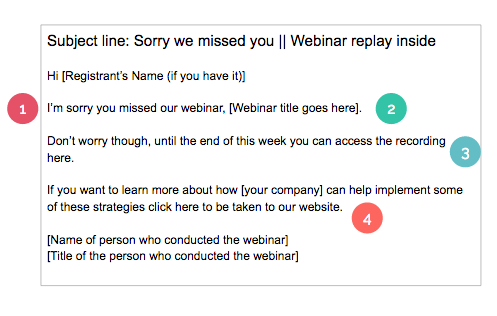 1 - Always start your email with the recipient's name if you have it. This adds a personal touch and can make the person feel like less of number on a list.
2 - Reintroduce the recipient to the title of your webinar to refresh their memory. They may have signed up as a registrant and forgotten all about it.
3 - To encourage them to watch the recording now you need to create urgency. You can do this by using the phrase "until the end of this week" as we did or another urgency statement of your choice. Using an urgency statement encourages the recipient to watch it now instead of simply downloading it to their computer. If they download it, it may be forgotten about.
4 - Make sure you always link back to your website or product page but remember you don't want to come across as spammy or salesy. Make sure you phrase your promotional sentence in a supportive way that shows how you can help them. As Justin Premick of Aweber says, "you're not the hero, your customers are."
Registered but left before the end
---
You need to start by thanking registrants for coming but letting them know you noticed that they left early. It's playing on that guilty feeling people get when they try and sneak out of something early, but get caught. The thing is you're not just trying to make them feel guilty, you do genuinely care and want to make sure they don't miss out on the value of your webinar.
It's like when you and your friend go to the movies but they leave before the end. Maybe they thought it was too boring, or it wasn't for them. But it was awesome - they just didn't make it to the good part. It comes out on DVD and it's your job to convince your friend to watch it.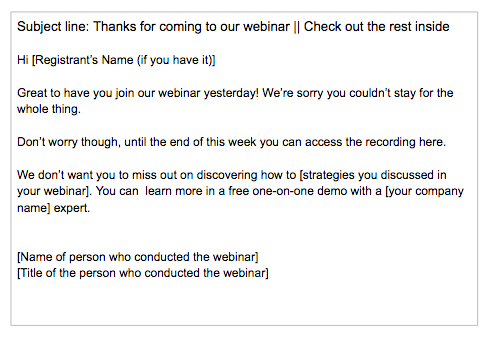 You should send this email to registrants who attended your webinar but left early
Registered and stayed until the end
---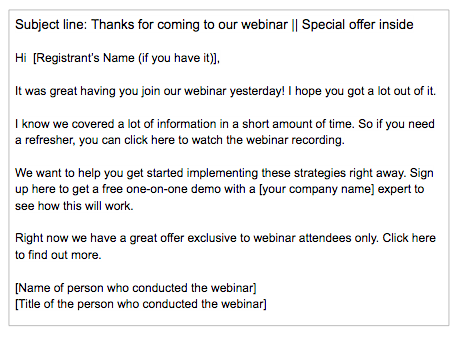 You should send this email to registrants who did not attend your webinar
You change the tone in this email to more aggressively push the sale. No longer do you need to convince them that they missed out on something. They were there and this is your chance to help them accomplish what they were looking to achieve by attending the webinar.
Since you know they're already interested in what you have to say show them how to get your products. Do this by linking them to an expert who will give them a free demo of your products. You can also offer them an exclusive link that will take them to your pricing page. You would add this link at the end where it says "Click here to find out more".
3. Nurture your highly qualified leads further down the sales funnel using a video mini-course
A video mini-course is a series of short educational videos related to a broader topic. Every few days a new video lesson is sent out. There are two structures - you can either create a series that builds on the same idea each week or a series of videos that stand alone from each other but are related to the broader topic.
Creating a mini-course
Lowe's created a six lesson video mini-course that helps viewers build a deck.
Each lesson focused on a different part of building the deck from planning to completion.
In each video the speaker recaps the last lesson and introduces what will be learned next.
With this type of video series, the person watching can't reasonably expect to build a deck without watching all of the videos.
This means the viewer will have to watch the entire series to get the benefit.
At Wishpond we have a course on Advanced Lead Generation.
Although all of the lessons are related to generating leads they don't build on each other.
Currently the topics for our 5-part series are exit popups, ebook download page, thank you page, click popups and a webinar registration page.
A person could theoretically watch one of the lessons and start to generate leads right away.
However, to get the full benefit of the course (and maximize their lead generation) they would need to watch all of the lessons.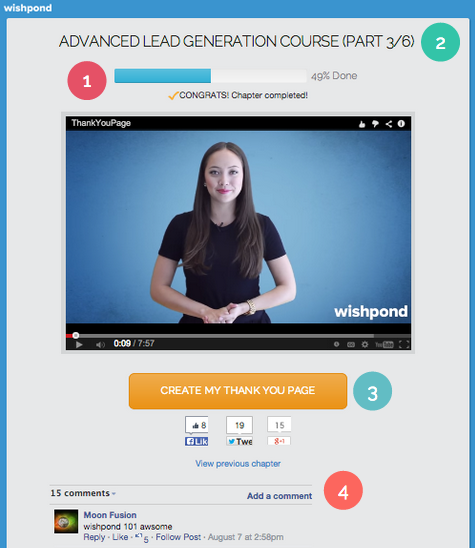 1 - We let viewers know how far along they are in the course in three ways. We let them know which video they are in - "Part 3/6" and how far along they are with "49% done" and the bar. This gives them a sense of completion after each part and achievement at the end (something which increases the chance of them engaging with each).
2 - The title "Advanced Lead Generation Course" is the overarching title for the video mini-series. If you simply put the title of each lesson at the top then people might not get that it's part of a course.
3 - The call-to-action button is to take action on the video content - which is how to build a Thank You Page This links directly to our platform's sign up page.
4 - There are social share buttons and a facebook comments section directly below the call-to-action button. The share numbers and comments will carry on each week as part of the series.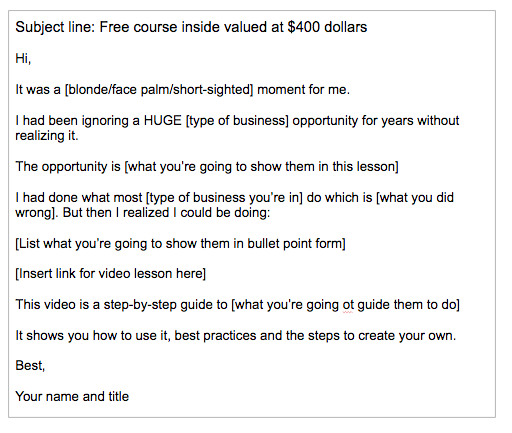 Send this email out for each part of the course
What should go in my email?
It starts with the Homer Simpson "Doh" moment. Or for those of you unfamiliar with the Simpsons, "how could I have been such a idiot?"
Next, it makes the word "huge" stand out through capitalization. Using this word in this way subtly applies 'huge' throughout the sentence. Meaning the words carry more weight.
So far, you've played on the readers fears that they're not equipped enough to deal with a massive problem. Thats when you hit them with a solution.
The solution may seem overwhelming at first glance. Some people might not even know anything about the solution. This is when you break it down for them. Show at an overview what they'll be learning in a few key points.
Once you've shown them what you'll deliver you're primed to strike with your video. You've established that there's a problem, you've given them a solution and you're presenting it to them on a silver platter.
Conclusion
An optimized webinar replay page and follow up strategy will keep you rocking in the free world. You can use these tips when marketing your courses or using a video conference tool.
- Written by Samantha Mykyte
When Samantha isn't crushing content at Wishpond she performs with her burlesque troupe, casts spells in dungeons and dragons and enjoys baking and eating cookies.