Hook Them With the Look: Creating A Lookbook In Google Slides
Your customers love your products.
They're stylish and affordable, and your brand is beginning to gain real traction.
But how can you keep customers coming back for more and stay top-of-mind? With so many different marketing messages surrounding the average ecommerce customer, it's hard to stand out.
What if there were a way to excite customers and entice them to learn more about what you have to offer?
Step above the competition and keep customers hooked on you.
It's time to showcase your business in a new visually appealing way.
---
Strategy Briefing
---
Coupon codes and contests are great ways to keep customers engaged with your business.
But in reality, they can only go so far.
It's time to take your relationship a step further with the new ecommerce offer for 2014: The Lookbook.
A lookbook is a collection of photographs compiled to promote a particular product or product line. It's a visually appealing way to inspire your customers to buy your products.
Think of a lookbook as a way to creatively guide the purchase decisions of your customer base.
"Unlike a catalog, a lookbook is not meant to sell the clothing, it's meant to excite a viewer about a product, entice them to check out the store, website or learn more about the brand." - Anthony Thurston, SLR Lounge
I know it sounds daunting. But it's actually incredibly simple to create a beautiful lookbook using our secret weapon: Google Slides.
Follow along and discover….
Why a lookbook is crucial to your marketing strategy
Examples of effective lookbooks you can emulate
The various pages to include in your lookbook
A step-by-step guide to building your own lookbook page
What is A Lookbook?
---
A lookbook is a collection of products on your website or inside a downloadable file. While originally used explicitly by fashion designers and students, lookbooks have now surfaced as an enticing way for ecommerce retailers to showcase their products and brand.
"It's what many designers [and stores] put together to convey their vision for their brand and what they're planning for the coming season" - Sean Low, The Business of Being Creative
A lookbook can be used as a lead generation offer, a social media content download, or as a way to nurture existing customers and remain at the forefront of their minds.
Why do lookbooks make great pieces of content?
---
Lookbooks are a form of effective brand storytelling.
Use it as a way to entice potential leads to opt-in. You're giving them a solid piece of content to guide their fashion strategy in return for an email address. It engages them with your products without coming across as too salesy. It allows them to see the latest trends and outfit combinations that they can try out this season.
Use it as a way to nurture existing leads or customers. Giving them additional content builds your relationship. It's free, valuable to your target audience, and helps you stand out from your competition.
You can make different lookbooks based on seasons or your customers' purchases. For example, if your customer recently bought a sundress, you can send them the summer lookbook with similar looks.
Don't stop at just one. Lookbooks are great content that are easy to create and update. You can create one for each look, season and occasion. Make a lookbook as trends or styles change to keep your leads and customers in the loop with your brand.



Psychology of the Lookbook
---
Shopping is a sense-heavy activity. As an ecommerce business, you miss out on the visual and tactile experience of being able to try on clothes and match certain items to create a stylish ensemble. As Paco Underhill, the author of "Why We Buy" says "A sensual shopper is engaged in the pleasure and excitement associated with choosing the products one buys."
A lookbook entices shoppers by giving back some of that experience. While you cannot touch or try on the clothing, it nonetheless creates visual appeal.
Show Your Brand Personality
---
Make sure you breathe your brand's personality into your lookbook. For example, below we have examples of images in lookbooks from Forever 21 (left) and Mac Cosmetics (right).





We can instantly tell the difference in brand personality between these two lookbook snapshots. Forever 21 has shot this lookbook with a youthful and fun theme. The images are light and friendly based on the models positioning and how they wear the clothes. This also fits with their brand persona. Forever 21 sells fun, flirty clothing targeted at the typical North American young adult.
The Mac example uses heavy makeup and models displaying sharp facial expressions. They're showing sophistication, elegance and poise to go along with their "Heirloom Mix" product line.This lookbook is consistent with Mac Cosmetics as a dramatic brand. Their brand persona as seen through advertisements and product promotions is makeup for the modern, sophisticated woman of any age or race who is willing to push boundaries.
A lookbook is your canvas to design. Use it as an outlet to show your style and viewers who you are and what you represent.
Examples to Guide Your Lookbook Strategy
---
A lookbook design allows you to create an environment that your target audience can relate to and see themselves in. While the majority of lookbooks are fashion focused, you can create a lookbook for anything! I have compiled 3 beautifully created examples to guide your lookbook strategy.
1. Urban Outfitters Home - Stepping into the home decor scene, this lookbook is artsy and creative in showcasing the wide array of products Urban Outfitters has.
The title page matches the "hippie-inspired home" theme and evokes a certain feeling to the viewer before they even look through the various pages.

The catchy title and informative subtitle hook viewers in from the start.

The products are set up and photographed in a realistic way so viewers actually feel like they know what the home is like.


2. Aldo Shoes- This 2013 spring lookbook from Aldo is youthful, fun, and bright.
The company has shown a lot of personality in their images by having the models in different poses in fun outfits that playfully showcase their newest women's shoe styles. From looking at the images you come to understand Aldo's products are very trendy and modern.
The sets for the photos are in line with the spring theme, bringing it all together into the perfect spring showcase of their products.



View Aldo's spring lookbook here!
*Burton- * Burton has a large variety of lookbooks because of their wide array of products. The Winter 2013 Lookbook features women's snowboard and casual wear products.
There are a wide variety of images including single shots, group shots, scenic shots and product focused shots.
In some of the images the Burton products are very subtle, while in others they're more prominent.
The lookbook is consistent with Burton's brand image allowing you to easily visualize the type of woman that Burton is targeting.
This lookbook in particular is very cool as it actually showcases real professional snowboarders as the models.



If you want to see more, check out the full lookbook.
What To Include In Your Lookbook
---
When creating a lookbook, there are various pages you need to include. It's like designing a portfolio to show your potential employer at an interview. You need to give your viewer some variety.
The pages you need to include:
1. An introduction page
---
Your introduction page should inform viewers of the theme of the lookbook. It will likely be the only page with text. This example from Burton is perfect. It explains what viewers are looking at, the "Winter 2013 Lookbook," but also displays an image relevant to the theme. This lookbook features pro female snowboarders and the intro page is the perfect place to let readers know that they will be appearing in the following pages.



2. A single photograph model page
---
Make sure your lookbook includes at least one page with a single photograph of a model, flaunting your products. These images from Burton each display multiple products from the company on a female who relates to the target audience in age and lifestyle.
This type of page allows female viewers to see matching items that they could wear together. It perfectly conveys the idea of the lookbook, guiding viewers' purchase decisions by letting them imagine themselves in the look. The photography also aligns with the winter theme, and viewers get a cozy feeling just by looking at these outfit choices. The pages are simple, making it easy to focus on the products being highlighted.



3. A product-focused shot
---
While a lookbook is not designed to sell, you do want to display your products in fun, appealing ways. You want to showcase what your brand offers and what viewers could buy from your site. These two examples from the Burton lookbook are great.
By not showing the model's full face (or not showing it at all) the viewer is drawn to the snowboarding products and apparel. The off-slope photo shows how Burton sells everything you could possibly need for the hill, while the snow shot displays the board and outfit in action on the hill. Don't be afraid to highlight your products. It won't come across as salesy, but rather gives viewers context of your products in use.



4. A group shot
---
If you're selling something like snowboards and clothing, a group shot can help to represent your brand and your target audience. It is by no means necessary for other product categories, but if possible give it a chance.
In the Burton example, the group shot showcases various outfits and equipment, and allows viewers to see what it would be like to be a female snowboarder on the hill with friends. If you are a female snowboarder, you can relate to the image. If not, it may empower or motivate you to go out with a couple of friends this winter.



---
As a female snowboarder myself, I can relate to this lookbook and would love to receive it as free content. It offers a variety of pages to really let viewers envision the products and keep Burton in mind as a lifestyle brand.
The placement of materials in the lookbook needs to be logical. It should tell a story that flows as the book is scrolled through. Each time the viewer looks at a new picture, it needs to be in the context of what was just looked through on the previous page as well as what they will see on the next.
Remember to include a variety of pages to keep viewers interested in your content. Enlist the help of a couple of friends or models to use in your photoshoots, and try to use natural poses in relation to your business.
How to Build A lookbook Page with Google Slides
---
One of the biggest reasons why more businesses don't offer lookbooks is that they don't believe they have the necessary design skills.
But now with Google Slides, the right photography and a couple of models, it's a breeze.
Google Slides is a free online tool that allows you to create presentations, similar to PowerPoint.
For this example, I am going to create these two lookbook pages for the company Urban Outfitters using Google Slides.





Let's get started:
Step 1. Go to Google.com/slides and login to your account or create a new account.
Step 2. Create a new Google Slide, and set the Theme and Dimensions for your Lookbook.
Inside your account, click "Create new presentation" and this will take you into the Presentation Creator. It will give you the option of what theme background you want for your presentation (lookbook).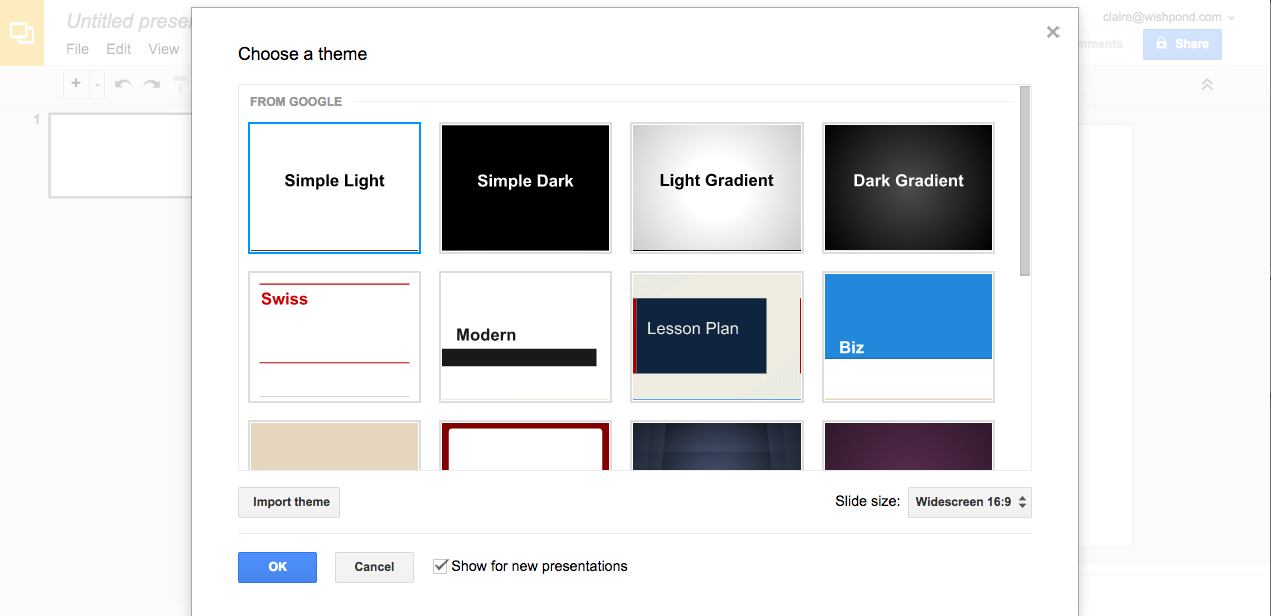 In my lookbook I am going to be displaying product images, so chose the basic "Simple Light" option. There are many different themes to choose from so you can choose the best color and layout for your brand and lookbook.
Now that you have your blank presentation, you can choose the dimensions for your lookbook. This may depend on if you want to do vertical photographs or horizontal, and how large you want it to be.
From the top toolbar, select File - Page Setup.
For my lookbook I'm going to choose to make it custom dimensions (6x4) to better fit with my photos.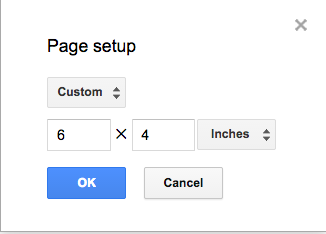 Step 3. Add photos
The most important part of your lookbook is of course the photography. To add photos, you can simply drag and drop them onto the Presentation Slides from your desktop.






Step 4. Add text
As the introduction page to my lookbook, I want to add a title and some text to this first slide.
From the toolbar at the top, select Insert - Text box, select where on the page you want to add it, and type in the title to tell viewers exactly what they're looking at.
I also chose to add some text beneath the title to give viewers an idea of what to expect from the Wanderlust clothing line.






We can preview how the lookbook will appear to our customers by clicking on the "Present" button in the top toolbar.



Step 5. Create additional pages
You can also choose to have multiple images on one page to present an outfit to viewers.
Arrange the images on the page and add borders if you want to clearly separate the items from one another (as seen below).





Step 6. Export the file
Once you are done adding new pages to your lookbook and have finished the design it's time to export the file.
From the toolbar at the top, click Edit - Download as - Powerpoint Presentation, PDF, PNG, etc.



Conclusion
---
A lookbook is a powerful visual marketing tool. Use it effectively to showcase who you are and engage with others.
It's time to start creating new, stylish content to keep leads and customers hooked on you.


Related Reading
Wishpond's Facebook Contest Apps make it easy to create sweepstakes, photo contests, Instagram hashtag contests & more.