7 Killer Thank You Page Examples & Ideas to Keep Visitors Engaged
Thank you pages are often the most under-utilized point of the sales funnel. I've seen so many businesses miss out on a perfect opportunity to engage with customers once they've completed their purchase.
Worse even, these businesses don't even know they're missing out. A sad tale, but thankfully you won't be one of them.
Just because a customer made a purchase doesn't your interaction with them has to end. They could be interested in a category of products related to the one they've just bought. Or maybe they might like the new editorial you've published in your magazine. These are all opportunities to continue the conversation with your customers and further develop your relationship.
In this article we're talking about thank you pages and why they're an important part of the sales funnel. I'll show you 7 killer thank you page examples and ideas to help you keep visitors engaged on your website.
Adding video to your next marketing campaign?
Create Thank You Pages in minutes designed to fit your needs with Wishpond. Click here to get started.
Why Are Thank You Pages Important?
---
Before I explain the 7 best ways to utilize your thank you page, I want to tell you why they're crucial for your business. For many businesses, the thank you page is at the bottom of the priority list. But those who think conversion is the end goal could not be more wrong. Conversion is really just the beginning of your relationship with your visitor.
The probability of selling to a new prospect is 5-20%. Meanwhile, the probability of selling to an existing lead is 60 – 70%.This shows the significance of selling to those who have already opted-in.
Tailor your page to your business to grab visitors' attention before they have the chance to leave. Too often I see thank you pages like the one below from Shopbop.com:
This page has nothing enticing me to continue shopping or to take another action. The text is small and generic, and the actions at the bottom are barely noticeable. The first time I saw this page I didn't even notice the newsletter signup in the bottom left or the "refer a friend" to the right.
Your thank you page is the perfect opportunity to cross-promote your products, tell visitors about promotions, or ask them for a social media share.
Say Thank You and Mean It
---
Your thank you message should be genuine and sincere. Ensure that your appreciation is a major feature on the page and try to be creative with your message to make it unique. Thank leads for the specific action they've taken to ensure them it isn't just a generic message. You may even add in their name to make it more personalized. An example of this from Charity:Water can be seen below:
By using the visitor's name "Heather," the page is more likely to grab her attention and give her an even more positive view of Charity: Water.
Now lets get started on the 7 ways you can utilize your thank you page!
1. Cross-Promote Related or Recommended Products
---
I'm sure that you've all seen product recommendations or suggested products when making an online purchase. A thank you page is the perfect place to cross-promote products similar to what your customer has just bought. Forever 21 does this in the example below by showing additional items the customer may enjoy at the bottom of their purchase confirmation page.
The customer has just made a purchase and is in a "yes" mood. By showing them more products they might like, you can lead them towards another immediate purchase on impulse.
You could also use this opportunity to show the most popular items on your site, in the hopes that your customer is influenced by social proof. You can have a small section like the Forever 21 example that instead states "Trending this week on Forever 21" with a couple of the top selling items of that week. If everyone else is buying a product, your customer may act on impulse and want to buy it too!
Cross-promoting isn't only effective for ecommerce sites. If visitors opt into an email campaign or download an ebook or article, you can suggest other materials or resources. An example of this can be seen below. By subscribing to the Kissmetrics blog, visitors are exposed to helpful infographics which may pique their interest.
Your thank you page is a great opportunity to continue selling to visitors. By displaying other products, services or resources that may catch their eye, you're increasing the chance of higher sales and more brand loyalty.
2. Ask Visitors to Subscribe to your Newsletter or Blog
---
Your thank you page is a great place to ask visitors to signup for your newsletter or blog. They are still in the conversion mindset and will be more willing to opt-in at this point in time. A blog or newsletter signup is a great tool to help keep your business fresh in visitors' minds, long after they've converted.
You never want to let an opportunity to grow your email list slip by. Giving visitors an opportunity to learn more from you in the future and gain exclusive deals is a great feature of a thank you page.
An example of a thank you page with a newsletter signup can be seen below: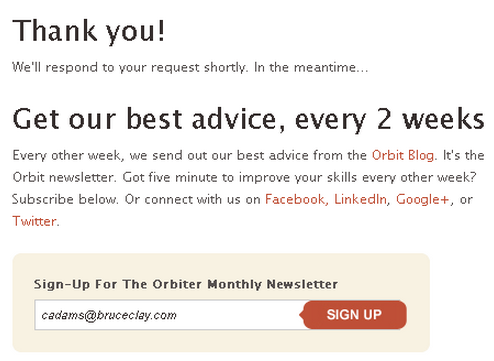 3. Ask Your Page Visitor to Create an Account
---
On an ecommerce site, asking a customer to create an account often leads to shopping cart abandonment. When you're in the process of picking out products, it's the last thing you want to do. But, once you've made your purchase and your order is confirmed you're in a different mindset. If a visitor is happy with their shopping experience and plans on returning, a thank you page is a great place to ask them to create an account.
By giving them this option after the purchase, it seems less pushy and is more effective. You can incentivize customers with promotional codes and exclusive deals like free shipping on all purchases once they're a member. Make sure you express the benefits of creating an account and how it will reduce time and effort the next time they want to make a purchase.
Give the customers what they want and let them make their purchase before asking for information in return. You will have a higher percentage of account signups by waiting until the thank you page to ask.
4. Give Visitors a Coupon or Discount
---
Use you thank you page to offer visitors a coupon or gift to show your appreciation. To the customer, this seems genuine and will make them want to purchase again in the future. However, this gift may actually benefit you more than them.
A coupon is a great way to drive sales. The visitor has just made a purchase or opted-in for content. The last thing they're thinking about is doing it all over again. By giving them a relevant offer that is time-bound, they feel inclined to grab this discount opportunity and purchase again immediately.
The Shutterfly example below is perfect.
Why does this promotional code work for this thank you page?
It's time bound (only lasts for a week)
It's a large enough discount to get customers interested
It's relevant to what the person just bought. They ordered pictures and now have 20% off anything on the site such as more prints, frames, a photo book etc.
Coupons and promotional codes help to steer customers back to your sales page and back down your sales funnel.
5. Ask for Feedback
---
A thank you page is also a great place to ask your page visitors about their experience. Since they've already opted in they have an opinion of your business and are a great source for feedback. You can ask them to leave a comment about how you're doing or what could be improved.
Asking for feedback on your thank you page allows you to spot issues that you may not even know about. You also get a non-biased perspective of how you can improve to better satisfy visitors' needs.
Below is a great example of asking for feedback on a thank you page. It's clear what Apple's asking you to do, but they don't ask in an aggressive or pushy way. They also focus the copy on the customer by saying "Let us know how to make your shopping experience better."
You can also ask customers to fill out a short survey about their experience. Most people are more than willing to answer a couple of questions about your business. Keep it short and simple so that visitors feel inclined to quickly fill it out.
Feedback and market research can help your business by gaining new insights into how you can improve. Use this page as an opportunity to listen to others and ask questions like how they discovered your business.
6. Eliminate Buyer's Remorse
---
It's crucial that your business' thank you page portrays a consistent image with your opt-in page. Ensure that you convey the same level of value by reinforcing your promise and stating what makes you unique.
The last thing you want is for visitors to experience buyer's remorse. And no, this isn't just an Ecommerce phenomenon. People do regret certain downloads and opt-ins in addition to purchases.
In order to prevent buyer's remorse, restate why your business is the best in its industry. We want to convince them that they've made a great decision so that they'll return in the future and become loyal customers. They've already converted, but we need to focus on the future rather than the past.
Lets use Dropbox as an example. When visitors download the storage and sharing application they could be directed to a page with the heading "Thank you for downloading Dropbox. It's time to simplify your life." By adding in one of their slogans to this heading they're reinforcing the value of their service, making visitors confident in their download decision. You should use your thank you page to show your brand personality. Be creative and memorable to reassure visitors that they've made a great choice.
Reinforce visitors' decision by providing social proof through customer testimonials. As humans we're programmed to trust the opinions of other people. Use testimonials from happy customers on your thank you page to reduce any post purchase dissonance or remorse. Seeing the opinions of real-life customers reduces any uncertainty visitors may have with your business and puts them at ease.
Testimonials (like Wishpond's below) are very effective in satisfying and comforting visitors.
Why would these testimonials work on a thank you page?
They're real people from real companies
They're very happy with Wishpond's services
They show proof of their success with specific numbers and figures
7. Ask For Social Shares
---
Last but not least, use your thank you page as an outlet for social media sharing. Visitors are still in that "yes" mindset, so now's the time to ask them to share you on Facebook, Twitter, Instagram, Pinterest, etc. Asking them to share you with their own social circles extends your reach and increases awareness.
If they downloaded free content such as an ebook or white paper, visitors will want their friends and family to know about this complimentary educational information.
You can also put the fun back in online shopping by allowing customers to show off their purchases to all of their friends. With the click of a "share" button, your product is exposed to tons of new potential customers.
One example of social sharing is using Pinterest to display clothing and cosmetics products. Women love using Pinterest as a discovery tool for the hottest beauty trends. Sephora noticed this and smartly integrated "Pin It" buttons into its thank you post-purchase page, as seen below.
Just one simple click separates Sephora from its products being shared on a Pinterest board, and potentially being exposed to thousands of people.
Social sharing buttons on your thank you page can greatly benefit your business. When used appropriately, customers will love to share their new products or content, exposing you to new opportunities.
Conclusion
---
A thank you page is the last impression visitors have of your business, so why waste this opportunity? Use this page to reinforce value, promote loyalty, and build relationships with engaged visitors.
Businesses focus all of their time and attention on their opt-in and sales pages, without realizing the value of a thank you page. Just because your conversion goal has been met doesn't mean that your work is done. In fact it's just the beginning. You're now on the relationship path with visitors looking for what to do next. Implement these thank you page methods to involve visitors and grow your sales.
If you want to learn more about thank you pages and post-conversion strategies, check out the following: