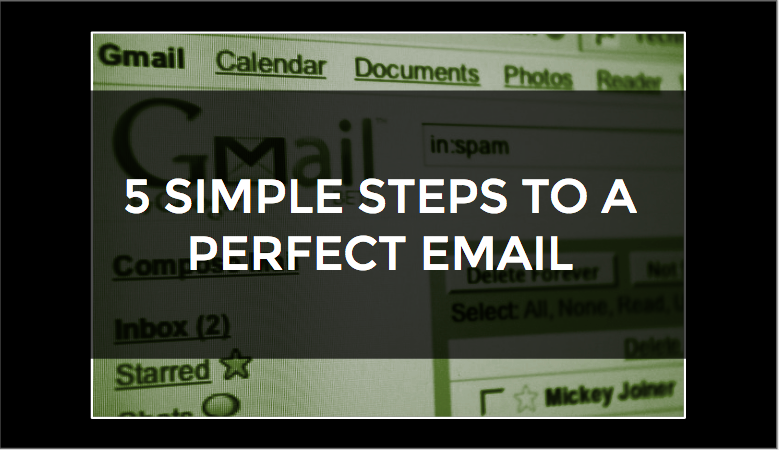 Wishpond is happy to be publishing this guest post from Cami Bird of LocalVox.
Businesses send out billions of emails every day. Out of those billions, only 7-25% of marketing emails are opened (on average) and that rate gets even smaller when we look at click-through rates (3-13%).
You have already created a highly-optimized landing page that is giving you new leads like nobody's business. However, how do you use your page to build the relationships you have with current customers? The answer is email marketing that uses call-to-action click-throughs to drive traffic back to your site.
Email marketing is one the most powerful tools a small business can use to turn casual prospects into paying customers. On average,businesses see over $40 in sales for every dollar invested in email marketing. And as your email list grows, your loyal customer base will too.
But, here's the tricky part. To make the most of your emails and send more traffic to your landing page, you'll need to have a great click-through rate. Read on for my recipe to success.
STEP 1: Define Your Call-to-Action
---
If you bombard a person with a thousand different questions, his or her most likely response will be a blank stare, as they don't know which to address first.
You want action, not a blank stare, and by defining your call-to-action before you start composing your email you'll be starting out on the right foot.
Just as your landing page has one clear action for prospective leads to take, your email should also have one clear action or direction to follow.
By retaining strong focus on your chosen CTA all the way from the subject line, to the body, and down to your footer, you create a unified message for your reader instead of mixed signals about the next step.
STEP 2: Draw Readers in with a Question
---
Questions are a proven method for engaging people and getting them to act. By adding a question mark to your subject line you intrigue recipients to open and read your email.
When thinking of the best questions to ask, refer back to your landing page and call-to-action:
What problem are you solving?
–
What are the specifics of your campaign?
How will your offer most benefit your customer – and why should they care?
Now turn the answers into engaging questions you could use to draw in recipients.
MacHeist Directorate is a computer store that delivers Mac-themed products at a discount to its online customers. One of their recent emails was about a new app they created to replace Apple's Mail app. To draw readers in while the email was still unopened in their inbox, MacHeist used the subject line "Sick of Apple's sucky Mail app?"
This email applies directly to their Mac customers and makes them wonder what MacHeist's solution to the Mail app problem would be, causing them to open the email to find out.
STEP 3: Twitter Emails: Keep it Short
---
We have entered an era of the 140 character Tweet and Buzzfeed-style list articles to engage readers. Keeping your emails short and to the point will keep your reader's attention and increase the likelihood that they click on your call-to-action.
You asked them a question in the subject line and now you have to answer it as quickly as possible while also enticing them to click-through to your landing page. No small feat, but not impossible.
In keeping with a 140 character Tweet, consider a Twitter-style email. This isn't an email sent via Twitter, but an email that conveys your message in as few words as possible. This will not only make your email easy to scan, but will make the focus that much more prominent.
STEP 4: Design to Inspire
---
For best results, mix steps three and four together. A short Twitter email may look like spam to a reader or simply bore him/her, but if you mix in design or imagery you will draw in your audience to your message.
Just like a landing page, you want your call-to-action to come across very clearly and be "above the fold" so that recipients clearly understand your message without having to scroll through an entire email.
The Dorothy Perkins promotional email (below) is a great example of clear messaging. I did not have to scroll far down to know what the promotion was for or to look at the style of clothing I may purchase – it was the first thing I saw when I opened the email.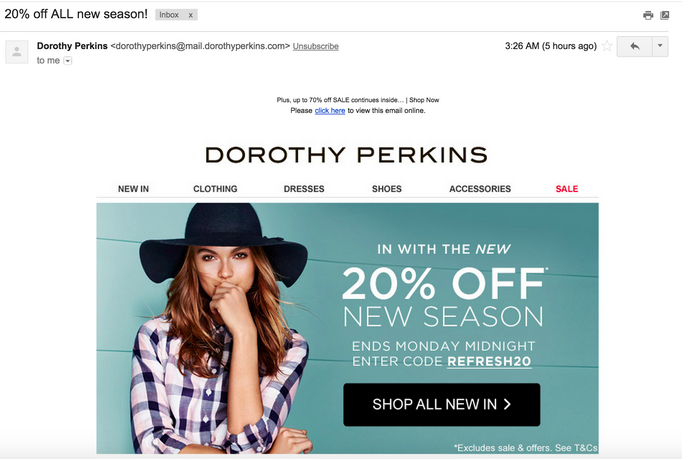 STEP 5: Make it Responsive
---
Imagine mixing together a batch of cookies and never baking them. Sure, cookie dough is tasty, but you still don't have cookies… only dough. Creating a kickass email (or email campaign) and then not making it responsive is like making cookie dough but not baking it: you've gone most of the way, and just stopped.
To get the most out of every email you send, make sure you incorporate responsive design so that readers across all devices (desktops, tablets, smartphones, etc.) have the best experience possible and see it as you intended. 53% of email opens occur on a mobile phone or tablet, making email responsiveness extremely important to the success of your campaigns.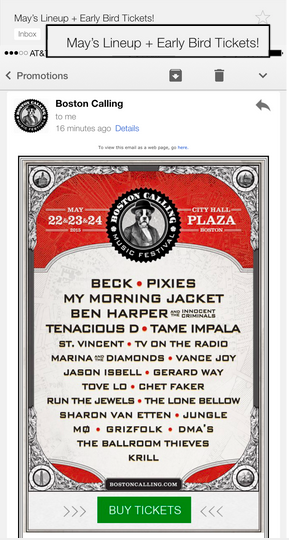 Don't stop at the dough! You already put in the hard work, you just need to format your email correctly.
Keep subject lines to 34 characters or less so they are displayed fully on mobile devices
–
Always include back up text for your images (also called alt-text) in case the device or email host can't load them (often times the image file name will appear for the alt-text, so if your email client doesn't provide a space for alt-text you can change the file name to match your message)
Keep image text large and clear so it can be read on any device
–
Have finger-clickable links
A good example of a responsive email can be seen to the left from music festival Boston Calling, as it follows all of these guidelines. The full subject line can be read on a mobile device; the image appears correctly and the "Buy Now" call-to-action button is easily clickable with a finger.
Conclusion
---
If  you have followed all these directions, you will have built an email primed for success! But don't stop there – ensure that you take advantage of best practices for the entirety of your email marketing campaigns.
How has this recipe worked for you? Let me know in the comments below!
---
– Written by Cami Bird
Cami is the Content and Partner Marketing Manager at LocalVox. She is an expert in social media engagement and inbound marketing and has a slight obsession with welsh corgis. Connect with Cami on Twitter.
wishpond