6 Things Your Recent Marketing Hire Doesn't Know (& How to Teach Them)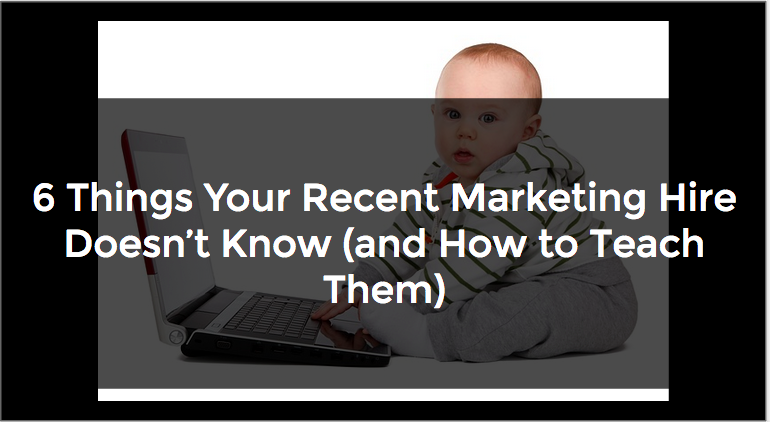 Like most other people in the world, when I graduated college last year with my marketing diploma in hand, I felt like someone was ripping the life preserver from my frantic, nervous grasp.
When I landed my job as a digital content marketer at Wishpond that nervousness only increased as I was forced to check into reality.
That reality was that while business school tries its best to prepare you for the real world, all universities, even the great ones, are behind the curve.
When you hire a junior marketer fresh out of school, there are a few things you should know… about what they don't know.
So what didn't I learn in business school? Let me give you a quick recap.
Here are six things your new graduate hire likely doesn't know (even though they may have claimed to in their interview):
1. Search Engine Optimization
---
One of the most important pieces of the digital marketing puzzle, yet severely under-taught in marketing lecture halls around the globe. I wish I had been given even just the basic knowledge of SEM; an introductory course on how keywords impact search results or how different terms on your website can attract customers and give you a better online ranking.
SEO is something all marketers would love to have on their resume in today's digital age but unfortunately you're going to need to give your new hire a crash course.
Top tip for getting your new hire off the ground:
Let them sit with your SEO team members and see how they optimize specific pages and decide what keywords to include. We also recommend Moz's Beginner Guide to SEO as a great place to start.
2. Analytics
---
In business school you spend a lot of time analyzing - whether it's the cultural differences of international markets or a company's financial statements. But as a student of marketing you never get the opportunity to actually learn how to use the important analytic platforms.
Google Analytics is a tool that marketers cannot live without, regardless of the industry they're in. And while there are online courses available out there, I know that all new graduates wish they had learned how to navigate within Google Analytics and interpret data before they dove into a data-driven marketing role.
So don't expect your recent marketing grad hire to know where to even start with the tool, let alone how to make strong, actionable insights from the raw data.
Top tip for getting your new hire off the ground:
Give your new hire a rundown of how your business uses Analytics and then let them run free in the platform. Have them note down their questions and answer them in a single session (rather than a constant back-and-forth).
3. Basic Coding and Design Skills
---
Your newest employee likely has little to no experience coding, adding styles to text, or designing anything above an Instagram post - let alone Photoshop. You never know when you're going to need to code an article or create banner images for your company's blog or website. I would've loved to have known this as a university student and been given the opportunity to learn even just the basics.
To tell the truth I wasn't even told that coding might be an asset to a marketing resume. So business professors (if you're listening) perhaps a little less time devoted to my killer spreadsheet skills and more to HTML and CSS? Your students will thank you.
Top tip for getting your new hire off the ground:
In the first week of work, give your new marketer the chance to complete Codecademy, a learn-to-code online workshop covering CSS, HTML and Javascript/JQuery. This will give your hire the opportunity to practice and gain knowledge so they're prepared for any task you may throw their way in the future.
4. Social Media Marketing and Social Ads
---
Chances are your new hire said they have knowledge of social media marketing, and that may be true. Social is one area where schools have tried to keep up by offering courses or teaching the basics of how a business can promote their business on social platforms. What they don't teach is how crucial it is that businesses be utilizing the right platforms to network, spread brand awareness and engage with clients. Nor do they teach the ins and outs of tracking social media.
Another element of social media is social advertising, something that I had virtually no knowledge of a year ago. Yes I had noticed the odd Facebook Ad here and there but I didn't realize the importance and effectiveness of advertising through Facebook, Twitter and LinkedIn. Social advertising is one area where all new marketers should do their research as it now makes up a large portion of the online ad landscape.
Top tip for getting your new hire off the ground:
Your newest employee will learn a ton, simply by allowing them to access your different platforms and see the analytics built into each one. If their role is content related, CMI's Facebook Ad Guide (by my colleague James Scherer) is a great resource to help them dive in headfirst.
5. Content Marketing
---
When I first began researching the online content communities I read over and over how crucial it was for businesses to be creating or curating content for lead generation. And now I realize the truth behind these statements. Content lets you educate readers, can be shared around the world instantly, and lets you have a conversation with your customers. You get to become an authority figure in your area of expertise, creating discussion and building a loyal following. And yet, there's no course that teaches students the importance of content in the online marketing world.
Ebooks, infographics, webinars, podcasts, industry reports - they're all content that web users love and that any member of the online marketing community needs to be familiar with.
Top tip for getting your new hire off the ground:
As far as content marketing goes, there's a huge amount of information to look to for inspiration. Let your new hire assist a senior employee in creating a piece of content from start to finish, and give them resources like Quicksprout's quick and dirty content snapshot. Taking a full day to read content from the Content Marketing Instituteis also a great way for them to get their feet wet and comfortable in the content world.
6. How to Write for the Web
---
The first thing I stumbled upon within days of starting out as an online content writer was writing style. People on the web are looking to scan content and gain information quick. I quickly learned that I had to remove words like "however" and "therefore" from my vocabulary, was faced with cutting my sentences in half and learned to hyperlink text to the source rather than making APA or MLA sources (thank the Lord). Turns out I'm not the only one who finds reading academic papers as cringeworthy as writing them.
Your junior marketer was never taught how to be open, transparent, and actually have a personality in their writing (in fact, we were taught the opposite).
Top tips for getting your new hire off the ground:
Introduce your business' style clearly and obviously. Show your new marketing member examples and ask them to create something in that style to show you for some constructive criticism.
Another idea is to prompt your new hire to find the one successful business blog that they enjoy reading and ask them to break down the 5-10 elements which they see repeated within it. Then have them present to you why they like it (this encourages them to think about the style of the content they read).
Conclusion
---
It's been a hell of a year. If I could tell myself a year ago what was in store I think 2014 Claire would be a tad overwhelmed. In reality the learning has only accelerated and I've discovered the whole other world of digital marketing that college only brushed the surface of.
My past 12 months as an online marketer have given me more applicable knowledge than 4 years of business school combined. From HTML and CSS to SEO, analytics, and Facebook Ads, working in digital and content marketing provides you with the opportunity to learn something new virtually every day.
What's something you didn't know when entering the industry?
- Written by Claire Grayston
Claire is a digital content marketer at Wishpond. When not racking her brain for new content, you'll find her hiking or snowboarding the local mountains or cozied up in bed watching a sappy rom-com..