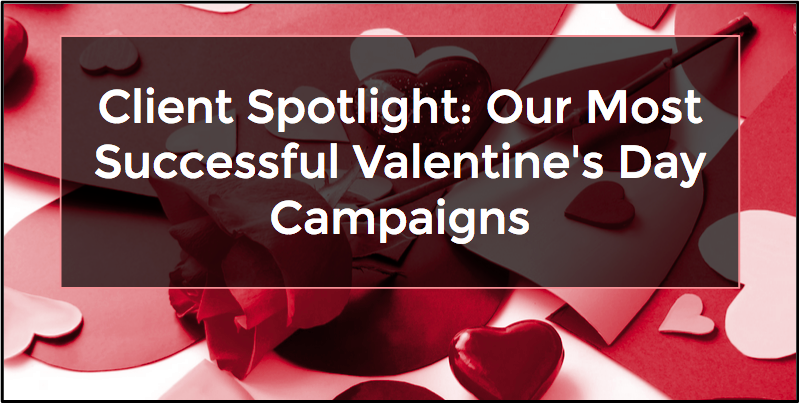 We have a lot of clients. Some of them find success quickly, easily, or serendipitously. Some have to fight tooth and nail for success, and some (whether because of external influences or internal) never find it at all.
One of the best ways we've found to encourage the success of struggling businesses is to show them how businesses like theirs have managed it.
So we took three clients of our most successful Valentine's Day promotions from 2014. These clients (there's no other way to say it) kicked ass.
Their conversion rates were awesome: 22%, 28% and 21%.
They generated huge numbers of emails: 965, 4,165, and 2,465.
They got 52, 32, and 64 comments.
Huge numbers, huge engagement, huge success.
And you can do it this Valentine's Day too (there's still time!)
Two weeks away from St Valentine's Day, we give you three of our most successful Valentine's Day promotions of 2014. So here they are, laying bare on a bed of rose petals for you to find inspiration and success with your own promotion.
Staub
---
Staub's Valentine's Day promotion yielded one of the highest conversion rates of any Wishpond promotion last year, with 28% of traffic to the page giving their email and entering to win.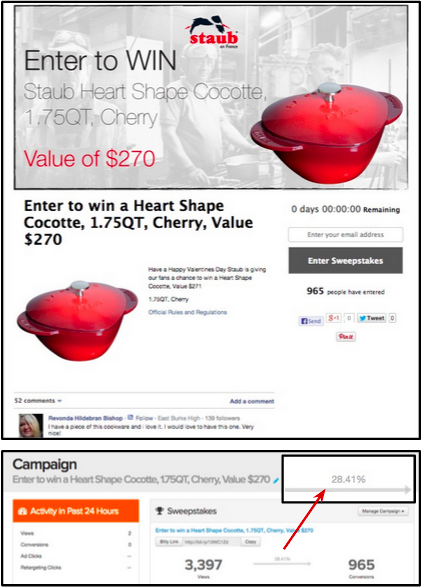 I love the Valentine's-related product here. Producing a limited amount of holiday or seasonal products can be a great way to generate buzz and increase the value of your products (by making them exclusive). A prize is far cooler if you have one of only 5 made.
How You Can Find the Same Success?
It goes without saying (for all three of the campaigns examined in this article) that a holiday-related promotion is a fantastic idea. Tap into what your Fans (or future Fans) are thinking about – whether that's The Super Bowl, Valentine's Day, St Patty's, April Fools Day etc. etc. etc.
Drawing attention to the dollar value of your prize is one of the most important best-practices we talk about constantly. Staub places it prominently (twice).
Putting time and energy into your promotion's header image is worth it in the long run, as it seriously sets you apart from competitors. We recommend 810 x 300px.
I mentioned above how cool it is to offer a product with limited availability or exclusivity. This can be done just as effectively with a product you're discontinuing (but did well), an invitation to a promotion you're only running once, or early-bird access to a product that hasn't been released yet.
MyJewelryBox.com
---
Our second business had their campaign managed by one of Wishpond's own customer success leads. This meant that (among other variables) the design of their page was done by one of Wishpond's in-house graphic designers.
We're also looking at a prize worth significantly more than most SMBs are prepared to dole out.
That said, a lot of the strategies implemented in MyJewelryBox's campaign can be emulated by your smaller business.
Let's take a look: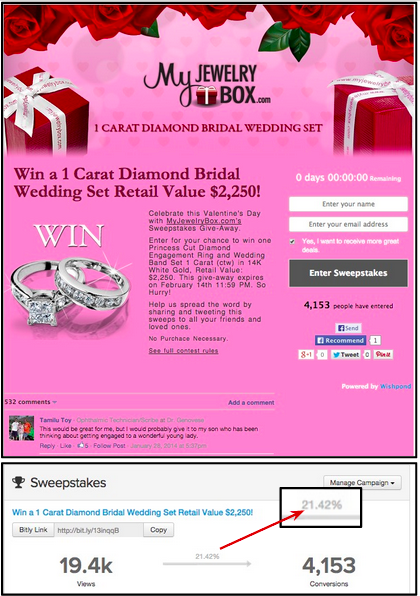 How can You Find the Same Success?
The value of MyJewelryBox's prize is prohibitive for most SMBs, but it doesn't mean something like it is out of the realm of possibility. Let's say you're running five promotional campaigns this year, consider running two with high-value prizes and three that keep you rolling. Consider timing all of your promotions to coincide with holidays or seasons.
MyJewerlyBox promoted their contest with Facebook ads Custom Audience targeting, meaning people who had bought from them before were contacted via Facebook Ad and prompted to re-engage. Many CRM systems have a segmenting capability where you can create a list of clients or customers who haven't bought (or engaged) with you in over two months. Importing this list of contacts and targeting them with a Facebook ad is a great way to regain their interest.
One of the chief lessons to learn from MyJewelryBox is that campaigns require commitment, and investment. The more time and effort you put into them, the better your results will be. I'm not saying you need to throw thousands and thousands of dollars into your promotion, but don't be surprised when a $25 gift certificate and a half hour of slapdash work doesn't yield the results you were aiming for.
HydroFlask
---
In February of last year, HydroFlask ran a referral contest, except better. There are huge benefits to referral contests (maximizing the number of entrants, for instance) but there is also a sizeable barrier to entry – making them awesome when they succeed and frustrating when they don't.
So HydroFlask set up a referral contest with a few extra incentives. Their breakdown read like this:
Throughout February 1 – 14th, we'll be giving red, white and pink Hydro Flasks away based on customer referrals. The more referrals made, the more Hydro Flasks we will give away!
Then they described a standard referral contest: enter your email address; enter the contest; receive a link with a unique code; share that code with your friends. When your friends sign up you get referral credit and win. Simple.
But then they added a little more:
Hydro Flask will also be Sharing the Love!
The top three people who rack up the most referrals by Feb. 14th will each win a Hydro Flask!
As we accumulate more and more referrals overall, we will increase the number of Hydro Flasks we give away randomly!
We will also do periodic, spontaneous giveaways on Facebook, so check the Hydro Flask page frequently!
Let's take a look at their promotion: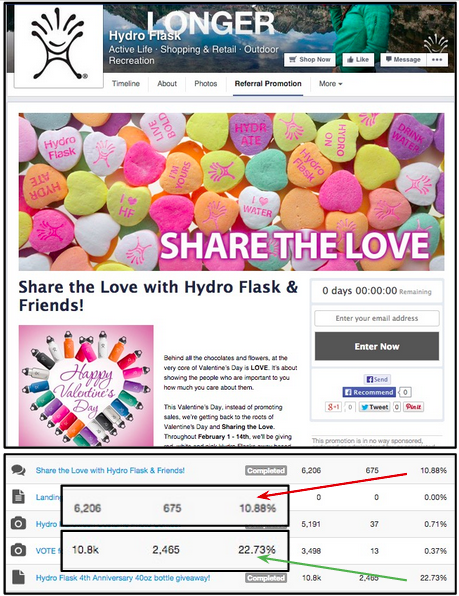 You can see from the dashboard shot that HydroFlask has run multiple campaigns. Two of these campaigns (the ones they spent time and energy on) converted in the double digits (10% for their Valentine's Day promotion and 22% for one later in the year). This is primarily due to three things: design, offer, and diligence.
HydroFlask put time and effort into multiple, appealing images, offered something related to their business which they knew people wanted, and diligently paid attention and updated their promotion throughout its runtime.
How can You Find the Same Success?
Implement random giveaways alongside your referral contest to incentivize initial engagement.
When you do a giveaway, be sure to post the random winner on the platform you want entrants most to interact with (your website or Facebook Page, for instance).
Incentivize referrals with a "as we get more successful, we'll give away more" type offer.
Related Articles
Conclusion
Half of marketing is creativity and innovation, the other half emulation. Be inspired by these three promotions and then bring your own skill-set and personality to the table.
Have you run a successful campaign? Why do you think it was successful? Or were you frustrated by your results? Get the conversation rolling (and let's see if we can't help each other out) in the comment section.
– Written by James Scherer
James is a content creator at Wishpond and author of The Complete Guide to Landing Pages (among others). When he's not writing or designing for Wishpond he's enjoying Vancouver breweries, ultimate frisbee and risking his life biking around the city.
wishpond