13 Essential Email Triggers to Personalize Lead Nurturing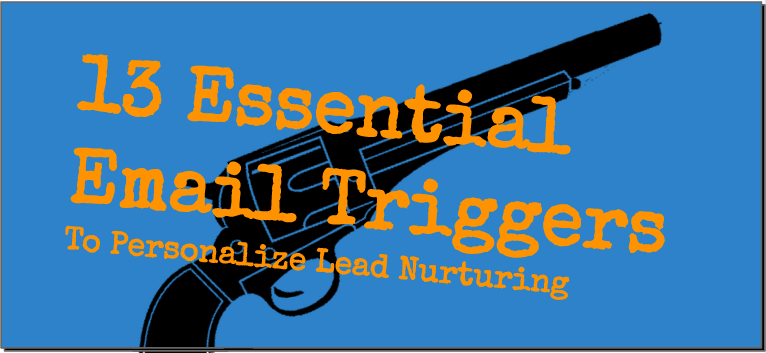 You've made the great decision to set up an automated email campaign.
But are you covering all of your bases with the appropriate triggers?
Are you sending the right emails at the right times to current and prospective customers?
Triggers are the best way to get specific emails to specific segments of people based on their behaviors, actions or stage of the sales funnel.
And the best part is that your system will do the work for you.
So what triggers should you include in your email marketing strategy? Let's find out!
1. Downloaded Educational Content
---
Your lead just downloaded your newest ebook, infographic or industry report, what better time than now to send them an email to say thanks?
Yes, you want to send your lead a confirmation of their download and the link to the PDF, but you should also take advantage of this opportunity to offer them other content, a demo request, or a free trial. Another option is to ask them to share the content with their network, increasing your campaign reach.
Whatever it may be, a call-to-action is a key component of your follow-up email. Now that you have their attention, don't waste it.
In the example below, the Content Marketing Institute chose to accompany their download email with a link to sign up for their educational bi-monthly magazine. This is the perfect real-life example of using a content download to promote another action.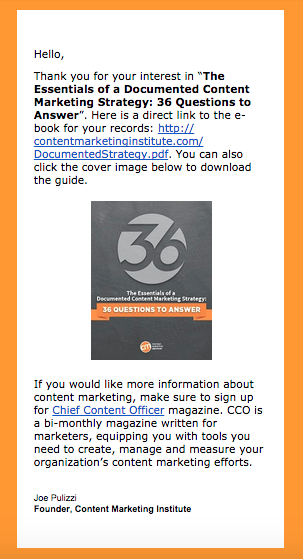 2. Clicked-Through your Email
---
If your subscriber clicks through and opens the link in your email, you know the topic interested them. Follow up with that individual using content related to that link.
For example, when subscribers open your email and click through on the included article link (say, "The Introductory Guide to Facebook Ads,") you should nurture those subscribers with a secondary article for the more advanced Facebook Ad user. Knowing what your subscriber has or hasn't read is a great indicator of what to send them going forward.
If you want to learn how to segment your email subscriber mailouts by opens, check out the walkthrough from Mailchimp.
3. Viewed a Specific Page of Your Blog or Website
---
If a lead views a specific webpage or article you know they are interested in specific topics or can infer that they may be in a particular industry (based on the content). Draw insights from the fact they are viewing or reading that page, and send emails based on those insights. You can do this in your email marketing platform by creating lists based on subscribers who visit specific URLs of your site.
For example if a lead viewed my article on real estate landing pages, I may send them the links to other real estate marketing articles on social media, and real estate lead generation.
Here's an example of a segment of our own contacts within our CRM who have viewed the Wishpond Pricing page at least once since signing up: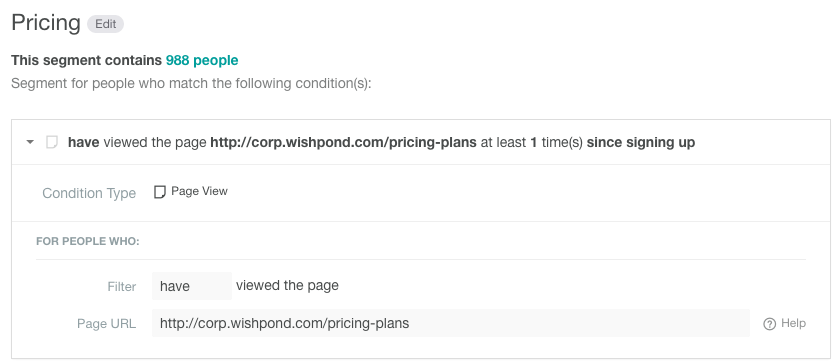 4. Has Been Highly Active
---
If you notice that a lead has recently viewed a lot of your content, downloaded multiple pieces of content, or been a frequent visitor to your blog, you can tell they have an increasing level of interest. Use this to your advantage by sending them an email with related content or tips you have in relation to their activity.
5. Has Been Highly Inactive
---
You've probably all received the signature "We miss you" email. In fact, I have an example below that I received from Starbucks.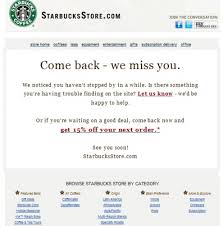 If your system discovers a lead has been inactive for a specific length of time (say six months), an email is the perfect way to re-engage with that individual. Perhaps your brand has slipped to the back of their mind and they're unaware of your current promotional campaigns.
A triggered email brings your business back to the top of their mind, reminding them that they're valued with a special offer, invitation or incentive.
6. Completed a Purchase
---
By now it's pretty customary to get an email as soon as your purchase is confirmed online.
However this is still an incredibly valuable email to send. The confirmation and thank you email is one of the most important trigger responses, signaling completion of purchase and offering more.
Those who have purchased before are 60-70% more likely to buy from you again, so use this email to encourage future purchases. One great way to do this is to include a discount or coupon code to get customers to make another purchase in the near future. You can also show other products that may interest or offer free shipping on their next purchase.
An example of a "thank you" email that does more from GoDaddy.com: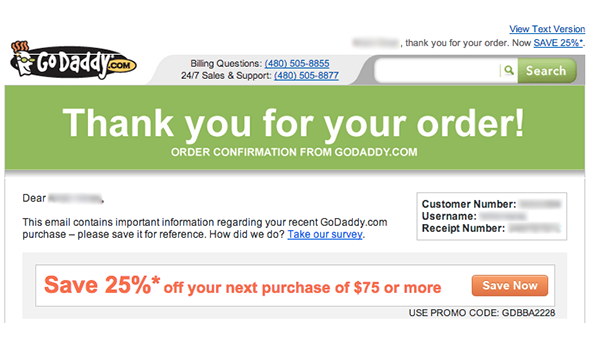 7. Signed Up for a Newsletter
---
Probably the most common automated email trigger, it's crucial that you send your latest newsletter subscriber an email straight off the bat. This email confirms their registration and is also the opportunity for them to get to know you a little bit better. You want to give your subscribers a brief overview of what they can expect from you.
My personal favorite is Groove HQ's newsletter signup email which lets each subscriber feel like they actually know the CEO Alex Turnbull.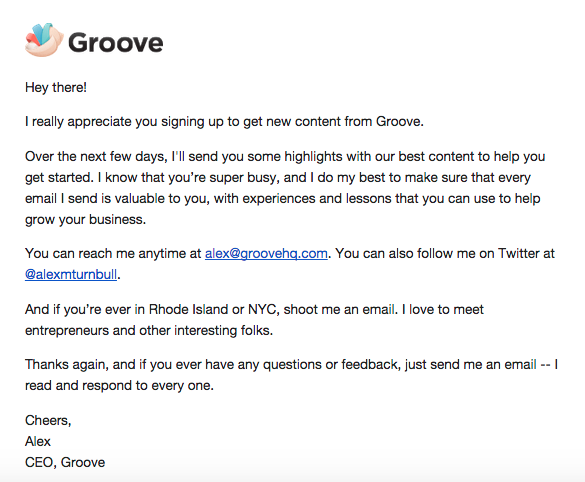 Taking this approach makes subscribers feel like they can trust you from the start and that you're actually interested in building a relationship with them, rather than just blasting their inbox with content.
8. Signed Up for a Free Trial
---
Within minutes of signing up for a free trial, your welcome email should be in the inbox of a new subscriber. Now is the time to thank them for signing up and give them a brief synopsis of how they can find success during the trial period.
An example template from Wishpond's own email marketing automation system.
Subject: Welcome to Wishpond!
Hi,
My name is [XXX] and I wanted to introduce myself and welcome you, officially, to [your company]!
The whole [your company] platform is built to help businesses like yours find success online. Everything we create we try to create simply and efficiently, and I'm confident we can achieve your goals (whatever that means for you) in the coming weeks and months.
Before we dive in, I'd love to get a little feedback from you: Why did you sign up for [your company]?
Knowing why you're here is hugely influential in making sure that we can deliver. Just reply to this email.
Over the next couple of weeks we'll also be sending you a few more emails to help you get maximum value from [your company]. We'll be sharing some tips, strategies, how-to's, and more. And of course I'll be checking in from time to time.
That said, if you ever need anything or have any questions about [your company's] software (or just want to chat) send me an email and we'll see what we can do.
One more time, Welcome!
Cheers,
[Your Name]
9. Abandoned their Shopping Cart
---
Sometimes people leave your ecommerce site with items still in their cart. It happens. But don't let them slip by without addressing it.
An email reminding them that they left items in their cart is a very effective sales recovery method. Often times customers just forget, the website crashes or they run out of time. What's the harm in sending an email to jog someone's memory, when the other option is leaving money on the table?
A great example of triggered abandonment emails can be seen below from sportswear company Altitude Sports: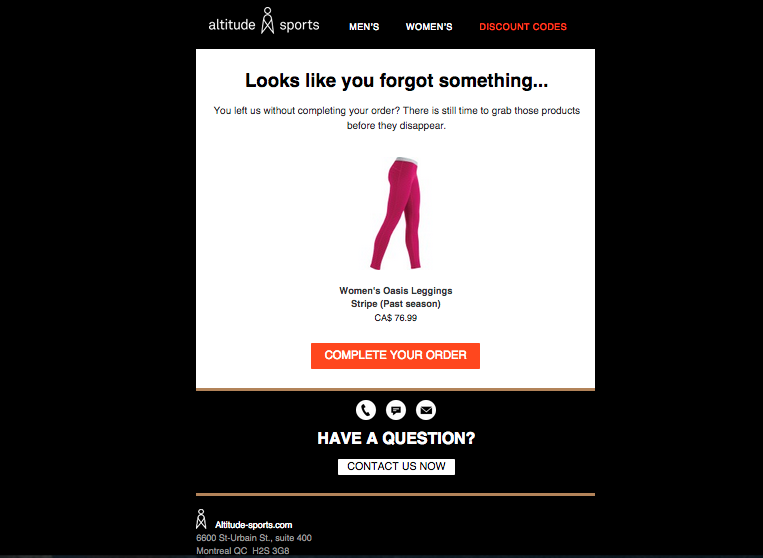 10. Registered for a Webinar
---
A webinar registration confirmation email is where you want to thank your registrants for signing up and give them more information about what to expect. Use this email as a way to convince them that attending will give them educational benefits they can't get anywhere else.
Give them a few teasers as to what they will be learning and actionable steps they can take to prepare for the big day. One example would be to attach a worksheet or fill-in-the blank document directly relevant to your webinar content, giving them a way to follow along. By showing them glimpses of what they will learn and involving them in the process, they also are incentivized to attend.
11. Attended a Webinar or Event
---
Now that the subscriber has actually attended your webinar or event, don't stop with the relationship building. Send them a follow-up triggered email to thank them for showing up and maintaining your presence in their mind. In this email you can include a link to the recording of the webinar or minutes from your event as well as links to related articles, videos or products.
Below is an email I received after attending Amy Porterfield's webinar on attracting more Facebook Fans. She genuinely thanks attendees for giving her their time and includes the link to the video recording and her downloadable slides. She has correctly utilized this email to continue engaging with attendees, providing them with more content relevant to their needs.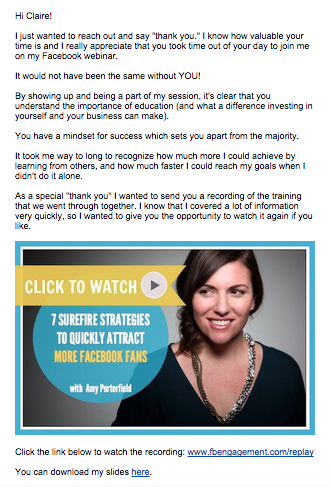 12. Viewed a Product on your Website
---
While similar to viewing a specific page on your website, it is possible to also send triggered emails when a customer looks at a product but then leaves that page. My coworker actually received this email from a sports retailer last week displaying the item she had been viewing before bouncing from the site. An email highlighting the product and showing its benefits gets potential buyers to reconsider making that purchase.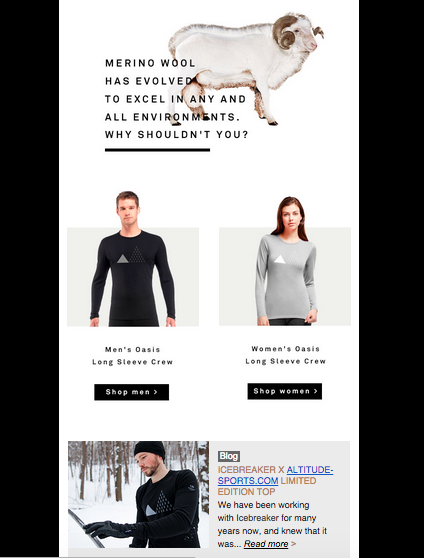 You can also use this opportunity to show similar products based on that product view.
13. Signed Up for a Product Demo
---
Registering for a product demonstration of your business is a clear sign of interest from potential customers. They're looking to gain more knowledge before fully committing themselves to you.
I recommend sending 2 triggered emails to your product demo signups. First, send one as soon as they choose a date and time, introducing yourself and explaining what they can expect to learn in your session. You may also choose to ask them for some more information about their business or situation so that you can be well-prepared in presenting the products in relation to their needs. At the same time you may ask them to prepare a list of questions to bring to the demo to be answered.
The second email should be sent 24 hours before the product demo, reminding them that you have an appointment scheduled and telling them that you're looking forward to meeting them soon.
These two triggered emails build the relationship with the potential customer (before actually having met) and helps both you and them to get the most value out of the demonstration.
Conclusion
---
Email triggers are the perfect solution to grab the attention of your leads' by supplying them with the right content at the right time. Are there any other behaviors or actions you are currently using in your email strategy?
Feel free to let me know in the comments section below!
- Written by Claire Grayston
Claire is a digital content marketer at Wishpond. When not racking her brain for new content, you'll find her hiking or snowboarding the local mountains.