13 Facebook Ads We Got That Were Right on the Money (and Why)
Let's jump right in. For the past few weeks the content team at Wishpond has been scanning our phones and desktops for the best Facebook Ads on our News Feeds.
We've been throwing them in a spreadsheet and I selected my favorite 13.
These Facebook Ads are good because of three primary factors: image, text and targeting.
I'll break down why these ads are awesome and, as marketing is half creativity and half emulation, you can take this analysis into your next ad campaign.
Facebook Ads I Received
---
1. Facebook Ad from WorldRemit.com
---
Right off the bat, I'm impressed with this targeting. I'm actually an ex-pat myself (from the Seattle area and living in Vancouver, Canada).
This advertiser has targeted expats in Canada whose language is English (US) - at least that's the only way I can think of doing this. While it's not a fool-proof targeting strategy, as there may be expats in Canada who speak US English but aren't from the US, it's pretty damn good.
I also like the image - a smiling guy around my age, and the simplicity of the value proposition (send them money in minutes and 0% fees on my first money transfer).
Rating (1-10): 10. This ad kicks ass.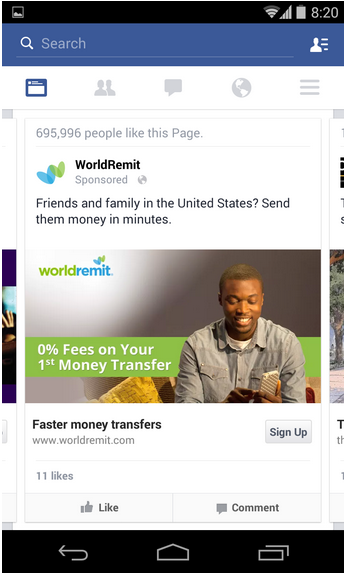 2. Facebook Ad from Market Meats
---
Timely and visually eye-catching, this ad is a winner. It only ran for the week before the Super Bowl (damn you New England) but did an excellent job of tapping into something their target market was thinking about.
I also like their hook "we have the meat covered", which avoids speaking just to the easy out (the traditional male football fan) and instead speaks to anybody getting ready for a stressful Super Bowl party. "Special Offer" is also an easy way to communicate value without taking up too much word count.
Rating: 9. I'd like a little more value, but the timeliness and visuals are awesome.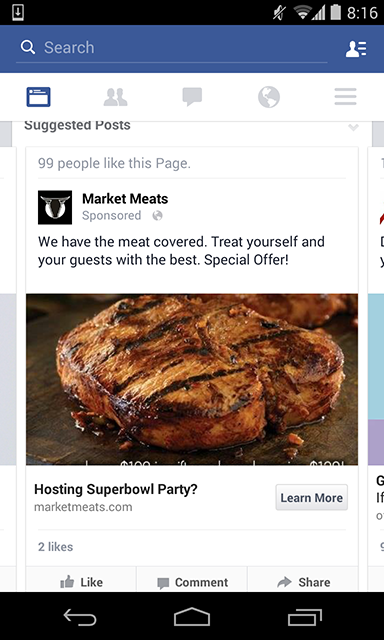 3. Facebook Ad from Royal Bank of Canada
---
Solid image and great communication of a value proposition (saving me time out of my busy schedule), RBC's Facebook Ad promoting their app is as good as it gets for a pretty un-sexy promotion.
The coolest thing about this for me is that I actually am an RBC client who has not yet downloaded their app. That said, I haven't Liked their page or any page associated with them, so I'm slightly concerned they have actually (though it worked for me) targeted a bit too widely here. It'd be interesting to see if they could improve their CTR by targeting the 840,000 Facebook users in Canada who have shown interest in their bank.
Rating: 8. Great image and USP. Wonder about the targeting.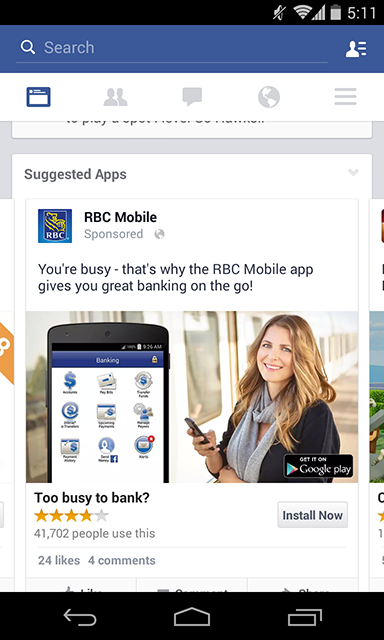 4. Facebook Ad from Socking Behavior
---
Visual and straight to the point, Socking Behavior's promotion implements the coupon strategy as well as I've recently seen.
First of all, I'm a guy who likes socks, so this targeting is a win for me. I love how visual this ad is, both because it catches my eye as I scroll down my newsfeed, but also because it sells their products. Something to wonder about is if Socking Behavior took into account my age and professional standing when they targeted this ad my way. These aren't socks for my grandfather, and nor are they socks for my unemployed 18-year old cousin. Socking Behavior (if they did it) will have saved themselves ad spend by targeting an employed 26-year old.
I also like the focus on percentage and "exclusive-to-Facebook" coupon code. Good value, right off the bat.
Rating: 9. Great image; great USP; great targeting (I hope!)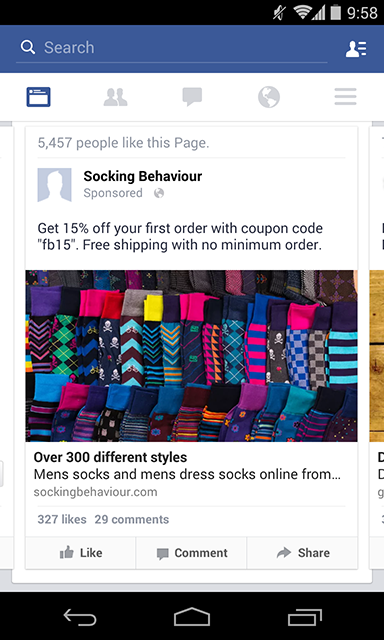 5. Facebook Ad from Wish - Shopping Made Fun
---
This ad's trying every angle:
Dollar values and percentages to give value
Orange and red colors to catch the eye
Exclusivity with "today"
Sale-oriented words like "clearance" and "trending"
Peer pressure with "50 million people shop on wish" (boom)
It's like this advertiser read my best practices articles and ran with everything I said.
Nice.
I hope this advertiser has created two ads within this ad set, one (this one with a male-oriented watch and headphones) and another for women with relevant products for them.
Rating: 10. Great colors; great value; solid use of ad best practices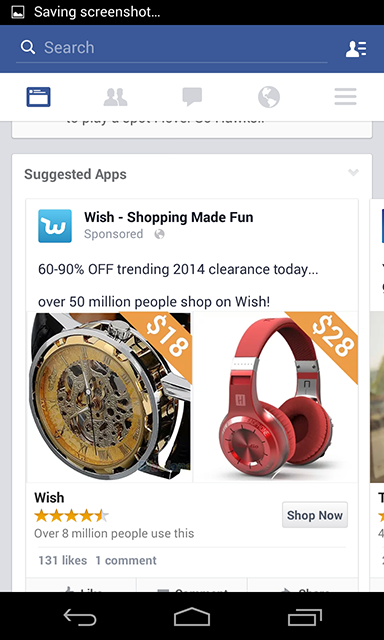 6. Facebook Ad from Yelp
---
This one really stood out for me. I love the first line, professional image and headline of Yelp's Facebook Ad.
I live in a big city, where a new restaurant is popping up every 7 seconds and you haven't gotten around to trying even 1 in 10 of the ones that already exist. A "FREE" app which "abolishes restaurant regret" (great hook, by the way) is appealing. I also love the copy in this ad ("we know just the place"): simple and to-the-point, but also relatable and doing a great job of relieving the stress out of finding a place to eat.
Rating: 10. Great copy first and foremost; visuals and targeting follow suit.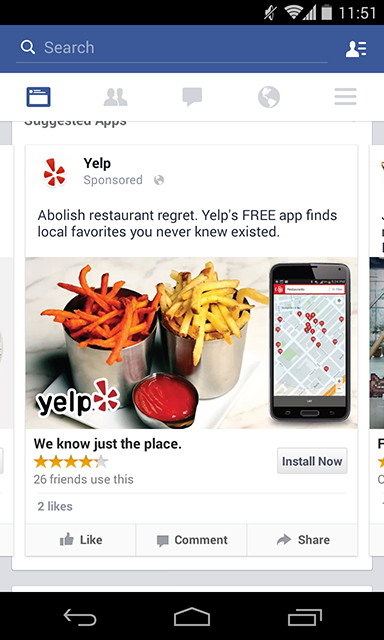 7. Facebook Ad from GoDaddy
---
Funny and smart, this ad is just one of several similar ads I've seen in the past month or so - all of them featuring a dejected businessman or family who would have been far better off (though they're standing outside a failed business in 1910) with a domain name.
Humor only works when you implement it well (as GoDaddy does on all their marketing fronts), but I also like that they've kept the standard best practices in mind with a green primary color and red hat (catching the eye of a Facebook user).
I also like that I'm seeing multiple iterations of this same message, indicating that GoDaddy is testing them against each other with the same target audience. Doing this gives them valuable information (about ad copy, design, and audience) that they can use on this campaign as well as all future campaigns.
Rating: 10. Solid humor; I like the testing aspect, and good use of best practices. I also like the value inherent in a dollar amount, and the CTA "Click the link to get started".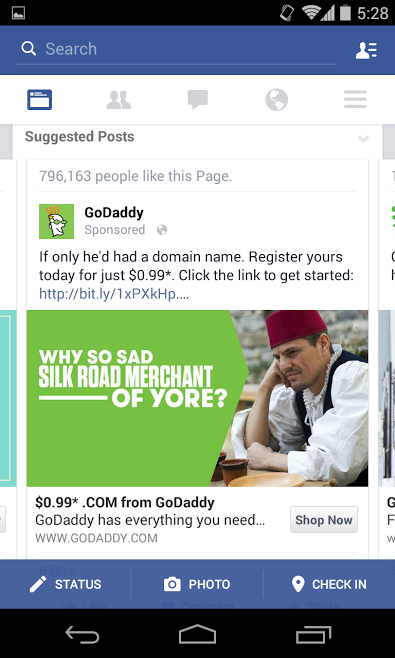 Facebook Ads Samantha Mykyte Received
---
8. Facebook Ad from SocialShopper
---
SocialShopper's Facebook ads are regularly well-done, and this is no exception. With an attractive model catching the eye and clear value communicated with both dollar signs and percentage off, I have no doubt this ad has a high click-through-rate among women.
I also like SocialShopper's use of the new CTA buttons on this Facebook ad: "shop now" tells people how to act clearly and visually. Also well executed is the use of exclusivity, both with that "now" in the CTA and the "limited time offer" in the body copy.
My only suggestion would be to change the color of the model's shirt to a dark green, purple or red so that it stands out more from the white background.
Rating: 9. Solid ad with great copy. Only improvement would be a more eye-catching primary color.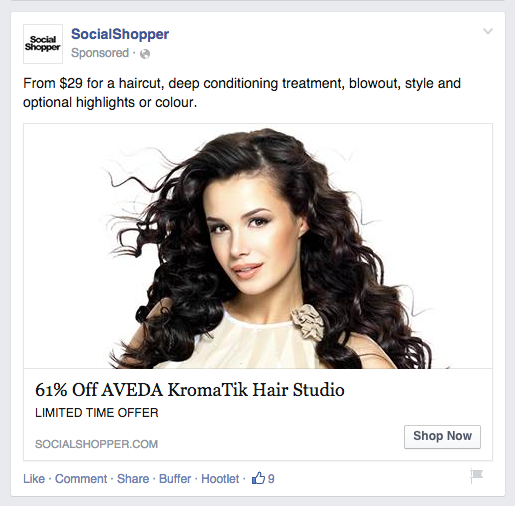 9. Facebook Ad from DotWriter.com
---
The targeting of this Facebook Ad is as good as it gets (despite the fact that Sam better not be looking to freelance). Sam is a content marketer (publically on her Facebook Page) and, despite what is likely a relatively small target audience, this advertiser is probably doing well with it.
The Facebook ad has solid ad copy, particularly as their target audience is likely more okay with the relatively large amount of text than others might be. The only issues I see are the less-than-compelling image and the small syntactical error (twice, there's a space between the last word of a line and the exclamation point) which would annoy most content marketers (or at least me…).
Rating: 8. Very well targeted. Image and syntax could use some work.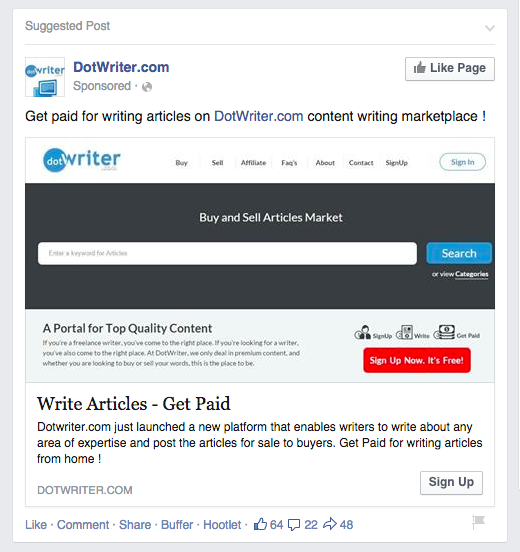 Facebook Ads Claire Grayston Received
---
10. Facebook Ad from Mudderella
---
Claire actually did the similar "Tough Mudder" last spring and was tagged in a photo "at" Tough Mudder (this qualifies her for "expressed interest in" under Interest targeting in the Facebook Ad Manager).
So this is really cool, as Mudderella (an organization similar to Tough Mudder focused on women only) has clearly targeted their Facebook ad at users in their competitor's networks.
I love this strategy, as it means Mudderella doesn't have to target based on ambiguous guesses like sports or fitness and can go right to the source (women associated with a competitor).
Rating: 10. Didn't mention the body copy (I love "STRONGER" in caps and the CTA "Start by rallying your team today") but it's great, as is the image. Really solid Facebook ad all around.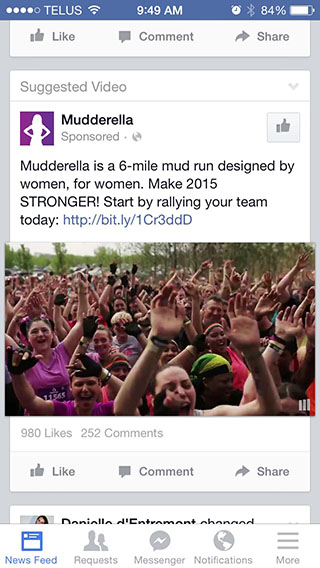 11. Facebook Ad from TurboTax Canada
---
What you may not be able to see in the image is that this is actually a video advertisement, featuring an "Every-woman" character stuffing shrimp into her purse. Both the humorous video and the line "Did you have to pay student loans last year?" engage recent-grads.
Facebook has a targeting option (utilized very well here) which allows you to show your ad exclusively at users whose "undergrad years" are within a certain range. TurboTax has done very well to target Facebook users who finished university within the past couple years (as Claire has done).
I also like the value proposition "Find out what that means come tax time" as a lot of recent graduates are going to be pretty damn clueless when it comes to doing their taxes.
Rating: 9. Great idea with the video. Solid value and excellent targeting. Only issue I have is the "more reading" option. Try to avoid this at all costs as it will likely decrease click-through-rates if you tell people there's more for them to do before engaging.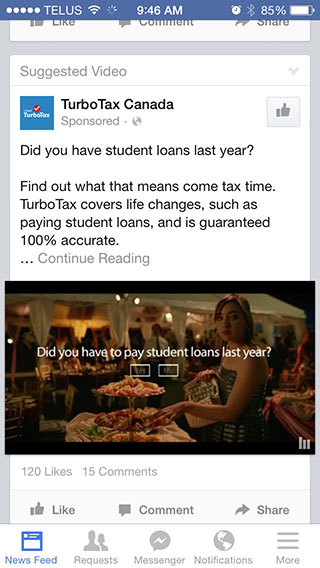 12. Facebook Ad from Milk2Go
---
Milk2Go has invested serious energy into creating different Facebook ads for every day of a contest they're running. The ads feature the name of that day's winner, but make sure to mention that "there are still lots of prizes to win." I love this strategy when running a contest.
This ad copy effectively communicates the idea that "that could be you, if only you enter today."
Claire has also been tagged at both Whistler Blackcomb and similar ski areas in Canada (qualifying her again, for "expressed interest in"). Seriously great targeting, guys.
A great strategy which I'm almost positive has been implemented here is using the same background image and overlaying images of the daily prizes as well as the "Draw of the Day" text. This allows your business to use a successfully-tested background image but also personalize the ad with little effort each day by editing the existing Facebook ad.
Rating: 10. Great targeting, promotion of a contest, image and text. A+ for this one.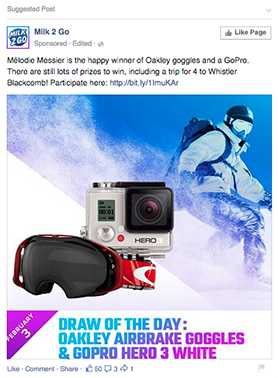 13. Facebook Ad from SnackEasy
---
Doing almost everything right, simply, SnackEasy's Facebook ad knocks it out of the park with best practices. Similarly to how "Wish" did in our fifth Facebook Ad, SnackEasy uses bright colors, a question hook, two awesome USPs and a CTA.
They've also targeted Facebook users living in North Vancouver (simple) but even more important than that, it's likely they've focused on North Vancouverites between the ages of 16 and 35 - as that's the 2 a.m. snack demographic. Their USPs, "delivering until 2 a.m." and "order online" also cater to their target demographic.
My only issue with this ad is that they didn't go fully into their stereotyping. Facebook ads, sometimes, require you to generalize. SnackEasy didn't do that this time and avoided targeting North Vancouver Facebook users interested in gaming or marijuana - the demographic they were clearly going for, but perhaps were too tentative to actually target.
Rating: 9. Great Facebook ad which missed a beat through political correctness.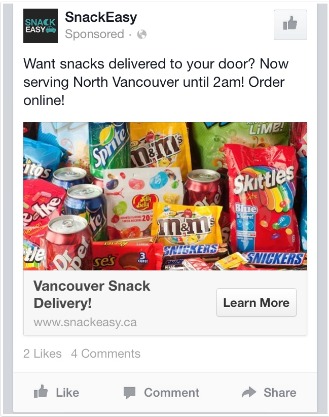 Conclusion
Hopefully my breakdown of these 13 Facebook ads has given you some guidance on how to create and target your own.
5 highlights of these kickass Facebook ads:
Featuring your colorful product if you have one, and a colorful model if you don't
Targeting people associated with your competitors
Creation of short-term or even daily advertisements
Intelligent humor and wit (also the video was great)
KISS (Keep it Simple Stupid): the best ads get right to the point, right away
Related Facebook Ad Content:
Wishpond's platform makes it easy to get the most from your Facebook advertising buck with mobile-optimized landing pages and lead nurturing tools. Check us out for free today!