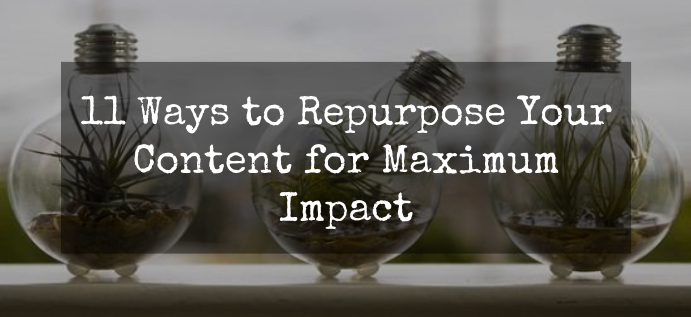 Content marketing is hot news for today's digital marketers. Experts are calling content marketing "the new SEO," and with good reason – for search engines, especially Google, contextual relevance has become the most influential algorithm as search engines seek to refine results according to the content that's most helpful for users.
But content marketing is also hard work. It can be challenging to come up with enough consistent, unique and high quality content to keep your business rankings high and your visitors engaged and returning for more. Fortunately, there are many ways you can use your existing content to generate new content and capture a wider audience.
Here's how you can repurpose your content to make the most of your quality pieces and ramp up your content marketing efforts.
1. Turn articles or blog posts into an ebook
If you've been blogging or producing a steady stream of articles for awhile, you probably have enough material for an ebook (or two, or three). Compile related articles or posts into a longer document, add an introduction, a conclusion, and any transitions required, and you'll have a great piece of downloadable content.
You can use these compiled ebooks as an incentive to sign up for your mailing list, as a bonus for customers, or simply as a convenient piece of content for your existing readers. It also provides you with a new way to gain more visibility by putting additional content into circulation.
If you're interested in making an ebook but think it's beyond your ability, it's not! Check out Wishpond's Ebook Design Kit for Marketers Who Can't Design for Sh*t.
2. Turn an ebook into articles or blog posts
This strategy also works the other way around. If you have an ebook that you've written or commissioned, you can break it up by sections or chapters—and you'll have weeks or months of fresh content for your blog or syndicated articles. You can also post snippets from your ebook sections on social media to entice users, with links leading back to your website or blog.
3. Turn social media posts into images
Images have substantially higher click-throughs and conversion rates than text, so why not recycle some of those great social media posts into a higher performing format? Find some of the best quotes you've used in the past including inspirational quotes, those from your company or those by someone in your industry and use an online image quote generator like Quozio, Chisel, or QuotesCover to create a unique image to share.
4. Turn white papers into articles
Like ebooks, white papers are long-format content that can offer a variety of repurposing options. You can use sections of a white paper as articles or blog posts and have a ready-made supply of fresh content that keeps visitors—and search engines—happy.
5. Turn videos into blog posts
Video content marketing is a strategy that's growing in popularity. But while there's been a steady increase in online video consumption, there are still quite a few people who prefer not to watch videos. You can reach a wider audience by writing a compelling summary of the information presented in your videos—and add to your supply of articles or blog posts.
6. Turn ebooks or white papers into infographics
Infographics are like images on steroids, and this format often sees a lot of online and social sharing. You can use an informative white paper or ebook, or even a long blog post, to create a fun and engaging infographic that your audience will love to share. Try some of the free online infographic generators to get started, such as easel.ly or Piktochart.
7. Turn long content into email courses
Got an informative how-to ebook or a collection of related, instructional blog posts? Create an easy and convenient e-course to grow your email subscriber lists and increase visibility. Break up your ebook (or organize your blog posts) into logical segments, and use an autoresponder to deliver each session to new subscribers at timed intervals, along with your marketing message and call-to-action at the end of each session.
8. Turn blog posts or articles into podcasts
Audio content is a fast growing medium—as more people have less time to read, they're turning to audio that they can listen to from their mobile devices. If you or someone at your company is comfortable reading aloud and has a clear speaking voice, you can create a podcasting series using your existing content. An 800-word article takes about 6 minutes to read, which is a great bite-sized length for audiences.
Archive your podcast files on your company website for convenient access. You can also post audio files or links to your archive on your social media channels for increased visibility.
9. Turn text or PowerPoint content into SlideShare presentations
SlideShare is a social network that's focused on visual slideshows. When you add presentations to SlideShare, in addition to gaining exposure to a new audience, you can also share them through your social media channels and give your viewers another format to consume your content. It's easy to create presentations on SlideShare with existing content—simply break into digestible sections, add background images, and publish to the site.
10. Turn blog posts into email newsletters
Informative, engaging newsletters are a great way to keep your company top-of-mind with your customers. They're also convenient for your audience, since they won't have to remember to check in on your blog for new content—they'll receive it directly in their inbox.
Sending out a roundup of two or three blog posts as a regular email newsletter, whether it's weekly, bi-weekly, or monthly, is a great way to get your content in front of more eyeballs and gain more mileage for your blog posts. You can also add special offers or exclusive content to a newsletter to encourage more signups.
11. Turn customer testimonials into multi-purpose content
Many companies display customer testimonials on their website, but you can do more with these golden quotes from your happy customers. With the testimonial writers' permission, you can create image quotes, post the testimonials on social media, develop case studies (which can then be further repurposed), create a "from our customers" section for your email newsletter, and much more.
Conclusion
---
Do you have any great content repurposing strategies for your business? Share your thoughts and ideas in the comments below!
By Guest Poster Megan Totka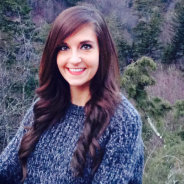 Megan Totka is the Chief Editor for ChamberofCommerce.com. She specializes on the topic of small business tips and resources. ChamberofCommerce.com helps small businesses grow their business on the web and facilitates connectivity between local businesses and more than 7,000 Chambers of Commerce worldwide.
wishpond