Client Spotlight: Our Most Successful Spring Campaigns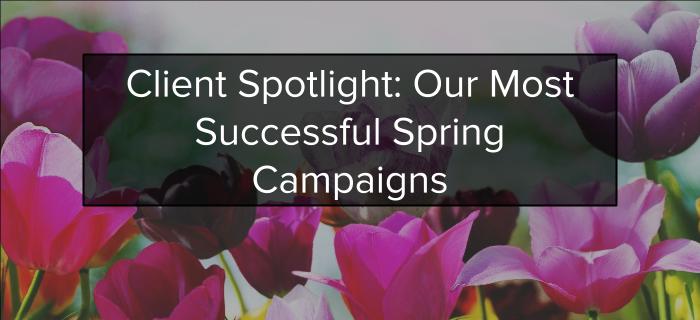 As a contest company, we see a wide range of clients and campaigns. From mom and pop shops running their first online contest to major corporations engaging with thousands of followers, we've seen it all.
Truthfully, not every campaign skyrockets to success. But we know what differentiates an average campaign from one that gets thousands of leads and generates mass word of mouth.
We also know that looking at others' successes can often be the exact type of inspiration your business needs to succeed.
So we've decided to show you four clients' campaigns that we deem as our most successful Spring promotions from 2014. Why do we think they rock?
They got high conversion rates ranging from 29% to 69%
They got their businesses hundreds to thousands of new email leads
They generated lots of engagement for these brands with current and potential customers
And you can too! Spring is just around the corner, meaning it's time to pack up those snow shovels and get out the gardening tools. A spring-themed campaign is the perfect way to celebrate the changing of the seasons.
O-Cedar
---
A campaign targeted directly at O-Cedar's target audience, this contest yielded the brand a 43% conversion rate with over 2,400 participants converting on this offer.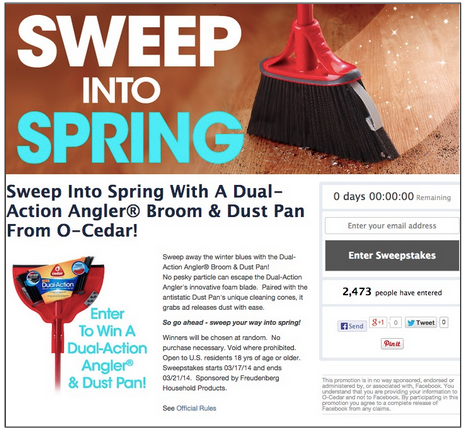 For a lot of people spring means one thing, and that's spring cleaning. It's not necessarily the sexiest activity in the world, but spring cleaning is a major hurdle that comes along with the budding blossoms. A broom is something that no household can go without, and linking it to the spring theme was a great contest strategy.
How you can find the same success?
The brand has stuck to the spring theme throughout their contest page, including within the body text. A seasonal campaign like this is a great idea as it's timely and makes participants realize the need they have for that prize at the current moment.
Using bright colors to highlight the most critical aspects of the page is a great practice to follow. It draws the attention of viewers to the word "spring" and to the call-to-action "Enter to win a Dual Action Angler and Dust Pan." At first glance you want to grab the eyes of viewers and convey the main message of your page in a matter of seconds.
For a prize like a broom and dust pan, O-Cedar has done a great job in making the campaign visually appealing. I'm personally not interested in a broom, but seeing this page I probably would've entered if I had the chance. The banner at the top of the page and the image of the prize in the bottom left make it easy to understand what is being offered, but are also visually pleasing. They made dirt visually appealing, fairly impressive.
SeedsNow.com
---
This campaign garnered a 29% conversion rate and captured 926 email leads for the brand. When thinking about what comes along with spring, many of us think of flowers or budding blossoms, making it the perfect time to run a gardening-themed contest.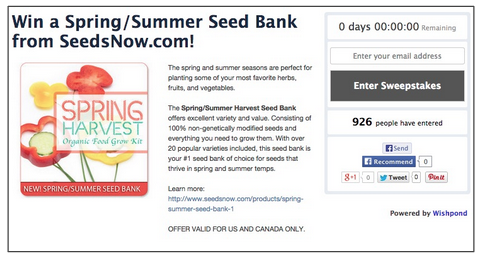 How you can find the same success?
They've used bright spring colors and a fun photo to capture the attention of viewers. I love how the photo uses vegetables to create flower petals, a very creative idea suited to SeedsNow.com's audience.
This is a prime example of giving away a prize that is perfectly targeted at your typical customer. To many a seed bank may not seem all that dreamworthy, but this contest is proof that if you give away a prize that is relevant and valuable to your current or potential customers they will do anything to win it.
London Drugs
---
Our third client, London Drugs, had their spring campaign managed by one of Wishpond's project managers. This may account for the whopping conversion rate ( 69%) as the design was done by one of our graphic designers and promotion managed by one of our team members at all times.
But many of the strategies used in this managed campaign could easily be done by your small business.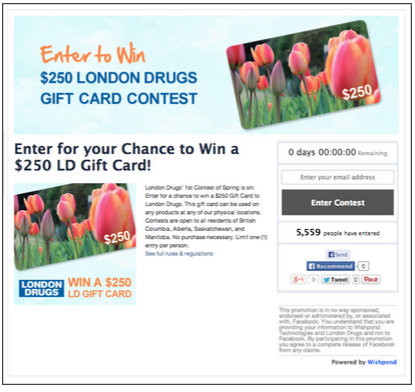 How you can find the same success?
The prize of a gift card for a substantial dollar value is something all London Drugs customers would want as it does not speak to a specific niche. It also ensures that the winner returns to the store with the hopes of them becoming a loyal customer in the future (if they aren't already).
With over 120,000 Facebook Fans, London Drugs has a large audience that is very engaged online. Knowing this, they choose to run various types of contests with different levels of engagement, and know that a simple sweepstakes can get them a very high volume of entries.
Displaying the number of entrants creates an aspect of social proof, making potential entrants more inclined to sign up to win. Once you have a certain number of participants, showing that number can help convince others to enter.
Put lots of time and effort into your contest. We know that you don't have 10 hours a day to dedicate to your contest but simply hitting the "launch" button and posting it on your Facebook page isn't going to get you thousands of leads. The more time and effort you dedicate to your design, contest theme and promotion the better your results will be.
Brentwood Mall
---
Brentwood mall chose to run a spring campaign by partnering with one of their stores, Purdy's Chocolatier. This campaign garnered a 29% conversion rate for the mall while getting 398 email addresses to market to in the future.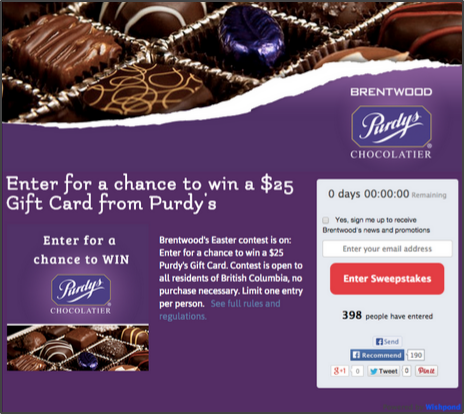 How you can find the same success?
It follows the spring theme and ties in a chocolate partner as the perfect prize for Easter. I love the design of this contest page as the ripped off chocolate box makes you want to grab one straight out of the picture.
A subscriber box is a small touch that can make a big difference in your campaign. It is a subtle feature that they have chosen to add into their sweepstakes, but allows them to gain more newsletter signups who they can promote deals to in the future.
Sometimes simplicity does win. This campaign is a very simple sweepstakes that doesn't require a lot of effort from fans. Overcomplicating your contest page can confuse potential entrants and cause them to bounce before submitting. This contest has a low barrier to entry and a sleek and simple design, encouraging conversion.
Conclusion
---
I hope that these four spring campaigns have provided you with the inspiration you need to get started. With a touch of creativity you can put your own spin on these ideas and create a campaign that is seen as relevant and valuable to your target audience.
Have you run a successful contest in the past? What extra steps did you take to generate new leads? I'd love to hear your thoughts or experiences below!
- Written by Claire Grayston
Claire is a digital content marketer at Wishpond. When not racking her brain for new content, you'll find her hiking or snowboarding the local mountains.