As a travel agent in the 21st century there's nothing more frustrating than hearing the common question "People still use travel agents?"
Yes, yes they do indeed.
And as a travel agent you need your name to be known in order to have a strong online presence.
One way to do this is through interactive social media accounts.
Unfortunately less than 20% of travel agents see social as an essential channel to their business.
If you're part of that 80% of naysayers, my goal with this article is to change your mind.
Social can work for you, it's time to find out how.

Why You Need Social in Your Marketing Arsenal
---
If you're still crossing your fingers and wishing for social media to disappear, you're out of luck. Social media is going absolutely nowhere.
As a travel agent you need to embrace this channel as another way to spread the word about your business.
If you're currently using email, direct mail, going to trade shows and constantly updating your website, keep up the good work. Social media isn't a replacement for any of these marketing strategies. It's a necessary addition.
Social allows you to communicate with clients or potential clients in a different tone and format than any other marketing channel. The various platforms allow you to get to know your customers and to build and strengthen relationships.
You can give your expertise to those asking questions and establish yourself as an authority figure, while also bringing in new leads by having your name and voice known.
How to Use the Various Platforms
---
Facebook – Facebook is the best place to start out when doing social media for your business. Let's face it, most of your current or potential clients are on Facebook.
The platform also makes it really easy to generate new Fans, as you can simply target existing clients on the platform by entering your existing email list into Facebook and target a Page-promoting ad (for minimal cost).
Facebook also makes it super to easy to share content and photos to your network to entice them to travel.
Twitter – Twitter is the best platform for up-to-the-minute news and real-time conversations. If you can build a Twitter following of travel loving individuals it can be a great way to communicate. You can create a network of like-minded individuals where you can share information, articles or deals you have to offer.
Instagram – Instagram is looked at as the most important social network by many travel agents as travel is something that is so easily visually represented. With Instagram you can create a sense of desire and connect with followers emotionally. You can also find those users looking for some dream-worthy photos through the location tag and hashtag features of this platform.
Pinterest – Pinterest is another visual platform perfect for travel agents. You can create pinboards of content that appeals to your clients. You can also link to Facebook and Twitter to increase the awareness of your pins.
What Should You Use Social For?
---
As a travel agent the social media possibilities are endless. I want to give you a quick glimpse of all the different things you can do on your social accounts.
Track what others are saying about you: On the different platforms you can track any mentions you get by others talking about your services. For example, once a client gets back from vacation you can request that they post a recommendation on Twitter "@-mentioning" you or sharing a photo and tagging your page in that photo. This helps to serve as PR for your business, expanding your reach and awareness to new individuals.
Promote events and deals: If you're attending a travel expo, trade show or hosting a client appreciation party, social media is a great way to inform people about it. You can also promote any deals or sales you're having on specific destinations.
For example your Facebook cover photo may promote a flash sale on flights while your latest Instagram post may be a visual about a deal on an all-inclusive in Mexico.
Run contests: As a travel agent, a social media contest is a fantastic way to drive conversions, gain new fans and generate new leads for the future. We will dive into contest examples below. If you're looking to run a social contest (which I highly recommend) check out my article " The 10 ingredients to a Successful Social Media Contest."
P.S. Wishpond's Facebook Contest Apps make it easy to create sweepstakes, photo contests, Instagram hashtag contests & more. Looking for inspiration? Check out 25 Creative Facebook Contest Ideas You Can Use Today.
5 Examples of Strategies You Should Try
---
Explaining the importance of social media through words doesn't give you the inspiration you need to follow through. So let's dig into some real-world examples that you can easily emulate for your business.
1. Use Social To Showcase Current Hot Spots or Resorts
Luxe Travel consistently posts about vacation locations with enticing photos and descriptions. This is a great way to showcase destinations and post about recent resort partners.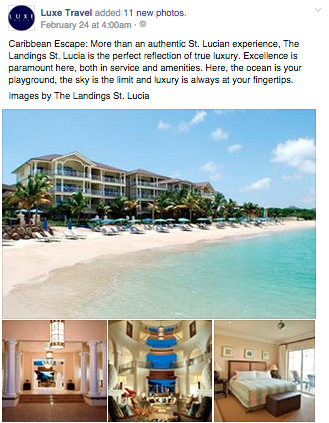 2. Post About Deals and Promotions
Facebook, Instagram, Pinterest can all be used to visually inform your fans or potential fans about current or upcoming deals. Here Tucan Travel has showcased a visually appealing and humorous photo to grab the attention of fans and tell them about their deal on Peru. Who doesn't love a good llama close up?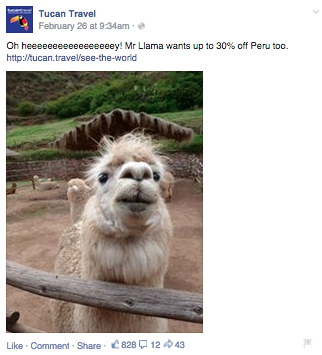 3. Run Social Media Contests
This social contest from Adventure Canada is the perfect example of hosting a contest on Facebook and generating a high volume of leads. They've used an eye-catching picture and an enticing price to get nearly 8,000 participants in this referral contest. As a referral contest this also means they're expanding their reach to new individuals unaware of the Adventure Canada brand.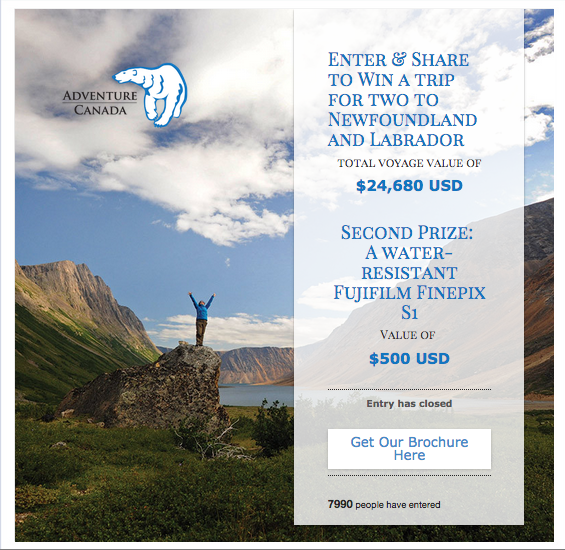 Another example can be seen below from Tucan Travel who ran a photo contest which gained them tons of new leads while also gaining user-generated content which they could potentially use for marketing campaigns in the future.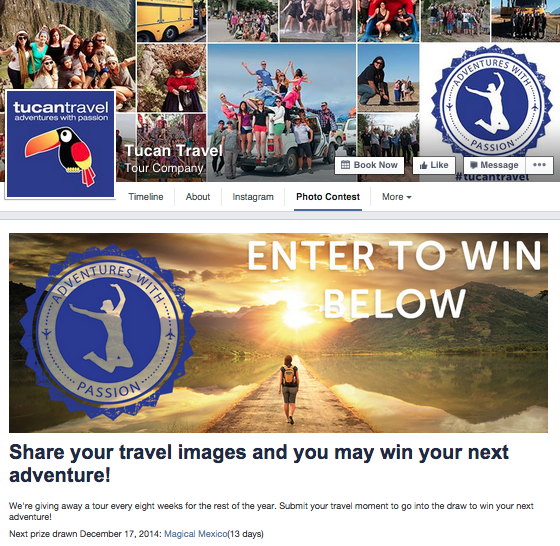 4. Display Photos of Your Client's Recent Travel Experiences
Showcasing your clients' photos is a great idea as they will want to share it with their friends and it increases the awareness of your business. It also serves as a public relations tool to show that you are an expert in your field and that others trust you.
These two examples from TucanTravel are the perfect way to display your past clients' experiences as a form of social proof. The first (on the left) displays a client submitted photo while the instagram account on the right shows their clients on their trips having a blast. A great way to get engagement on your social media accounts.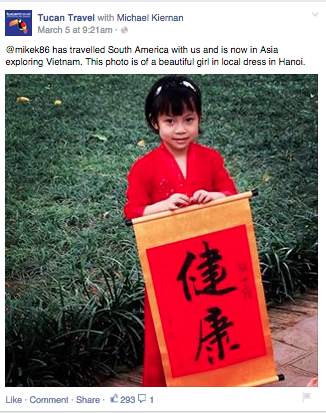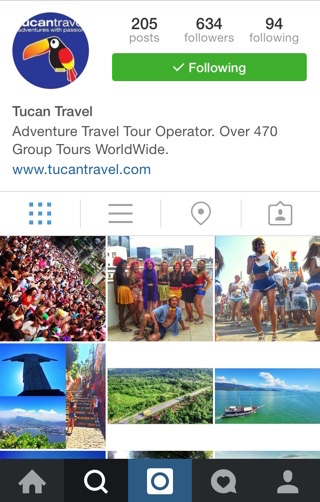 5. Share Travel-Related Articles that Would Interest Current and Potential Clients
As someone who loves to travel, I know the importance of research before a trip. Travelers are always looking for advice and information, so using social to share articles or tips is a great strategy to get individuals interacting with your posts.
This post from Luxe Travel does just that, giving fans advice about how to tip people around the world.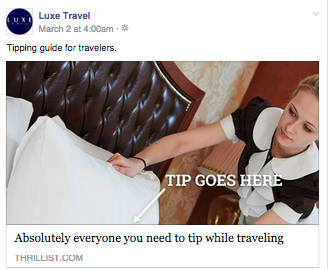 Conclusion
---
I hope that this article has shown you the importance of social media for your travel agency and how you can implement different strategies to find success.
It's not going to be an overnight home run, I'm not going to lie. But by consistently building your social media followings you can start engaging fans and make your brand more visible online.
The best strategy is to start off slow with one platform and work your way up to social success.
Have you tried out social media and found success for your travel business? Share your story with me in the comments below!
wishpond