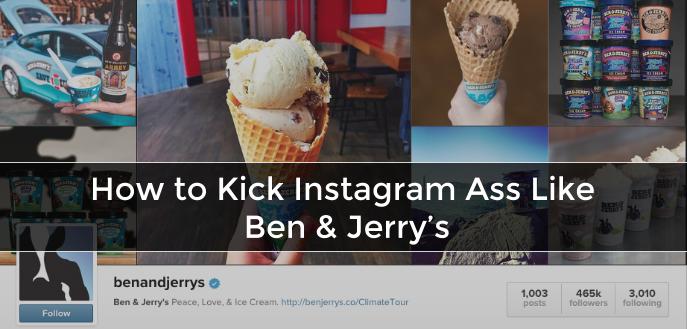 April 6th, 2015 By Claire Graysyon
A photo of your friend posing at the summit of a mountain, your cousin's dog wearing his halloween costume and that delicious brunch you and your boyfriend had on the weekend – these are all perfect examples of the types of photos I scroll past every day on my Instagram feed.
These days Instagram is the truly the talk of the social world.
And with good reason. In under five years, the photo sharing platform has grown from a small San Fran startup with 13 employees to a network with 300million users. Each day an average of 70 million photos are shared while generating about 2.5 billion likes.
With this type of engagement level it's no wonder that brands big and small have decided it's worth investing in.
But what makes a successful Instagram brand? Is it one who has an ever-growing follower base, or is it one with unique content that continuously engages their followers?
Ben and Jerry's happens to be a brand that does both. Let's take a look at how they've hit a social home run on Instagram.
A Brief Intro
---
I'm going to assume you all know very well who Ben and Jerry's is. You may not know the founders directly but you've surely had a taste of their business.
Founded in 1978 in Burlington Vermont, Ben and Jerry's has grown to be a world famous ice cream and frozen yogurt giant with locations in over 27 countries around the world.
In 2011 the brand joined Instagram, and now has over 1,000 posts and more than 465,000 followers.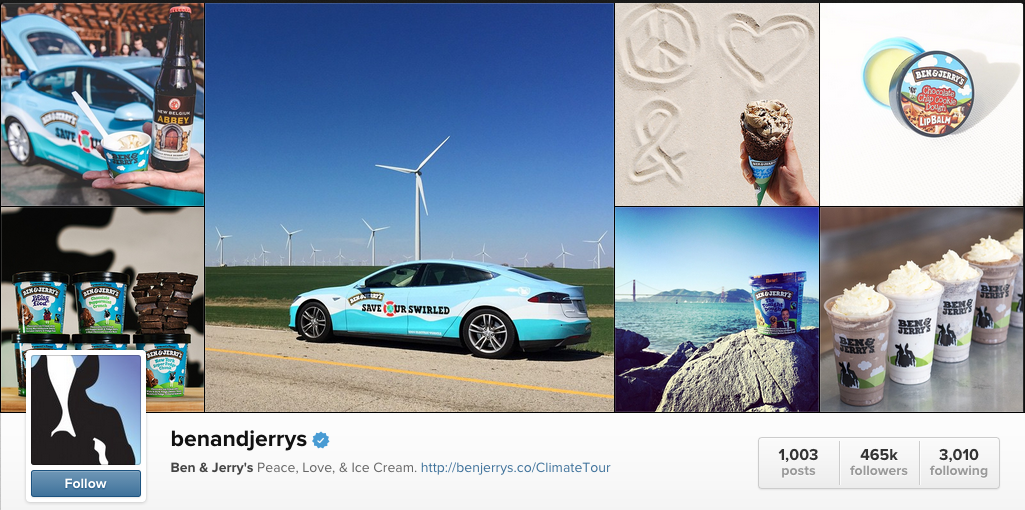 People young and old, male and female, of all nationalities love engaging with the brand and its fun, quirky photos.
They get an average of 20,000 likes per photo and it's constantly referred to as one of the best marketing Instagram brands out there. What strategies has it used to become such a sweet success?
I promise I'll stop doing ice cream puns in a second.
They're Not Overly Promotional
---
When choosing if you want to follow a brand on Instagram, you're more than likely going to look through their most recent photos and see if there's anything you would be interested in seeing on your News Feed down the road.
I know personally I look for humor, creativity and photos that are aesthetically pleasing to the eye.
The thing I, and the other 299,999,999 users, don't look for is promotional material. And this is where Ben and Jerry's has hit a homerun.
Believe it or not, not every image is of an ice cream cone, or their iconic ice cream tubs. While once in a while they do share their newest flavors, or promotions like "Free cone day" it's not all you will get from them as a follower.
Instead you get tons of user-generated content of photos taken all over the world, cones in exotic locations, images of the founders and employees, photos of causes and events the brand supports and even the odd celebrity snap.
No post is ever the same and each is unique to the Ben and Jerry's brand. They keep it casual, they keep it funny and they keep fresh content on their account all the time.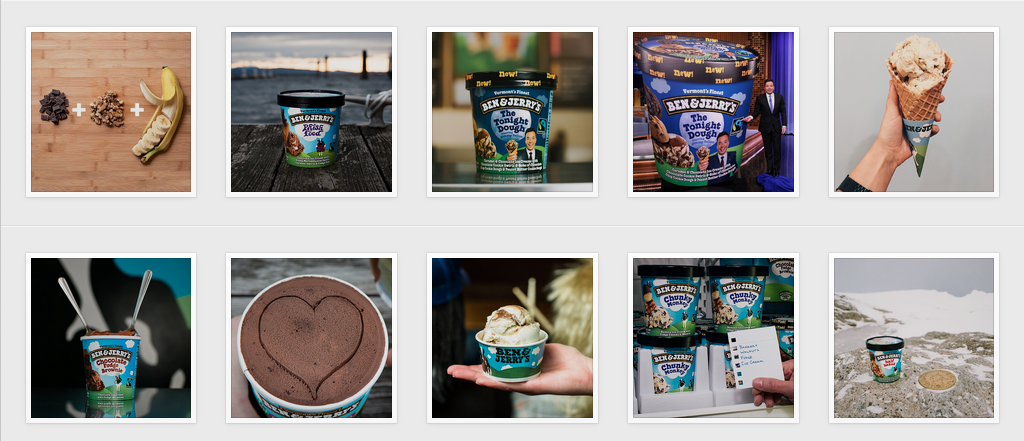 They Post Frequently Without Being Over the Top
---
If you look at their account they tend to post every day or every two days on their account. The past 3 months they have averaged 20 posts per month.
This is a good ratio: keeping their followers engaged and maintaining top of mind awareness without coming across as too much "Brand" for their followers.
As a business on Instagram you need to address posting frequency and have a goal in place. It's crucial that you find a happy medium between quantity and quality for your brand.
It has been proven that you can experience a loss in followers from an inconsistent posting schedule as you lose relevance to followers. Ben and Jerry's has found their frequency niche but aren't afraid to post more often (sometimes twice a day) as long as the content is valuable and uniquely interesting.
They Use Hashtags Properly
---
Hashtags on Instagram are a fantastic way to get your posts found and create a community around your brand.
But so many businesses fall into the trap of misusing the resource.
By creating a clever hashtag that is relevant to your brand, you get more people discovering your account and broaden your account's exposure and awareness.
Ben and Jerry's often hashtags popular or new flavors in order to get followers engaging with the brand and using that hashtag.
A perfect example occurred recently when Jimmy Fallon's The Tonight Dough launched nationwide. In the month following the launch, the hashtag #thetonightdough has received 3,023 posts (when this article was written), only a few of which were from Ben and Jerry's themselves.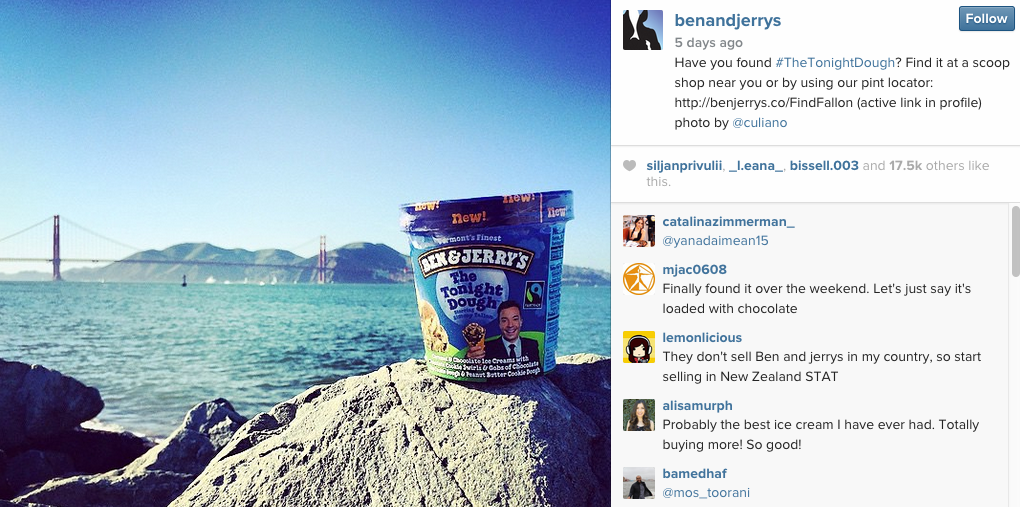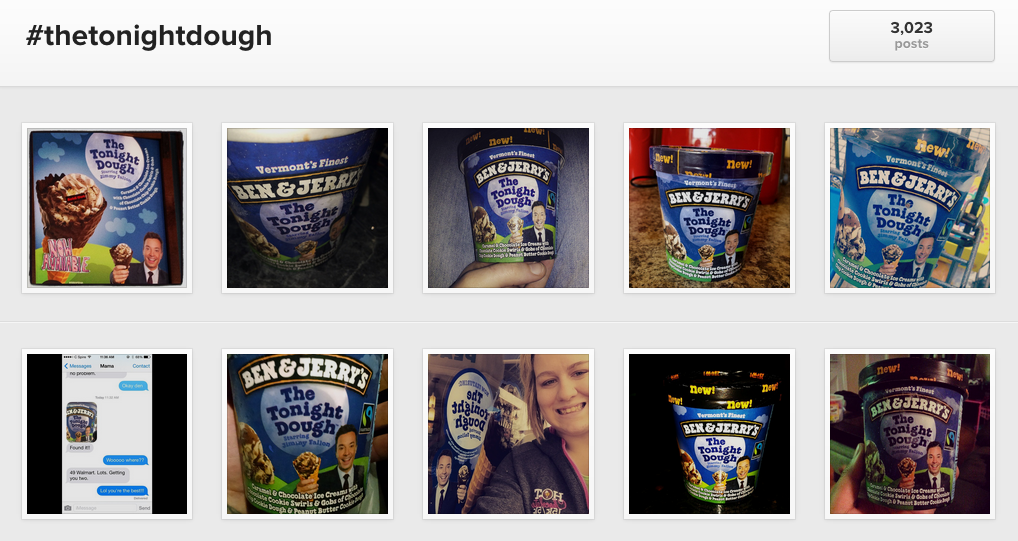 Using a catchy headline that revolves around your products is a great way to get user-generated content and get people engaging.
It has been proven that the number of hashtags is positively correlated with the level of engagement photos receive. Major brands like Ben and Jerry's don't necessarily need to be found through the discovery feed, but hashtags encourage interaction, sharing and help build relationships with followers.
They Have Personality
---
Some brands use Instagram to expand their reach and broaden their awareness, while others use it to promote new products or events. Whatever it is that you plan to use your account for, each post needs to add value to your business.
And in some posts, that goal may just be to build an emotional connection with a follower.
Playing off of emotion is Ben and Jerry's bread and butter (or cookies 'n cream, maybe).
They have genuinely funny captions and creative posts that make you want to keep scrolling through their feed. They stay true to their Vermont roots and constantly showcase the beauty of their state and partner with causes that suit their target audience.
Their flavors themselves are witty and well-marketed, but they build off of this through a consistently creative social account. How They Build Brand Personality through Instagram:
They use humor and charm in their captions

They know how to emotionally tie in holidays (with cute puns)

They encourage user-generated content

They support worthwhile, relevant causes

They remember where they came from
Conclusion
---
If you're looking for some Instagram inspiration, Ben and Jerry's is a smart place to start. As the platform has transformed over the past few years they have learned how to create posts that send meaningful messages, tell stories, engage followers and build a relationship with fans.
Have you tried out Instagram or have any thoughts on Ben and Jerry's strategies? Tell me in the comments below!
– Written by Claire Grayston
Claire is a digital content marketer at Wishpond. When not racking her brain for new content, you'll find her hiking or snowboarding the local mountains.

wishpond