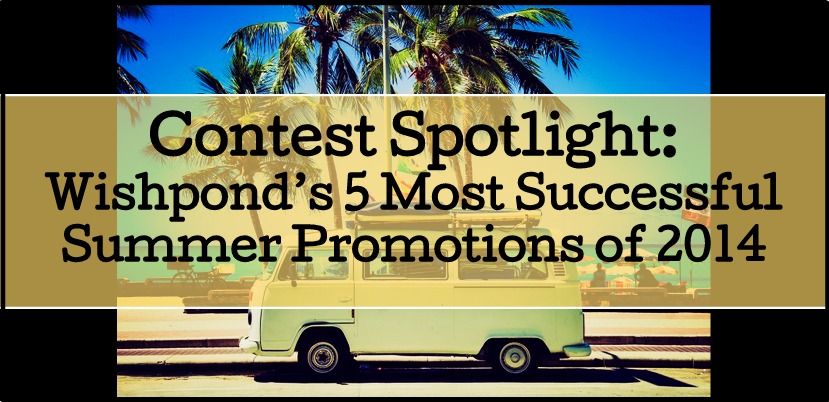 With summer just around the corner, it's a great time to start thinking about how you can use a summer themed contest to help promote your business.
But where to begin?
We've compiled 5 of our most successful summer promotions of 2014 to help you get a better understanding of what types of prizes work, why design matters, and how you can use the anticipation of summer to help generate leads.
Each one of these contests gave away a completely different prize, geared at a completely different target audience.
The common thread however, is that they all…
Used their contest to capitalize on the anticipation of summer
Used summer to increase the perceived value of their prizes
Gave away prizes that were relevant to their business
Stayed consistent in their design
Learning Allys's Spring Into Summer Reading
---
Learning Ally's summer contest had a 20% conversion rate and was able to collect over 1900 leads over a three month period leading up to the summer of 2014.
This contest is a great example of how you can use the anticipation of summer to get people engaged with your campaign.
By asking what book users were planning to read in the summer, they were able to capture the imagination of their audience by making them think about what they would be reading, where they would be reading it, and what they would be reading it on (potentially a new iPad mini or Nexus 7).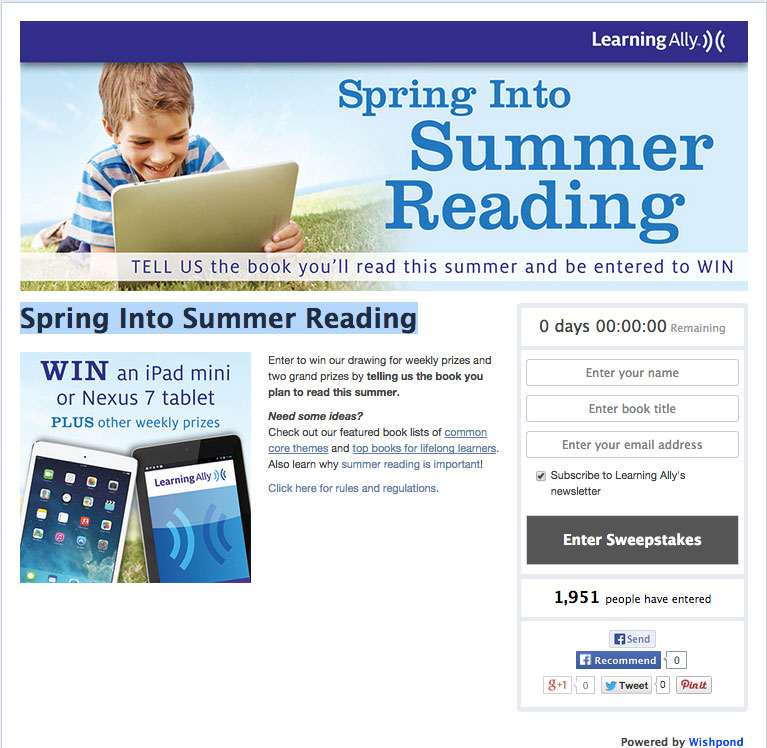 Key Lessons from this Campaign
People look forward to summer all year. Associate your prize with a pleasurable summer activity (like free-time to read a good book) to get people excited about your campaign.
Put energy into creating your header and side image. Contests with appealing images (in alignment with your prize and target audience) have the huge impact on their success or failure.
Prime your audience. Asking users to submit what book they'll be reading along with their submission, weeds out people who are only interested in winning an iPad. This also helps create a more targeted list of leads who are more likely to be interested in Learning Ally's products in the future.
Something Sweet UK's Summer Hampers
---
Something Sweet UK was able to collect almost 5,500 leads in a one month time period with a remarkable conversion rate of 84%.
Although none of the products in the gift bags really have anything to do with summer, Something Sweet UK was able to package them all together and brand them as "summer hampers" which made them more appealing and relevant to their audience.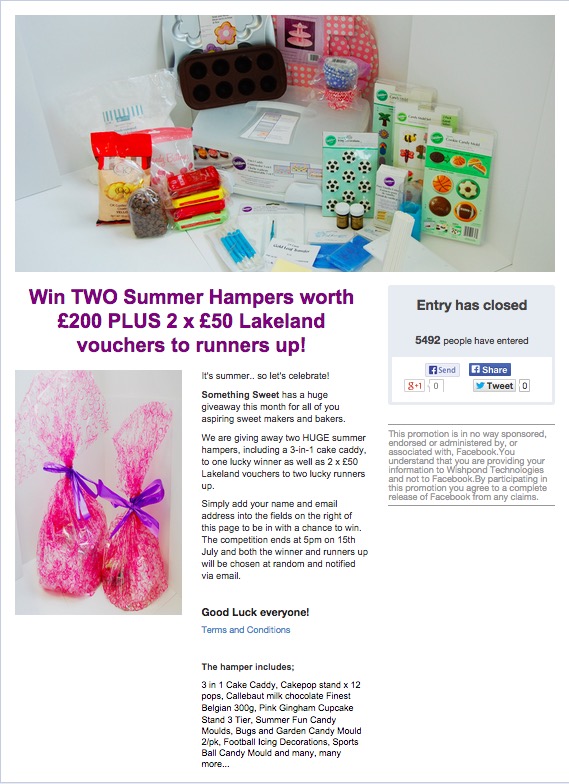 Something Sweet UK was able to leverage their well established social media community to offer a prize that was highly desirable to its audience. Also, by promoting with social media, Something Sweet UK was able to create a buzz around their contest weeks before launching.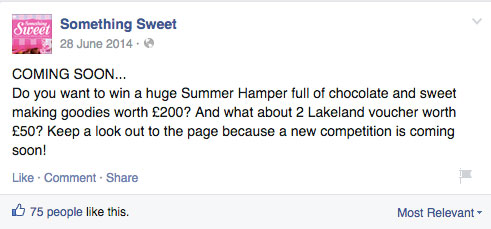 Key Lessons from this Campaign
Give away a prize that is relevant to your business.
Just because you don't have relevant prizes specifically related to a theme or holiday doesn't mean you can't brand them like they are.
Leverage your social media channels to promote your contest prior to launching.
Rigid Industries' Summer Fishing Giveaway
---
Rigid Industries generated 2,387 leads and had a 55% conversion rate with their sweepstakes targeted at fishing enthusiasts.
The prize package, which included a Rigid Industries light mount (to be used on a boat while fishing), a GoPro Hero 3, and a backup light kit, was the perfect prize for anyone thinking about getting outdoors during the upcoming fishing season.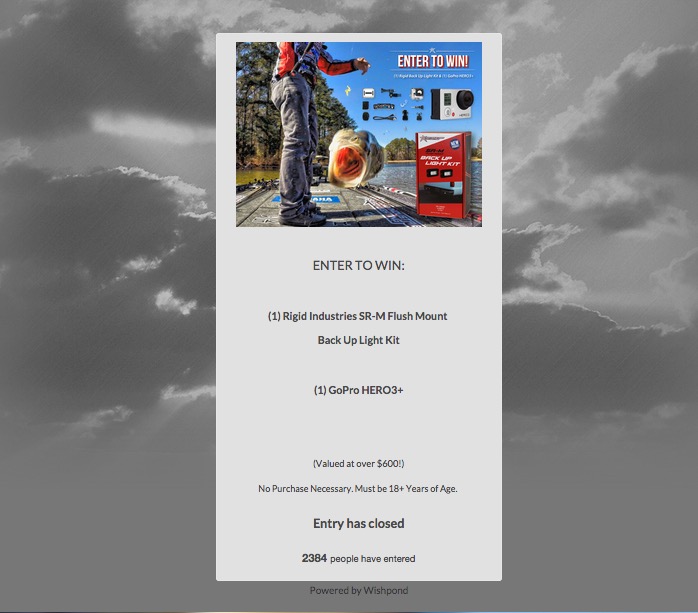 Key Lessons from this Campaign
Tap into people who are thinking about getting outdoors for the summer by offering a prize that will help them enjoy the weather
Use visuals to display your prize in the environment it's supposed to be used in. This will help people get a sense of what they are eligible to win.
Make your prize more valuable to your users by including a collection of products that can be used for a specific experience or purpose.
LG G3 In The Summer Photo Contest
---
Sure Jersey's summer photo contest generated 6,059 leads over the course of its campaign. With a prize of LG G3 phone up for grabs, the 107 entrants shared the contest with their social networks, causing huge spikes in the number of votes per entry.
The result was a campaign that generated leads at 15 cents a customer after you factor in the $400 prize.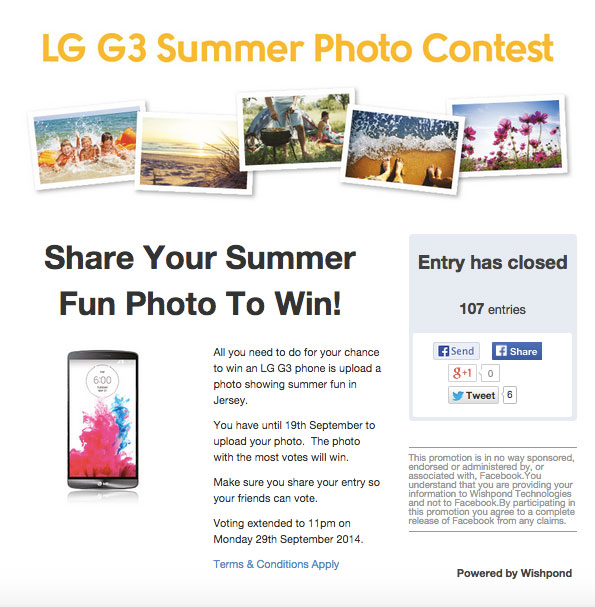 Key Lessons from this Campaign
Pay attention to the design of your contest page. Providing sample images is a great way to get people thinking about what sort of photos they can enter your contest with.
Enable voting. When a winner is decided by votes, people will be more likely to share the contest with their friends which will increase your number of leads.
Make your contest fun! When your users engage with your contest, they are engaging with your brand. Make sure they have a good experience and that will pay dividends down the road in terms of customer loyalty and brand recognition.
Maps International's Summer Travel Kit
---
Maps International was able to acquire over 1800 conversions in less than a month by giving away a summer prize pack geared at travel enthusiasts.
By cleverly packaging products used for travel such as a GoPro camera, travel adapter, beach ball, neck rest, and travel guides, Maps International was able to tap into people's desire to travel by giving them the tools they needed without having to give away a trip or more expensive prize.

Key Lessons from this Campaign
Everyone knows that summer is the most popular time to get away. Tap into people looking to travel by offering them the tools they need as they begin planning their trips.
Make sure your contest ads have the same core message as your contest page. When people arrive on your page they should know exactly what to do and what they can win.
Bundle items together that are can be used for a specific purpose. Don't just give away a prize, give away an experience.
Consider running a referral contest, in which everybody who gets a friend to enter (with a unique code you give them) gets their name entered twice.
Conclusion
Running a successful summer promotion doesn't have to be hard, and it doesn't have to be expensive.
Use the season to inspire you. Think about what people are going to be doing, what they could use, and how you could provide them with a better experience.
If you've racked your brain and still need some help coming up with the perfect summer promotion, check out our 101 Contest Prize Ideas for inspiration, talk to one of our marketing experts or subscribe to our blog for more contest ideas.

kevin-ho