You want your business to grow? To skyrocket to the stars and beyond?
I'm with you. Let's do it.
In my most recent article, Beginner's Guide to Growth Hacking: 9 Tips for Entrepreneurs, I touched briefly on how each member of Wishpond's indomitable marketing team considers themselves growth hackers. Everything we do, we do with immediate growth in mind.
In this article I'm going to describe the responsibilities we each undertake and why. Wishpond's growth team is a successful one (helping to grow our startup more than 1300% since 2011), and perhaps showing how we work can inform your own business' marketing strategy (or at least start a conversation).
James: Content Marketing
Let's start with me, because, yknow, start at the top and all that.
I lead a team of content creators who, since late 2012, have published more than 700 blog articles, dozens of ebooks, a hundred-plus Slideshares and the occasional podcast. As a team we also write or edit much of Wishpond's web copy and marketing email.
Wishpond relies heavily on our content for customer acquisition and lead nurturing. Content is the ammunition which makes our social media, video, webinar and email marketing strategies possible.
Actionable Takeaway for Your Business:
Freelance content creators, content curation and a strong design team pumping out kickass infographics or slide-decks are great, but a successful content marketing team needs someone to corral it all.
By definition, content marketing requires a huge amount of content. Publishing it, replying to comments on it, sharing it, editing it, interacting with contributors and subscribers, contacting influencers and much more… It's a full time job. For a small or medium-sized business, a good team of one creator and one editor/manager is sufficient. But definitely no less.
Cara: Content and Social Media
You'll notice throughout this article that Wishpond's growth team is made up of several people who have a couple roles. This isn't because we're understaffed, but because, for us, no one job title can hold us back.
Cara is our resident social media manager. She's responsible for our presence on Facebook, Twitter, Instagram and Google+ (alongside Quora, by the way). She's the online voice of Wishpond on social media and it's her you'll be interacting with if you say "Hi" on Wishpond's Facebook Page.
But, as Wishpond has measured carefully our social media ROI and determined we don't need to be posting 10 times a day on every platform out there, Cara also has other responsibilities.
Cara is the author of several of Wishpond's complete marketing guides (most recently a sector guide for photographers). She's my go-to copyeditor when I'm pressed for time, and one of our best creators of visual content (apart from the designers, that is).
Actionable Takeaway for Your Business:
If handled properly (through scheduling and content creation/curation) social media does not have to be a full-time job. it's also worth noting that social media managers are often prime candidates for content responsibilities. They're often very aware of visuals, witty, and very fast workers. Keep an eye out.
Fabrizio: Search Engine Optimization
Fabulous (not his favorite nickname) is responsible for generating about 75% of our blog traffic. He's responsible for driving our target keywords up the search results. His job is dynamic and, I'd venture, somewhat frustrating. SEO is a changing field where things that worked when he started out might now be genuinely detrimental to his strategy.
Fabrizio and I work closely together, particularly when I'm fleshing out our next content calendar (though we go with two-week "content sprints" rather than monthly calendars). Not all of our articles are focused solely on search optimization, but occasionally we'll write something slightly more goal-oriented.
Fabrizio also works closely with Alejandro (below) as he helps to determine Google AdWords keywords, targeting and budget. The things which we want to rate highly for in Search are closely related to the things we want to rate highly for in advertising.
Actionable Takeaway for Your Business:
SEO isn't just relevant to content. It has lasting influence in every aspect of your online presence. If your business doesn't have the budget to hire a SEO expert, ensure your copywriters, content creators and advertisers are informed and have done their reading.
Bree: Webinars, Video, Academy
If you've ever had any interaction with Wishpond you've probably seen Bree. She's the host of our weekly webinars and over 100 YouTube videos, advertisements, and Wishpond Academy courses on online marketing strategy.
Bree was initially part of Wishpond's customer support team, and (because of this) one of the most knowledgeable people in the office when it came to our tools. Her role in support gave her a huge leg up when she started (initially) to record voice over how-to guides for our tools. She quickly moved into filming educational videos, and from there to advertisements and (now) hour-long live webinars.
Here's one of her most recent videos, on 52 Instagram Marketing Tips:
Actionable Takeaway for Your Business:
Consider keeping an eye on a star member of your customer support team. Are they good on the phone, quick on their feet, and personable? They just might make a great "face of your business" like Bree did for Wishpond.
Alex: Advertising, Remarketing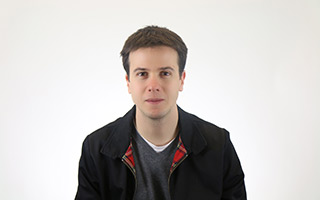 Even with content, videos, webinars and SEO, any successful business also has to spread a bit of money around. Alex ensures we're not wasting it.
Alex is responsible for Wishpond's Google Adwords, remarketing and Facebook Advertising campaigns. He (along with our talented designers) drafts up display ads, runs tests on them, and tweaks ad budgets as deftly as a harpist tweaks the strings.
Alex knows that advertising isn't just about throwing more money at a keyword than your competitors. He spends a huge amount of time thinking creatively about how to approach the promotion of each of our campaigns. He measures the ROI of different ad iterations to determine if (for instance) YouTube remarketing ads might deliver better for a campaign than the Google Display Network.
For instance, will it be worth it, in the long run, to pay for this high-traffic keyword on Google? Knowing the answer to questions like that is what makes Alex such an incredibly valuable addition to our team.
Actionable Takeaway for Your Business:
Don't think of advertising as a fixed, concrete strategy. It is one of the most dynamic things we do as marketers. Keyword prices change. Designs on one platform don't work on another (display vs Facebook, for instance). One CTA may drive a clickthrough of 1% while another drives 2% (resulting in thousands of dollars in increased revenue). Keep testing, tweaking and keep someone focused on it, or you'll lose where it hurts most: the wallet.
As Wishpond has grown, the way we communicate with our clients has changed profoundly. A handwritten email sent to each and every new subscriber, free-trialer or signup doesn't work when you have several hundred a day. Nor can we properly nurture our leads through our sales funnel manually. There are simply too many people taking too many actions from too many traffic sources and for too many reasons.
That's where Damir comes in. Once our top-of-funnel people (myself and the content team, Cara, Alex, Matt and Fabrizio) elicit the initial conversion, Damir's optimized emails take over. Damir and I work closely together to create drip campaigns (most recently focused on CRO and landing pages) for leads who have downloaded specific ebooks. I write the emails and link the pertinent articles and Damir sets up the incredibly complicated drip campaigns.
Damir's value lies in his ability to conceptualize the possible paths of our leads. This is crucial in lead nurturing. For instance, someone who's downloaded our Complete Guide to Facebook Ads should receive the relevant drip campaign for that ebook, yet what if they've also downloaded the landing pages ebook? Or the contests one? Or downloaded the ebook and then immediately converted for a free trial or upgraded to a paid plan? How do the drip campaigns (a series of planned emails sent over the course of a month at least) respond to these secondary actions? Damir needs to be able to visualize all possibilities and answer for them (and yes, this requires time, energy, and an email marketing platform which kicks ass.)
Actionable Takeaway for Your Business:
Lead nurturing funnels are complicated, yet hugely important, things. It can be easy to focus (especially in growth hacking) only on the initial conversion – the getting of an email address. Yet all your efforts are wasted if you neglect to nurture that lead into an actual sale.
Matt: Testing and Team Support
Matt is the one without whom the rest of the department would fail utterly. Matt is the answer to every "Oh no!" and the reason for most of our "Awesome!".
Matt is Wishpond's handyman.
Officially he's responsible for CRO and testing (which in itself is a time-consuming job which requires a huge amount of both creativity and technical knowledge) but on a daily basis he'll do any number of other things that need to be done:
CSS, Javascript and HTML necessities (of which there are innumerable in a SaaS' marketing department)
Support chat and phone when the team is overwhelmed
Creation of landing pages and reliably tying of them to ads and analytics
Account management and repair (when a fully-managed client needs something at 2am)
And more I don't even know about
Every Friday after a catered lunch Wishpond's entire team gets together and gives "props" to the one person who helped us the most that week. Matt usually gets the majority of them.
Actionable Takeaway for Your Business:
Someone like Matt is a vital part of keeping any growth or marketing team afloat. Most people are specialists. I, for instance, can write a 2,000-word article on Facebook ad optimization in three hours, but couldn't center-align the images for it to save my life. Matt is the safety net to a growth team of trapeze artists.
The Whole Team: Analytics
We don't have any one person who is responsible for understanding our analytics platform. Determining the ROI, success, and data of your own responsibilities is crucial for every member of our team.
Granted, there can be some people more versed in it than others, but every member of our team has a solid understanding of G.A. and Woopra. We've all created our own manual funnels and are responsible for reporting and understanding the KPIs (key-performance-indicators) from which we determine the success, or failure, of our efforts.
Conclusion
Hopefully a glance into who we are and how we work has informed your own understanding of a what a successful growth hacking team looks like. Is your business set up differently? What elements are you missing that you think you need to grow?
And, if you missed my article on the Beginner's Guide to Growth Hacking: 9 Tips for Entrepreneurs, be sure to check it out!
james-scherer-2