What is Social Media Listening & How Can It Improve Your Marketing?
Social media came into our lives much like a meteor and crashed into our digital lives with immense noise and excitement. I remember when it all started.
Brands quickly realized they needed to build a strong following and establish a presence on each major network if they wanted to capitalize on the unique access to potential customers social media provided. Simply having a Facebook business page for example, was a competitive advantage for some businesses. And for a while it all worked just fine. But soon, new social media networks popped up and algorithm changes adjusted how we users consumed content.
So here we are today. Today, it's not unique for a business to have a Facebook business page, in fact it's abnormal if they don't have one. Downright lazy if you ask me. To compete in today's digital landscape you must do more than be present. You must be creating content that provides value to the folks who follow you. This level of value you create is what will determine your success on social media.
In this article I want to talk about social media listening and how it can help you create that value. First I'll explain what social media listening is and tell you 8 ways it can help improve your social media strategy.
---
Related reading: 50 Online Marketing Research Tools for Data Driven Marketers
---
What is social media listening?
Social media listening is the act of leveraging social conversations surrounding topics, events, keywords, hashtags, or news within your industry to aid you in your content creation.
Like honing a sharp blade, social media listening gives you an edge when it comes to tailoring content for your specific audience. Maybe there's new regulations your followers might want to hear about on Twitter. Maybe there's a new trending product shaking up consumer tastes you can create a video about on YouTube. This all falls under effective social media listening.
1. Building a community
Social listening tools are available to businesses of all sizes. They enable you to track conversations and detect buyers, leads and key influencers in your industry. All this knowledge will help you to interact with customers in a way that builds a positive image of your brand and fosters better relationships, which eventually form a tight community of loyal followers or even brand evangelists.
2. Understanding consumer behavior
Brands that pay close attention to their consumer base will easily understand the main problems, motivations and issues customers might have with their products or services. This in turn helps them to come up with more efficient customer service.
Brands can identify common problems and provide specific solutions, create a comprehensive knowledge page based on questions frequently asked by consumers and integrate those insights with CRM to benefit from some cost savings.
3. Powerful marketing analytics
Marketers listening closely to social media will be able to uncover what is being said about a brand, who is saying it, on which platforms, how often and who the main influencers are. Keeping tabs on what's happening in their audience, marketers will improve their content marketing by leveraging topic insights in such a way as to come up with optimized content, SEO and PPC strategies.
4. Social media management
Most social listening tools feature smart functionalities to help brands take good care of their social channels. Many different tools (Hootsuite, PostPlanner and Buffer to name just a few) allow a business to manage and monitor multiple networks and profiles on a single dashboard, helping their users execute campaigns across various channels and instantly measure their results.
5. Improved agility
When it comes to social media, timing is everything. A recent study from Lithium Technologies showed that 53% of consumers who tweet a brand expect a response within an hour. Things get even more extreme when the tweet in question is a complaint – the figure above rises to 72%!
Time of reaction is also important for building a positive brand image. Finding that smart window of opportunity is a strategy proposed by Jay Baer, who claims most people are in meetings during the day which are usually scheduled on the hour or half-hour. If that's your audience, you should try to post your content just before or right after this key hour.
6. Developing a better product
By intelligent listening in social media, you can uncover various problems consumers experience when using your product and then address them when releasing a corrected version. Monitoring the reviews of your product, you'll gain additional input and lots of ideas on how to improve it to better suit the preferences and expectations of your target audience.
7. Boosting sales
Social listening is also important for your sales department – you can uncover conversations that indicate someone's intent to purchase your product, as well as monitor what your competitors are up to in their social media feeds. Integrating CRM with those insights, you'll be able to effectively improve your ROI.
8. Social recruiting
Another area of your business that can benefit from insights gained through close monitoring of social media is human resources. Your recruiters can access new talent pools, uncover key experts and influencers, build your employer brand and have their eyes open to problems that might impact employee happiness.
Conclusion
All in all, social listening is an activity that is rich with insights relevant to every area of your business. By keeping tabs on what's being said about your brand, you can improve your interactions and build a positive image throughout the web.
About the Author: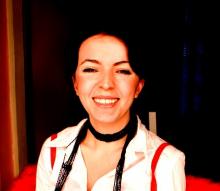 Monique Craig is an Australian blogger and marketing specialist who works for Oneflare, an online marketplace which connects customers with local service providers.