Thinking about running a photo competition, or looking for a bit of guidance on one that's coming up? Want to maximize the potential and generate as many leads (and clients) as you can?
One photo competition can give you and your business the same return on investment as hundreds of hours spent finding inspiration, writing posts, and throwing money at Facebook (and Facebook Ads) like you have it growing out of your ears.
This article will introduce you to photo competitions, give you a few of the most crucial best practices and then examine case studies from 3 real-world photo competitions, giving you their numbers and breaking down exactly why they were so successful.
Before we get rolling, let's just quickly go through a few of the best practices you need to know (and you'll see in the real-world examples in this article)…

Photo Competition Best Practices:
Make it easy for your entrants to spread the word about their photos and your competition by giving them share messages they can use (110 characters + a shortened URL for Twitter, for instance).
Because there's more to do in a photo competition (submittal of a photo and also promotion) than a sweepstakes competition (for instance), lower the barrier-to-entry of your form and ask for nothing more than a name and email address. Anything more will lower the number of people who enter.
Feature the winning photo prominently somewhere online, either your homepage, social pages, or the competition page itself. The entrants wanted their photo to be seen, and publicity is as much a part of the prize as the prize itself.
With that out of the way, here's a look at some successful photo competition examples from the past year to inspire your own competition:
Real-world Photo Competition Example #1: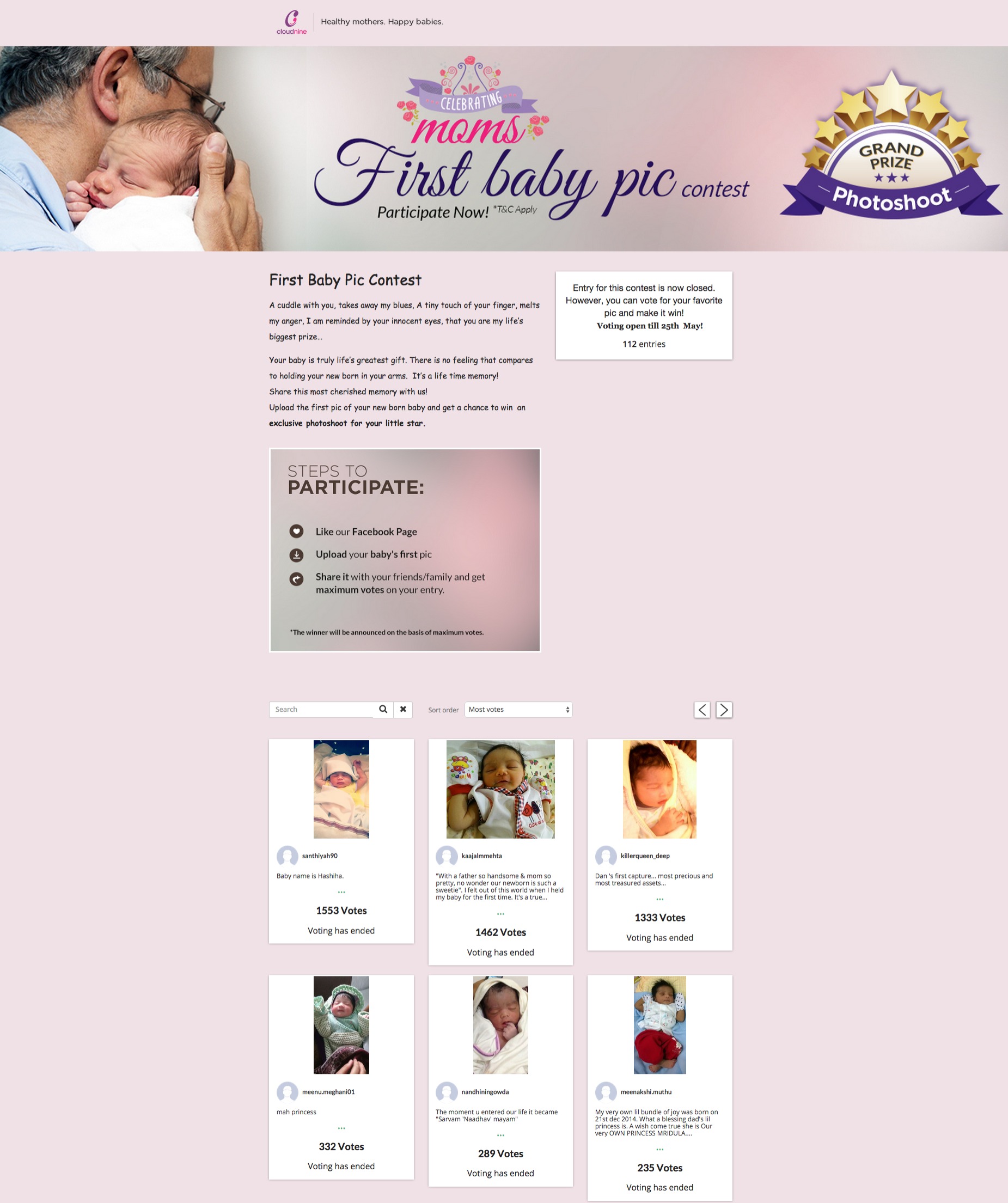 The Numbers:
This competition had 21,500 views and a conversion rate of 41.48%, giving the client 8,914 email addresses for a prize worth about $300.
Why This Photo Competition Was so Successful:
The prize: A photo shoot is a fantastic prize for a new mother or father, particularly one who's clearly inclined to take photos.
The emotion: A study in 2013 stated pretty clearly that prizes that evoke emotion (such as family photos) are more desirable than non-emotive prizes or products.
The visuals: Professional and clean, high-quality images and graphics take an average competition and put it on another level, generating significantly more leads than a similar competition with scraped-together graphics and color.
The entrants: This prize is desirable only to recent parents – the merchant's target market. This makes the contest even more powerful, as every single one of their generated emails is a prospective (even likely) customer.
Real-world Photo Competition Example #2: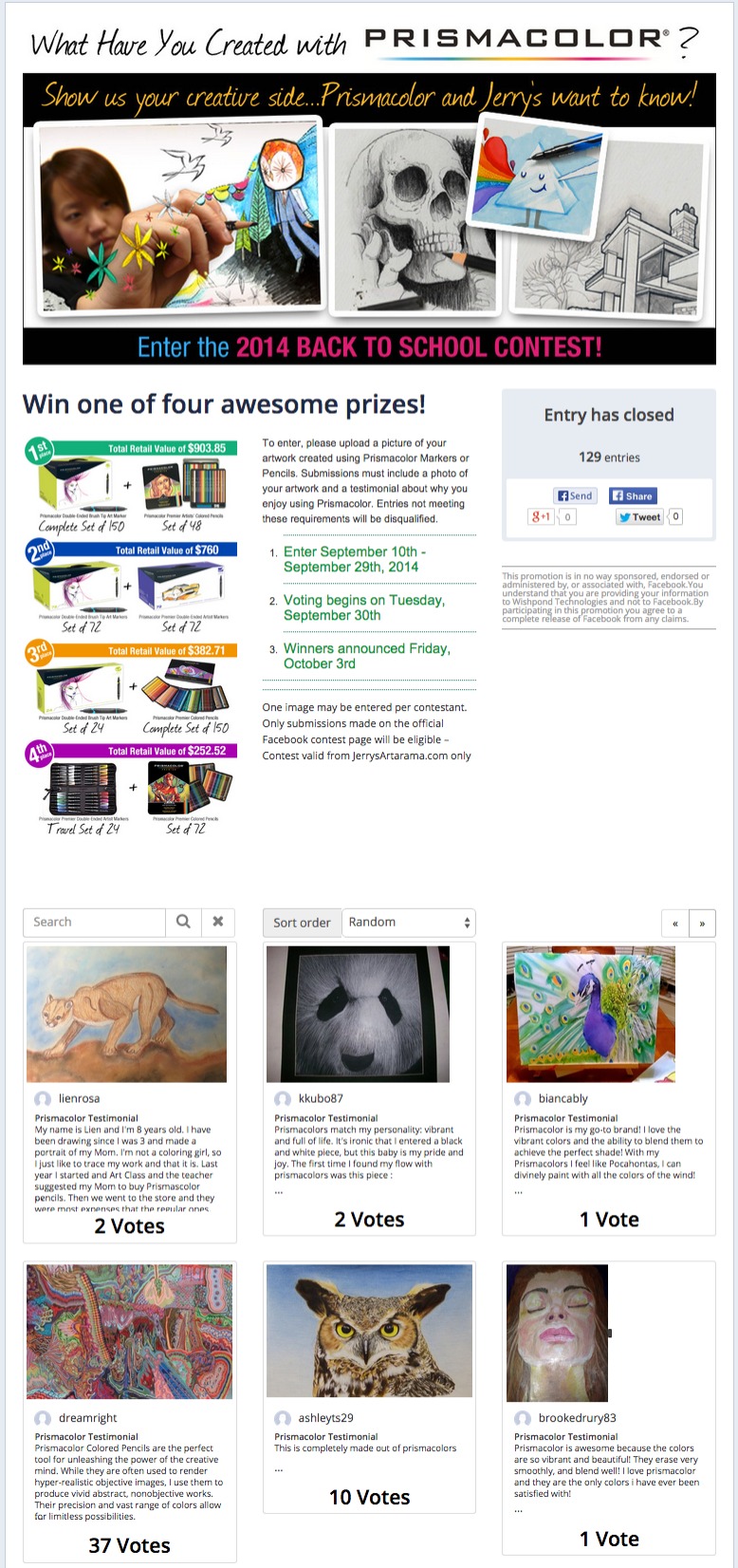 The Numbers:
This competition had 36,300 views and a 64.07% conversion rate, giving the merchant 23,300 email addresses for four prizes worth about $80.
Why This Photo Competition Was so Successful:
The seasonal theme: Back-to-school is always one of our most successful times for competitions of all kinds. For a brand like Prismacolor it's a crucial promotional period, and competitions like this (even if visitors don't enter) are a great way to spread brand awareness and get prospective customers recognizing the Prismacolor brand name while buying school supplies.
Involving the kids: Kids have a huge purchasing influence during back-to-school, impacting the purchases of their parents. Getting them involved by having them be the creators of the entries is a great way to get them talking about Prismacolor as well as their parents.
Multiple prizes: Multiple prizes increase the rate of entry for a photo competition because entrants see it as increasing their chance of winning. I also like that all four prizes are Prismacolor products, ensuring that everybody who enters is genuinely interested in the brand (not just entering to win cash, an ipad, or something else completely unrelated to the brand).
Real-world Photo Competition Example #3:

The Numbers:
This competition received 3,935 views with a conversion rate of 55.04%, giving them 2,166 qualified email addresses for $5,000.
Why This Photo Competition Was so Successful:
Keeping it Local: This competition only accepts entrants from California, and they offer a prize to both north and south of the state. This is a great call for businesses whose clientele is geographically limited.
Asking for What you Want: The request for a phone number is beyond what I normally recommend on a competition page, but if they have a strong sales team who is putting those phone numbers to good use, then I'm all for it. That said, never ask for a piece of information from your lead unless you have good use for it (otherwise it reduces conversions).
Asking for a Share: Nothing is lost by asking your photo competition entrants to share, and everything might be gained. Don't hesitate to request some word of mouth or social communication based around the excitement of your competition. This merchant actually put it in their "steps to enter" which is a great (if somewhat aggressive) idea.
Conclusion
Hopefully these successful photo competition examples have given you some inspiration and guidance on how you can find success with your own campaign.
If you have any questions or concerns don't hesitate to reach out in the comment section below.

Related Content:
james-scherer-2