Top 30 Best Instagram Promotions Apps of All Time
Instagram is an under-utilized tool for business: only 28% of marketers currently use Instagram.
Now's the time to get started with Instagram marketing.
These Instagram promotion apps will help you make the most of your Instagram efforts - whether it's creating captivating posts, monitoring your Instagram analytics or converting your Instagram followers to customers.
Here are the top 30 Instagram promotion apps you need to create a fool-proof Instagram marketing plan:
---
Flipagram allows you to take a series of photos and put them together to create a quick slideshow video for Instagram. They call them "photo video stories."
This type of Instagram post is a quick and easy way for followers to consume their products - it's much faster than going through photos manually - as the photos are only seen for about a second before it flashes to the next.
Clothing retailer Reformation uses Flipagram to introduce their Instagram followers to their new collection.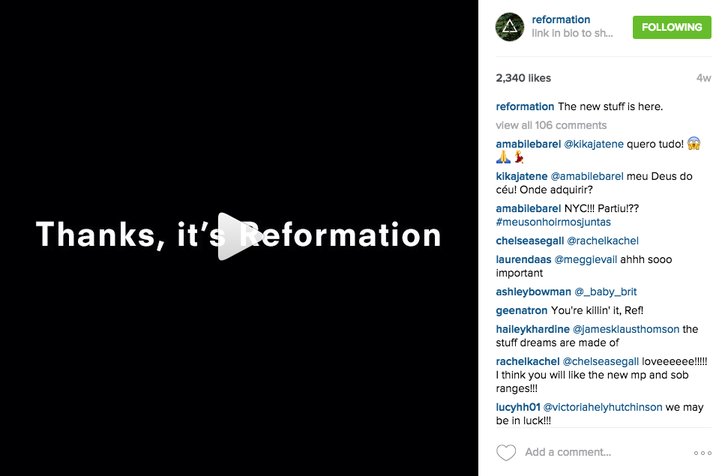 This post drives traffic to their ecommerce store because Instagram users can shop the look with the link provided in their bio.
Check out reformation's photo video story here.
Not in the retail industry? Here are three examples of ways other businesses could use Flipagram:
Restaurant/bar: Individually photograph each food & drink item on sale for the night
Photographer: Compile photos from your fall wedding photography last year to promote for fall 2015
Hotel: Use photos of guests engaging in sports and/or activities (snorkeling, bird watching, golf, tennis, etc) to attract guests
Price: Free
---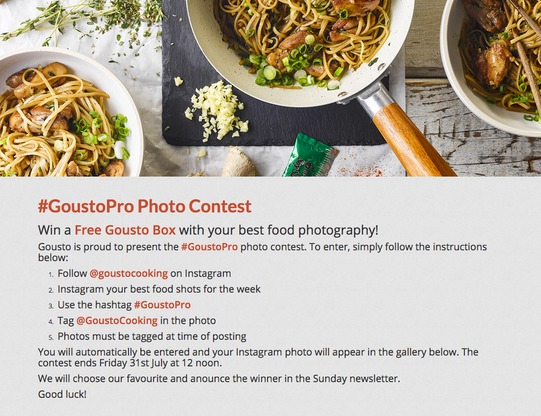 70% of Instagram users have already taken part in a contest on Instagram (or would be willing to do so). Your followers want you to run contests.
Wishpond's Instagram Contest App collects Instagram photos and showcase them in a voting gallery on your Facebook Page or website. Fans submit their photos from Instagram and vote on their favourites.
Running contests are a great way to engage your current followers and collect email leads. They're a win-win for both you and your Instagram followers.
What are some other ways businesses can use Wishpond's Instagram Contest?
Library: Get entrants to snap a photo of you and your book of the moment in your favourite reading spot.
Mall: Set up a photo booth corner somewhere in mall and tell Instagramers to snap a photo there for a chance to win.
Radio station: Have your followers take a funny photo (or video) of them belting out their favourite song
Price: Plans start at $69/month
---
78% of consumers make purchases influenced by a brand's social media.
We all know it's a best practice to include a link to your website or blog in your bio, but Like2buy takes this a step further. They provide a simplistic gallery of products that are instantly available for purchase.
Like2buy provides a link that brands put in their bio. Once a user clicks on the link, it will take them to a page of the brand's featured products. It only takes a few clicks to get from a brand's Instagram to their Like2Buy product page.
Big brands like NastyGal and Forever 21 use Like2buy to make it easy for their followers to buy.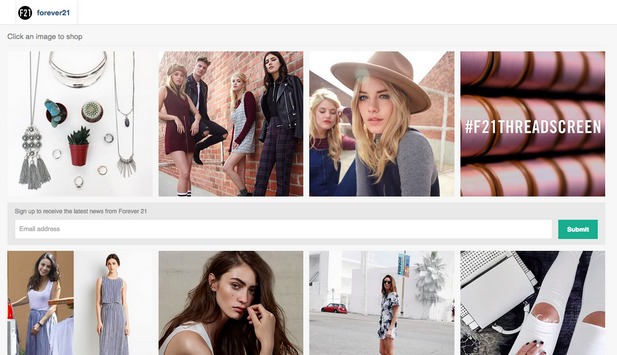 Tip: Use Instagram captions to say "shop link in bio" to remind users that they can shop for the products conveniently .
Price: Request a demo for details.
---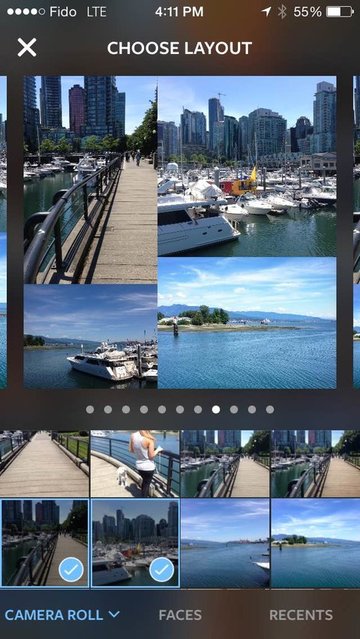 Layout is Instagram's collage app, and it's by far the easiest app of its kind. It allows you to combine 2-9 of your photos into one image.
There are three options from where you can select your photos: camera roll, recent photos and an interesting "faces" option where Layout compiles the photos you have of people('s faces).
There are also a lot of creative features included: such as mirroring, flipping, resizing and rearranging with just a few taps.
Bonus: It has a photo booth feature which includes a countdown where you can snap up to 4 photos in a row.
How can other businesses use Layout?
Real estate agent: Make a collage of several different photos of a new property for sale.
Beauty salon: Compile a collage of the latest hairstyles of the season.
Tea merchant: Snap photos of 4 loose leaf teas in visually pleasing containers at a high camera angle.
Price: Free
---
Instasize allows you to post the entirety of your photo on Instagram. If you forget to take a photo in "square mode," Instasize will resize your photo so Instagram doesn't crop a majority of it out.
This app allows you to resize your photo or video in less than a minute.
Simply access your camera roll and upload the file you want. Then edit your photo or video and use the red icon in the top right hand corner of the app to export it by opening it in Instagram or saves in high-resolution to your camera roll, or sharing it on another social network.
Instasize has a lot more features than just image resizing - check out their unique overlays, borders, collage frames and stickers. You have the option to download more borders and stickers easily and for free through the app.
Price: Free
---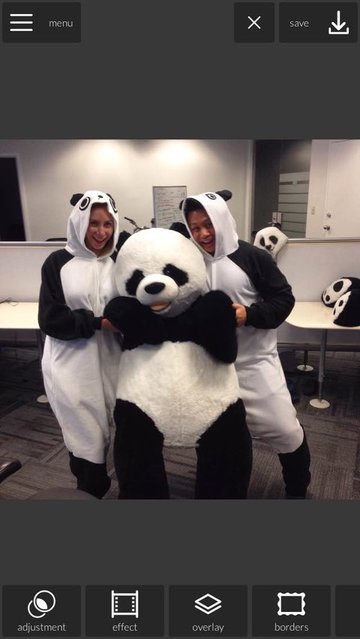 Did you know that images with high lightness generate 24% more likes than dark images?
There are so many image editing tools you can use for your photos, but Pixlr is my favorite and is easy to use and also gives you a bunch of options.
Here are a few of the features:
take photos within the app
100+ effects
280 overlays
200 borders
Despite all of the options, this app is surprisingly easy to navigate.
If you check out Pixlr and decide it's not your thing, here are three other popular photo editing tools marketers use:
Adobe Photoshop Express: A mini version of Photoshop on your phone
Camera+: not just for photo editing, but also for taking photos. The app has 6x zoom and a built-in stabilizer
VSCO Cam: the minimalist's favorite camera app. you can also follow other photographer's images on the app
Price: Free
---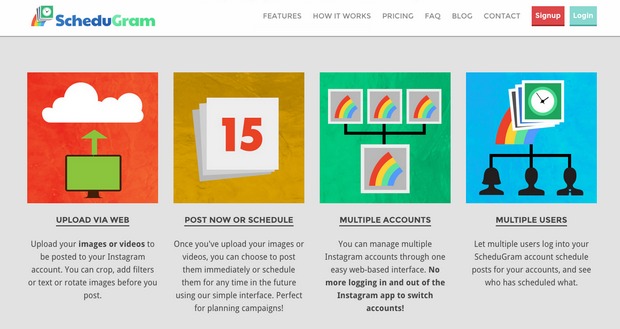 ScheduGram is one of a kind - it's a web-based tool that enables you to publish your Instagram photos and videos now or later.
What makes ScheduGram so different? Unlike other Instagram photo scheduling tools, ScheduGram actually posts the photo to Instagram for you - instead of reminding you to post the image yourself.
You can also manage multiple Instagram accounts and collaborate with other users - which is particularly useful because you don't have to log in and out to switch accounts.
ScheduGram has basic photo-editing features such as cropping, adding filters, text, and rotating images.
ScheduGram lets you schedule multiple posts at a time. This is an effective time-saver and frees you from worrying about the last time you posted on Instagram.
Price: Plans start at $20/month
By the way, Hootsuite has just announced that they now allow you to schedule Instagram posts! Although it works similar to Latergram as you will receive a notification when it's time to publish the post yourself.
---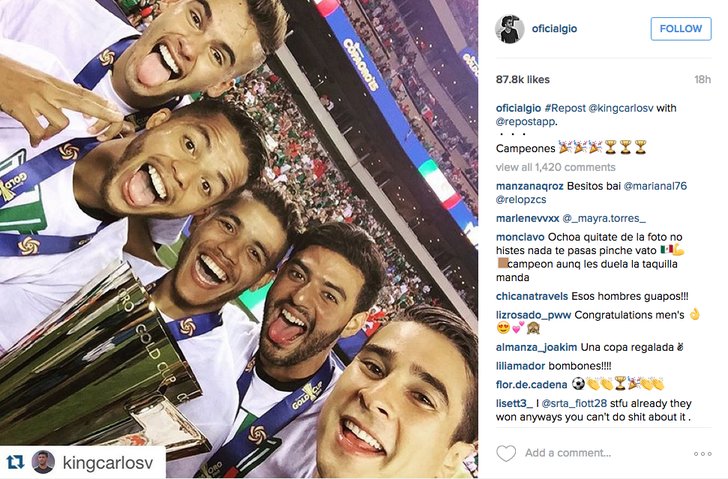 Did you know that 65% of Instagram users say they feel honored when a brand @mentions them? Repost is an easy way to make your followers feel appreciated.
Repost makes sharing other people's photo or videos simple: browse your feed or search for a specific user or hashtag, click on the photo and press, "repost." It's that simple.
This app is a great way for brands to show their user-generated content (UGC) and give praise to their customers.
Lots of big brands and celebrities use tools like Repost. In the screenshot above, soccer star Giovani dos Santos uses repost to share a photo from his teammate.
Tip: Create a hashtag unique to your brand. It will make it easier for you to find UGC photos for your brand to use, and a great way for Instagram users to browse your photos.
Price: Free
---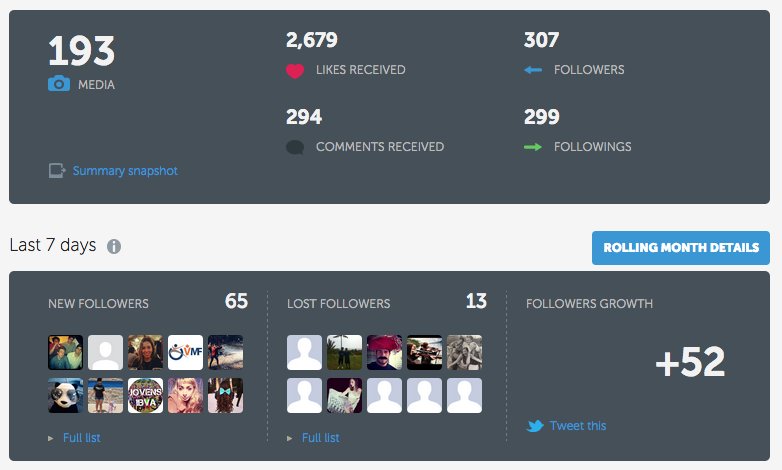 Iconosquare is the go-to Instagram analytics tool for marketers: it allows Instagram users to monitor and analyze comments, likes, followers and messages.
This free tool sorts out the analytics of your and puts them all in one dashboard. It's the only Instagram tool that is this in-depth.
Here are a few handy Iconosquare functions:
The bulk commenter makes it easy for you to keep track of your follower's comments
Shows you who has unfollowed you in the last week and onward
Specific comparative growth statistics that help you grow your followers
Price: Free
---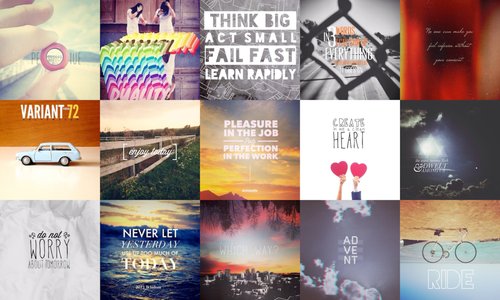 Chances are, if you've browsed the "Explore" section on Instagram, you've seen a graphic designed on Over.
This sleek app was designed for mobile-creative types and Instagram users that are serious about making visually appealing graphics.
With Over, you can add text & artwork to your photos. They feature both standard and custom-made fonts as well as original artwork.
Over makes it easy to make beautiful graphics for Instagram while you're on the go.
If you're into designing your own fonts, you can upload them to Over to use on your photos.
Price: $3.99
---
SproutSocial, like other great social media platforms like Hootsuite and Buffer, allows you to compile your entire social media efforts into one dashboard:
An "all-in-one" social notification inbox
Publishing, scheduling and drafting from
A complete social content calendar
Reporting on all post's performance
10 social profiles (under their "premium" plan, more with others)
Keyword and profile monitoring
Price: $99 per user/month
---
VSCO adds on to Instagram's stock filters with their own "presets." The VSCO app allows you to easily imitate film effects as well as edit your images subtly.
Reviews
Android:
Apple:
Price: Free
---
The Prisma app enables you to turn your photos and videos into "works of art" using chosen styles from classic and famous artists such as Picasso, Van Gogh and others.
Reviews
Android:
Apple:
Price: Free
---
Snapseed is Google's own photo-editing application. It enables users to edit and select different effects/enhancements. Alternatively, Snapseed can automatically adjust color and contrast of your images.
A cool thing with Snapseed is the "save filter" function which enables users to find the filter combination they like most and save it to use again.
Reviews
Android:
Apple:
Price: Free
---
AutoGrammer is another social media management tool which enables you to schedule your post for Instagram (as well as Facebook and Twitter). A cool feature of Autogrammer is the ability to upload a bulk load of images at once and then edit them from within the platform. Editing includes cropping,filtering, rotating and fixing colors.
Reviews
Reliably unbiased reviews were unavailable for this tool.
Price:
---
Boomerang is Instagram's proprietary "stitching" tool. Click a button within the app and it'll take a bunch of photos and stitch them together into a mini-video/gif.
Reviews
Android:
Apple:
Price: Free
---
Later is another scheduling app, but I'm including it as well because of its free version. Later allows you not to schedule posts directly, but to create a queue of posts and then receive a notification when they're due to go out.
They also have the multiple-profile and bulk image upload of the paid platforms, but are simpler in general.
Reviews
Android:
Price: Free, unless you want the premium tools.
---
Mulpix is an Instagram search tool, allowing users to search for their business' keyword or phrase and see what activity is going on around that term. It's a great way for businesses to get an idea of which posts do best for competitors or around a certain type of content.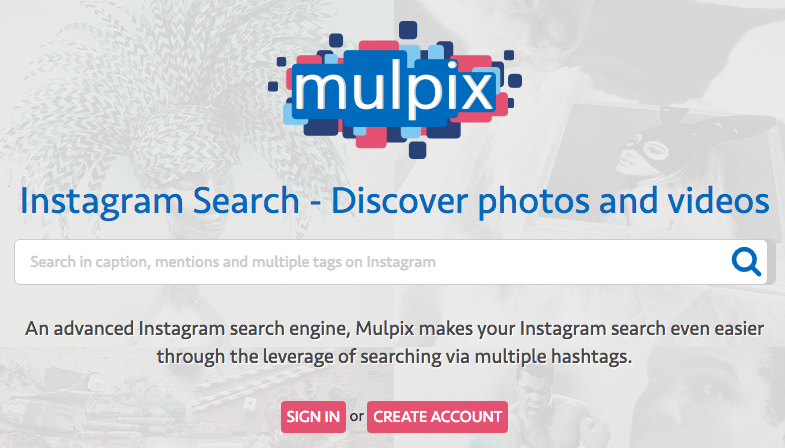 Reviews
My own personal review is this…
Mulpix' dashboard is a bit out of date, but does give you a better sense of the activity around your keywords than doing it directly on the Instagram platform does. If you're willing to pay for a social media management tool, you'll get the same kind of features, but Mulpix is a free service, so it has that going for it.
Price: Free
---
Formerly known as Inkstagram (Instagram requested they change that…) Ink361 is an Instagram-specific analytics dashboard for marketers. The tool enables you to understand what drives engagement, create "circles" to monitor the content from specific accounts and monitor/compare your competitors on the Instagram platform.
Reviews
Reliably unbiased reviews were unavailable for this tool.
Price: (Currently) free. They're determining price as they move forward.
---
Crowdfire is a desktop and mobile app which connects your social media accounts, identifies avenues of growth and then recommends content and posts which it believes will drive success for your Instagram profile.
Reviews
Android:
Apple:
Price: Free, with paid plan upgrades.
---
SimplyMeasured is social media ROI software focused around three key components:
Social analysis and monitoring, which tells you what kind of content drives results for your business
Social attribution, which tells you if your social media campaigns are actually driving revenue, and how.
A social analytics API which allows you to connect social media to the rest of your business through integrations
Review (from G2Crowd):
Price: Request a demo to learn pricing.
---
The Superimpose app allows you to easily combine two photos into one and edit the whole to look great. Mask your foreground photos, remove the background, transform layers, resize, and use filters, exposure, contrast, saturation and color correction until you have a finished product where you wouldn't know it's two images!
Reviews:
Android:
Apple:
Price: Free
---
Afterlight is the ultimate Instagram image-prettifying tool out there, giving users…
74 filters
78 textures
128 frames
Reviews:
Android:
Apple:
Price: Free
---
Websta is an Instagram optimization tool, enabling you to explore competitors, users, hashtags and influencers from one dashboard. Create customized Instagram newsfeeds and interact with Followers from one place.
Reviews:
Reliably unbiased reviews were unavailable for this tool.
Price: Free to sign up
---
Showcase, like Like2Buy and others, automatically creates an optimized gallery of your Instagram images (and the merchandise inside them) to enable Instagram users to quickly and easily navigate from your profile to the buying stage.
Reviews (via Shopify):
Price:
---
Inselly is an interesting one. They enable, through hashtagging, ecommerce sellers to automatically send product images from Instagram to an online marketplace.
They offer apps (1.99 each per month) to allow you to do things like enable a custom domain on their platform, directly upload images (instead of using the hashtag), create custom product categories and more.
Reviews:
This is a pretty good article from one of Inselly's sellers for those interested.
Price: Free, apart from the premium elements available with the apps.
---
Have2HaveIt is another platform which enables Instagrammers to drive and track referral traffic from Instagram to their products. A link in your bio sends Followers and Instagram users to a page of your website (or Have2HaveIt's domain) which enables them to buy the thing they saw on your Profile.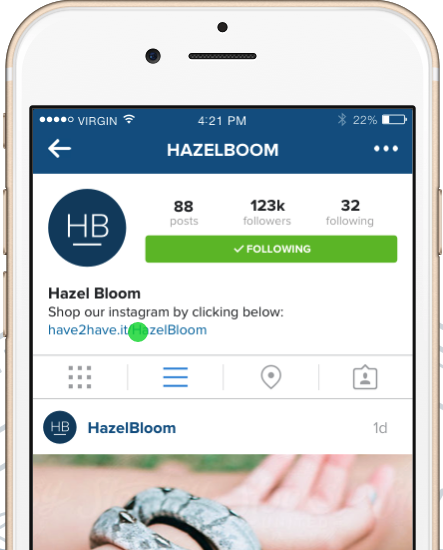 Review:
"Being able to get referrals from specific images on Instagram has allowed us to tweak and refine the type of social promotions we do. We can also drive traffic to specific articles and videos that would otherwise get lost in the mix." - Katherine Martinez (Director of E-Commerce at Nylon Magazine)
Price:
---
Quick makes it super easy to add text to images and upload them to Instagram, all from within their app.
Reviews:
Android:
Apple:
Price: Free
---
Only available on Apple, Vintagio is a video-editing tool designed to make your Instagram videos look awesome. Vintagio includes…
Video filters
Trimming and splitting
11 original soundtracks (and the ability to upload music from your library)
Transitions and fade-outs
Title cards
3 different video quality settings
Slow-mo and speedup, as well as backwards and forwards
Reviews:
Apple: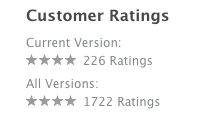 Price: $3.99
---
PicPlayPost's app makes multi-media collages simple. You can share snapshots from a video as well as the video itself, all within a single visually-appealing post.
Reviews:
Android:
Apple:
Price: Free
Conclusion
---
I hope you've discovered a new tool or app to further your Instagram marketing.
What are the Instagram tools you love using? Let me know in the comments section below.
Related reading:
P.S. Wishpond's Facebook Contest Apps make it easy to create sweepstakes, photo contests, Instagram hashtag contests & more.