Top 30 Instagram Marketing Tools to Grow Your Business
With over 1.3 billion users, Instagram is an essential social media platform for marketing. While there are massive opportunities to reach a big audience, there is also a lot of competition. This is why you need the right Instagram marketing tools if you're going to succeed.
These Instagram marketing tools will help you make the most of your Instagram efforts - whether it's creating captivating posts, monitoring your analytics, cracking the Instagram algorithm, or converting your Instagram followers to customers.
Here are the top 30 Instagram marketing tools you need to create a fool-proof Instagram marketing plan:


Canva is one of the best Instagram marketing tools to help you make images that stand out. You can use Canva to enhance your Stories or your feed posts. Canva offers loads of design features in a really easy-to-use format, allowing anyone to become a champion designer.
One of the best things about using Canva as an Instagram tool is that you can access plenty of templates, fonts, and design elements. This allows you to make your brand really stand out, and create a clear and consistent identity to help users recognize your content.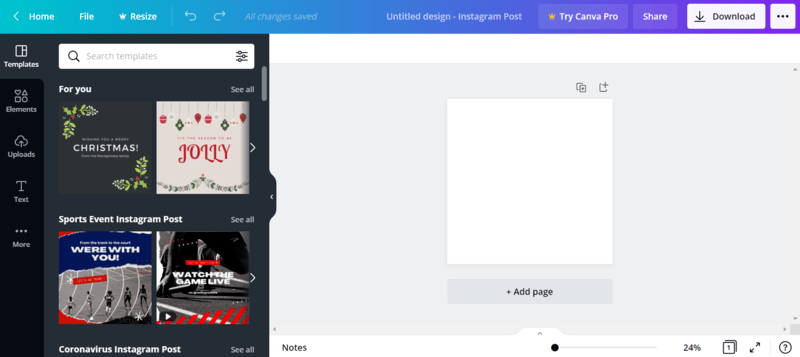 What are some ways you can use Canva for Instagram marketing?
Superimpose text on images
Create multi-image layouts
Add a wide range of pre-designed graphics into your posts
Price: Free, or $12.95/month for Canva Pro to access more features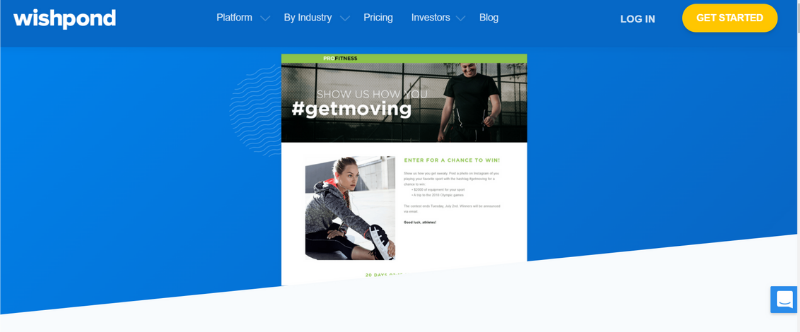 Running an Instagram contest is one of the best ways to increase engagement, get more followers, spread brand awareness, and promote your business. With the right Instagram marketing tools, you can make sure your contest or giveaway does more for your business.
Wishpond's Instagram Contest App collects Instagram photos and showcases them in a voting gallery on your Facebook Page or website. Fans submit their photos from Instagram and vote on their favorites.
Running contests is a great way to engage your current followers and collect email leads. They're a win-win for both you and your Instagram followers.
What are some other ways businesses can use Wishpond's Instagram Contest?
Library: Get entrants to snap a photo of you and your book of the moment in your favorite reading spot.
Mall: Set up a photo booth corner somewhere in a mall and tell Instagramers to snap a photo there for a chance to win.
Radio station: Have your followers take a funny photo (or video) of them belting out their favorite song
Price: Book a demo
We all know it's a best practice to include a link to your website or blog in your bio, but Like2buy takes this a step further. They provide a simplistic gallery of products that are instantly available for purchase.
Like2buy provides a link that brands put in their bio. Once a user clicks on the link, it will take them to a page of the brand's featured products. It only takes a few clicks to get from a brand's Instagram to their Like2Buy product page. Using this social commerce tool can help you create the ultimate user journey and turn any social channel into a shoppable storefront.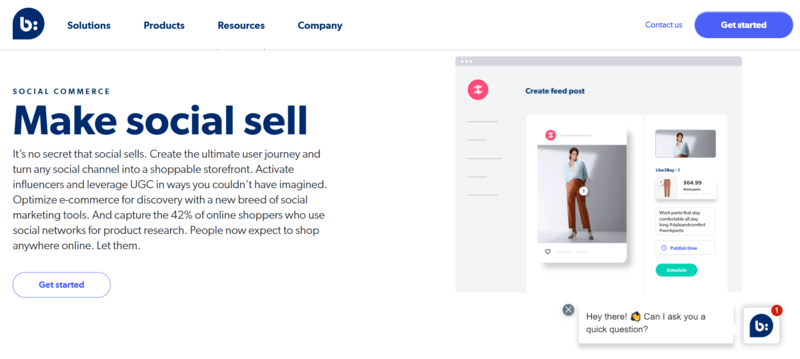 Tip: Use Instagram captions to say "shop link in bio" to remind users that they can shop for the products conveniently.
Price: Request a demo for details.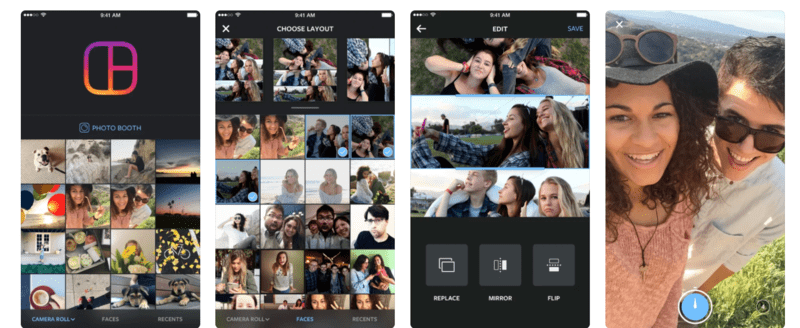 Layout is Instagram's collage app, and it's by far the easiest app of its kind. It allows you to combine 2-9 of your photos into one image.
There are three options from where you can select your photos: camera roll, recent photos, and an interesting "faces" option where Layout compiles the photos you have of people's faces.
There are also a lot of creative features included: such as mirroring, flipping, resizing, and rearranging with just a few taps.
Bonus: It has a photo booth feature that includes a countdown where you can snap up to 4 photos in a row.
How can businesses use Layout for Instagram marketing?
Real estate agent: Make a collage of several different photos of a new property for sale.
Beauty salon: Compile a collage of the latest hairstyles of the season.
Tea merchant: Snap photos of 4 loose leaf teas in visually pleasing containers at a high camera angle.
Price: Free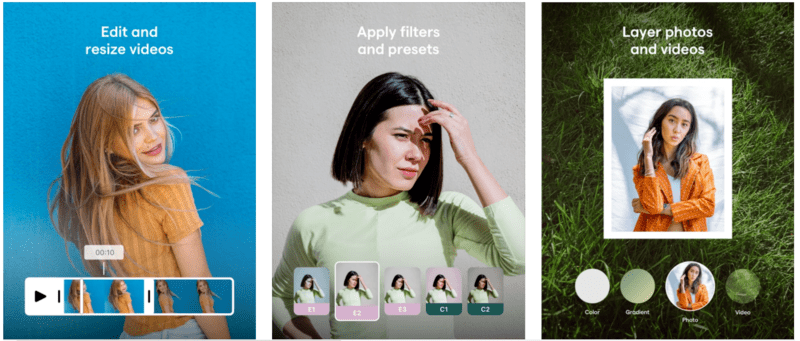 Instasize allows you to edit, filter, and resize photos and videos. The app is seriously easy to use, and it allows you to totally transform your Instagram marketing.
Simply access your camera roll and upload the file you want. Then edit your photo or video and use the red icon in the top right-hand corner of the app to export it by opening it on Instagram, saving it in high-resolution to your camera roll, or sharing it on another social network.
Instasize has a lot more features than just image resizing. Check out their unique overlays, borders, collage frames, and stickers. You have the option to download more borders and stickers easily and for free through the app. This is one of the best Instagram marketing tools for both still images and video.
Price: Free

There are so many image editing tools you can use for your photos, but Pixlr is my favorite. It's really easy to use and also gives you a bunch of options.
You can use Pixlr for Instagram marketing to apply filters and effects, remove the background, make collages, and you can access many design templates. Some features allow you to:
Take photos within the app
100+ effects
280 overlays
200 borders
Despite all of the options, this Instagram marketing tool is surprisingly easy to navigate.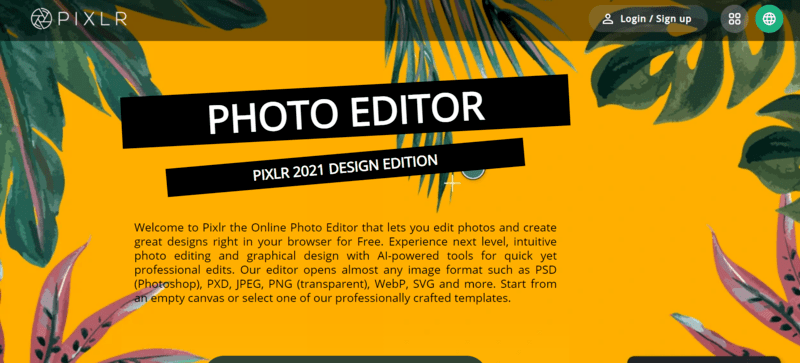 Price: Free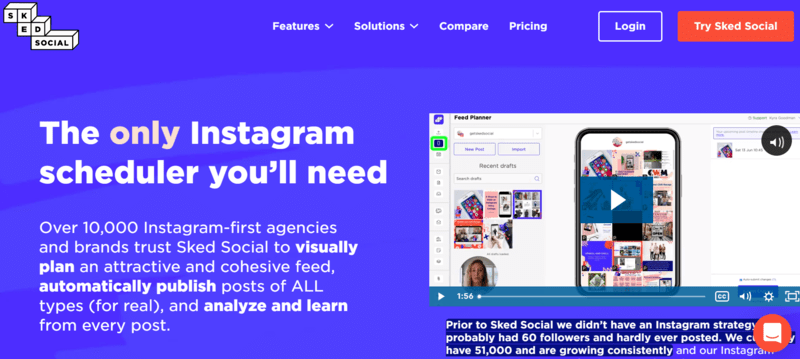 ScheduGram is one of a kind - it's a web-based tool that enables you to publish your Instagram photos and videos now or later. When it comes to Instagram marketing, having a good scheduling tool is a must.
You can also manage multiple Instagram accounts and collaborate with other users - which is particularly useful because you don't have to log in and out to switch accounts. ScheduGram has basic photo-editing features such as cropping, adding filters, text, and rotating images.
ScheduGram lets you schedule multiple posts at a time. This is an effective time-saver and frees you from worrying about the last time you posted on Instagram.
Price: ScheduGram offers three different plans at $25/month, $75/month, and $135/month (free trial available)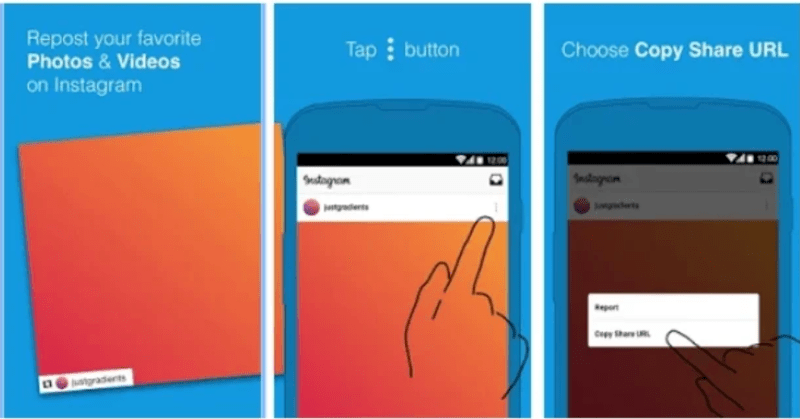 Instagram users feel honored when a brand mentions them. And when brands share users' content, they generate some valuable social proof. Repost is an easy way to make your followers feel appreciated.
Repost makes sharing other people's photos or videos simple: browse your feed or search for a specific user or hashtag, click on the photo, and tap, "repost." It's that simple.
This app is a great way for brands to show their user-generated content (UGC) and give praise to their customers.
Tip: Create a hashtag unique to your brand. It will make it easier for you to find UGC photos for your brand to use and a great way for Instagram users to browse your photos.
Price: Free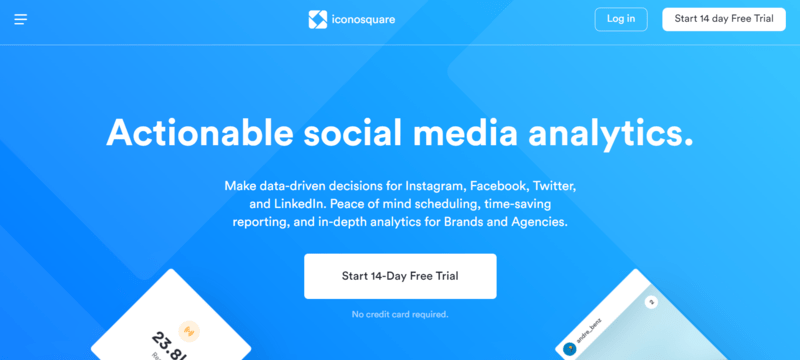 Iconosquare is the go-to Instagram analytics tool for marketers: it allows Instagram users to monitor and analyze comments, likes, followers, messages, and more.
This tool sorts out the analytics of your account and puts all the information in one dashboard. It's one of the most in-depth Instagram marketing tools, allowing you to make easy data-backed decisions.
Here are a few handy Iconosquare functions:
The bulk commenter makes it easy for you to keep track of your follower's comments
Shows you who has unfollowed you in the last week and onward
Specific comparative growth statistics that help you grow your followers
Price: Three options are available at $49/month, $79/month, and $139/month (free trial available)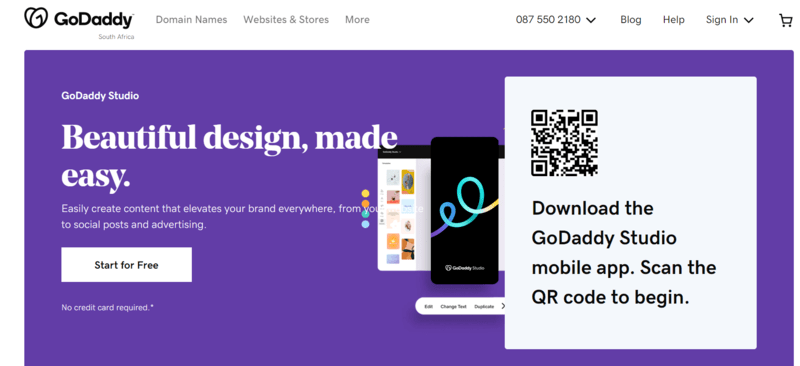 This sleek app was designed for mobile-creative types and Instagram users that are serious about making visually appealing graphics. GoDaddy Studio (previously Over) is an awesome Instagram marketing tool to easily elevate your social posts.
With GoDaddy Studio, you can add text & artwork to your photos. They feature both standard and custom-made fonts as well as original graphics. You can access 1000s of customizable templates that work on all your social media platforms.
GoDaddy Studio makes it easy to make beautiful graphics for Instagram while you're on the go.
If you're into designing your own fonts, you can upload them to this Instagram marketing tool to use on your photos.
Price: Two options are available at $5.99/month and $14.99/month (free trial available)

SproutSocial, like other great social media platforms like Hootsuite and Buffer, allows you to compile your entire social media efforts into one dashboard:
An "all-in-one" social notification inbox
Publishing, scheduling, and drafting from
A complete social content calendar
Reporting on all post's performance
10 social profiles (under their "premium" plan, more with others)
Keyword and profile monitoring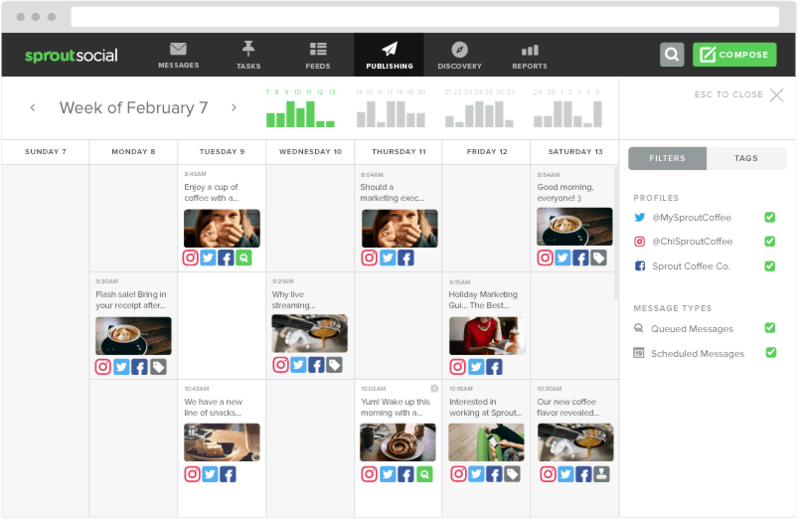 If you want to schedule posts, access advanced analytics, stay up to date with your community, and more, then this Instagram marketing tool is a great choice.
Price: Three options are available at* *$89 per user/month, $149/month, and $249/month (free trial available)

VSCO adds on to Instagram's stock filters with their own "presets." The VSCO app allows you to easily imitate film effects as well as edit your images subtly. This Instagram marketing tool is one of the best options for making your phone photography look really special.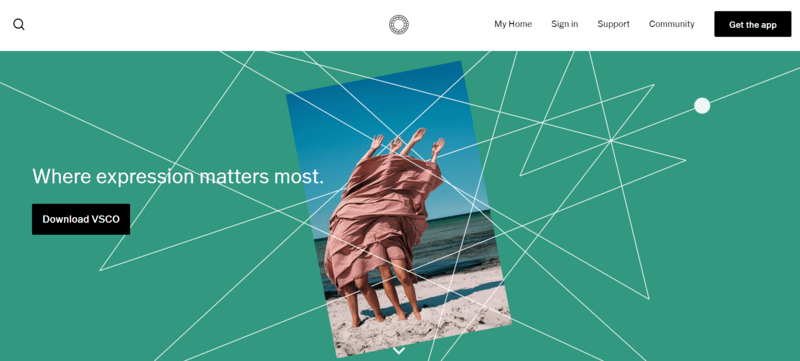 Price: Free app download, or monthly subscription available for VSCOMembership

The Prisma app enables you to turn your photos and videos into "works of art" using chosen styles from classic and famous artists such as Picasso, Van Gogh, and others. This Instagram marketing tool lets you easily enhance your photos to make your feed really stand out.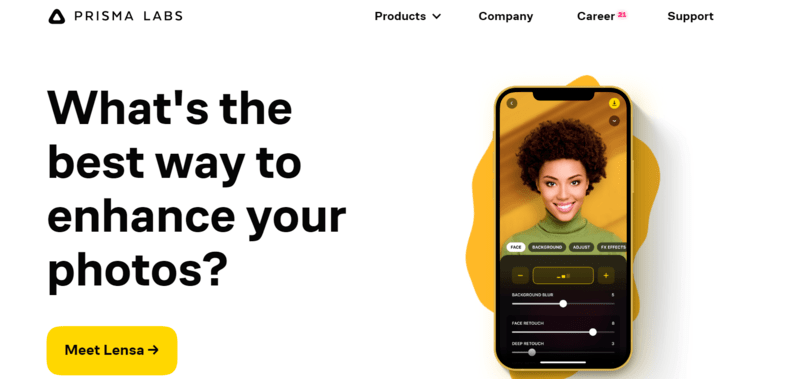 Price: Free

Snapseed is Google's own photo-editing application. It enables users to edit and select different effects/enhancements. Alternatively, Snapseed can automatically adjust the color and contrast of your images.
A cool thing with Snapseed is the "save filter" function which enables users to find the filter combination they like most and save it to use again. This Instagram marketing tool also has a cool "Stacks" feature that lets you save groups of filters as a template to be applied to future photos.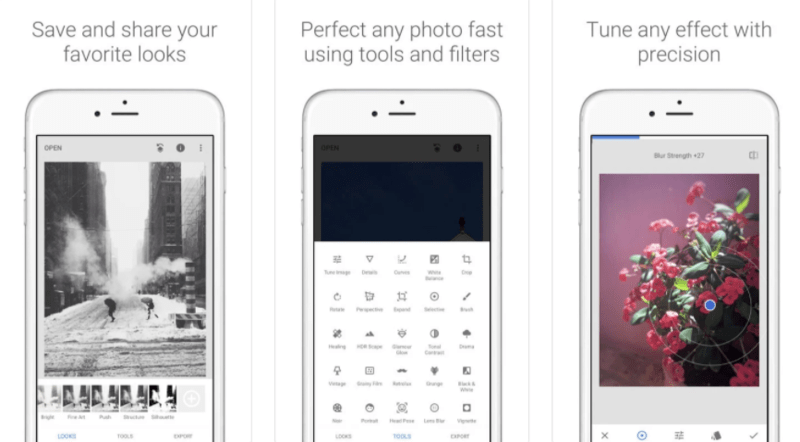 Price: Free

Video is by far the most engaging form of content on social media. Vimeo Create is an excellent Instagram marketing tool that can automatically turn your product images and text into perfectly polished videos.
This is the easiest way to put together great video content for your social media without having any video creation experience.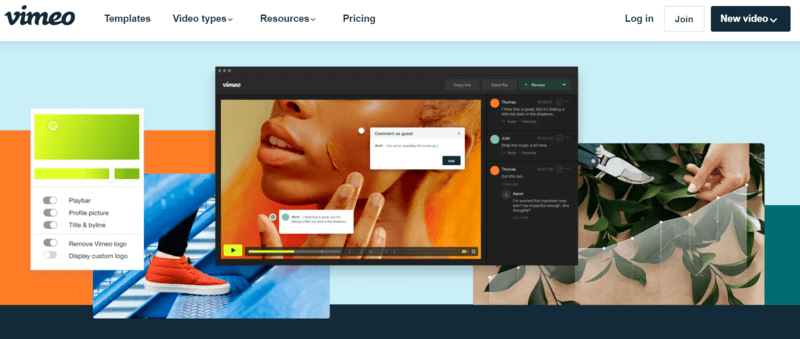 Price: Free, with the option to upgrade to more advanced video editing tools

Boomerang is Instagram's proprietary "stitching" tool. Click a button within the app and it'll take a bunch of photos and stitch them together into a mini-video/gif. This is a fun Instagram marketing tool to make your stories really stand out.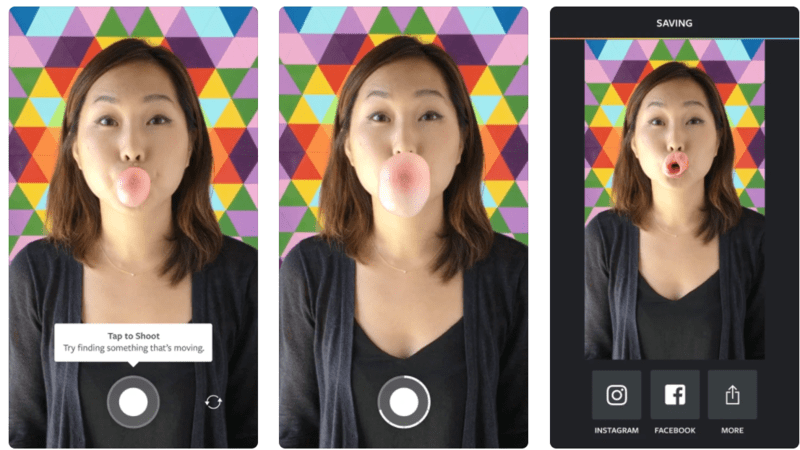 Price: Free

Later is another Instagram tool to help you schedule posts. It's a seriously popular Instagram marketing tool to help you plan, publish, and analyze your Instagram posts.
The free social media tool has the multiple-profile and bulk image upload option of the paid platforms, but it is more simple to use.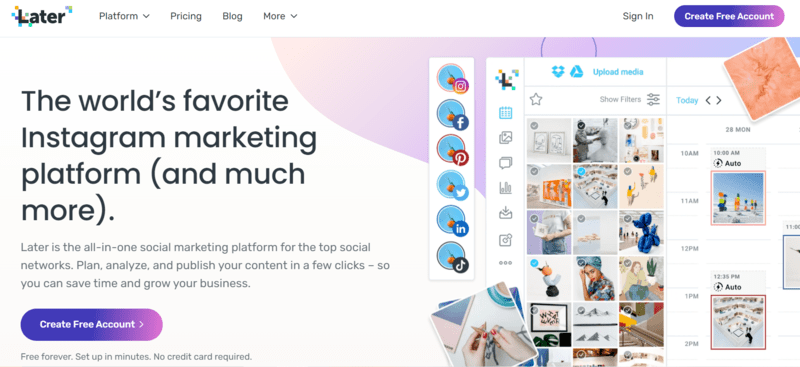 Price: Free, unless you want the Plus Plan at $9/month

Buffer is a well-known social media scheduling tool, and it works really well for Instagram. When it comes to Instagram tools for scheduling your content, Buffer is one of the easiest to use.
You can easily line up your Instagram posts for publishing, preparing them from mobile or desktop, and Buffer will publish them directly for you. The Premium plan also allows you to create and schedule Stories, add a shoppable Instagram grid to your website, and access detailed analytics on your Instagram account.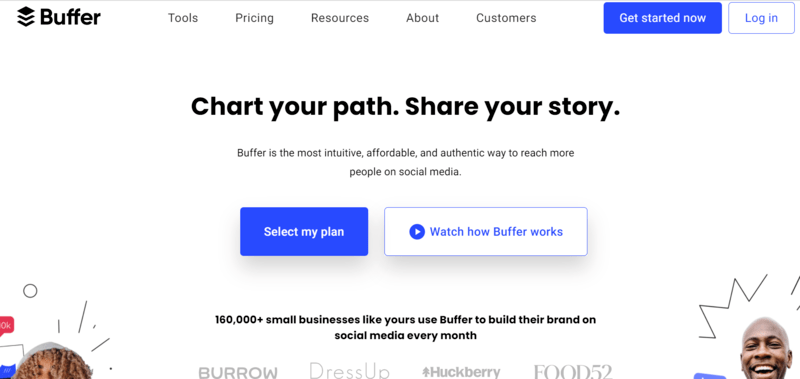 Price: Three plans are available, including a free plan, a Pro plan at $15/month, and a Premium plan at $65/month

If you're looking for a social media management platform to schedule posts and grow your business, then Hootsuite is one of the most popular.
Hootsuite lets you line up posts for your Instagram account in advance, and it will either send you a notification to post them, or it will post them for you if you have an Instagram Business account.
This is one of the most popular tools for Instagram thanks to its many social media management possibilities, its great analytics insights, and easy scheduling. You'll be able to make your marketing strategy a lot easier with Hootsuite.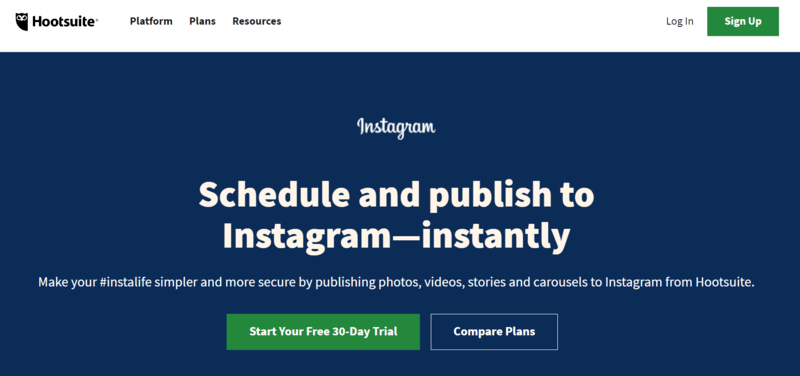 Price: From $29/month for the Professional plan

Crowdfire is a desktop and mobile app that connects your social media accounts, identifies avenues of growth and then recommends content and posts which it believes will drive success for your Instagram profile.
If you want to find related content to your Instagram account, schedule your content, and easily manage all of your social accounts from one place then Crowdfire is a great option.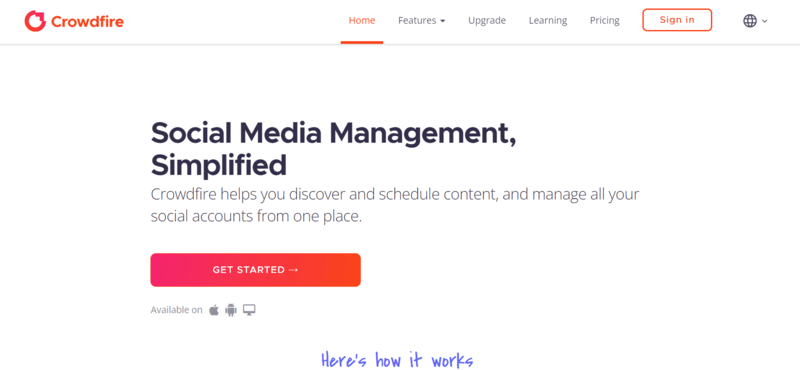 Price: Four options are available: free, $7.48/month, $37.48/month, $74.98/month \

AutoHash offers an easy solution to find relevant hashtags for your Instagram content. The tool uses AI to recognize your photos and automatically find relevant hashtags based on this. It makes sure you don't go over the hashtag limit.
If you're scheduling your Instagram posts, AutoHash will save your favorite hashtags in the app, or it will just copy them to your clipboard so that you can set up your posts easily.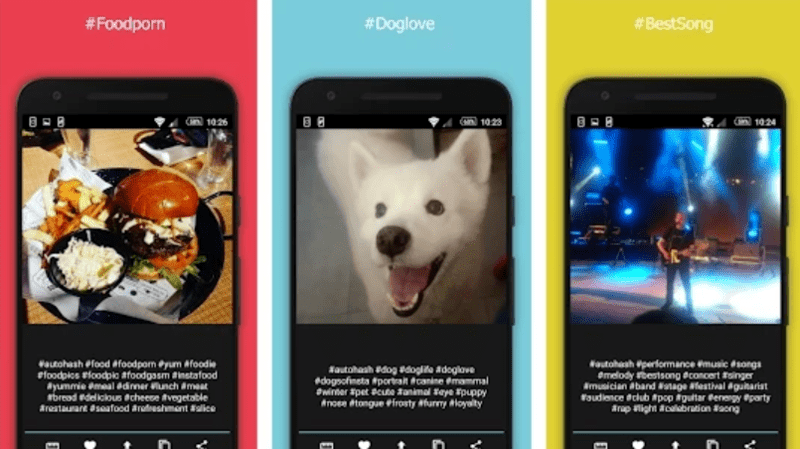 Price: Free

Adobe Lightroom is a professional photo editing app to make sure your content looks amazing. If Instagram's filters just aren't enough, then Lightroom will let you get the exact look you're after. When it comes to tools for Instagram editing, Lightroom is one of the best.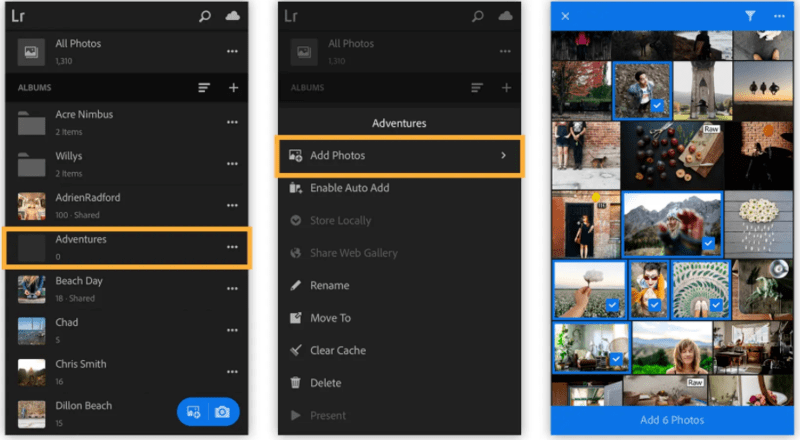 Price: $9.99/month

Afterlight is the ultimate Instagram image-prettifying tool out there, giving users:
74 filters
78 textures
128 frames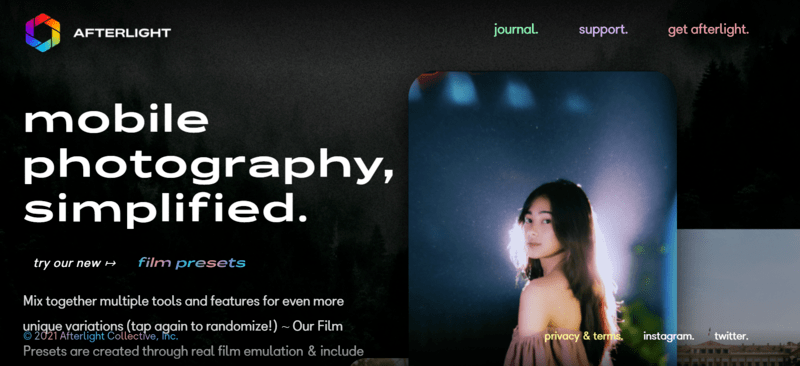 Price: Free

Prequel will keep all Instagram accounts up to date and on-trend with its excellent filters and special effects. Prequel's filters are truly special and can be applied to both still images and video.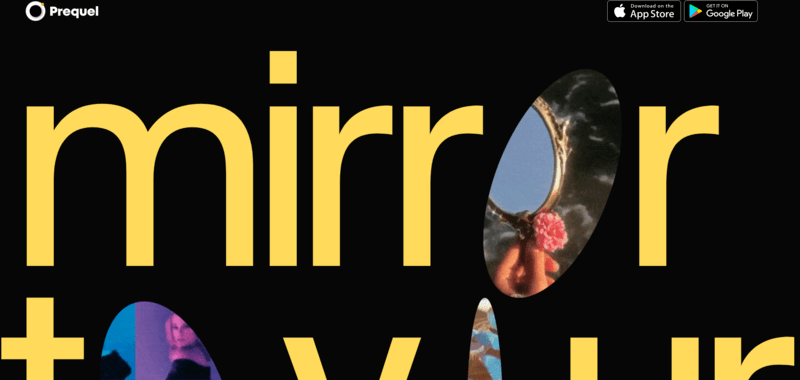 Price: Weekly and yearly subscriptions are available

Showcase, like Like2Buy and others, automatically creates an optimized gallery of your Instagram images (and the merchandise inside them) to enable Instagram users to quickly and easily navigate from your profile to the buying stage.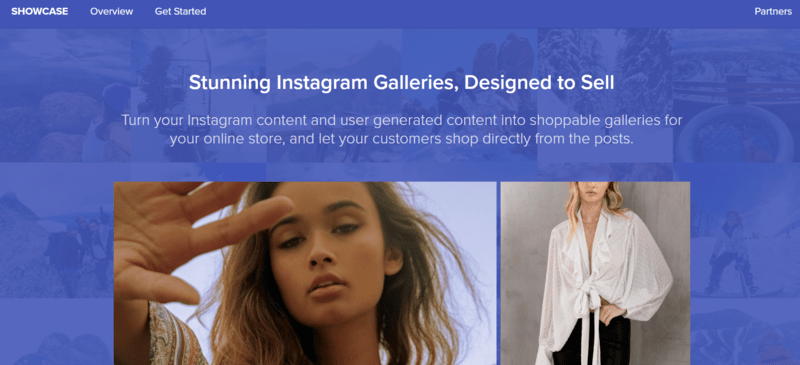 Price: Free Basic account

This is a simple social media tool that gives you details on Instagram hashtags. You just type in the hashtag, and can access related tags, top posts, and demographics related to that hashtag.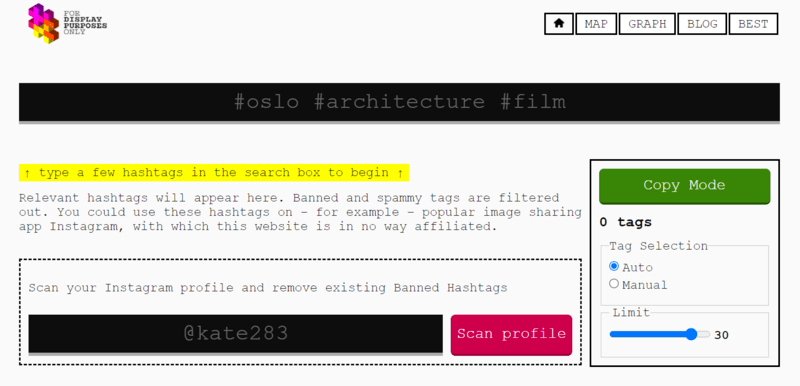 Price: Free
Soldsie is another platform which enables Instagrammers to drive and track referral traffic from Instagram to their products. A link in your bio sends Followers and Instagram users to a page of your website which enables them to buy the thing they saw on your Profile.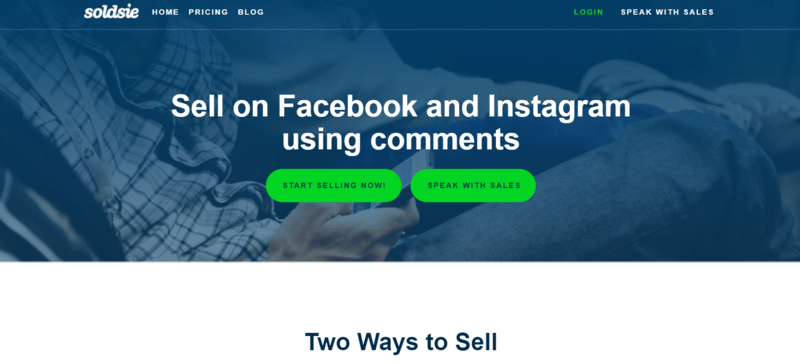 Price: Three plans are available at $49/month, $99/month, and $199/month

Keyhole offers an analytics portfolio, including a useful hashtag tracker for Instagram. You can calculate the ROI of your branded hashtag, measure the impact of your influencer campaign hashtags, and more. This is a great hashtag analytics tool to help grow your business and improve your marketing efforts.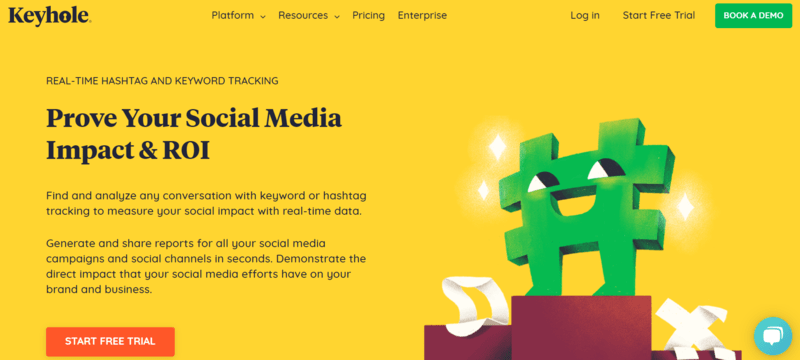 Price: Book a demo

Milkshake allows small businesses and solopreneurs to utilize the bio link even if they don't have a website. You can create a super simple mobile landing page with tappable cards through the platform. This can be updated with blog posts, videos, storefronts, and more.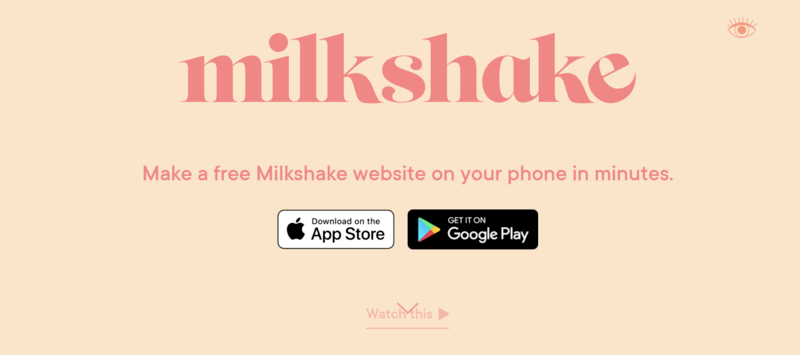 Price: Free

Omnilink is similar to Milkshake in the way that it brings your links together and builds a mini website in the process. However, you get more optimization and analytics capabilities with Omnilink. This option can also be connected to multiple accounts.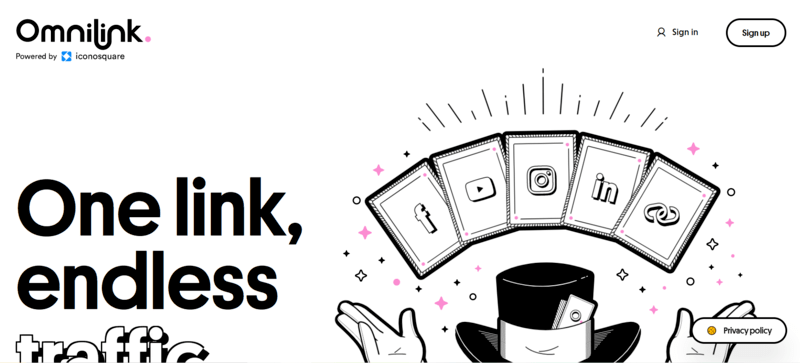 Price: Free

Conclusion
I hope you've discovered a new tool or app to further your Instagram marketing. Whether you want to access better Instagram analytics, schedule your content, enhance your images and videos, or more, these tools will make a big difference to your marketing strategy.
What are the Instagram tools you love using? Let me know in the comments section below.
Related Content:
P.S. Wishpond's Facebook Contest Apps make it easy to create sweepstakes, photo contests, Instagram hashtag contests & more.