4 Back to School Contest Ideas & Examples
Of all the themed contests, back-to-school promotions are second only to Christmas when it comes to number of entrants and return on investment for your business.
Back-to-school is a huge buying period, characterized by new clothes, school supplies, haircuts, computers, dorm furniture and a huge sigh of relief from parents.
This article will dive right into Wishpond's most successful back-to-school contests from last year. I'll show you the real-world example, give you the contest's statistics and then break down exactly why I think the contest did as well as it did (and how you can do the same).
You still have time to create and run a back-to-school contest. Let's get going so you can start today.
Back-to-School Contest Example #1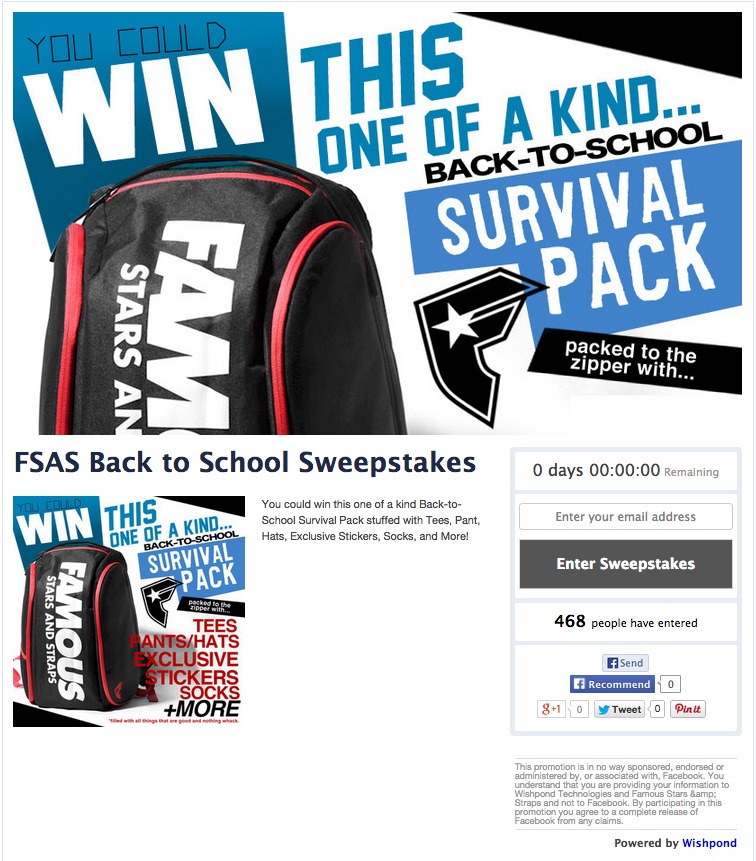 The Numbers:
This competition had 2,201 views and a 21.26% conversion rate, giving the merchant 468 email addresses for a package of prizes worth about $80.
How you Can Find the Same Success:
Create images that match your contest template: In this case that'd be a header which is 810 x 300px and a bottom image 280 x 280px. Creating images this size just means they'll look significantly better than smaller or overly-larger images will.
Exclusivity: The "one-of-a-kind" headline may not seem that influential, but exclusivity has a much larger (subconscious) impact on our buying habits than we think. Try to create exclusivity wherever you can.
Invest in Professional Images: These images are done by a graphic designer, and look like they've been taken straight from a print magazine. I'd actually recommend you re-use your images wherever possible to reduce your level of investment.
Back-to-School Contest Example #2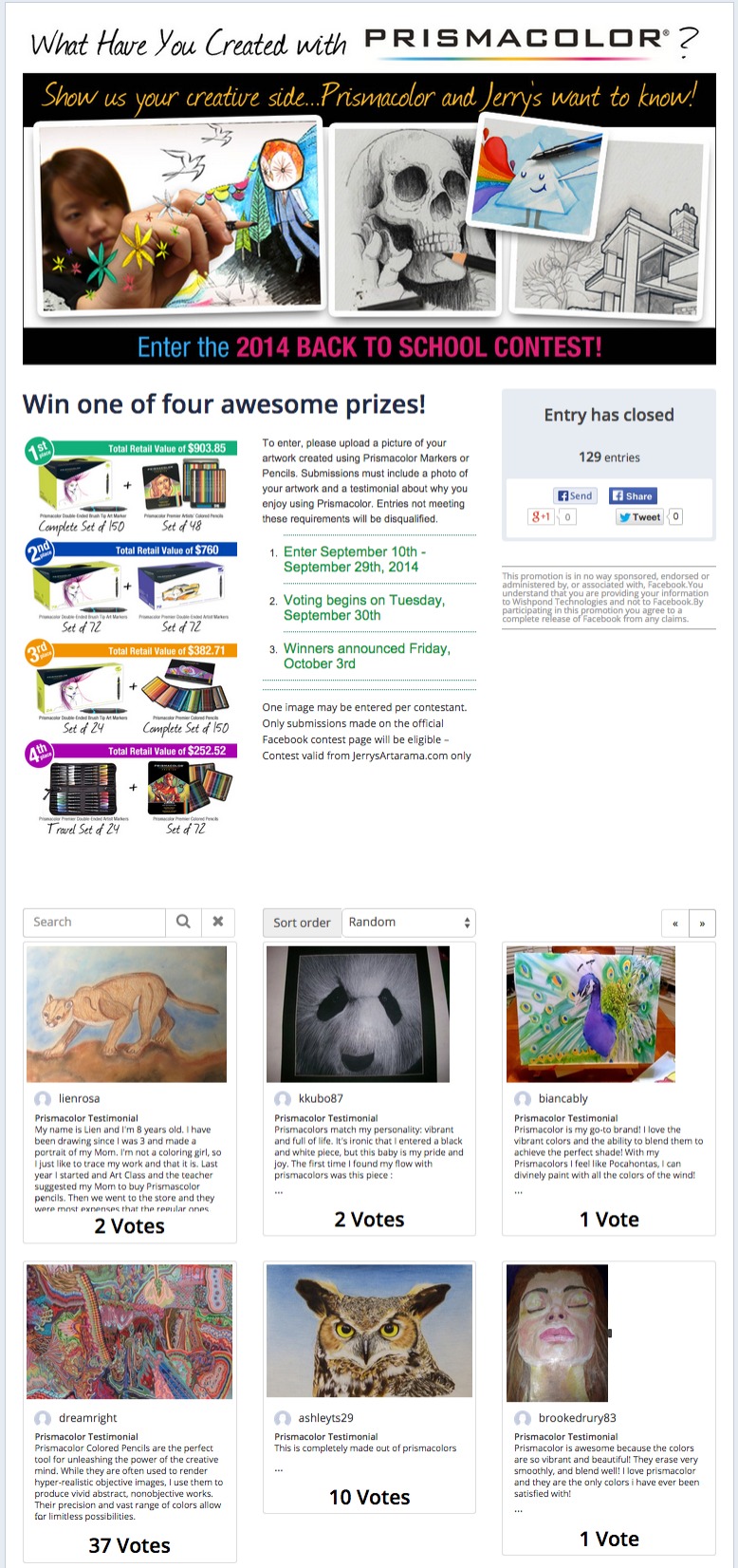 The Numbers:
This competition had 36,300 views and a 64.07% conversion rate, giving the merchant 23,300 email addresses for four prizes worth about $80.
How you Can Find the Same Success:
The seasonal theme: For this merchant, back-to-school is their biggest buying period, so a contest is an even better idea than it is for the other merchants (who are a bit more diversified). Contests like this one (even if visitors don't end up as entrants) are nonetheless a great way to create a bit of brand awareness and get possible buyers recognizing the Prismacolor brand name while buying school supplies.
Getting the real influencers involved: Children have a massive influence on their parent's purchases during the back-to-school period. Getting them involved (by having them create the entries) is a fantastic way to get them talking, and reminding their parents, about Prismacolor when they're walking the aisles and looking for school supplies.
Multiple prizes: Multiple prizes have a very positive influence on the conversion rate of online promotions, as entrants view it as increasing the chance of their winning. It's also a best practice because it increases the chance of a visitor being interested in the prize - even if they don't like one of the prizes, they have a high chance of liking one of the others.
Back-to-School Contest Example #3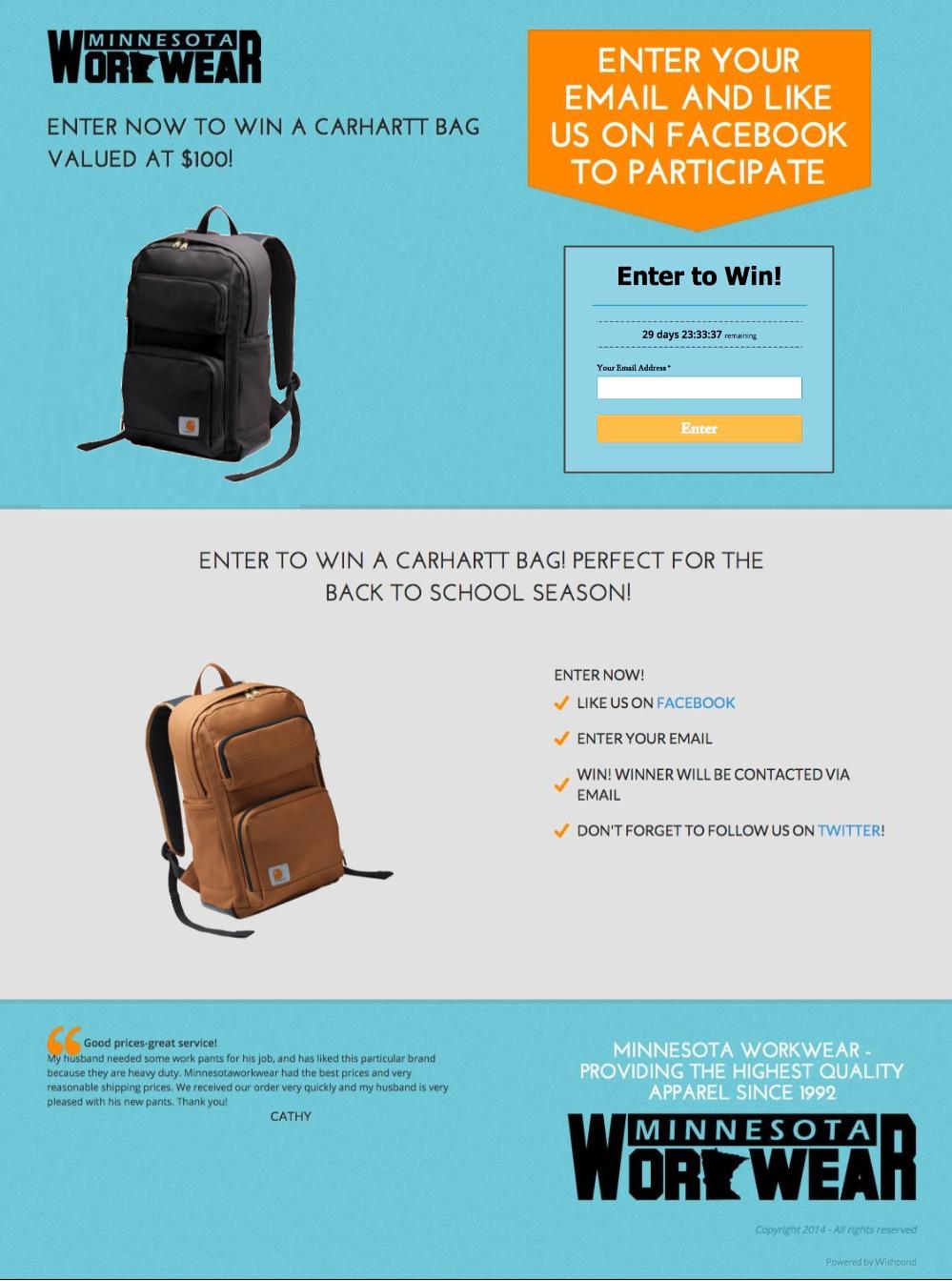 The Numbers:
This competition had 1,816 views and a 33.15% conversion rate, giving the merchant 602 email addresses for a prize worth about $60.
How you Can Find the Same Success:
Using the Template to its Full Potential: This merchant has taken full advantage of the optimization of the Wishpond contest template - even to the extent of keeping the colors the same. If it ain't broke, why fix it?
The testimonial: This is an optional prompt within the template (which can be removed if you like), but is nonetheless a great idea. Product reviews are far more trusted than anything which comes from the mouth of your brand. They're seen as objective, trustworthy and reliable (just look at how important Amazon's rating system is on buying habits).
Prompt a Facebook Like: Just because you can no longer require that entrants Like your brand on Facebook doesn't mean Facebook contests aren't an incredibly powerful way to drive Fans. Though this merchant's strategy (of adding it as a "required" step) is a bit underhanded, it's still a successful strategy. I'd recommend you embed a Facebook Page Plugin within your page and add an arrow with a CTA instead.
Something which looks a bit more like this:

Quick note: Because a few of these contests have already finished, you might have noticed that I've covered a few of their "Entry has Closed" copy with a simple form field to give you a better idea of what they would have looked like while live.
Back-to-School Contest Example #4
The Numbers:
This competition had 959 views and a 33.79% conversion rate, giving the merchant 324 email addresses for a (donated) prize worth $500.
How you Can Find the Same Success:
The Prize: Gift cards are the perfect prize for back-to-school contests. They appeal to the largest number of people in your target audience, and only appeal to people in your target audience. A gift certificate to Bench, for instance, is worthless to someone not interested in their apparel. This means that this contest's entrants are more likely to become customers than if the prize was just $500.
The "Ask: Though I've had to cover it up, when live this contest would have requested leads fill out their name postal code, telephone number, age and email address. Normally I'd say that this amount of requested information is unnecessary, but in a back-to-school promotion, age and postal code can be essential in your company's ability to nurture the entrants into sales down the line. That said, if you don't have a real need for your lead's information, don't ask for it (as I've no doubt it's reduced this campaign's conversion rate by at least 10%).
The Brick-and-Mortar Address: If your business isn't based online, don't confuse your prospective customer that it is. A brick-and-mortar address is also essential if your contest is only being promoted in your area.
Teaming up: If your brand name isn't quite a household name as yet, team up with a better-known organization whenever possible. Cornwall Centre (a mall) has teamed up with well-known clothes brand Bench to run this campaign. Though I'm not sure of their contract, a great way for your business to find success is to agree to split the leads (provided your target markets are the same).
Conclusion
Hopefully this article has given you a better idea of how (and why) your business should run a back-to-school contest. You only have a couple weeks to get it up and out, though, so get rolling!
And if you have any questions, don't hesitate to reach out in the comment section below.
Related Resources: