Today, we are excited to announce the release of our all new, free landing page builder, allowing you to create high-converting and mobile-optimized landing pages in minutes at no cost.
This is a landing page tool built with marketers in mind: a builder with the power to give you a professional end-result without the hours (and dollars) spent on a professional developer.
In this article we'll introduce you to the builder's best features, from the drag 'n drop editor to mobile-optimization, A/B testing, integrations and more.
And yes, you did hear right. FREE. Wishpond's new landing page builder (as well as our new marketing automation tool, which will be officially announced very soon) is completely free for everyone.
With Wishpond, you can now generate up to 200 leads, view their individual actions and characteristics, and nurture them into sales with targeted, triggered emails, all for free. After that, plans starts at only $69 per month (or $44/month paid annually).
Before we dive in, let's take a quick glimpse at how the builder works and what it looks like (note the mobile editing option at the end of the clip, which we're super excited about!):

Templates
We've already released 50 landing page templates created by professional graphic designers with years of UX experience. And each week we're releasing more and more templates to give you designs which will work best for your business' objectives (no matter what they are).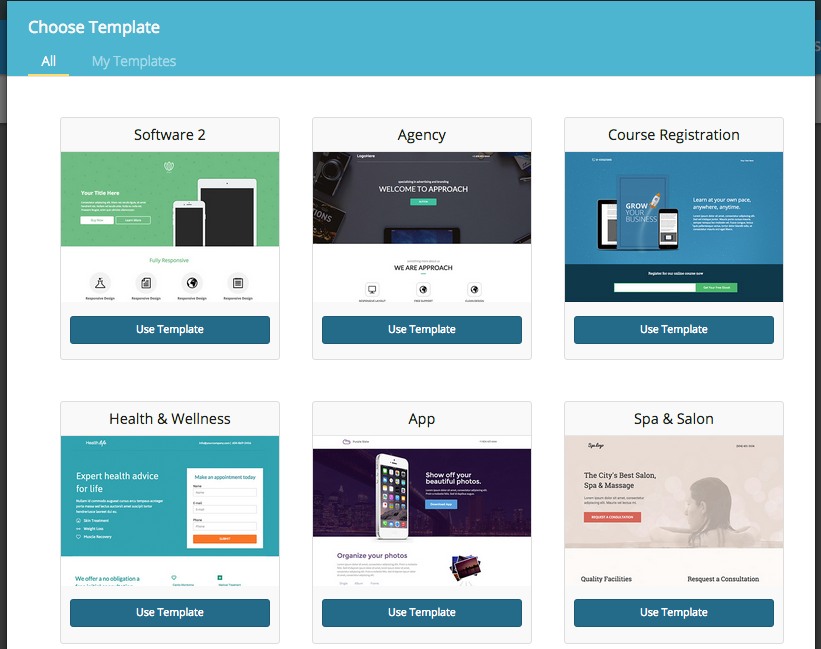 A few of the use-cases covered by our current templates:
Webinar registration
Lead generation through email-gated content (squeeze pages)
Product showcasing (longer-form landing pages)
Home pages with multiple links, navigation bars, and more
App promotion
Online academy promotion
"Contact us" pages
"Coming-soon" pages for upcoming product or business releases
"Request a consultation" pages
And more!
If you want to design your own landing page from the ground up, you can choose "Blank Template" to create your own, unique template. And you can save your own templates (or your edits of existing templates) to your account to use again and again.
Here's a quick look at the "App" landing page template: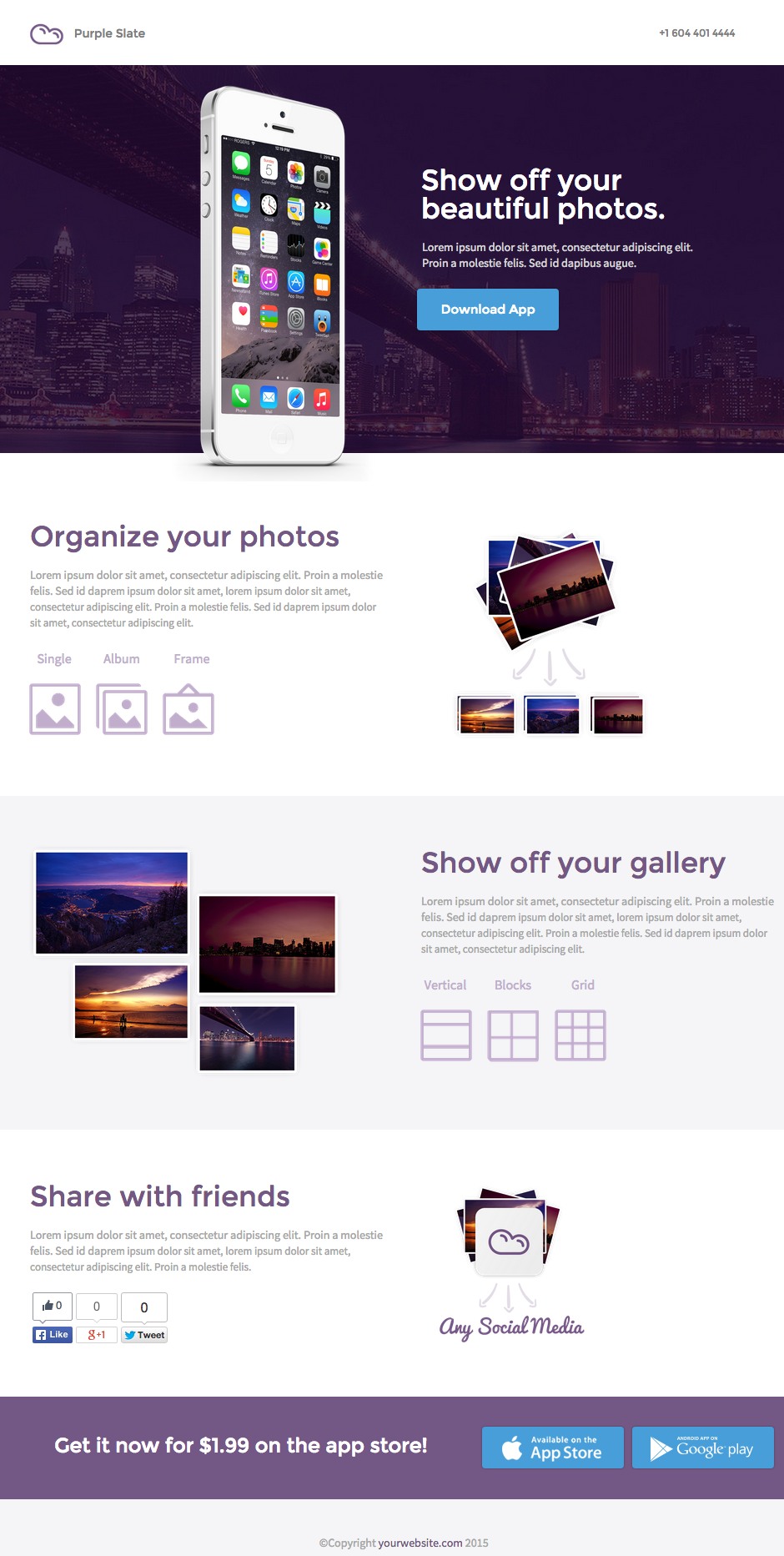 Drag and Drop Editor
We've designed our drag-and-drop landing page builder to be as dynamic and easy-to-use as possible. You can drag and drop any of Wishpond's 15 landing page objects into the page.
Objects include:
Images – which can be saved to your account's Image Library for later use
Videos – simply drag and drop your video's URL into the sidebar and choose if you want it to auto-play or not. Youtube, Vimeo and Wistia are currently supported, with more integrations on the way
Text boxes – Our text editor is simple and intuitive. You can choose from dozens of fonts, adjust line height, spacing, alignment, link text, and add merge tags to create dynamic landing pages
Maps, Spacers, Buttons, Facebook comment sections, social share buttons, lines, and more
And all of these objects can be edited quickly and easily with the side-bar toolkit. As you make your choices in the sidebar you'll see it appearing live on the landing page, giving you complete control over the look and placement of each object.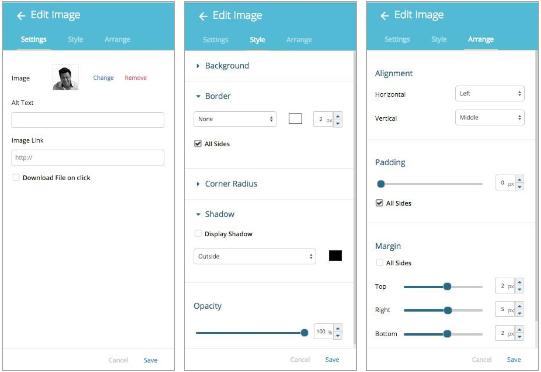 To give you a real example of the completeness of the object editor, check out the options for shadows alone: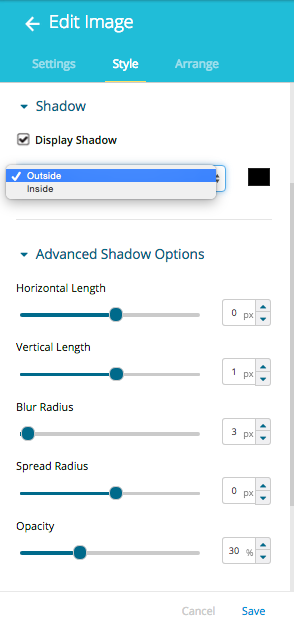 And if you ever make a mistake (it's bound to happen from time to time) just use the Revision History function (or command/CTRL + Z) to get right back to the action.
You get a landing page builder with all the capabilities you need, and more..
Mobile-Responsiveness
Wishpond's templates were built to be fully mobile responsive from the ground up. With more and more of your prospective (and existing) customers browsing your website on mobile, we knew that we wanted to create a landing page builder designed for modern businesses.
But we wanted it to go beyond the standard mobile-optimization (which often just ends up stacking objects vertically for a mile or two). So we built in a mobile editing tool, meaning that if you want the mobile or tablet version to be styled differently than desktop, you can just switch to mobile editing and get rolling. Your changes won't affect the other versions of your landing page.
Take a look:

For instance, you could make your CTA button larger (to allow for thumb-selecting instead of mouse). Who knows what kind of affect that would have on your landing page conversions?
Basically, we knew that using a mobile-optimized landing page can lead to huge increases (like 153%) in your business' landing page conversions. It was a no-brainer.
Form Fields
Your landing page can be as beautiful as you like, with stunning, professional images, a beautiful layout and a selling point to shoot you over the stars. But unless your form field is up to snuff, the whole landing page is useless.
That's why we spent so much energy making our form field builder as powerful as it could be.
What you'll get:
An unlimited number of personalizable form fields, on top of the six primary fields
Complete customization of the form itself, its background, border, submit button color and copy, its error message (and the color of that error message) and more
Complete customization of each field itself. Things like adding placeholder text, tooltips and making them hidden.
The ability to create pre-filled form fields, auto-submit forms and immediate-download links
The ability to trigger javascript with submission of the form
Here's what the Wishpond landing page form looks like in action: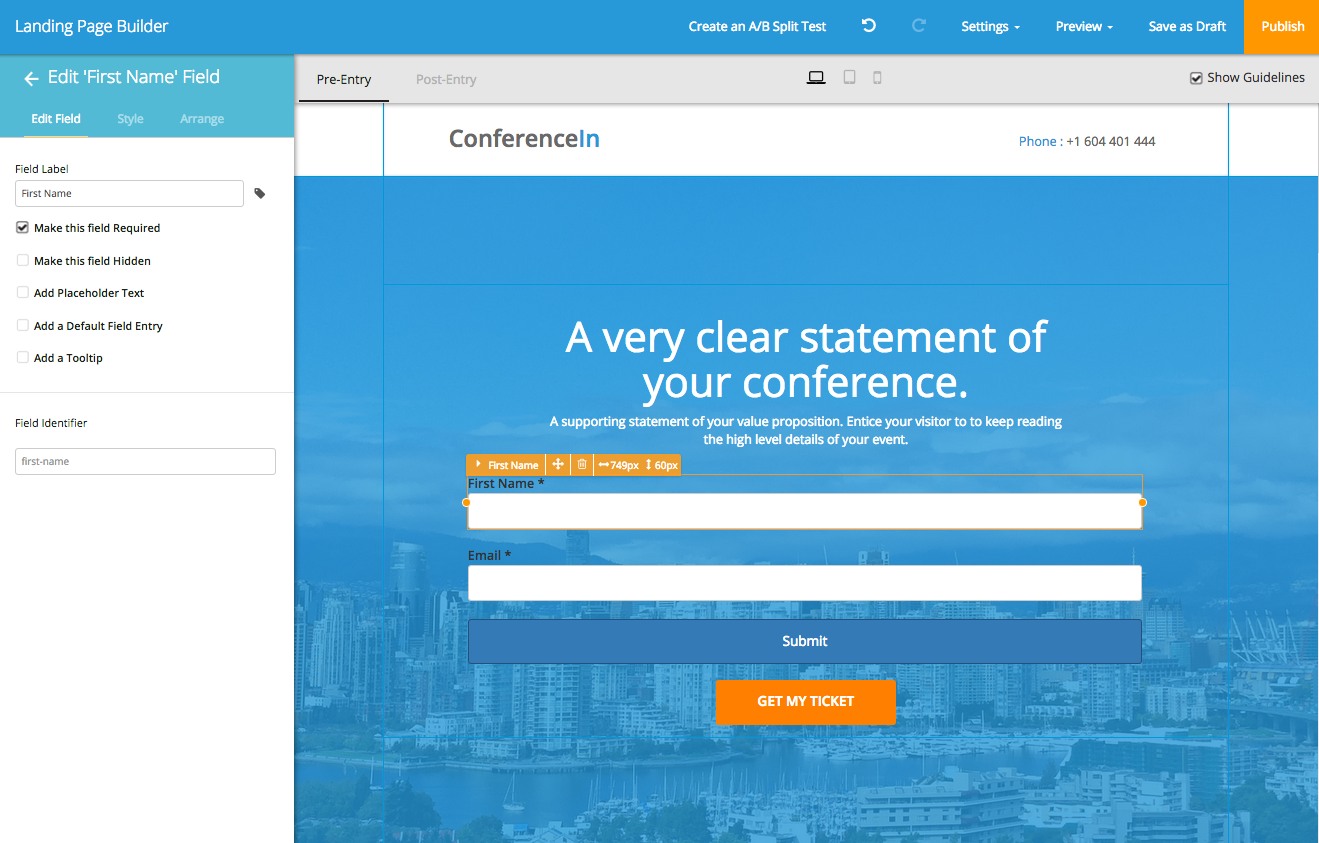 And here's a few shots showing the versatility of the form editor: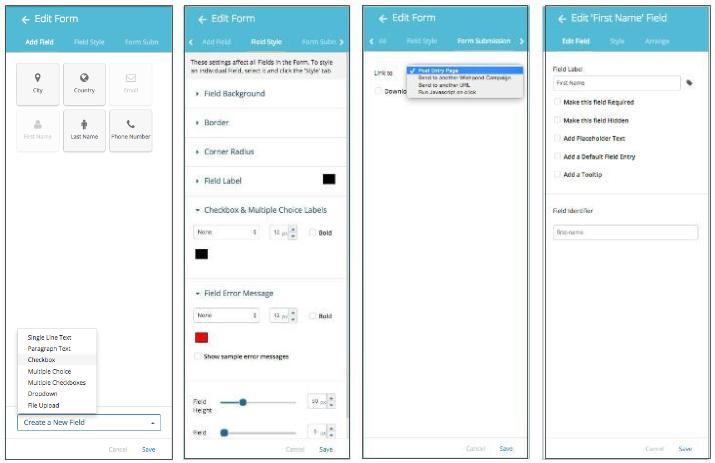 Analytics
As soon as your awesome landing page is published, you'll start driving traffic to it and generating leads. This is where Wishpond's analytic platform comes in.
We give you everything you need to know about your landing page's performance: views, conversions and conversion rates. We're keeping it simple (for the time being) until one of our awesome customers needs for more.

Until then, we'll keep delivering the numbers you need to know and keep allowing you to A/B test when you see an opportunity for improvement.
A/B Testing
We designed the Wishpond landing page builder with the knowledge that half of success online is achieved through trying new things: creativity, innovation, and, above all else, testing.
You need to be able to not only see how your current landing page is performing, but also where you can improve.

Wishpond's builder makes it incredibly easy to A/B and multivariate test your landing page. Simply click "Create an A/B Split Test" in the landing page editor to duplicate your existing landing page. Then adjust any element you like and hit publish. We'll take it from there, sending half of your traffic to the Control (or original landing page) and half to the Variation.
In your Campaign Report (every landing page you create has one), you can view the conversion rate of your landing pages over time to compare the performance of the variants.
And don't be concerned. You can create an unlimited number of landing page variations, and all your results will show up on your analytic dashboard so you can quickly and easily identify which is performing best and pause, stop, or delete the under-performing page.
Integrated with Wishpond's Leads Database
Our platform will see every action taken and capture every lead for you in our leads database. And you can select individual leads to see their Activity Timeline, showing you exactly how they've interacted with your website since their first touchpoint to right this second.
And remember, this is all free for your first 200 leads!
Take a look at an example of the leads database (sorry about all the blurring – gotta keep our customer's privacy private!):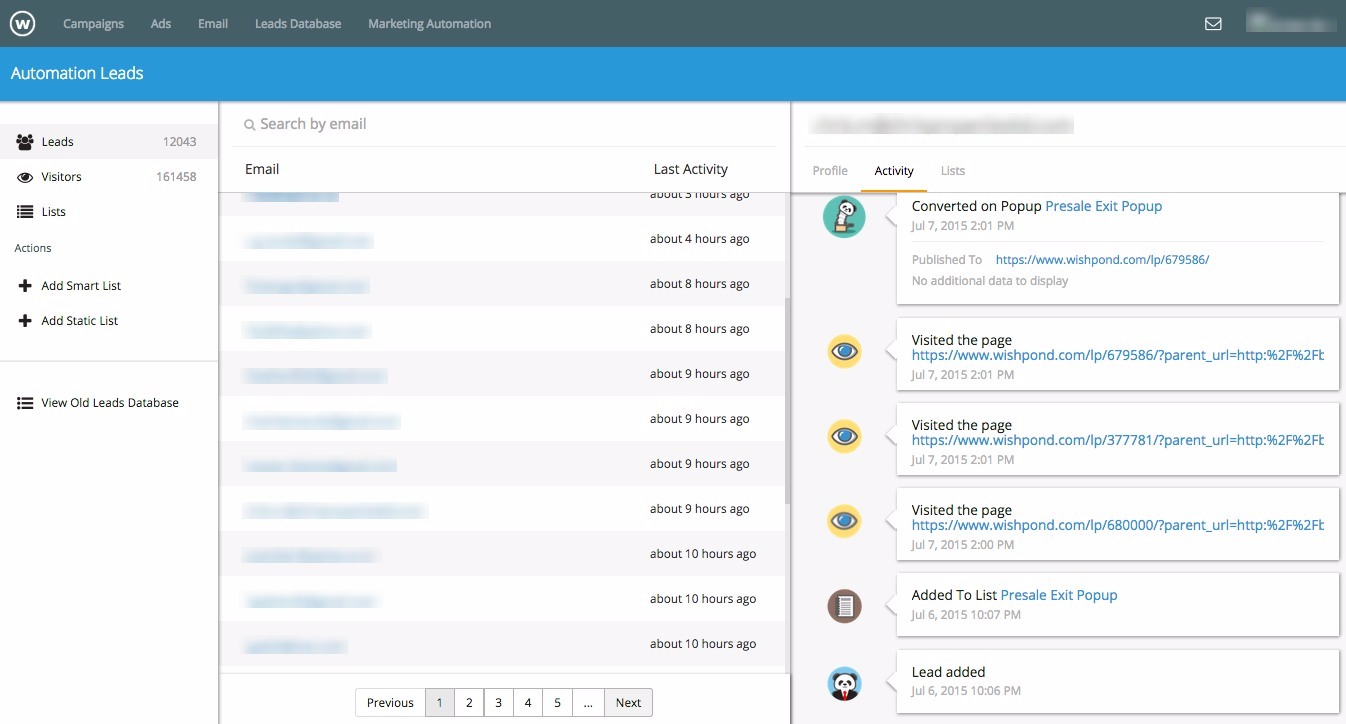 All of this is automatic with Wishpond's landing pages. No embedding of script into the back end of your website. No coding whatsoever.
Marketing automation is a part of customer-relationship management (CRM) that focuses on scheduling, segmentation, tracking and defining your marketing campaigns. Basically, it makes time-consuming marketing strategies which would otherwise be performed manually (like the sending of an email after someone downloads an ebook) a whole lot more efficient.
Here's an example of how Wishpond's marketing automation platform could work with your landing page:
Imagine you've used Wishpond's "Flow" template to create a landing page with an email-gated ebook.
Every person who comes to that landing page and provides their lead information in return for your ebook should be sent that ebook (as well as thanked for their download) in an email .
Sending all those emails manually for all your leads would require working day in and day out.
Marketing automation allows you to trigger the sending of each of those emails based on the lead's action (downloading the ebook).
Here's what it looks like in Wishpond's marketing automation platform: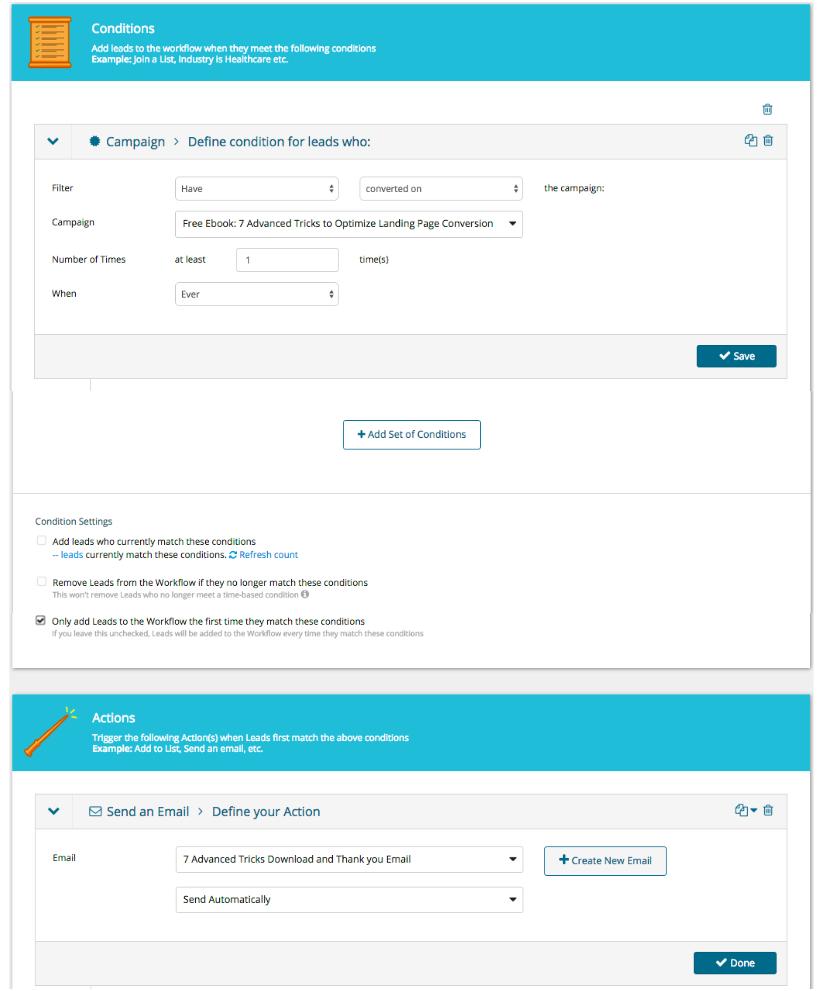 Export Leads to 3rd Party Tools
The leads you get from your Wishpond landing pages are yours forever. And, while we think our marketing automation and email marketing platform is as good as any out there, we understand you may want to stick with your own favorite tools.
So we've made exporting super easy.
While our developer team is working on more integrations every day, Wishpond's leads database is already integrated with numerous popular services you already use, including Mailchimp, Salesforce, Infusionsoft, Constant Contact and more.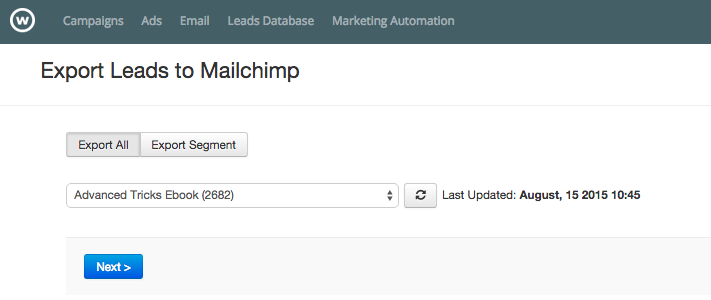 We're really excited to share Wishpond's landing page tool with you and can't wait to see the beautiful templates you create and all the successes you have with us.
If you have any questions about landing pages or our tool in particular, feel free to reach out in the comment section or at [email protected] We'd love to hear from you. And if you have any ideas of how the platform could be more useful for you, just let us know!

james-scherer-2