Looking to run a contest on Facebook? Well you're in the perfect place.
In this post I'll show you my 7 favorite Facebook Contest Apps and how you can use them – including some ideas for your next contest. And I'll show you an example of how each was used successfully.
Bonus: All of the apps listed in this post work on mobile and tablet devices. This is incredibly important, as we've seen first-hand that up to 50% of contestants entrants enter using a mobile or tablet device. They also each include WYSIWYG (what-you-see-is-what-you-get) drag-and-drop editors for flexible customization.
You can dive right in from beginning to end, or click on one of the apps in the table below to check it out:
Photo Contest
Vote Contest
Sweepstakes
Group Offer
Referral Promotion
Essay Contest
Video Contest
Facebook Photo Contest App
---
The Photo Contest App makes it easy for people to submit photos through a form and view and vote on their favorites in a gallery. The app even has moderation built-in so you can delete inappropriate entries before they appear in the public gallery.
The photo contest from Spartan Electrical (below) asked people to share a photo of their favorite summer moment. Not only was the contest theme seasonal (a proven contest best practice), but they had an ideal prize for it: a barbecue:
3 more ways to use the Photo Contest App
Ask entrants to submit a photo of their pet with one of your products in it
Ask entrants to submit a photo of a dish they made using a specific ingredient
Ask entrants to submit a selfie of them with a certain 'look' that uses your cosmetics
Facebook Sweepstakes App
---
A sweepstakes is the easiest type of contest to run and to get people to enter. Users simply click 'Enter Sweepstakes', submit their email, and they're in. With such a low barrier to entry, it's more likely that a person will enter, which maximizes engagement.
One thing I must stress is to never give away an IPad as a prize. You may get a lot of people to enter your sweepstakes, but they will only be interested in the IPad, not your business. It's always best to give away something you sell, or a gift card to your store.
In this example, Qwertee, a custom t-shirt shop, gave away a grand prize of 30 of their t-shirts. And they also gave away 2nd and 3rd place prizes. Why is this important? Because, since there were multiple prizes, people would be more likely to share the contest with their friends, rather than if there was just one prize, in which they may just want to have less people enter!
This sweepstakes was a huge success, garnering Qwertee more than 11,000 entrants.
3 more ways to use the Sweepstakes App:
Give away an advance copy of your album or new product before it's released
Partner with a complementary company to give away a bundle to double your audience
Unless you're Apple, don't give away an IPad!
Video Contest App
---
The Video Contest App makes it easy for people to submit videos through a form as well as view and vote on their favorites in a gallery. And just like the Photo Contest App, it has moderation built-in, so you can moderate inappropriate entries before they appear in the public gallery.
The video contest from VerveGirl, below, gave vloggers a chance to showcase their skills and knowledge to a large audience. Because the videos were of high quality and included serious knowledge, it got more people engaging and sharing. This helped the contest get over 1,400 participants in just 2 weeks.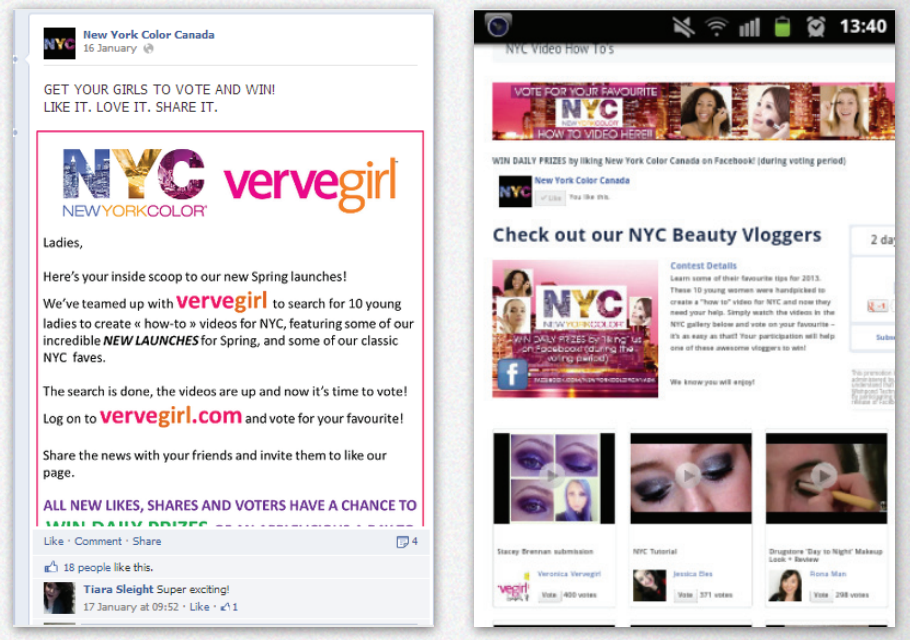 3 more ways to use the Video Contest App:
Ask entrants to submit a video cooking with your kitchen utensils
Ask entrants to submit a video doing a (safe!) stunt using your sports equipment
Ask entrants to submit a video discussing what they learned in your recent book
Facebook Vote Contest App
---
A vote contest is a simple contest that gets Fans to vote on candidates chosen by you. Candidates can be products, menu items or even photos of your customers. You simply upload a photo and description for each candidate and then the built-in vote buttons (with counters) lets people cast their votes.
This example from Stitch Collective, an accessory and handbag retailer, asked people to vote on which handbag design they liked best. The handbag design with the most votes would then be made and sold by Stitch Collective.
This vote contest was a huge success, driving almost 4,000 participants. One of the biggest reasons for the success was the collective nature the contest created between the brand and their customers: Customers had a personal say in the designs, making it feel much more like it was their own. And as an added incentive, the people who voted for the winning design got a discount coupon as a thank you.
3 ways you can use the Facebook Vote Contest App:
Ask which one of a selection of new menu items they like best
Ask gym members to vote for which new classes they want at the gym
Ask people their favorite holiday tradition or food
Group Offer App
---
The Group Offer App allows you to run a "Groupon-style" offer in which your Fans can unlock a discount coupon or free offer by reaching a certain number of entrants. It's an easy way to get your Fans sharing with their friends to drive new Fans and customers to your Facebook Page. To create a Group Offer you just need to add a photo and description of your offer, set the number of entrants needed for people to be able to access the offer, and the app takes care of everything else.
Referral Promotion App
---
The Referral Promotion App allows you to give people a reward for referring a certain number of people to enter your referral promotion. This is one of the best promotional apps for getting more engagement and new Fans, as your existing Fans are highly incentivized to get their friends to visit your Facebook Page and enter.
*To use this app you simply need to: *
* Add a photo and description of your prize
* Add a short description about how people can unlock the reward by referring their friends
* Set the number of referrals a person needs to get to unlock the reward
And that's it! The app takes care of the rest, including tracking the number of referrals each entrant gets, and unlocking the reward for them at the right time.
What is a referral? How does it work?
An entrant (the 'referrer') in your promotion gains one 'referral' when someone else (the 'referree') enters your promotion after clicking on a link to it that was shared by the referrer. Each entrant is given a unique referral link after they enter with instructions on how it works.
This referral promotion from La Trattoria, an Italian Restaurant, rewarded entrants with a $10.00 Gift Card for referring 5 friends. It also added a second incentive (a 25% off coupon) just for entering. This helped to maximize the number of entrants by giving the referred friends of entrants an incentive to enter, even if they did not want to do the work of getting 5 of their own friends to enter as well.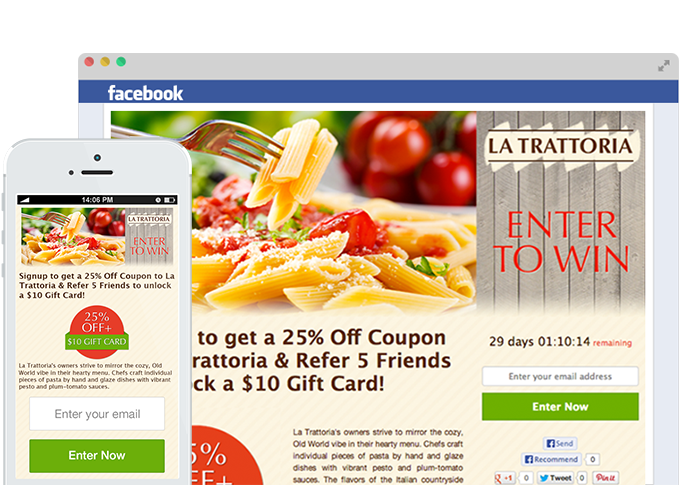 Essay Contest App
---
The Essay Contest App makes it easy to run a promotion that asks for written text entries from entrants. To enter, entrants simply type in their entry in a box in the entry form, put in their email address and click submit. Written entries can include things like personal stories, recipes and answers to questions. And with a built in voting component, you can display all of the entries in a gallery and get Fans to vote on their favorite.
To use this app, you just need to add a description of what each entrant's written entry should be about, and a photo and description of the prize they can win.
In this example from Wishpond, we asked people to tell us their favorite tactic for engaging Fans. We wanted to get social media marketers engaged by talking about their successes and learning new tactics to try from their peers. And we were very successful, getting almost 400 entries and 1000's of votes (each of which is an email we can nurture into a sale).
3 ways you can use the Essay Contest App:
Ask people what their best solution is to a common problem
Ask people one thing they would change about their lives, if they could
Ask people to tell you what feature they want most in your new product
I hope you like the list and can find a contest app that you want to use.
If you have any questions on how to use them, let me know in the comment section!
To learn more about Wishpond's contests, check out these free courses from Wishpond Academy:

wishpond