A Marketer's Recipe for Balancing Content & Video Marketing
This guest post is from Anish Patel, founder and head producer of Revolution Productions, a boutique video agency that specializes in animated marketing videos and explainer videos. Follow him @JoinRevolution
It's common knowledge that the marketing world is going the way of video.
And yet, most companies still only invest in video by making 1-2 for their company website and leave it at that.
In today's marketing game, if you want your brand to stay relevant, you need to utilize the medium of video on a regular basis.
And video doesn't have to be very costly or time-consuming to be done well. A skateboard company can provide a 10-second clip of a new board and that alone will increase conversions on the product. Most companies, big or small, can easily make video an addition to their strategy frequently.
And they should. The advantages of integrating video as a permanent part of your marketing strategy are undeniable, in fact, a study from 2013 found that video marketing is 600% more effective than print and direct mail combined, but only when integrated intelligently.
This article will cover exactly what you need to know in order to balance content and video marketing.
Video Search Engine Optimization (vSEO)
First, you want to give your video content the best possible chance of being seen by properly optimizing it for the web.
Video search engine optimization (vSEO) increases the likeliness of your video receiving clicks/likes/shares by increasing your video's visibility on search engines like Google, Yahoo, Bing, etc.
Remember, search engines don't index actual video content - video and audio - just the text accompanying the clip.
This is where SEO comes in and can help boost the success of your video content marketing efforts.
1 . Keywords
Just as you would optimize your site's written content to properly optimize your video you must include keywords in all the text that accompanies the clip (e.g., title, description, tags).
The first step to figuring out what your video's keywords might be is by brainstorming which words a person might use when searching for your video. Then, research these keywords (using tools like Google Trends and Keyword Planner) to check their rankings on all search engines. You may need additional keywords to appeal to multiple search engine algorithms.
Tip: Search engines penalize content that contains misused keywords solely to gain a higher ranking, so choose appropriate keywords that are relevant to your video content.
2 . Transcription
Many competitors won't spend the time to transcribe the audio and include it with the clip. For those that do, it can help to properly index and rank your video. The transcript can also make for multiple pieces of content if you can lift good quotes and facts from it. YouTube allows for built-in captioning so you can transcribe the video and embed that transcription using YouTube's own Annotation tool. Taking it one step further, you can even augment that by putting the transcription in the YouTube description field.
3 . Call To Action Buttons
Wherever possible, add buttons for "liking" and "sharing" your video. If your video starts engaging a small audience on a site, these buttons will help to distribute the video to a wider audience as it grows in popularity. This is how many algorithms for social media platforms work: The more likes and comments a post receives, the more prominently it will appear on more news feeds. Giving an audience the chance to like or share your content increases the chance for your video to build momentum and engagement.
Tip: Include links to previous videos in the description section of your video to help amass more views for your whole video library.
4 . Sitemap
Incorporating a sitemap on your website not only ensures your content is properly indexed by search engines, but also your videos. Though it is somewhat tricky, it's worth doing the research on how to upload a sitemap. The extra effort will help confirm your video has maximum online exposure.
Embed Your Videos In Your Blog
Now that you have an optimized video, it's time to embed it everywhere that you can.
By embedding your videos into your written content, visual content, and company updates, you elevate your chances of increasing your reach and engagement with audiences.
Content is recyclable, provided it's relevant to the topic.
So how hard is it to embed a video? The process is quite simple.
To embed a YouTube video:
Click the Share link under the video
Click the Embed link
Copy the code provided in the expanded box
Paste the code into your blog or website
Though these instructions are solely for YouTube, embedding a Twitter video, Facebook video, or Vimeo video, isn't all that different.
Embedding a Facebook video: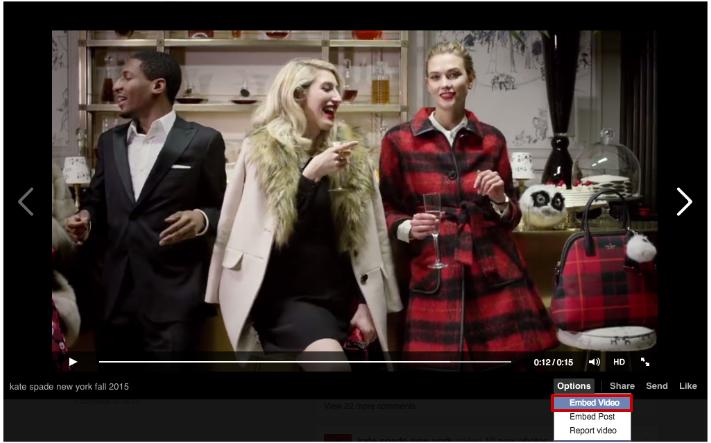 Tip: When it comes to placing your videos on your company's website, the best pages to embed are on the landing page and tutorial pages.
Give Your Audience Options

Viewers want variety. Engaging content can come in many forms (e.g., articles, photos, videos, podcasts, etc.). So how do you know which medium best fits a particular topic?
If you study BuzzFeed's content strategy, you'll find that they rotate between these mediums depending on the topic. For example, political news and self-help topics are covered in written content pieces, while satirical opinions or home decorating tips are covered by a video.
Sometimes (like you see in the image on the right), BuzzFeed offers their content in multiple mediums, providing audiences with a video, a piece of writing examining the video, and also visual stills of different pieces of the video. This method gives the audience the opportunity to choose a medium, thereby tripling the chances of engagement.
Of course, not all businesses have the time for such an extensive content strategy as BuzzFeed's. But the lesson in this strategy is a good one that can be adopted by any company. Ultimately, it is possible to balance both video and written content, and the more variety you can offer your audiences, the better.
The Content Calendar
How can you incorporate your video content into your regular content schedule? Should you add a video monthly? Bi-weekly? Weekly?
Fashion label Kate Spade's Facebook content strategy is a great example of how a brand can balance video and regular content. The label has three types of video they produce on Facebook: Fall/Spring collection videos, product videos, and the #missadventure webisode series.
The first two types of videos are simple in their production/post-production construction and are included once a month. The #missadventure series requires higher production value/cost and is included less frequently. The calendar below displays a month of content with #missadventure video content to see how the balance between video and regular posting is maintained.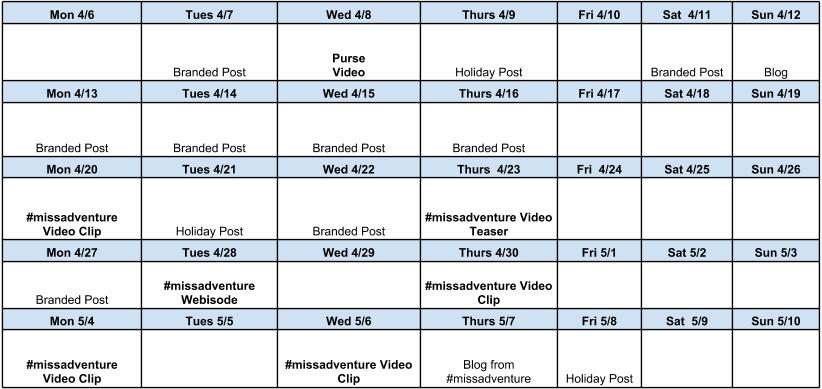 A normal month of content for Kate Spade ranges in promoting different products in the fashion label, offering inspiring quotes, style tips, etc. These videos are generally of a product, with either an elegant background or with models, captured in a single shot. Content is posted four days a week on average.
80% Content. 20% Video
Ultimately, marketing teams that have already delved into video once or twice don't have far to go to fully integrate the medium into their content marketing strategy.
The 80/20 ratio (as it is so often) is a good place to start for the frequency of your video content.
The first step in all of this is to address what type of video content your company can easily afford to provide on a regular basis. What are the questions you are continually answering for your viewers? Can any of these be answered with a video? For your marketing team to not get overwhelmed, they should start with the most low maintenance video content and slowly work their way up.
Is your team successfully balancing video and content in their marketing strategy? Share your experience with us in the comments below.
Related Reading: