Sometimes I like to imagine a world where all landing pages are pre-optimized. A world where we don't need lengthy A/B testing, redesigns, or rewrites. In my fantasy world landing pages come pretested for specific audience segments and perform perfectly once published.
But back in the real world the story is never perfect. The landing pages we produce are never perfect. And the results we get are never perfect.
Sadly I can't hop over and help you test every landing page you produce. I can't tell you what will work for your specific audience or industry. What I can do is inspire you.
In this article I'll take 17 landing page examples from around the web (as representative as I can find), dissect them, and give recommendations on what they can A/B test to try to improve.
This monster post is broken up into two parts:
SaaS & B2B landing page examples
B2C landing page examples
I'll be giving a few examples for click-through landing pages and a few for lead-generation landing pages (for both sectors).
I'll also be giving you some bonus real-world case studies and back every one of my A/B testing recommendations with an example.
If you're only interested in landing pages related to your type of business…
Good to go? Let's get started!
---
Breaking this landing page example down:
Gummicube offers SEO for apps, improving app distribution by increasing Search Ranking within an App Store…
Gummicube's market is a very niche one, and one unlikely to be needed by anybody who doesn't know it exists. That's why it's interesting they've chosen to do so much education-based content on this click-through landing page.
It's a relatively simplistic (though not bad) page. Many of the visual elements feel a bit amateur, and look like they were made in Google Drawing.
Tweetable A/B Testing Stat to Back up My Recommendations:
Email app AwayFind increased their signups 91% by changing their landing page's subheadline.
Source: VWO.com
---
Breaking this landing page example down:
Vzaar is a video hosting service and, like many of their competitors, the focus of their click-through landing page is their product (a video featuring their employees)…
The landing page itself is colorful, friendly, and interactive. Every icon is animated and it features four of their smiling employees front and center below-the-fold.
They've also put a heavy emphasis on customer testimonials – an element I really like (and recommend) for lesser-known businesses.
The page has a single conversion Ask (start a 30-day free trial) offered in their minimalist nav bar, beneath their intro video, and at the bottom of the page.
I really like Vzaar's use of headlines and subheadlines. Their headers are simple and succinct and their subheadlines add value.
Tweetable A/B Testing Stat to Back up My Recommendations:
Marketing company CityCliq increased conversions on their pricing page 90% by changing their headline.
Source: VWO.com
---
Breaking this landing page example down:
SEMRush is one of the leading SEO-optimizing tools out there, and this landing page example revolves around their "try it out" function, which allows you to input a URL and have it analyzed for SEO…
Because of the incredibly appealing Ask on this landing page, I'm not entirely sure why they've added all the rest of the information. It doesn't add to the appeal of the CTA.
SEMRush does a great job breaking up the info on this page into palatable pieces. You don't want to overwhelm your landing page visitors with information or they'll bounce. For more on the psychological effect of "information overwhelm" check out Chapter 6 of The Complete Guide to the Psychology of Conversion Optimization.
Tweetable A/B Testing Stat to Back up My Recommendations:
Marketing automation company Performable increased CTR on their homepage 21% by testing the color of their CTA button
Source: Quicksprout.com
---
Breaking this landing page example down:
CRM and business services management tool mHelpDesk has a very effective click-through page here. Information is well spaced, minimal and to-the-point…
They've tapped into user quotes extremely effectively, using them in almost every section (even to the point of having a quote as the subheadlines of their benefit list).
The design is good, and appears to be an excellent use of a landing page template from a third-party platform.
I really like that they have one single CTA (try now) at the center of their click-through page. While they do have another button at the bottom of the page, it's gray, smaller, and clearly not the page's focus.
Their USP (unique selling point) "The #1 Rated Field Service Business Management Software Since 2007" is a great example of a trust-based headline, encouraging traffic to find out why.
Tweetable A/B Testing Stat to Back up My Recommendations:
Adding a bright "Free Quote" CTA button to Consolidated Label's homepage improved conversion rates by 62%.
Source: VWO.com
---
Breaking this landing page example down:
I've highlighted each section of this lead-gen landing page example because it has pretty much every element you could possibly want in an LP…
To be honest, I'd say this company, Koozai (a digital marketing business focusing on agencies) has read a comprehensive landing page best practices article and then thrown them all into one landing page. This is a bit like cooking though… just because peanut-butter, jello, steak, cheetos and a good pale ale are all amazing doesn't mean mixing them together in a food processor will give you a delicious dinner.
In my mind, lead-gen landing pages should be simple and to-the-point (like all landing pages, actually). This one is not.
Tweetable A/B Testing Stat to Back up My Recommendations:
CRM company SuperOffice increased lead-gen on their demo request page 197% by taking "less-is-more" to heart.
---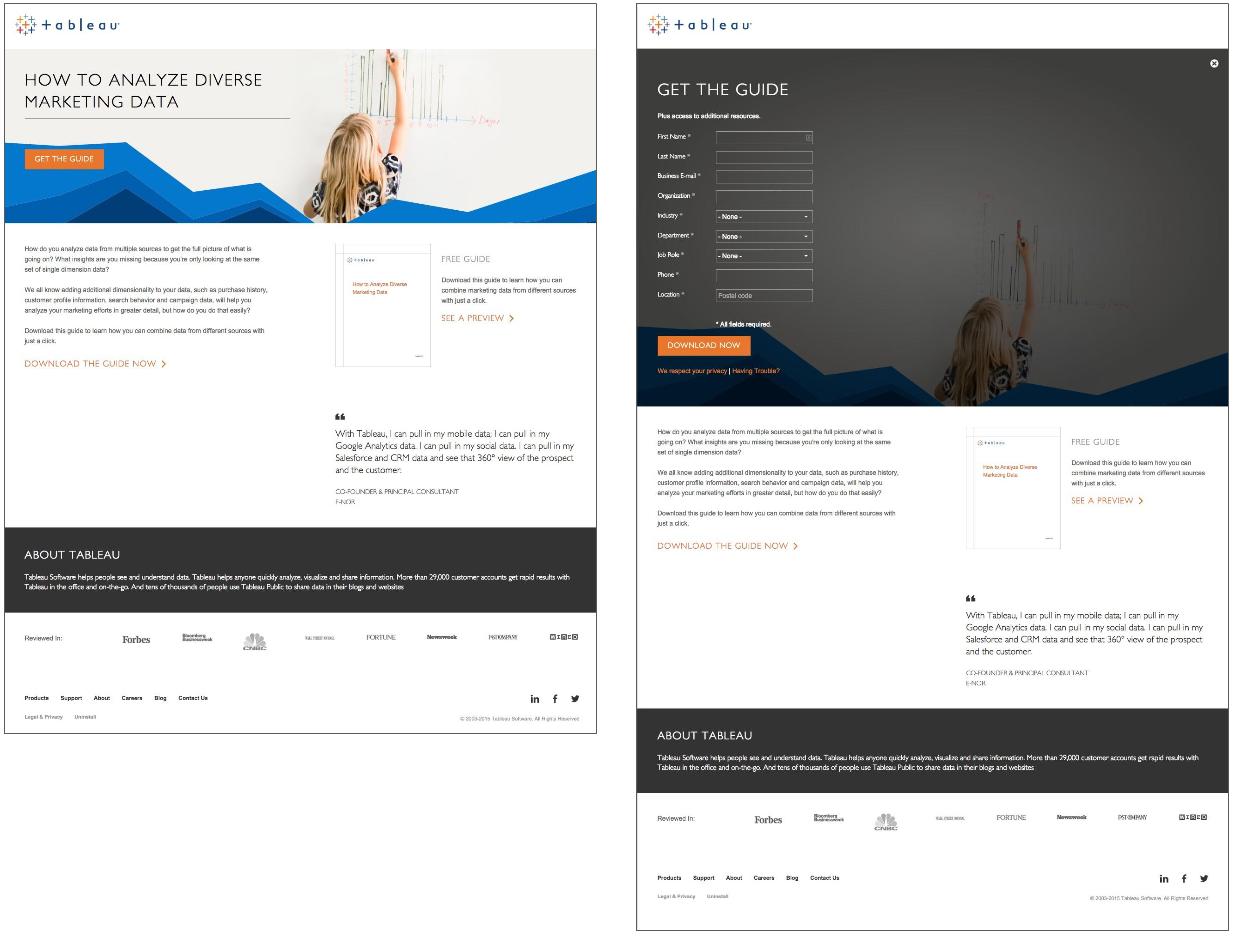 Breaking this landing page example down:
Analytics tool Tableau have a beautiful landing page here, with very little I would change…
The high-quality visuals communicate professionalism very quickly (as soon as you come to the page).
There's great use of an expand section (the form shown on the right in the image above opens up when you click one of the CTAs.
Really good focus on the conversion Ask: no top nav bar and three very different CTA buttons (the orange "Get the Guide" CTA, the "download the guide now" link as well as the ebook picture are all CTAs which open the form).
Tweetable A/B Testing Stat to Back up My Recommendations:
ContentVerve increased conversions by 64.53% by changing the placement of their testimonials.
Source: 50 A/B Split Test Conversion Optimization Case Studies
#7. Wistia
---
Breaking this landing page example down:
Wistia, a leading video-hosting platform, incorporates the feel of a lead-gen page into their click-through page, or is it the other way round?…
This is one of the simplest landing pages in this entire guide: a straightforward USP and great subheadline which expands on their offer, an image, a few "trusted by" previous customers and the form – clean, minimalist, effective.
Clearly, though, the focus is on that form on the right (which is the reason I've categorized this page as a lead-gen landing page).
Especially effective is the form's headline "Try out all of Wistia's features for free", which does a great job of letting visitors know that converting on their Ask doesn't mean they have access to some small freemium version of the Wistia platform, but every feature they offer. This appeals to "shopping-around" visitors (which, as this is the landing page of a Google Adwords campaign, is going to be most of the traffic).
I like the "Not sure yet?" Ask on the bottom right, allowing visitors to check out the full website and get a better feel for the tool before starting their free trial. Normally I'd recommend against a second CTA within an LP, but (as this is half click-through page and half lead-gen) I'm happy with it.
Their choices for companies that trust them are exceptional: Samuel Adams is recognized by everybody as a simple beer company (B2C), Mailchimp is recognized by all marketers no matter their industry, Starbucks is recognized as a leading big brand (and communicates Wistia's reputation as a leader in their field), and ZenDesk and Moz appeal even more than Mailchimp to the discerning digital marketer.
Tweetable A/B Testing Stat to Back up My Recommendations:
Using an image instead of a blank background has resulted in a 70% higher conversion rate.
Source: 50 A/B Split Test Conversion Optimization Case Studies
---
Breaking this landing page example down:
Uberflip, a content marketing management platform, uses a pseudo-blog article as a landing page, only opening the form field in the third-step of engagement…
Firstly, prospective leads read the ebook breakdown (paragraph form, like a blog article), then they click the "click here to download" CTA, which opens a new tab in their browser. Then they click on the first form field (work email) which acts as an expand chevron to open up the other couple fields of the form.
One thing I do like about this landing page process is the second stage, which appears like a website popup over the top of what looks like the ebook itself with the copy "you're one step away from the complete guide to email marketing." This gives the landing page visitor the feeling that they can almost grab the ebook and taps into "sampling" (a powerful psychological factor in marketing).
However, the three-stage conversion is a bit frustrating, as prospective leads can feel a bit of "More?! Just let me download already!"
I like the author bio at the bottom of the page (although it's probably simply a leftover of the blog article formatting) as it makes engagement a bit more personal.
Tweetable A/B Testing Stat to Back up My Recommendations:
Underwater Audio increased sales on their product page by 40.81% when they added personal benefits.
Source: 50 A/B Split Test Conversion Optimization Case Studies
---
Breaking this landing page example down:
Kissmetrics, a leading customer intelligence/site analytics provider, has a very attractive lead gen landing page for their webinar replays…
Simple and to the point, this lead gen landing page has a large centered title, ensuring there's no confusion about what webinar you're going to get when you download.
The webinar host's faces, names and job titles are prominent, a great idea (particularly for webinars) as it personalizes engagement.
The quote at the bottom of the landing page is also an effective sneak-peek into the webinar itself.
Beautiful color scheme, eye-catching CTA button, solid intro and benefit list, and a traditional layout (with a few bonuses) gives an all-around highly-optimized lead-gen landing page.
Tweetable A/B Testing Stat to Back up My Recommendations:
Neil Patel boosted conversion rates 26% by removing the "revenue" form field on his site.
Source: Quicksprout.com
---
Breaking this landing page example down:
Similarly to UberFlip's landing page example above, the Content Marketing Institute has blended a blog article with an email-gated lead gen offer…
This page features even more side-bar distractions than UberFlips, but places the form front and center on the page.
One of my favorite parts of this landing page example is the sentence right before the form, "By downloading the e-book, you'll also get access to three customizable templates that are described in the guide." This kind of "bonus content" is a great idea for lead gen.
The benefit list beneath the form is also an interesting choice, as normally you'd communicate all the value of your offer prior to throwing the offer at your prospective lead.
The form itself is a dual-Ask, as the CTA is "Sign Up" in which you get both the ebook and subscribe to the newsletter.
Tweetable A/B Testing Stat to Back up My Recommendations:
TechInsurance.com increased conversions 73% when sending PPC traffic to a simplified LP.
Source: 50 A/B Split Test Conversion Optimization Case Studies
Bonus Case Studies for Saas & B2B Landing Pages:
Case Study #1:
---

Most people would think Version A (as the faces of real people are best practice) would win this A/B test handily.
And yet, the video thumbnail with real customers decreased views by 50% at a 99% confidence level.
Surprised? You wouldn't be alone.
Apparently, after interviewing and surveying customers, AutoDesk (a 3d design and software development company) found that people were more interested in learning how the software worked than they were about hearing people talk about it.
Just goes to show you can never assume (and how important it is to test everything, even those strategies you think are guaranteed improvements).
Case Study #2:
---
Time Doctor, a software company creating time management and productivity tools, ran this test on their pricing page exclusively on people who had been to other pages of their site first.
Version A ("Free 30 Day Trial on All Accounts") converted 32% more visitors than Version B (with a 98.9% confidence level). The conversion was actually filling out a form field on the following page (so not clicking the CTA button in the image above).
This one is a great test, as both "focus on value" and "focus on benefits" are CRO best practices.
Are you surprised? Let me know your thoughts on these case studies in the comment section!
---
#11. MassageNow
Breaking this landing page example down:
MassageNow (a website which offers Groupon-like deals exclusively for spas) has a clickthrough page for their Adwords campaign which sends people to either their San Francisco website or their New York site…
I love this landing page's focus on visuals. The first thing you see is a relaxed woman smiling while having a massage. You know you're in the right place.
A simple, three-part benefit list right above the fold gives you three of their primary selling propositions ("same-day booking", "save 20-40" and "top rated spas"). These three benefits effectively answer the first questions of site visitors: When can I get a massage? How much will it cost me?, and Will it be worth my money? Anticipating and answering your landing page visitor's questions is a great way to get a conversion, fast.
Tweetable A/B Testing Stat to Back up My Recommendations:
Online ad campaigns that use landing pages typically see a conversion rate improvement of at least 25%.
Source: Square2Marketing.com
---
Breaking this landing page example down:
Lakeshore Chiropractic gives us a typical, somewhat dated, example of many B2C click-through landing pages…
Front and center is a trust symbol (it actually loads first on the page), which puts the landing page visitor at ease right off the bat.
The page struggles a bit with readability, as the font in the scrolling section ("Adjustments and Manipulations") doesn't contrast as well as it could against the green background.
The central body copy is, again, very typical of sites like this one. The three paragraphs take up a lot of space and could be overwhelming the visitor.
A few nice touches though are the video (actually done pretty well) and the Yelp reviews. For a business like this one, featuring objective reviews from a recognized site is a good call.
Tweetable A/B Testing Stat to Back up My Recommendations:
Growyourowngroceries.com replaced a photo of the owner with a video and increased conversions by 12.62%.
Source: 50 A/B Split Test Conversion Optimization Case Studies
#13. Dorion Gray Financial Advisors
---
Breaking this landing page example down:
Dorion Gray Financial Advisors have a somewhat different landing page here, as their Ask is actually for visitors to make a phone call…
I've chosen to include this page within this article because it's very typical of B2C sites (though isn't, technically, a landing page optimized for a single online conversion).
Like many of its peers, Dorion Gray's site features a phone number in five places as well as a map and address, allowing visitors to immediately take the conversation off-line. This shows a knowledge of the company's target market.
The page also features several stock photos of retired, smiling couples (again, typical of sites like this one).
Tweetable A/B Testing Stat to Back up My Recommendations:
A company offering truck-driving classes increased conversions 161% switching from stock photos to real people.
Source: VWO.com
---
---
Breaking this landing page example down:
Grove Dental Associates provides a simple and straightforward lead gen landing page in stark contrast to many of their competitors…
This landing page is specific to its Adwords campaign, focusing on the keywords "dentist + Chicago." Which is why their value proposition/USP is focused on the value they can deliver to new clients. Existing clients would head to their main website, and see a different message. Focusing your USP on your traffic source is definitely best practice, and should be kept in mind.
Everything essential is above-the-fold while below-the-fold is a prominent and glowing customer testimonial as well as smaller contact details for each of their four locations. I really like how this page is structured.
Tweetable A/B Testing Stat to Back up My Recommendations:
NumaraSoftware improved form conversion rates 133% by changing their font from size 10 to size 13.
Source: Clicklaboratory.com
---
Breaking this landing page example down:
Westchester New York's Roto-Rooter landing page is a bit overwhelming when you first arrive, but will it convert traffic?….
There's a lot going on here, but my eyes find the phone number right off the bat (the goal of any B2C page like this one).
The images look like real roto-rooter employees, and I like the headline "The plumbing experts you've trusted for over 80 years" as it communicates that my friends and family have trusted this company, so I should as well.
The $40 discount is also an effective communication of value beyond their competitors, and is front-and-center on the page.
Tweetable A/B Testing Stat to Back up My Recommendations:
Empire Flippers increased lead-gen conversions 33.10% by making their CTA copy more customer-centric.
Source: VWO.com
---
Breaking this landing page example down:
The Center of Revitalizing Psychiatry has a lead gen landing page with a lot going on, and it serves both their New Jersey prospective leads and those from Florida…
Once again I'm a bit thrown off as to why you wouldn't just create two landing pages for each of your locations, but let's put that to the side for a second.
The first thing that hits you when you arrive on this page is an almost overwhelming amount of text. It's genuinely a bit intimidating (especially when they should be making engagement as simple and painless as possible for a sensitive target market).
The bottom left image (currently showing the "Patient's Choice Award '08" image is actually 13 images which scroll every 6 seconds. I screenshotted the trust symbol image as I think it's worth mentioning that unless your business was voted "Top X Business" in the past two years, don't include it (as it makes it look like you're searching for things to brag about and coming up short).
This page does have a cool feature in their phone number link, which actually opens up a Facetime option. That said, I'd be interested to see if this little feature didn't simply intimidate visitors rather than making it easier for them to engage.
Tweetable A/B Testing Stat to Back up My Recommendations:
Spreadshirt reduced the amount of text, graphics and CTAs in their "how to" section and increased conversions by 606%.
Source: 50 A/B Split Test Conversion Optimization Case Studies
---
And the website popup form which opens when you click on either CTA button:
Breaking this landing page example down:
I've included Amy Porterfield's webinar landing page example only to show you all how it's done….
Her face and signature are at the top, immediately engaging people with a smile and making the whole interaction with the page personal.
The webinar's title is a "how-to", immediately appealing to people who want to learn something from an expert. You're told in no uncertain terms that you'll get the complete picture of how to get up and running. Solid subtitle as well which expands on the initial headline.
Making it personal with "you" right off the bat. Also effectively answering the main question people have when they arrive on this page: "Is it for me?" to erase fears and concerns.
"I can't wait to see you there" reaffirms the personal touch.
Bright yellow, large CTA buttons repeated twice: once at the very top for people who know they want to register and once after the bullet-pointed list of "what you'll get" below.
The testimonials are almost an afterthought, but there are enough of them and feature the faces and name of the person giving it. If you're not already sold on the "what you'll get" then the testimonials will do it.
The CTA button remains at the top of your screen even if you're completely scrolled to the bottom of the testimonials, so you can engage easily.
The form itself asks only for a name and email address, and does so intelligently by asking "where should we send the invitation to?"
All of these elements make for a well-optimized (and often-tested) webinar [landing page](https://blog.wishpond.com/post/115675436105/landing-page-design) which has worked for Amy for a couple years now.
Tweetable A/B Testing Stat to Back up Amy's Form Popup:
VWO (an A/B testing tool) tested popup forms on their free trial signup and improved conversions by 50%.
Source: VWO.com
Bonus Case Studies for B2C Landing Pages:
Case Study #1:
---

Pierre et Vacances (a French hotel and vacation-booking site) ran this CTA-only A/B test for 12 days. Their control (the CTA copy "Book") was compared with a softer "Check Availability" CTA, which increased clicks by 92% and (more importantly) hotel bookings by 13.6% – both at a level of statistical significance.
This one is pretty straightforward: "Check availability" is a significant drop in obligation. That said…
You often see soft CTAs improve clicks, but actually hurt sales in the long run (usually because the traffic clicking through to the next part of the sales funnel is not qualified).

This test shows exactly how important it is to measure your A/B tests to the end of the funnel, particularly when testing your CTA text. Any company that stops at clicks and makes a site-wide change based on such a shallow metric runs the risk of hurting their bottom line (down the line).
Another great test (in the same vein as the one above) comes from Alinc technologies, a full-spectrum IT solutions provider, who tested "add to cart" vs "buy now" copy in their CTAs.
Although "Buy Now' decreased individual sales by 36%, it increased average order value by 57%. The team monitored total value when they compared the loss of sales with the gain in order value. They reported that the total sales value remained nearly identical for both variations. We call that inconclusive, folks. (Source)
Before we go, let's check out a big-damn (bonus) multivariate test
As you can see, this was a complete overhaul of Blazemeter's homepage (they're a SaaS company which provides website performance testing).
Version B increased leads by 119%. However, the actual revenue increase was only about 11%. Why?
Blazemeter learned something we should all remember when A/B testing our landing pages…
If your business has a longer sales process or lead nurturing period, it doesn't matter how many leads you generate if your strategy for nurturing them into sales isn't up to snuff.
Ophir Prusak (who heads up Blazemeter's digital marketing team) explained it this way: "Leads don't convert to customers. Leads convert to conversations."
And that, my friends, is why you need to set up an optimized landing page and then ensure you have a strategy for how to convert those leads. Otherwise you'll have invested some serious time, money, and energy for nothing.
Special Mention: ConversionXL's article on sample pollution in A/B testing.
To Wrap it Up
---
I hope this guide has given you a better idea of how your own landing pages can be optimized for the conversion you need.
Were there any kinds of landing pages (or sectors) I missed that you want me to cover? Let me know in the comment section.
P.S. Wishpond's Facebook Contest Apps make it easy to create sweepstakes, photo contests, Instagram hashtag contests & more. Looking for inspiration? Check out 25 Creative Facebook Contest Ideas You Can Use Today.