Thanksgiving is just around the corner, which means you need to be preparing for the holiday season.
It's the biggest buying season of the year, and the more prepared you can be the better you'll do.
This article will give you 5 real-world examples of last year's most successful holiday promotions, as well as 18 actionable contest tips you can implement this season.
So let's get rolling on driving some holiday brand awareness, generating fans and email leads, and ultimately getting your business sales in the busiest time of the year.
Why Contests?
For many businesses, social contests deliver the greatest return from the smallest investment of time and money.
How?
They reach your market where they are, without advertising
They generate buzz around your brand and spread the word organically
They keep your business top-of-mind during the holidays
They generate email leads to whom you can market your holiday sales
They drive immediate sales
The best way to take advantage of social promotions is to choose the type which will work best for your business, come up with a unique and awesome prize idea and cross-promote your contest on your website, social media and email.
How about we take a look at a few of the most successful holiday contests from last year?

---
Sweepstakes are the simplest social promotion out there. They have a simple three-step process for guaranteed success:
Make it easy to enter.
Make the prize desirable to your business' target market.
Put some effort into visuals.
This three-step process is a recipe for quick and easy lead-gen. There's absolutely nothing wrong with running a sweepstakes, and they're what I recommend to businesses just getting into running an online promotion.
Here's a simple example from app company "gyft" who are giving away a $50 gift card to one of their affiliated brands (Target):
4 Top Tips for Holiday Sweepstakes:
Run one sweepstakes each day for 12 days of the holidays, promote each contest within the one before, and have a grand prize at the end. This increases the chance of your contest going viral online.
Make your sweepstakes prize relevant to your target market, otherwise people will just enter to win your prize and not be actually interested in what your business sells.
Increase the believed chance to win by offering many prizes (perhaps split a $500 prize into 10 $50 giveaways).
Giveaway a package of prizes to increase the chance people will be interested in winning.
---
Photo contests are not only a great way to get some user-generated content, but are also one of the best contest types for driving organic traffic and brand awareness (as each person who submits their photo has an incentive to share your contest with their friends and family).
Here's a photo contest example from Canadian Pacific Railway, generated C.P.P. 1,789 new email addresses:
3 Top Tips for Holiday Photo Contests:
Ensure your contest design is holiday-esque: reds, greens, snow, trees, etc. Make it recognizably festive.
Ensure your call-to-action button (the entry button) stands out.
Publish your contest's full contest rules or fine p rint on a separate page of your website and provide a link to it.
People love to share holiday-related stories, recipes and more around this time of year, and a great way to tap into that desire (as well as get some great ammunition for your social media campaigns) is an essay contest.
Here's an example from Hero Box, who generated 1,443 new email addresses last year with their essay contest:
2 Top Tips for Holiday Essay Contests:
Set up voting within your essay contest to encourage people to share their entry (and your contest at the same time).
Have your essay topic be inspirational: emotional stories of favorite Christmases, Hanukkah hilarity, worst present, most delicious dessert recipe, etc.
---
Referral promotions are my most-recommended campaign, as they incentivize your entrants to market your business (and promotion) on your behalf.
They can be run a few different ways…
Set up a contest which gives 25% discounts to people who get 5 or more friends to enter or 50% discounts to people who get 10 or more.
Set up a contest which counts each time an entrant's unique share URL is engaged with (by their friend). Most referrals wins.
Set up a contest which doesn't end until someone reaches a set number of referred friends (or the most by a certain date).
Here's a real-world example from last year, which generated 5,640 new email addresses for the company:
2 Top Tips for Holiday Referral Contests:
Send a reminder email a day after people enter to encourage them to share their unique share URL with friends and family.
Use a 5 or 10% discount for all entrants no matter if they win or not, this increases the chance of someone's friends entering, even if they recognize they don't' have much of a chance of winning
---
Along with the winter holiday season comes a lot of holiday treats, so jumping on the fitness bandwagon in the new year is a great theme idea. This Instagram hashtag contest gave participants the chance to win fitness prizes every day simply by following their accounts and uploading their Fitmas photo to their Instagram account (as shown below).
A hashtag contest like this also expands the reach of your business to new potential followers and customers as participants share their photos with their own networks.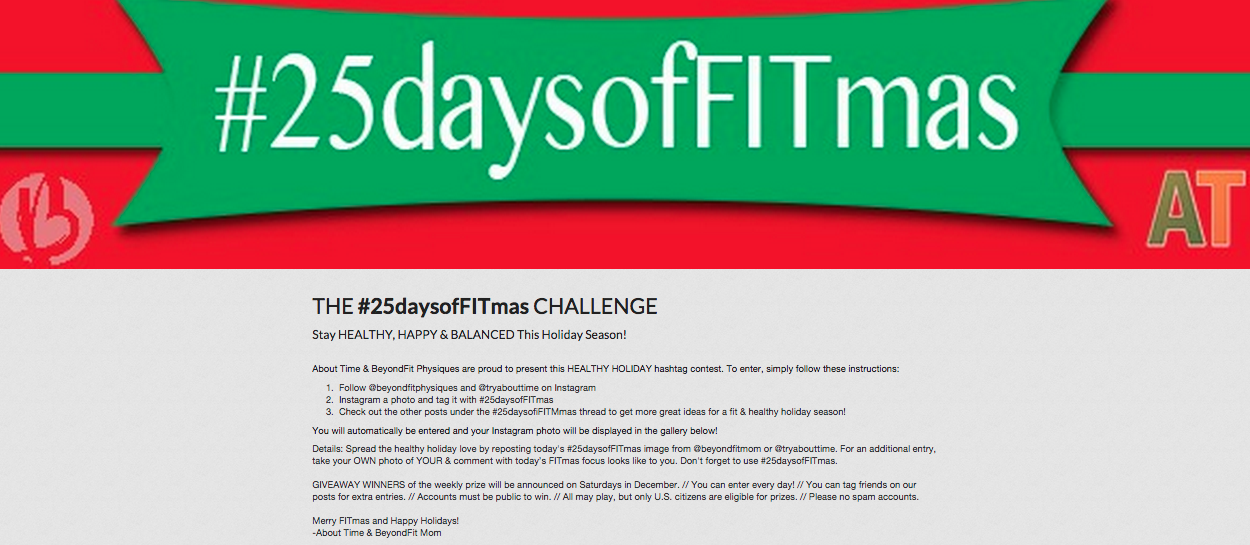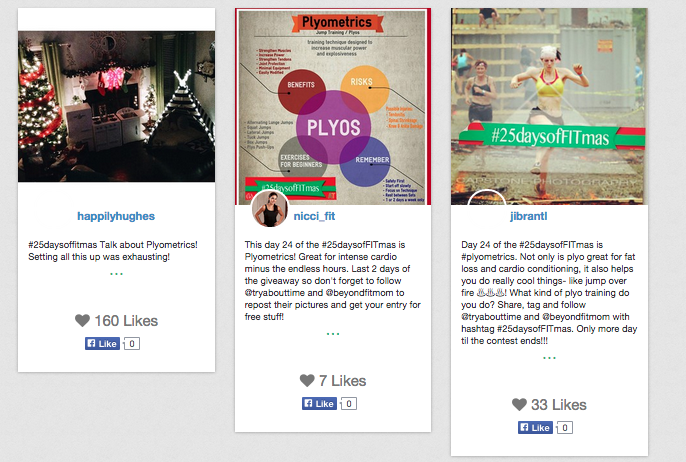 3 Top Tips for Holiday Hashtag Contests:
Choose a short, catchy hashtag to increase the chance of it going viral
Cross-promote your hashtag contest on different social media platforms, using the same hashtag across them all (Twitter, Instagram and Facebook all support hashtags).
Use a select number of other hashtags (no more than 3 alongside your unique one) to promote your contest on Instagram. Check what's trending and tap into it.
---
Wrapping it up
he holidays are the best time to run contests and promotions online. People are in the mood both to buy and save, as well as share their photos and stories with the world.
Many of the businesses who used promotions last year generated more than 1000 leads, often from prizes valued at less than $100.
Could your holiday marketing strategy use a boost? Don't hesitate to reach out in the comment section with any questions you have!
Related Reading:
james-scherer-2