Not all landing page tools are created equally. Some focus on affordability with few options. Some focus on a comprehensive, advanced platform for a premium price. But what do you really need?
This article will give you my six most-crucial elements of a landing page builder. I've played around with most of the top tools (and even had a hand in building one), as well as created somewhere around 100 landing pages myself in the past few years.
So let's get into it.
---
#1. Professional, Optimized Templates
---
The whole point of using a landing page builder over hiring a web designer or doing it yourself is the ease of use, superior ROI, and guarantee of a professional end result. Unless a builder offers landing page templates which are visually appealing and a tool which makes it easy to edit them, move on.
Consider that the less editing you do to your landing page, the better. You're getting a better ROI (not wasting hours of your time essentially rebuilding the landing page from scratch) and, so long as you go with a platform that follows existing best practices, the templates should be optimized to begin with.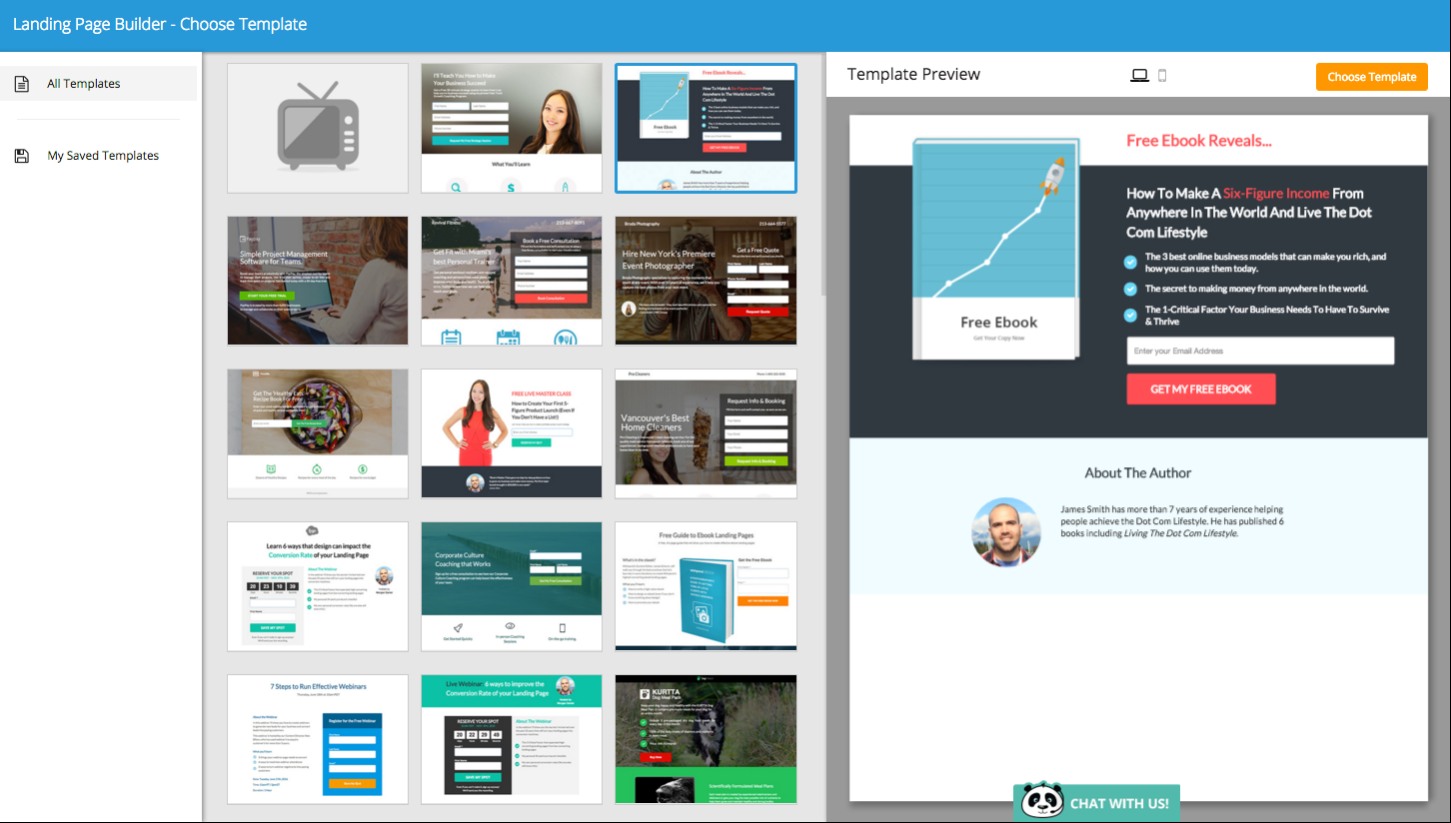 You want options as well. Some landing page builders organize their templates into type (squeeze page, contact us, pre-launch, demo, etc) and that's great. Honestly it doesn't matter all that much, so long as your landing page builder gives you a few dozen possibilities. The more landing page templates offered, the more landing pages you'll create.
And remember, companies with 30 or more landing pages generate, on average, 7x more leads than those with 10 or less. Those with 40 or more generate 12x more leads than those with 5 or less.
---
#2. Mobile Optimization
---
I don't know about your business, but ours receives about 20% of its website traffic from mobile browsers.
So making sure that when someone arrives at your landing pages they look good no matter the device they're on? That's huge.
And it's getting even more important. Mobile use is only going to get larger, and having a responsive landing page builder is only going to get more vital to a professional sales funnel.
When it comes to mobile optimization, try to find a landing page builder with a bit of intuition. You shouldn't have to completely re-design your landing page for mobile phone and tablet when you've already done it for desktop. Remember, we're trying to find a landing page tool which allows us to publish quickly, cleanly and confidently. The more the tool helps us, the better.
---
#3. Integrated A/B testing
---
Best practice landing page optimization only goes so far. No landing page builder can design a landing page guaranteed to be optimized for your exact target market (and any who say they do are lying).
Every market is different. Every campaign is different. So testing is vital.
You want to get the biggest bang for your buck, right? So let's say you're paying $70/month for your landing page builder. If that builder helps you generate 42 leads each worth $5, you have a 200% return on your investment. However, if that builder allows you to test your campaigns and improve their performance so you're generating 56 leads, you're making a 300% return on your investment.
Sure, you can pay Optimizely, VWO or any of the other A/B testing companies and test your landing pages that way, but, ideally, you'll find a platform which has testing built right into the infrastructure. It's just easier.
---
#4. Integrations
---
You may love the landing page builder you choose, but unless you have a strategy to do something with the leads and customers you generate, paying a single dollar is pointless.
Let me put it another way: Generating a lead without an idea of how to turn that lead into a sale is like buying a Ferrari and forgetting the wheels. Sure, it might look good in the garage, but garages aren't where Ferraris are meant to be.
To take your leads onto the highway, you need to have them connected to something capable of hitting the gas and getting it to 100.
Integrations are that something. They allow you to connect your lead-generating landing pages with lead-nurturing software and customer relationship management systems.
The alternative to integrations like the ones you see on the right is to choose a software provider which has the tools built into it. There are a few such platforms, that integrate email marketing, lead-nurturing and CRMs together with landing pages, and they're well worth a look.
---
#5. Multiple-user Accounts
---
Your team needs to be able to work on their own landing pages fluidly and easily. Being able to access the builder from anywhere, by anyone, is a crucial component of a landing page tool which works for the modern marketing team.
And your account needs to be tailored for repeated use, as well. If you've edited one of the builder's templates so it has your logo, brand colors, message, trademark, etc, you don't want to have to create it from scratch every time you want a new LP.
So that's two pieces of a whole: the ability to access your work (and work at the same time) and to save your work to an account to be re-purposed later.
---
7 Bonus Features to Look Out For
---
Simple, drag and drop editor with a lot of design capability (you never know what you might want to do down the line) as well as a draft version and shortcuts to undo/redo, delete, copy and paste.
Features which improve conversion, like countdown timers, color-changing CTA buttons, FontAwesome icons and text, and parallax images.
Built-in website popups, which have, in several instances, shown to increase opt-in rates by more than 1500%.
A comprehensive analytic platform which shows your landing page's performance, traffic and A/B test results.
The ability to add custom CSS and Javascript if you (or your web designer cousin) finds the time to do so. Ideally the landing page builder's templates should make it so custom CSS is unnecessary, but even so it's nice to have the possibility.
A preview function which allows you to see exactly how your landing page will look on each device.
The ability to publish your landing pages to different subdomains, as well as host your landing page for you. This should be an easy copy and paste of a snippet of code into the backend of your site/page. Anything more and they're complicating things for no reason.
---
Wrapping it Up
---
Hopefully that's given you some insight into what makes a landing page builder worth paying for.
And they are. A lot of them are excellent. They save you time, money, and make it so much easier for your business to generate leads and drive sales online.
I'd be happy to give some insight into what I look for in a landing page, and give you a hand with choosing the right platform for your business. Don't hesitate to reach out in the comment section below.
Related Reading:
james-scherer-2