As the year draws to a close, it's time to pause and reflect on our successes, our failures, and what we want to achieve in 2016.
When it comes to successes, there were few greater than those of the brands in this article. Between them, they generated over 2 million leads in a single year from social promotions (a marketing strategy we've been told is dying out).
Let's take a look at seven of the most successful contests run in 2015. We'll break down exactly what went right for each, and how your business can follow suit in the new year.
---
#1. OnePlus Runs a Simple Giveaway
---
OnePlus is a smartphone manufacturer who launched in 2013 and recently released their second phone, OnePlus 2, to some serious acclaim.
However, when they reached a million fans on Facebook they wanted to give back, just a little.
They ran a simple giveaway with Wishpond to win a 64gb OnePlus 1:
This contest generated 102,079 email addresses for the merchant.
What I like about this contest:
They allow their promotion (email, social media posts, website banners) to drive people to the page, and let the page do nothing more than convert them. People are already sold on winning a contest, sometimes all you have to do is avoid getting in the way.
They're using a sweepstakes promotion to generate email addresses from social media Fans. Social promotions are the best way to turn Fans into leads. You know they're interested in your business, contests just push them that little bit more into becoming truly prospective customers.
"Are you the one?" is a great contest question. It alone is an incentive. Who doesn't want to "be the one?" These little copy details can make all the difference in a campaign like this one.
The prize is a product of the company running the promotion. This means that every email address generated by OnePlus is a true prospective customer, genuinely interested in their product (and far more receptive to promotional emails).
---
#2. Gardens for Good Uses a Vote Contest for Good
---
Nature's Path is an organic food company who runs a yearly philanthropic campaign (Gardens for Good) which gives to urban organic farming projects.
For their largest campaign of the year, they ran a vote contest: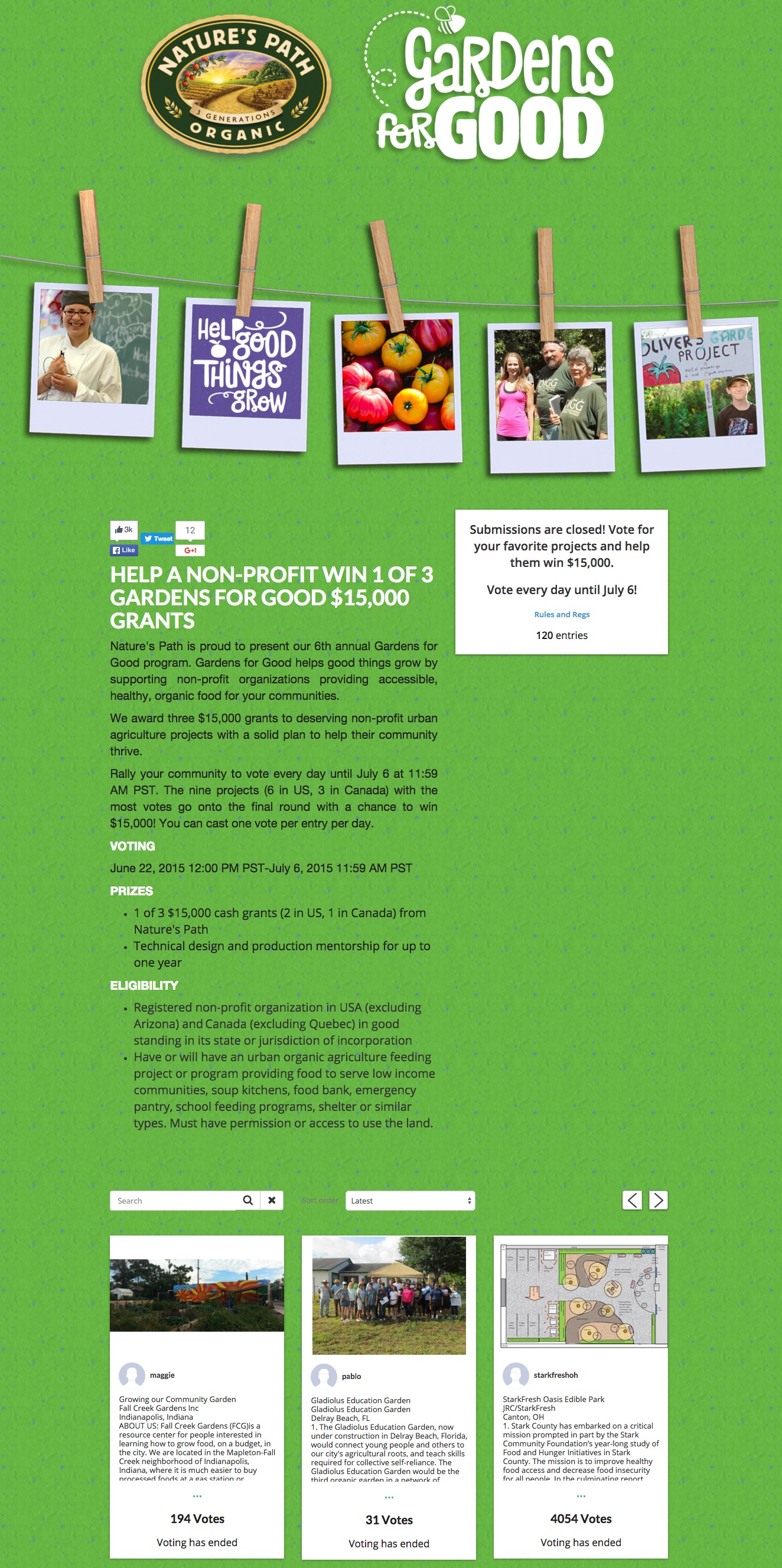 This contest generated 44,250 unique email addresses for the merchant.
What I like about this contest:
They invested time and energy on the graphics. While a good contest template can get you a ways in the online promotions game, it's always worth going that extra mile to get images and designing graphics (even if that involves a freelancer) that look professional. They've done that here
Vote contests (like Photo and Referral promotions) elicit the help of entrants themselves to spread the word. This is a huge component of getting the big numbers you see in this article.
This vote contest limited voting to once per email address per day. This allows entrants to, essentially, run their own internal campaigns to get their employees, friends, family, members, and everybody on the street to vote. I call this "manual virality." It's hard work for the entrants, but 44,250 unique email addresses don't lie.
---
#3. World of Warcraft Takes Selfies to Win Big
---
Wishpond was happy to host a few of the World of Warcraft's campaigns this year.
My personal favorite was their "selfie" photo contest, which required Warcraft players to find the place in the game seen in the example photo and then emulate the character's stance with their own.
This contest generated 35,372 email addresses for the merchant.
What I like about this contest:
Requiring entrants to take a screenshot of themselves playing the merchant's game ensured that each and every one was an existing customer. This strategy (many businesses could do it by prompting entrants to submit photos of themselves in a business or with a product) is huge for upselling down the line.
This contest was run with different prizes, and chances to win, for several weeks in a row. The screenshot above, for instance, is from Week 5. This strategy, of giving away several prizes, greatly increases the chance of people sharing the promotion and encouraging friends to try to win as well. It also means your business has a new way to keep the contest promotion exciting with new copy and images.
---
#4. Taco Bell Redesigns Photo Contest Success
---
Taco Bell was looking for a uniform redesign and, this year, chose to make it a bit of a competition between high school students.
While this vote competition had a big prize, it was the way that prize was communicated that justifies its placement on this list.
This contest generated 61,200 email addresses for the merchant.
What I like about this contest:
The prize of this contest is fantastic: giving high school students an opportunity to win $5,000 towards university, express themselves, and win national acclaim. Desirable and creative prizes like this one are a huge part of the recipe for online contest success.
This contest (like Nature Path's above) is also PR heaven. This is, essentially, a philanthropic campaign with a bit of competition thrown in. This kind of campaign is great for press releases, social media, annual board meetings and recruitment.
---
#5. #LiveLoveLead Instagram Hashtag Contest Gets Huge
---
Based in Sydney, Australia, the Hillsong Church is a religious organization "Championing the cause of the local church everywhere."
To promote their upcoming conference as well as senior pastor Brian Houston's book, Hillsong created an Instagram contest:
This contest generated 77,086 new Instagram Followers for the merchant.
What I like about this contest:
I like the same thing with this Instagram hashtag contests as I do with all of them: though you're no longer allowed to "Like-gate" a Facebook promotion, with Instagram you're still able to require entrants to Follow your account. This means that Step 1 of this campaign is to "Follow @BrianHouston on Instagram." Huge social media engagement right there.
As i mentioned before with the Warcraft campaign, asking entrants to pose with your product is a great way to boost awareness and sales of that product. The book purchases alone that were generated by this campaign would have paid off the cost of a trip for two to Australia dozens of times over.
The hashtag also promotes the book itself (and it's catchy). This increases social media engagement across all platforms, not just Instagram.
Brian Houston and the Hillsong church were focused on driving social media engagement, so they chose a social promotion designed to maximize that outcome. If they were interested in leads, they may have chosen a vote, photo or referral contest. Choosing the right contest type for your business is crucial to reaching your goals.
---
#6. Cricut Runs Themed Giveaways
---
DIY Crafting tool Cricut has run many promotions this year, all of them successful.
The one that took the cake though, for me, was their summer giveaway series.
This contest series generated 7,601 email addresses for the merchant.
What I like about this contest:
Cricut actually ran six individual campaigns, each one averaging more than 1,000 email addresses each. As I mentioned before, this creates the feeling that each entrant has more of a chance to win.
Multiple prizes means more desirability for entrants. Though one entrant may not care about the Caribbean week's prize, they may want the Sunshine prize. Choosing a single prize means only people interested in that prize will enter your promotion.
The contest templates mean that creating these six campaigns was a matter of a half an hour or so. True, creating the images took a designer a bit more time, but the actual putting together of them was super easy. Be sure you choose a contest platform that allows you to duplicate and save your campaigns, otherwise you'll be wasting a lot of time creating the same thing over and over again.
All of this said, Cricut is currently running an "ugly sweater" contest which looks promising as well!
---
#7. MajorLeagueFishing Lures in Huge Numbers
---
This contest generated 2,790 email addresses for the merchant.
What I like about this contest:
Partnering with other companies (in this case Justin Work Boots) is a great way to cross promote. In this example, it's likely Justin Workboots who are enthusiastically powering up their marketing campaign by tapping into a larger, more well-known brand like the MLF. Either way, it works.
Major League Fishing, like Cricut above, uses branded templates to great effect, running campaign after campaign with a simple prize but beautifully designed page easily.
Even though MLF has offered a prize not directly related to their brand, they're reaching the same target audience. While I'd still advise you to offer your own product as your contest prize, this is almost as good.
Major League Fishing had a great contest year in 2015, racking up 1,203,790 leads from 26 campaigns. Their promotions averaged more than 80% conversion rates and, with an average prize value of about $500, their return on investment wasn't bad either.
---
Wrapping it Up
---
Hopefully a look at this year's most successful social promotions has inspired you to try similar strategies for your business.
If you can't afford a $5,000 university scholarship or trip and accommodation for two to Australia, check out Wishpond's "101 Best Prize Ideas to Give Away in Online Contests & Competitions" for inspiration.
Related Reading:
james-scherer-2