What to do with Your Contest Leads: 5 Marketing Automation Ideas
If you've run a contest before, you'll know they're a great way to generate a ton of targeted leads in a short period of time.
We've written extensively on how to run a successful contest in the past, so this article will be all about what to do with those contest leads after you collect them.
If you're one of those people who's used to simply exporting your entrants as a list at the end of your campaign, then you might want to grab a glass of milk, because I have a couple suggestions for you which might get a little spicy...
I'm about to break down five ideas for ways you can begin to segment, automate, and speed up your nurturing process using those brand new contest leads.
---
Contest Marketing Automation Idea #1: Automatically follow up contest entry with an email
---
What was the main reason you initially ran your contest? Was it to build brand awareness? To collect user generated content? To promote an event?
Whatever your goal was, it's a good idea to follow up with your participants after entering to remind them that they're in, as well as to give them more information about your primary contest objective.
Following up with your leads after they entered your contest:
Gets them used to receiving emails from your business
Acts as another touch point where you can positively influence their perception of who you are
Keeps your company fresh in their mind
Gives you another chance to promote the product or services most closely related to your campaign
Here's an example of a sweepstakes ran by Skift Global Forum giving away two tickets to their event in New York City.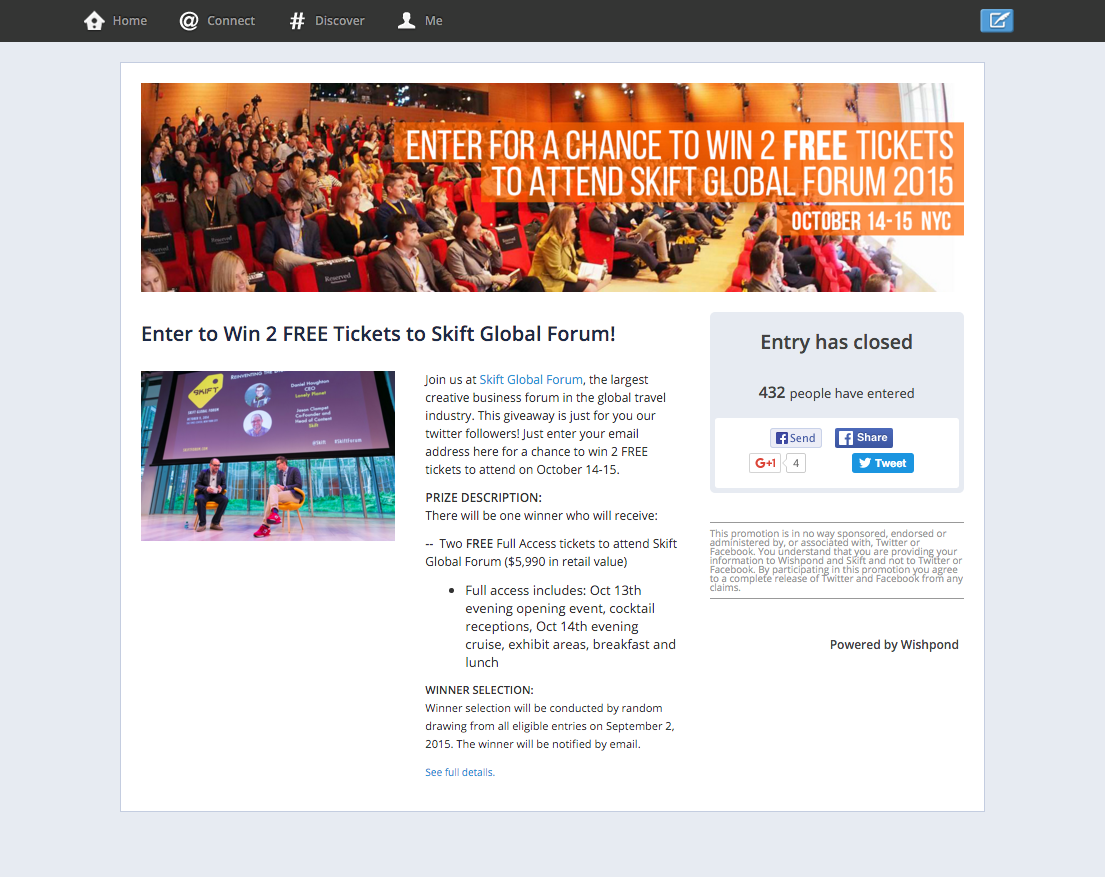 After users enter to win, Skify sends out an automated email giving users more information about what the forum is about, who will be speaking, and how they can register.
Here's an example of one of the emails they sent: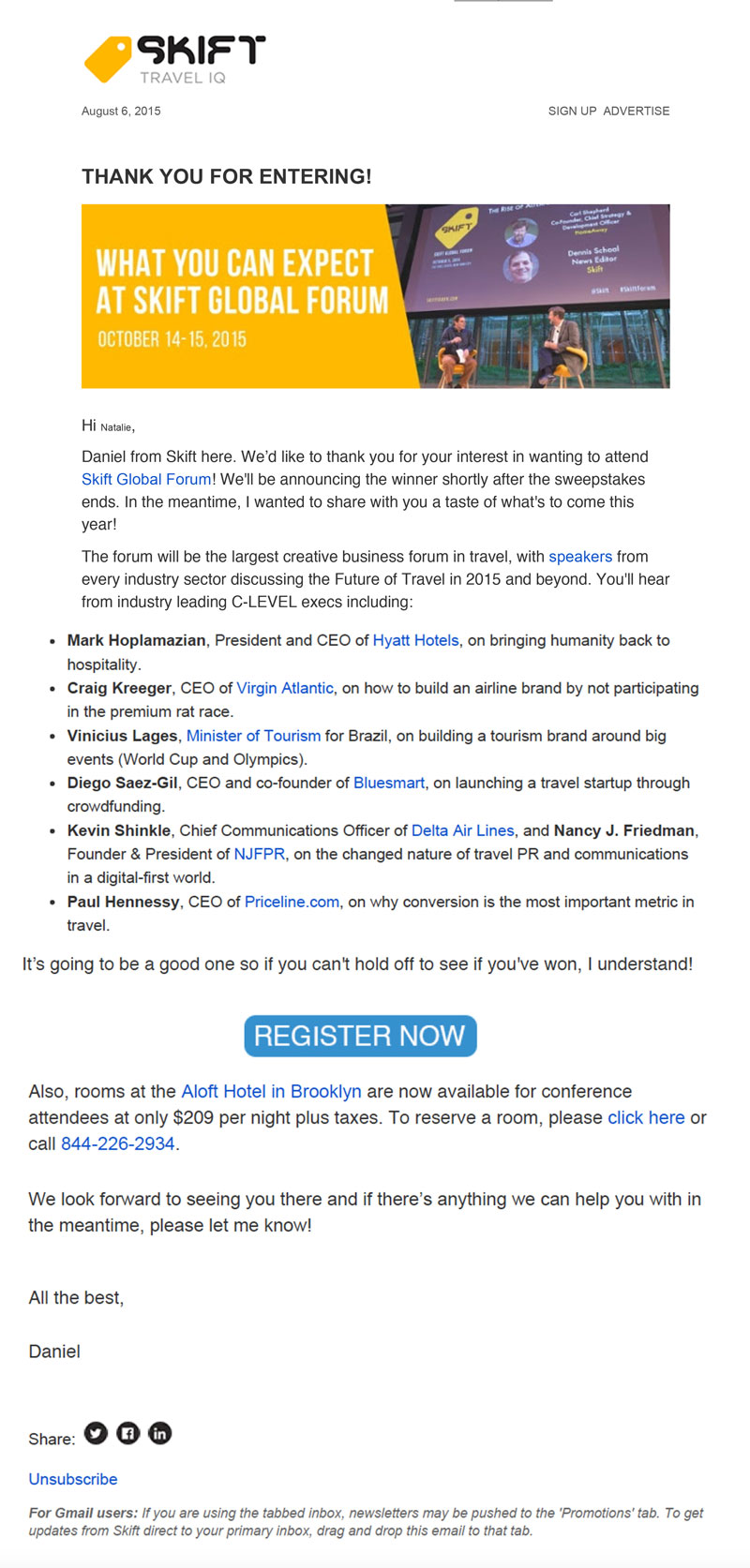 Notice how they thank users for entering but then quickly move their way into providing information about their upcoming event?
This is the power of a follow up email, and a simple example of how you can trigger an automated email based on the condition that a user converted on your contest page.
Here's what the condition and action would look like in Wishpond's marketing automation platform:


---
Contest Marketing Automation Idea #2: Automatically send text messages to contest entrants
---
Did you know that people on average open 98% of all text messages they receive?
That's an insane open rate, especially if you're coming from the email marketing world.
Get your customers acquainted with receiving text messages from you by sending a follow up text message after they enter one of your contests. All that's required is that you collect a phone number on your contest page and set up a marketing automation workflow that automatically triggers a text every time a new user enters.
Here's a quick video to show you how that works:
---
Contest Marketing Automation Idea #3: Use lead scoring to organize contest entrants based on engagement
---
Have you ever heard the saying "not all leads are created equal?"
If not, that's because it's not really a saying (I just made it up) but that doesn't mean it's not true!
The quality of entrants you generate from a contest are going to vary wildly based on degree of buying intent and overall understanding of your product or service.
That's why it's important to segment which entrants are likely to become potential customers and which were voting for Uncle Bob's photo so he could win a trip to Mexico.
Using marketing automation, an easy way to differentiate between contest entrants is through using a system called lead scoring.
Lead scoring is the process of tracking the engagement of your leads across your website, contest pages, and emails.
Here's how it works:
First you need to install a tracking cookie in the header of your website. Once the code is installed, you'll be able to see a detailed description of all of your leads pageviews, contest engagements, and email interactions.
Using this information you can be set up a simple workflow that assigns a score for different actions.
An example of a lead scoring system could include:
+30 when leads enter a contest
+100 when leads view your pricing page
-25 when leads don't open 5 emails in a row
+30 when leads click on a link in your email
+50 when leads open a sales-related email from you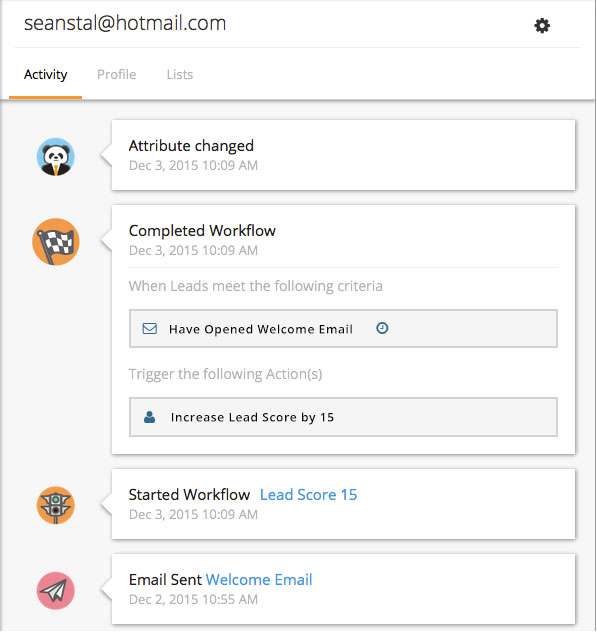 Based on these scores over time, you can create a targeted list with everyone with lead scores of over a certain amount, say 200. These could then be considered higher quality entrants.
To learn more about lead scoring (and see some examples), check out my colleague James' article "5 Behavioral Lead Nurturing Ideas & Examples."
---
Contest Marketing Automation Idea #4: Categorize contest entrants based on specific properties and send them targeted emails
---
During the course of your contest, you may have collected information about your users regarding their location, profile, or personal preferences.
But rather than letting that data collect virtual dust, why don't you use it as a trigger to send your contest entrants relevant content?
Mailchimp found that companies that employ a strategy of targeted email segmentation get 14.47% more opens on average then generic emails. So let's set it up!
Using marketing automation, you can segment contest entrants that gave specific information.
For example, let's say an entrant chose the Chicago Blackhawks out of a "favorite sports team" multiple choice:

Then follow up with a Chicago Blackhawks-specific email:

Setting up a simple workflow like this is a great way to improve the overall experience of your lead nurturing programs by increasing the relevance of each interaction through content tailored specifically for the user.
---
Contest Marketing Automation Idea #5: Trigger a javascript popup when a user returns to your website
---
Once an entrant converts on one of your contest pages you immediately get a vital piece of information from them: You know the types of products they're interested in.
Use this information to your advantage by triggering a popup customized to their preferences when they come to visit your website.
For example, say you were running a summer beach photo contest which required users to post a photo of themselves and their friends playing their favorite sport on the beach. And say the prize at the end of the contest was a free pair of sandals.
Based on their participation in this contest, you know that your leads are interested in sandals.
Using this information, you can trigger a javascript popup that offers sandals as soon as these users arrive on your website.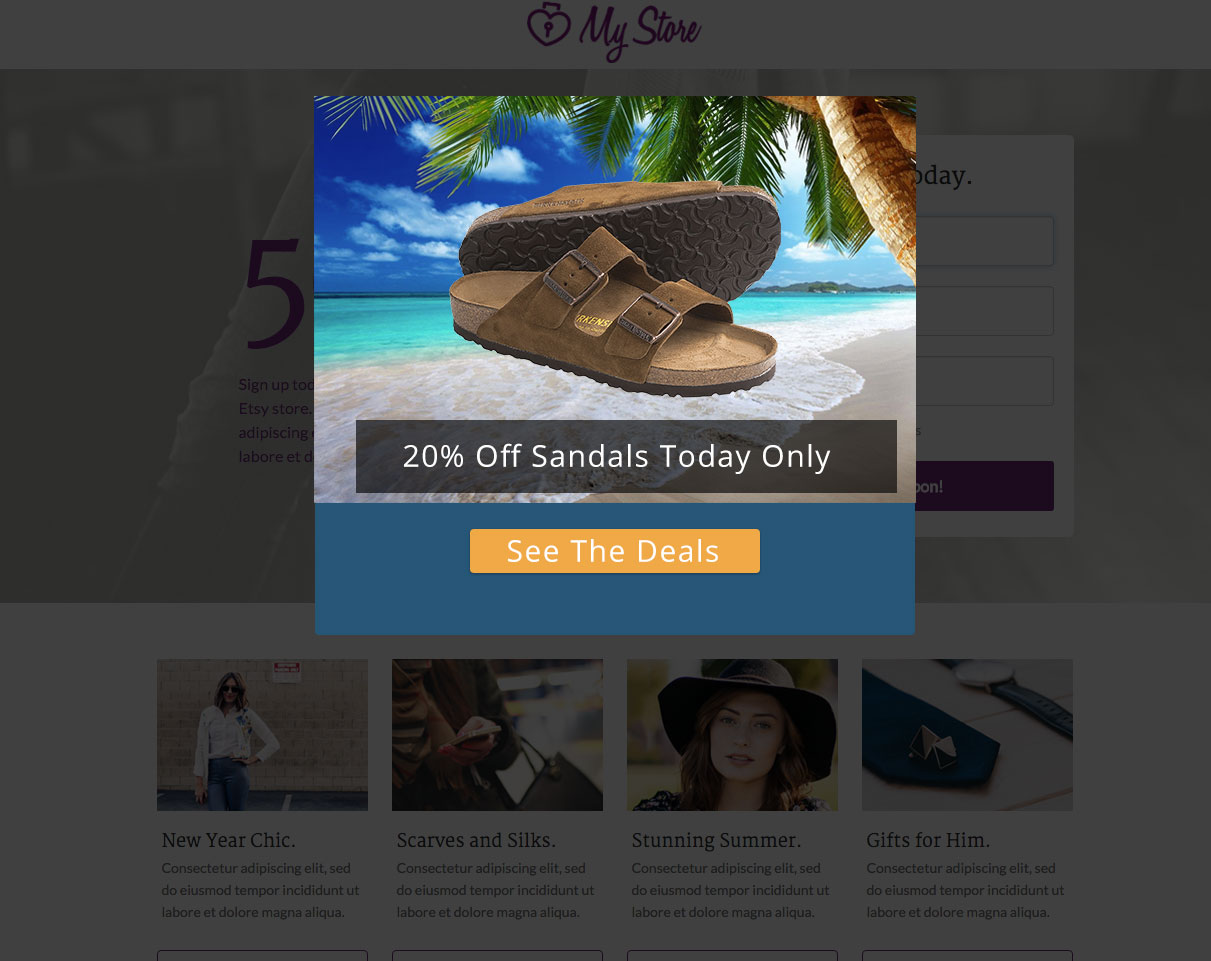 Here's how you'd do this using Wishpond and marketing automation:
Design a pop up in Wishpond and choose "Javascript-triggered Popup" as the popup type.
Take the code below and paste it in the HTML of your website
Copy the text below. For example "Wishpond.Popup.show(1367237);".
Paste that code into the text editor under the marketing automation "actions" section under the label "run javascript"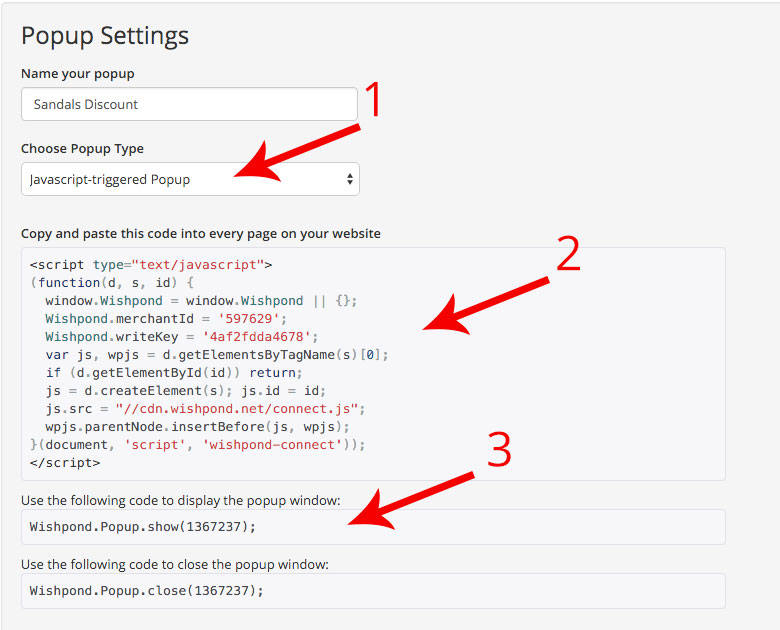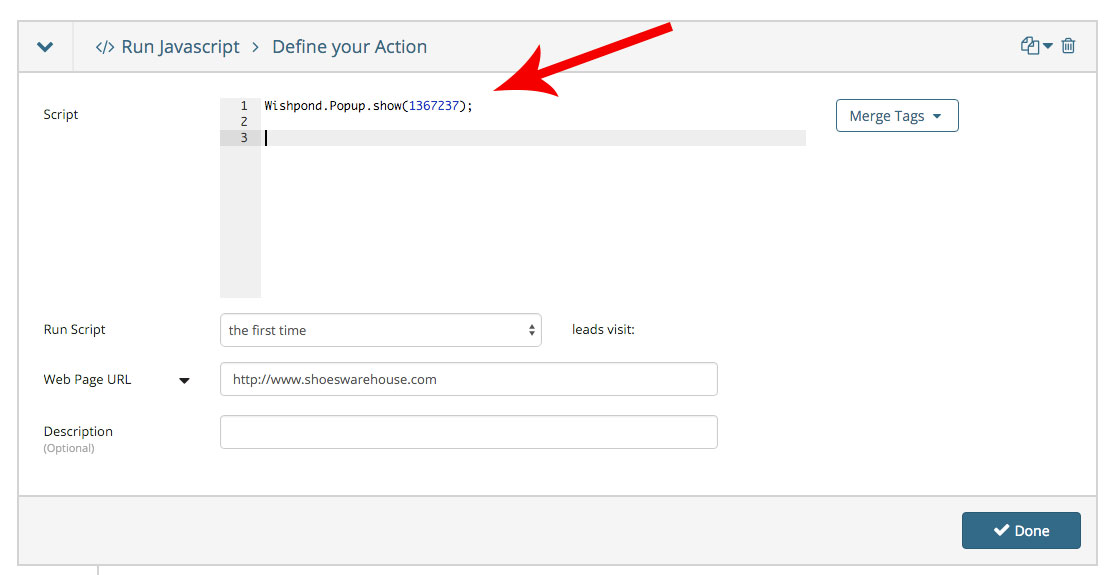 Here's how the two conditions would look like inside of a marketing automation workflow.
Every time someone converts on your summer beach photo contest:

Trigger the javascript pop up on your website:

It's as simple as that!
---
So there you have it! 5 marketing automation ideas designed to nurture your contest leads into customers.
Have any questions about any of these strategies? Feel free to reach out in the comments below!
---
Related Reading: