Many see Vine as nothing more than a place for teenagers to share their dumbest 6 second videos – and there is that on there – but smart content marketers see an audience.
The best brands doing Vine marketing right now are playing right into the very things that people on Vine are interested in, and seeing some great numbers.
Analyzing their tactics and content will help you succeed at marketing on Vine as well!
---
Subway are collab crazy
---
Subway is all about ingredients coming together to make delicious sandwiches. Their Vine account is all about working together with talented Vine creators to make delicious videos! The collaboration/user-generated campaign they have right now is asking people to create videos for the hashtag #savelunchbreak. Once they see someone with a good video, they revine it from their account.
Here's one they re-vined:
Nothing was ever more hipster than a crochet sandwich holder. There are many of examples on Subways account, and many more under the hashtag. The best part? Subway didn't have to create any of this content! They offered creators a chance to be featured on their account, and those creators got to work.
This accomplishes two things for them:
They get free content to share through their account to keep their audience happy and engaged.
The creators are sharing this content with their own followers. Some of them are more popular than Subway, so the brand exposure is nothing to ignore.
With two ways to win with this content marketing idea, you'd be wise to try it yourself.
---
Red Bull firmly establish their brand identity
---
While Red Bull's goofy cartoons continue to appear on TV, their online persona is completely different. Their YouTube channel is non-stop action sports, same with their Instagram. On Vine, they have further established themselves as an action sports channel:
At this point, Red Bull have gone far past being just another content marketer. They are becoming known as one of the premier distributors of action sports content.
They have truly captured the idea that you're not directly advertising yourself or your products on social media through your content. You're advertising a brand identity.
---
Marmite still tastes gross, but…
---
If you've ever tried Marmite you either didn't like it at all, or loved it. Either way, their bottle is a unique marketing tool in itself. Even without the label on I'm sure many people could pick it out.
With this in mind they created stop-motion videos of the bottle:
The bottle gets into all kinds of trouble in their content. Vine can be a fun way of making your products stars, especially if you have something as unique and memorable as the nearly 100 year old Marmite jar. Incorporating your products into your content marketing is always tricky, but this is clearly a success.
---
Dunkin' Donuts runs on holiday marketing
---
One of the easiest ways to get more Vine followers is to have content prepared in advance for holidays and special occasions. Vine users revine this content to share the festivities with their friends without having to create their own content. You have a chance to get more followers with each re-vine! Dunkin' Donuts excels at it:
Their account is newer, but it will surely… grow… if they keep this up!
---
The White House: No, the REAL White House!
---
This isn't some restaurant with a rip-off name, this is the real White House account! What they do well is share information in a fun way with their cast of characters. Cast of characters? You know, the President, the First Lady, the Vice President, those people!
Having politicians communicate with people in the way they communicate with one another is something sorely needed. How do people communicate on Vine? With jokes!
Okay, that was a pretty bad joke. But I'm sure that I'm not the only one who giggled.
They're sure to mix these jokes in with their serious messages. This mix is the key as you don't want Vine users to start ignoring you – or stop following you – because they're tired of being hammered with nothing but the most serious of issues. Social media is still used for fun!
---
What we can learn from the best Vine marketing brands
---
There are some definite takeaways that we can learn from these top brands on Vine.
Looking at each one we can see:
Subway: Collaborating with other Vine users, and pushing for user generated content, can create stacks of content that you don't have to create.
Red Bull: You can use Vine as a way to further establish your brand identity. Using it as a way to support your YouTube marketing is also wise.
Marmite: With a little bit of creativity, you can literally make your products the stars of your content marketing on Vine.
Dunkin' Donuts: Holiday marketing is an integral part of anyone's content marketing on any platform as it leads to many shares on the day in question.
The White House: Even the most serious of brands can have some fun. If Vice President Joe Biden can find the time to post a joke on Vine, so can you.
You will not be able to use every idea every time you post. It may not be advisable to even try every single one as it all depends on your overall brand voice. At the least, you now have an idea for every major way there is to create and use content on Vine.
About the author: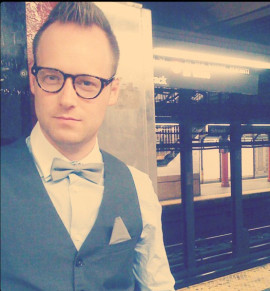 Matthew is the writer and analyst on all things social media over on the Devumi website. Expect a new post on there from him every Friday. There's always something going on in the world of social, and Matthew is covering it. Can't wait until Friday? Follow @Devumi on Twitter!
amir