Landing page friction is a term used to describe any element of your landing page that's preventing users from converting.
This can be anything such as page length, privacy disclaimers, imagery, layout, text and more.
In order to get to the bottom of what exactly is causing friction on your page, you'll need to get accustomed to regularly testing different elements of your page.
Take a look at this example from Content Verve. Their hypothesis was that they weren't providing enough information within their form, and as a result, this was causing friction.
As a result, they tested another variation that had more details on what exactly users were signing up for.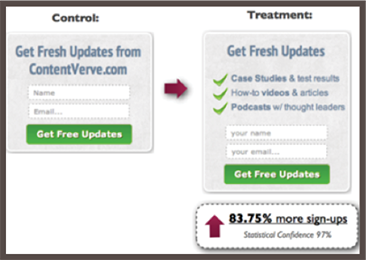 And the result? An 83.75% increase in conversions.
The lesson?
Always be cognisant of what elements (or lack of elements) on your page could be causing users to not convert.
By identifying these elements through A/B testing, you'll be able to refine your landing page experience and reduce the overall friction of the page.
Other examples of friction can include:
Too many CTA's
Not enough white space
Not having a clear value proposition
Too many form fields
Unrelated imagery
Slow page loading time
Wrong colour scheme
Boring page copy
Unclear headline
There are a million other potential causes of friction and these are just a few. The important takeaway is to understand what friction is and how you can go about getting to the bottom of how to resolve it.
Click here to head back to the Landing Page FAQ. →
kevin-ho