6 Tips for Running Your Successful Giveaway
Wishpond is happy to be publishing this guest post from Cathy Habas, content marketer at Build Niche Links
Running a giveaway promotion is a great way to drum up excitement for your brand, gain new social media followers and improve your site's performance in search engine rankings, just to name a few.
But as with anything, running your very first giveaway will include a learning curve and some growing pains.
You can increase the success of your promotion by learning from the experiences of others, including these six handy tips.
---
#1. Have Very Clear Goals
---
Why are you running a giveaway? If you only have a vague idea (such as "more publicity"), it's time to narrow down your focus. Having crystal-clear goals will help inform every decision you make regarding the giveaway or contest. Here are some common examples of giveaway goals to help you think about your own priorities:
Collect emails for a distribution list. Don't wait for people to stumble upon your website and sign up for email updates - you'll be waiting for years. A giveaway in which users simply enter their email address for a chance to win is a much better way to quickly grow your distribution list. With some targeted advertising campaigns, you can be sure to reach people who likely would enjoy your product or service.
Pro tip: Have people type their email addresses twice in order to weed out any typos.
Gain more followers on social media:
An email distribution list is one way to reach your target audience, but maybe you spend most of your time on social media and would prefer to engage with your followers there. In this case, you'll want to count each like, follow, share or retweet as an entry. The contestants essentially do the bulk of the advertising for you.
Build a network of links and improve SEO:
Another method is to require entrants to share a link to your site in a social media post, or maybe even on a blog post. Google's page ranking algorithm values social shares as an indication of your site's quality and value, which can help you rank higher in searches. Plus, every time the link is shared, your reach grows by leaps and bounds.
Show off a key feature of the site:
Did you just launch a super cool feature on your site and want everyone to know about it? Make that page the landing page for your giveaway, or at least make your giveaway landing page extol the virtues of that feature so that your contestants are sure to check it out and remember it.
---
#2. Make it Easy to Enter
---
Don't ask people to jump through hoops for you. Remember, they are the ones providing value to you, no matter how snazzy your product or service may be. The click of a button to share or like a post is simple enough. So is typing in an email address.
As an example, I once worked on an Easter-themed giveaway that was intended to promote the newly redesigned site My Kid's Food Allergies. Because the new site had so many new features to showcase, we wanted to take visitors, whether old or new, on a little tour. And since Easter was coming up, we decided to call the tour an "Easter Egg Hunt," complete with clues to take people to five different pages of the site. At the end was a simple email sign-up to enter a giveaway for some yummy allergen-free Easter candy.
But although we wanted it to be fun and engaging, we didn't want it to be too difficult. So for those who may not have wanted to try to solve the clues, we had a link under each clue that would take them straight on to the next page. Click, click, click, click, type in email and done.
---
#3. Double-Check the Legality of Your Giveaway
---
Another reason you should make it easy to enter your giveaway is to comply with laws governing giveaways and contests. For example, if there's any skill involved in entering (beyond being able to read, click a mouse and type an email, of course), you may actually be running a contest instead of a giveaway or sweepstakes. If you require something to be purchased as part of the entry process, you're running a lottery. There are different rules and regulations to follow based on the nature of your promotion.
As always, checking with a lawyer is the best thing to do in this situation, but there are some things you can prepare on your own before you meet with your lawyer.
You need to make a simple "Official Rules" page with certain details, such as:
Usually giveaways are open only to those 18 or older. And because each country (and even different states or provinces within countries) have their own set of laws regarding contests and giveaways, you may want to restrict eligibility to a certain country or countries. The all-encompassing "void where prohibited" phrase is also wise to include.
Opening and closing dates for entries.
Be specific and give the date and time (including which time zone you're referencing) for when the giveaway will be open for entries and when it will be closed. For example, you might say that the contest begins Monday, May 1, 2016 at 12 am PST and ends Friday, May 6, 2016 at 11:59 pm PST.
How the winner will be decided.
Are you going to use a random number generator? Pull a name from a hat? Throw numbered tennis balls and have a Labrador bring one back? Whatever your method, be sure to write it up in detail to assure people that the giveaway drawing will indeed be random.
If people share their email addresses with you, are their inboxes going to transform into spam folders overnight? Or will their information be kept confidential? Include a link to your full privacy policy to assure people that you take their privacy seriously and won't sell their information.
Depending on how valuable the prize is, it may be subject to tax. Cosmetic mogul Sephora, for example, recently held a giveaway for a high-value prize: five days in Costa Rica for two people, plus additional swag. You can bet that this prize was subjected to tax and other regulations, but the advantage of offering a prize like this is that it is incredibly appealing and is sure to attract many entrants from different demographics.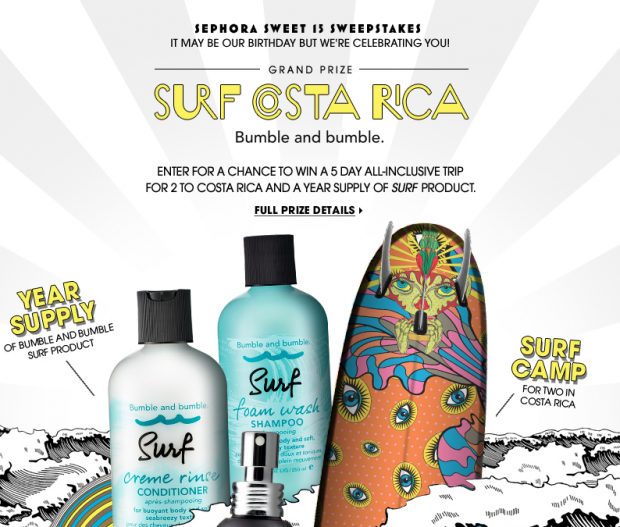 ---
#4. Run Tests Before Launching
---
There's nothing worse than starting the first day of the giveaway with a ton of comments and emails from people who have encountered technical problems. Sort out the bugs ahead of time by running lots of tests. Rope some friends into testing it for you to be sure it works on different devices and operating systems. Set up a simple survey for your testers to fill out so that you can evaluate the effectiveness of your plan.
In the survey results above, the vast majority of respondents found that the initial set-up for the My Kid's Food Allergies giveaway was too complicated. We were able to make some adjustments to make it incredibly straightforward, and by the time we ran the contest, it went off without a hitch.
Speaking of ease, make sure your giveaway is mobile-friendly. There are so many people using smartphones and iPads these days, and if your landing page won't load on a phone or if the entrance form gets cut off on the iPad, you're going to lose out on a lot of entrants. Using a third-party giveaway app will ensure you're good to go for mobile visitors.
---
#5. Know Your Audience
---
In addition to having clear goals in place, you also need to have a solid understanding of your audience. Is your target demographic one where people are more or less likely to have social media accounts? Will they happily share their email address?
And of course the prize must be appropriate and appealing for the audience. In the My Kid's Food Allergies example, it would have been a disaster to have a prize that included candies made from milk, eggs, peanuts and other common allergies. The prize was popular because it was something truly of value to the target audience: allergen-free candies that might otherwise be hard to find or too expensive for the average family's budget.
Pro tip: If you have no products of your own, partner with companies who will donate your giveaway prize in exchange for the publicity they'll receive for being part of your giveaway.
---
#6. Use Giveaway Platforms if You're Feeling Stuck
---
Maybe you're not the most organized person on the planet and the idea of putting together a successful giveaway makes you feel stuck before you've even begun. That's OK. Luckily for you, there are giveaway platforms that streamline the process and take care of all the tough stuff for you.
Wishpond's social promotions tool makes it super easy to run any kind of promotion, from a general giveaway or sweepstakes to a more complicated video contest. Now there's truly no excuse not to run a phenomenal giveaway or contest! Reap the rewards without having to get too bogged down in the details.
Do you have additional tips to share? What have you learned from running giveaways and contests? Let us know in the comments.
About the Author:
Cathy Habas freelances as a writer, editor and translator. She's also part of the Content Marketing Team at Build Niche Links, where she dabbles in a little bit of everything: project management, social media management, content strategy and more. Her main passions are food, comedy and horses.