Putting The Pizzazz into PPC Advertising
What do boring people, bland food and lesser-clicked advertisements have in common? They all need a bit of pizzazz to place them center stage!
How can you put some pizzazz into your PPC advertising?
This article gives you four strategies to do just that…
---
Search Advertising (Text Ads)
---
Within search ads there's often whole bunches of similar advertisements that are almost identical, and are all targeting the same keyword. These ads tick all the right boxes, factors such as:
A keyword in the Heading
A keyword in the Description
A keyword in the Display URL
Using as many characters as possible within the limits
The trouble with ticking all these above boxes is that there could be very little room to differentiate an ad with a competitor's. Also there's very little room to put something exciting in the ad to attract clicks.
An example of some less-than-thrilling Google Ads...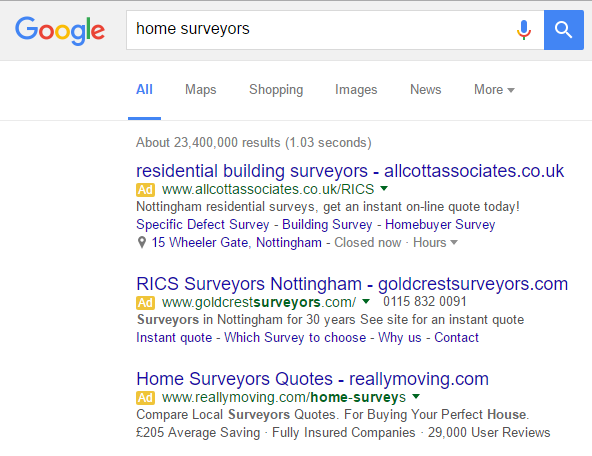 All three ads above for "home surveyors" are equally boring, they need spicing up to stand out from each other!
The headline of the ad is the most important factor when it comes to attracting clicks, and a simple change here could make a lot of difference. Trying headlines such as the ones shown below could make a huge difference, just replace the [keyword] marker with your target keyword:
[keyword]? Here it is!
Eye Popping [keyword]
[keyword], new for [next year's number]
Seen this [keyword]?

This ad is much more appealing that the others above and will get many more clicks per impression on average.
These ad headlines may sometime affect the quality scores of the associated keywords slightly, but the increased click through rates of the ads more than makes up for it. The click through rate (CTR) of your ad plays a big role in the quality score of keywords within paid advertising platforms and a better CTR can counteract a lower relevancy score. If you are hesitant, then try normal search ads along with search ads with some snazzy headlines to see which ones work best. There's nothing to lose.
One tip is to avoid 'superlatives', or claims which may or may not be true - such as being the best at something or having a top-selling product without real proof. These will get your search ads banned and can waste valuable time.
---
Product Listing Ads
---
On product listing ads (such as Google Shopping) searchers only see three main things before delving deeper:
The title of the product – This should be as descriptive and concise as possible
The image of the product – This should be clear, taken in high quality and complete with a white background
The price of the product – For products found elsewhere it's very important to be the cheapest. For unique products the price can vary
There's a few extra ways in which product-listing ads can be given an edge over competitors. Like other advertising platforms, Google Shopping will favor products with a higher click-through-rate (CTR) and with a high enough bid they can appear in the top 4 or 5 results in the main search results: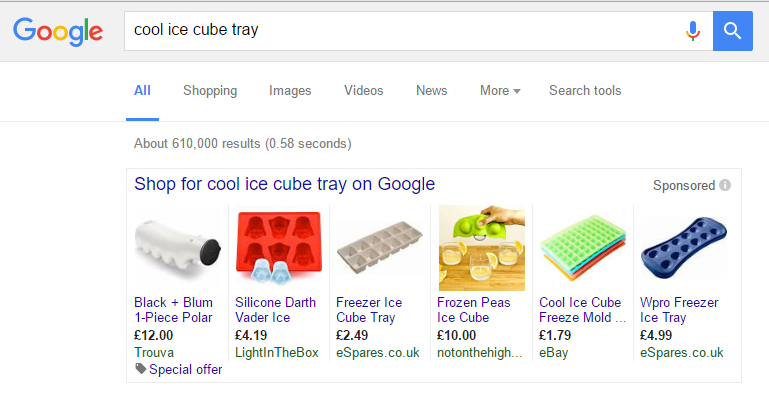 These product listing ads have a high enough bid or click-through- rate to be shown on the main search results page.
To boost CTR on product listing ads there's a number of things you can do in order of importance below:
Seller Rating – The star rating found below each listing signifies how well reviewed the seller is one of these popular review sites and plays a huge role in CTR
Product Description – The product description shouldn't be ignored as it's often read by people and can come across as being confusing or look like spam if not done properly
Special Offers – Potential buyers will be much more willing to buy if there's a sale price or a special voucher code for the product they're currently viewing
Google Trusted Stores – Google's trusted store platform is now available in the UK and offers great protection to buyers who may be unsure if a website is legitimate or not
The example above is an excellent product listing with a clear image, good description, Google Trusted store badge, many positive reviews and the cheapest price compared to competitors
---
Display Advertising – Image Banners
---
For display advertising it's worth checking on these best practices firstly before testing out more bold designs:
Does the banner feature the brand's logo?
Is there a short, simple message on the banner?
Can text on the banner be clearly read by people with bad eyesight?
Does the banner's design reflect the quality of the service/product?
Will the banner appeal to its target audience?
Adding pizzazz to a banner ad very much depends on the target audience and how to get their attention. Are they looking for a deal? Then shout about your prices. Are they looking for something to solve a problem? Show them what results could be achieved.

This deal is bold, quick to read, time-limited and has a very clear call to action button.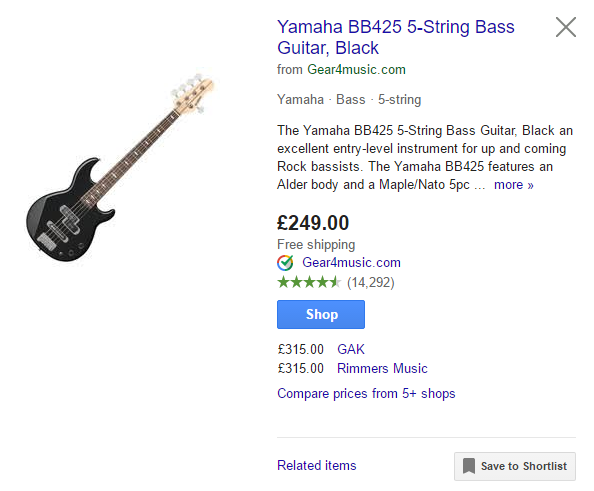 The example above is an excellent product listing with a clear image, good description, Google Trusted store badge, many positive reviews and the cheapest price compared to competitors.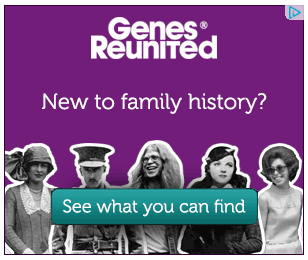 This effective ad has bold & contrasting colours, unusual images and asks a question to invite you to click.
Typically banners are not fighting for attention with other banners, so make them work for your own needs and be sure that they don't blend into the background. If you have time then make differently colored banners for different target domains, ensuring that your banner's background color clashes with the color of the target website it'll be shown on.
---
Social Media Advertising – Image Banners
---
Social media ads are typically small and overlooked so how do you make them stand out?
The most effective way is to have a person within the picture who is either attractive, striking or is experiencing a powerful emotion. This draws people's eyes to the ad, especially on social media platforms where there's hundreds of images of people's faces such as Facebook, Instagram or Twitter.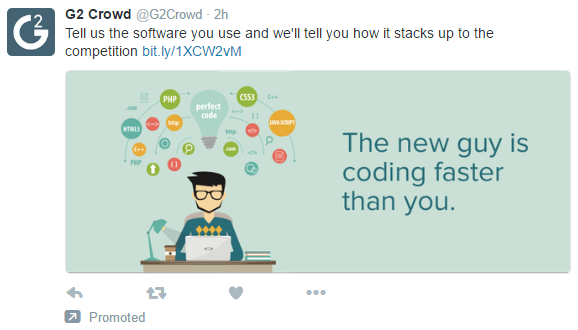 This social media ad has a clear characterized person in it and works on the viewer's fear that they might not be as good as another guy at their jobs.
Clever ads have the model within the image pointing or simply looking towards call to action areas or the main selling point of the ad.

This tiny ad uses the small image to show an object you wouldn't expect to see which stands out and is clearly pointing toward the key message
---
Conclusion
---
Life's too short not to have a bit of pizzazz in it. By applying some stand-out tactics in your ads you will certainly get more clicks per day and may even get cheaper clicks overall as an added bonus.
There's lots of competition online so you need to rise above the clouds and outshine the noise below to get ahead.
---
About the author: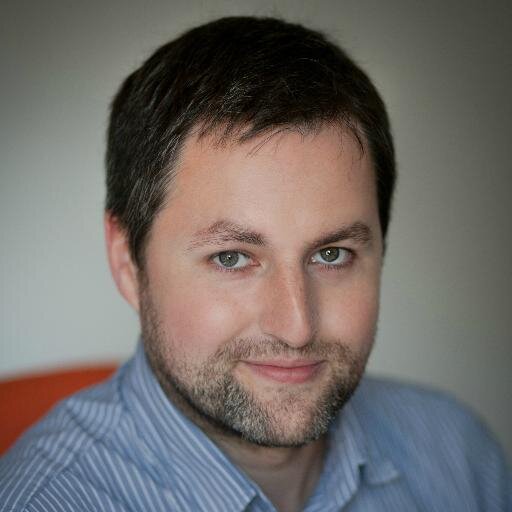 Jonathan Ellins is a Senior Digital Marketing Consultant based at Hallam Internet who specialises in paid online advertising and conversion rate optimisation.