Wishpond + Thankster: Automate Greeting Cards To Score More Customers
In a noisy digital world, it can be hard to cut through the clutter to really get someone's attention.
That's why Wishpond has teamed up with Thankster in order to provide on-demand handwritten cards, all delivered seamlessly through marketing automation.
Handwritten cards are a personal way of saying "thanks for being a customer," "welcome to the community," or "don't forget to RSVP for an event".
[ Note: This integration will require a paid account with Thankster in order to send cards ]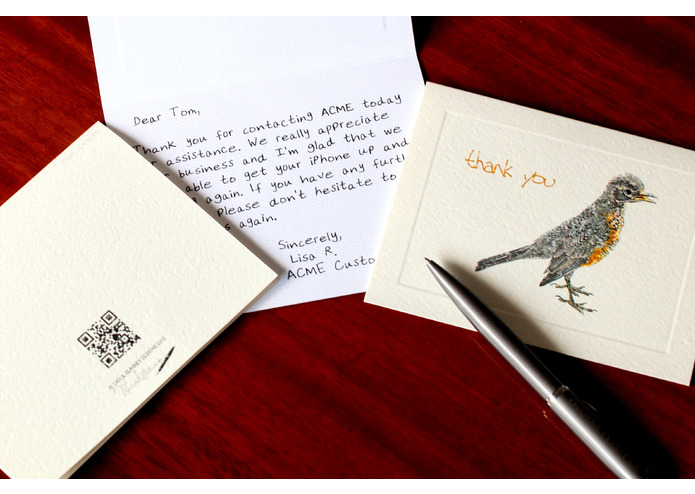 Combined with a digital marketing strategy, automating greeting cards can be a great way of familiarizing people with your brand, nurturing them into customers or just being a genuinely nice company they like to work with and buy from.
So How Does it Work?
Imagine you're using a Wishpond landing page to collect registrations for your upcoming event. The event is in a month and you really want to go that extra mile to get people excited before they arrive.
Using this new integration, you can now automate it so that every time a user converts on your event registration page - it will automatically send their information to Thankster, triggering a personal greeting card.

This way as soon as they confirm their attendance, they'll automatically get notified by mail of the upcoming event. Details such as their name, location, and more can also be included to help personalize the experience.
Use greeting cards to:
Thank big ticket buyers
Remind customers of appointments
Automate campaign follow-ups
Show appreciation for employees
Provide unique e-commerce discount codes
And that's just the beginning! Used with marketing automation, you can now trigger greeting cards based off any series of triggers on your website, blog, or e-commerce site.
Examples of triggers include:
When someone visits a certain number of webpages
When someone is added to a customer list
When someone opens and clicks a certain number of emails
When someone hasn't been on your site in a while
When someone converts on a number of campaigns
When someone is from a specific location
Use this new integration to help nurture your leads, and thank your most engaged users.
To get started with Thankster and Wishpond, click here to download the complete guide to getting set up.