Remember the days when all that mattered to a TV show was its ratings? The Neilsen's seemed to control the entire success or failure of a show. Now we have YouTube as a secondary set of ratings online, and one late night host is applying himself to this medium: Stephen Colbert.
First, I will acknowledge that another late night talker is the current king of the talking show format: Jimmy Fallon. He has higher rating and viewership numbers, while also getting many more views on YouTube: Jimmy is at 5.7 billion total views, while Stephen is at 668 million. But…
Jimmy joined YouTube in 2006, and his channel is a continuation of his Late Night with Jimmy Fallon show from 2009.
Stephen joined YouTube in May 2015, and his show started airing September 9, 2015.
Stephen and his team are playing catch up, and what he's doing to level the playing field is something we can all learn from.
---
Stephen Colbert's strategy to take over late night TV
---
1. Use your biggest muscle: Know your influencers
Stephen needs to use his biggest muscle to take on the well-established Fallon, and that muscle is his influencers. Stephen has been in the world of late night talk shows for a long time, too. While Jimmy plays his silly games, which are an amusing distraction, Stephen called in the biggest name in talk shows of our generation:
In just 1 month this 13+ minute long video surpassed 14 million views and became Stephen's most popular video. The return of Jon Stewart to political commentary, during this insane election cycle, was a sure influencer move by Stephen's team. They would have known what this would do to increase Stephens viewership both on TV and online, get shares on social media, and just blow up in a viral way:
Last night on #LSSC, Jon Stewart came out of retirement for one last score. https://t.co/TN4JO5qCTN pic.twitter.com/aQrDwlv8Vi

— The Late Show (@colbertlateshow) July 22, 2016
When bae stops by. #ColbertRNC pic.twitter.com/bRIs6yi7XQ

— The Late Show (@colbertlateshow) July 22, 2016
— Stephen Colbert (@StephenAtHome) July 22, 2016
They knew well in advance that Jon coming on the show would be huge. They took full advantage of this influencer and gave him the 13 minute video above, another appearance in a skit, and they shared images like the ones above on social media to sometimes as much as 100x times as many shares as Stephen's usual content.
Jon, of course, isn't the only influencer that Stephen knows on late night. Being a 'student of Stewart' he's also friends with another guy who is gaining ground in the talk show wars:
Stephen is using one of his strengths by working with the biggest influencers in the talking game. That influence is a major part of how they're going to catch up with Jimmy's 9-years older YouTube channel.
2. Finally getting the Late Show's YouTube images right
I am a big, big proponent of images being a huge part of YouTube marketing. They need to be part of your plan to build a YouTube channel right from the start. This includes the profile photo, the header image, and the very important thumbnail.
Stephen's team have had the profile and header image locked in for some time now:
The logo, in the top left corner is the profile image is clear. It could be a little more eye-catching than text on a plain background. When people are subscribed to you they will scroll through their list of subscribed channels, don't make it hard to spot your logo there.
In the header image they include:
The air time of his show, which is what they actually want people to watch.
The main hashtag for the show.
His network to teach people where to tune in.
Links to his social profiles in the bottom right-hand corner.
It's pretty much perfect, all I would do is add his Twitter @username to the image so that they can teach it to people who don't bother clicking on the button in the bottom right hand corner. Your header image needs this kind of information too.
Where they're really getting things dialed in right now is their thumbnails. These are very important as the right look, the right piece of information, and consistent branding can make or break a YouTube channel. Here's what they have started doing in the last week:
Guests of the show are having their names written at a distinct angle, musical guests are getting their names done at that same angle with a different color, and standard clips are getting the logo treatment. This is a huge step in the right direction for the show's branding:
The guest's name is prominent, helping more people find the videos of people they want to see quickly. The face of the guest is also clearly visible.
Musical guests are quite different from regular guests, the different color sets them apart visually.
Using the (brand new) logo over and over helps burn the branding of The Late Show into people's minds. You learn through repetition. Putting in the work on every YouTube thumbnail like this will pay off in increased brand awareness.
YouTube is not about virality. It's about teaching people, over and over, about your most important piece of information. A sustainable YouTube channel focuses on building brand awareness slowly.
Stephen does both of these things by prominently featuring the time his show airs in his header image and by his use of logos in his thumbnails. Every YouTube channel can learn from this.
3. He's creating some unique content
Jimmy has his increasingly irritating gimmicky games (in my opinion), and Stephen is countering with something else: Good old fashion entertainment. This comes in the form of his cartoon segments and song and dance numbers.
This is Stephen's way of creating unique content which steps outside of the standard 'stand up and do monologue, sit down and talk to guests' schtick that is late night TV. Unique content is what makes YouTube work, and this type of flagpole recurring content will build Stephen's channel quickly.
You also can not ignore how Stephen's reliance on political commentary, while Jimmy shies away from it, has help him seriously gain ground. Playing to strengths, and creating unique content, is how you succeed on YouTube.
4. Embracing new media – user-generated content
Getting people to do your YouTube marketing for you is the goal of… everyone. Stephen's team is putting us all to work by embracing new media opportunities. One of their more interesting ways is their Giphy page where they create and save GIFs for anyone to share:
Taking the time to set a page like this up, and pushing people to use it every now and then, results in some free publicity. I'm sure the goal here is to get a meme or two going where Stephen is shared in a number of situations on a routine basis, getting some serious advertising done for pretty much no effort.
The other bit of user-generated advertising they're just starting to do is playing off of something that Jimmy Fallon has done well. They're starting their own themed hashtag which fans tweet to tell their own stories. Read some #LateShowConfessions:
"I tell people I have herpes just so they won't borrow my chapstick" #LateShowConfessions

— The Late Show (@colbertlateshow) August 6, 2016
#LateShowConfessions When traveling overseas, I pretend to be Canadian so I don't have to apologize & explain how Donald Trump happened

— Bill Wong (@ten24get) August 25, 2016
#LateShowConfessions Sometimes I lie awake at night wondering what Gilbert Gottfried sounded like as a toddler. @StephenAtHome

— Mushroom Witch (@doublemaximus) August 19, 2016
This pushes Stephen's show by generating online content, and has resulted in a great video on his YouTube channel:
It's a start, and has a long way to go, but the Colbert team has realized that getting their fans to do some online marketing for them is important.
Stephen's plan to take over late night TV from YouTube
Late night TV is no longer always on late at night. Now it's right on your smartphone, anywhere you want to watch it, and anytime you want to watch it. The new reality of late night TV dictates that in order to be seen at all you have to be seen on YouTube, and online in general. The tactics that mega-shows like Stephen's are using can be applied to any YouTube channel:
Working with influencers in your industry to boost your views and online shares.
Using your header image to push your most important information.
Using thumbnails to push your branding, while creating different themes for different content. Don't forget to push the most important piece of information, such as the name of guests, here as well. More information, presented simply, equals more clicks and views.
Creating unique content which plays to your strengths as a video creator leads to a stronger channel.
User-generated content puts your audience to work as your online marketers. Hashtags are where it's at, and should be an integral aspect of growing your Twitter audience.
These are not magic YouTube marketing tactics unique to a late night TV host. Any channel can use them, and use them well. You may not be able to call up Jon Stewart and have him appear on your channel, but you can build your channel by using Stephen's tactics.
About the author: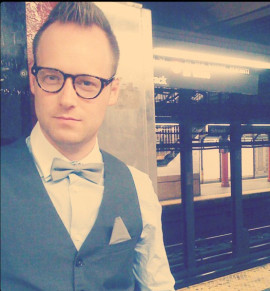 Matthew is the writer and editor of the Devumi.com blog. You can find the latest in online marketing news there, including YouTube marketing, Twitter tips, and SoundCloud music marketing. If you're in the mood for video after watching this you can check out the Devumi YouTube page. Wanna tweet? Tweet this at the @Devumi Gorilla and he'll say 'Hi!' back.
wishpond