4 Strange Things To Optimize Landing Page Conversions
Something weird happens to someone when they watch an entire season of a show over a weekend.
You can start seeing things... Strange things...
This happened to me when I recently watched all 8 episodes of the Netflix series, Stranger Things over the course of a single weekend.
Now I'm not a TV buff, but I can draw parallels when I see them. And for me that came when I noticed some of the strange things happening on the TV screen were beginning to happen off it.
When I got into work on Monday - the home of landing page research and conversion rate optimization - I couldn't help but start to connect the dots.
That's why after 8 episodes of Stranger Things back to back to back (to back to back to back...), I'm excited to present to you 4 "strange" landing page conversion strategies that can help you increase your conversion rates.
Let's binge it!
---
Strange Landing Page Conversion Trick #1: Pre-Filled Form Fields
---
A pre-filled form field can be kind of spooky.
And that's because pre-filled form fields take data that you know about your leads and use it to fill in any relevant fields.
This can range from filling out a single form field (like email or first name), to every single form field which only requires the visitor/lead to press the CTA button to convert.
Take a look at a completely pre-filled form field from a KissMetrics webinar (notice how the form fields on the left load pre-filled):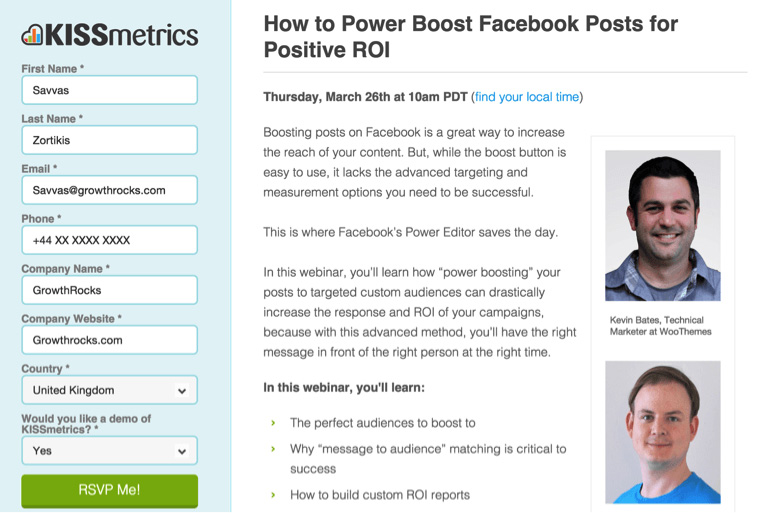 Using this technique, KissMetrics was able to receive a 30% boost in landing page conversions on this page.
For step-by-step instructions on how to set up pre-filled form fields in your next landing page, check out Wishpond's knowledge-base article.
---
Strange Landing Page Conversion Trick #2: Auto-Select Form Fields
---
Auto-selecting form fields in akin to walking into a room and the lights turning on automatically.
It might catch you off guard, but at the same time you can't deny that it's convenient.
Auto-select form fields is a landing page feature that can go unnoticed by the untrained eye.
And that's because nothing physically changes on the page itself. The only difference is that the first form field is automatically selected, enabling users the ability to instantly start typing -- making it easier for them to convert.
Take a look at this example from a Wishpond landing page:

Using the auto-select form field option we were able to increase our product signup rate conversion rate by 45% with a 95% confidence level.
To enable the auto-select form field option, simply select "Auto-focus on the first form field" within the Wishpond landing page builder.
---
Strange Landing Page Conversion Trick #3: Click Popups Instead of Forms
---
A button vs. an on-page form, which will convert better?
Tests have proven that the button will convert better, even if it opens a popup with the same number of form fields.
But how does that make sense? Aren't people converting on the same number of form fields?
(cue Stranger Things soundtrack)
The fact is that people are afraid of commitment. By allowing them to click a CTA button that opens up a click popup, you can effectively ease users into a conversion rather than showing them all the steps they need to take to convert right off the bat.
Take a look at this example of a form vs. a button.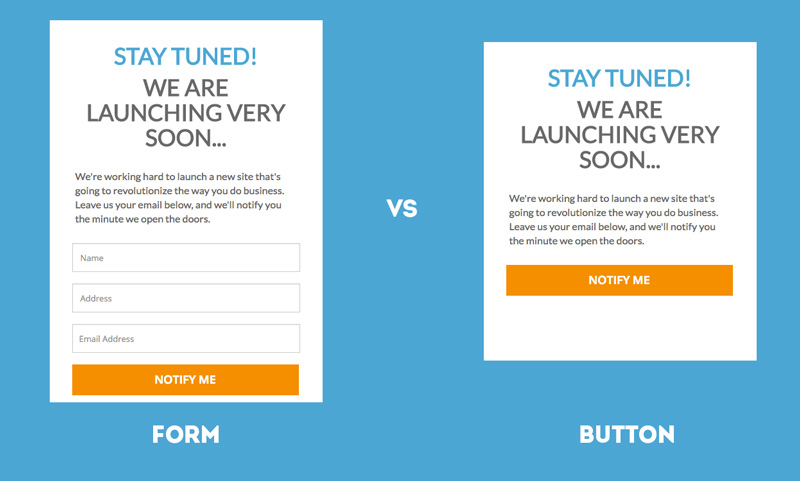 This is one easy but effective strategy to help increase your total number of conversions, while still obtaining the same amount of information.
---
Strange Landing Page Conversion Trick #4: Dynamic Text Replacement
---
When words start to spell themselves out, or when words on a page automatically change on their own, things can get a little scary.
But luckily for us, dynamically changing text isn't a bad thing. In fact, dynamic text can help to increase landing page conversion rates.
By personalizing a landing page based on what you know about your users, you can help create a more customized experience that describes a users:
Name
Location
Interests
And others
To add dynamic text, simply add in a merge tag using your landing page builder. Using Wishpond, it's simple to insert any time you add text.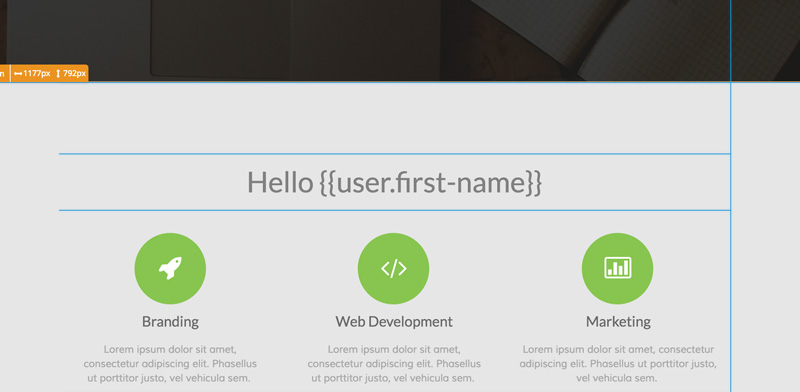 ---
Wrapping Up
---
You might not associate landing page optimization with the hit TV series Stranger Things, but you have to admit that there are definitely some strange things that can contribute to a page's conversion rate.
To recap, those are:
Pre-filled form fields
Auto-select form fields
Click popups instead of forms
Dynamic text replacements
Have a strange landing page conversion technique that's worked for you? I'd love to hear about it in the comments below.