Follow this 11-step template to create a social media marketing strategy for your business. This will help you improve your social media marketing efforts across all of your social media channels.
Social media has been around long enough that you know the need for social media channels for your business.
But a complete social media marketing plan?
That's a bit more complicated.
Luckily, one of the best parts of the modern age is that information is out there. Some of it is piece-meal, requiring you to search and cobble together a complete strategy. And some of it is complete.
This 11-Step Social Media Marketing Plan is the latter.
So let's get rolling, so you can start growing your business.
1. Step 1: Determine Your Objectives
2. Step 2: Choose Your Social Media Channels
3. Step 3: Optimize Your Profiles and Pages
4. Step 4: Boost Your Following
5. Step 5: Get Your Tone and Social Presence Right
6. Step 6: Make Your Social Content Calendar
7. Step 7: Identify Your Influencers
8. Step 8: Find & Create Your Content
9. Step 9: Posting
10. Step 10: Tracking
11. Step 11: Automate

Step 1: Determine Your Objectives
Before anything, you need to start slow. You need to ask yourself a serious question, and the answer might mean you stop reading this article.
Why are you going to invest serious time, energy, and resources into social media?
And we're talking about a serious investment. In order to succeed on whatever social media channels you choose, you can't half-ass this.
It's harder than ever to grow a social Following. Harder to get your brand and content seen in a social media world focused more on paid promotion than on rewarding you for your efforts.
I don't want to scare you, but I do want to make you aware of the realities.
So, know what you're getting into, and know what you want to get out.
What do you want to get out of social media?
And the answer can't just be "I'm on Social Media because I'm supposed to be."
Main objectives:
Increase Brand Awareness
Drive Sales
Generate Leads
Create a Community around your Brand
Identifying the goals of your social media marketing plan will inform your strategy for what platforms to be on, what to post and what metrics to track (which determines your return on investment).
Start by setting clear actionable goals. Don't just hop onto a social media channel and start posting aimlessly. Know what you want from the start.
Step 2: Choose Your Social Media Channels
Think carefully about how you're going to build your social media presence.
Consider the following:
Time: How much time can you devote to a social network each week? Plan for around an hour per day per social media network – and more in the growth stages.
Resources: Most social media platforms are visual in nature. Even Twitter and Facebook require some design to really capture the attention of users. Do you have those resources? What about a dedicated content team?
Target Audience: What does your target demographic look like? If you know, do you know on what social media platforms they hang out?
For more on choosing the right social media platform, check out "Social Media Marketing: Which Platform is Right for your Business?"
Step 3: Optimize Your Profiles and Pages
Your social media profile and pages are an extension of your website. Everything there, despite being on someone else's site, is yours. You're responsible for it.
So, if it looks like a burning trash can, that's on you.
A Page Optimization Checklist:
Optimize your Headers and Profile Images
Provide Complete Company Information
Customize your Facebook Page URL
Add a Facebook Page CTA
Optimize for SEO
Pin your Best Content or Limited-Time Promotions to the Top
Facebook Page Tabs
Social Media Image Sizes:
Step 4: Boost Your Following
Ever wondered why that beggar on the street keeps a few coins in his hat at all times?
People are more likely to Like something which has been Liked before.
This is why customer testimonials, good reviews, and influencer recommendations work. I don't trust you unless someone has before me.
So, let's boost your social following right out of the gate.
Social Promotions are still the best way to do this. You can spend the next couple of months crafting a content strategy, but (speaking from experience) it's almost impossible to build a social media presence from nothing.
A foundation is key for your social media marketing plan.
Sweepstakes
Facebook Sweepstakes promotions are great for first-time contest runners. They're the simplest promotion type and are excellent for quick and simple lead generation.
Referral Promotion
Referral promotions work through incentivized sharing. Entrants share the contest with their friends, colleagues, and family. Whoever gets the most people in their network to enter the contest wins the final prize, and everybody else gets a discount code incentive for entering.
Photo Contest
Fans or social media network users submit a photo and then share your contest with their friends, family, and colleagues, asking them to vote (voters usually have to enter lead information, as well, by the way). This massively increases the spread of your promotion.
For more on all these contest types, check out:
Social Media Contest Prizes
If you've decided to include a giveaway in your social media plan, then here are a few of the best prize ideas.
Summer Contests:
Tickets to a sporting event
Luggage set
Camera with tripod stand
Aquarium/Amusement Park/Zoo
Camping Package
$50 worth of photo prints
Back-to-school gear: Backpack, pens and markers, calculator
Sports team sponsorship
E-reader
Bike/skateboard/rollerblades
Body wash prize pack including deodorant, soap, razors etc.
Winter Contests:
Wearable tech (fitness trackers)
Baking set – electronic mixer, whisks etc.
Lift passes & ski rentals
Christmas movie box set
Ugly sweater Christmas party pack
Professional lights decoration
Holiday table set
Apple Cider/hot chocolate/mugs
Tickets to Christmas events like the Nutcracker, Christmas train, or garden of lights
Gym membership/personal training session
For more, check out our resource with *101 contest prize ideas.*
Step 5: Get Your Tone and Social Presence Right
People respond to people who sound like them (we're tribal, at heart). People won't respond well if your brand is super faceless, but nor will some markets respond if you're overly casual.
Identify three characteristics you want your brand voice to embody. Keep these in mind when creating your content, coming up with your social media post copy, and responding to your audience.
These "brand voice" characteristics should resonate with your target market:
If you're targeting mid-management professionals, use a professional tone and avoid memes, funny jokes, or puns – also avoid politics and world events.
If you're targeting professional millennials, be professional but also casual. Intersperse high-quality educational posts with current-event related content.
If you're targeting young people (Gen-Z), post behind-the-scenes content with a casual voice. Post often and tap into Influencers and TikTok.
I love this table from *Erika Heald on the Content Marketing Institute Blog identifying her three social media voice characteristics and how that's reflected in her copy and the way she communicates on social media:*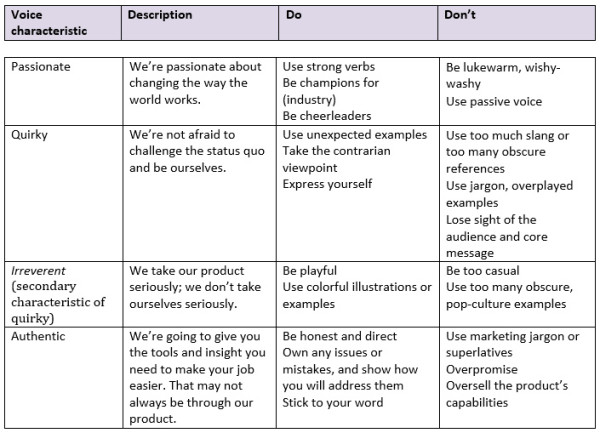 Step 6: Make Your Social Content Calendar
Any good social media content strategy should revolve around a calendar.
Social media posting can be a complex thing. If you're on multiple platforms, sharing a dozen times a day and your marketing team needs you to promote an upcoming webinar they forgot about until just now, where do you all fit it in?
This is where a social media content calendar comes in. It gives your social media marketing plan an outline of what content is being pushed on which platforms, and when:

Many social media management platforms are structured in this way as well (more on that in Step 10), but I do know some social media marketers who still prefer their own tables as they can ensure they have everything they need and nothing they don't. All in one place.
Be sure your content team is aware of the calendar in your social media marketing plan. If they need something promoted be sure you're aware of it, and if a holiday is coming up that you know you should capitalize on, make sure they're creating something for you which is relevant.
Step 7: Identify Your Influencers
Social media influencers can make or break your social media marketing
Getting "in with" a solid list of your industry's leaders means brand awareness, content engagement, legitimacy, and trust.
Think about it. If Seth Godin saw this article and Tweeted it to his 572,000 Twitter Followers what could we expect?
A huge influx of traffic to the article, increasing its organic reach and (probably) SEO ranking.
An increased awareness of me as an individual and Wishpond as a brand. The traffic driven to the blog would beget subsequent social shares and comments.
An increased trust in me as an individual and Wishpond as a brand. Even if they don't know me, they trust Seth, and if he trusts me that's good enough for a huge proportion of his Followers.
And it works for every industry. Every single one has thought-leaders to whom people look for inspiration, thought-leadership, and to "tell them what's important."
These days, any good social media strategy should consider working with influencers.
Rating Social Influencers
There are three ways to rate your influencers:
#1. Context: Does this person fit with my brand? Sure, Lady Gaga might have more than a few social media followers, but if she promotes your SEO consulting business will any of them care?
#2. Reach: Does this person have a network that would be valuable for me to reach? This can be the size of the network, but it can also be how passionate that network is about the subject. This score can also be increased based on the influencer's expertise or the esteem they're held in by the industry.
#3. Actionability: Will this person share my content? Are they receptive to communication or closed off and, despite their network, anti-social?
Identifying Influencers Through Social Media
Search by hashtag, or identify the hashtags that your target influencers are using.
Put your influencers in a Twitter list so that you can organize and follow them most effectively
Watch the "retweets" of Influencers to determine how "actionable" engagement with them might be.
Watch their activity. How are they engaging with their Followers? Are they sharing other people's content. How frequently, and what does the response seem to be?
Identifying Influencers Through Tools
Find influencers through search. Analyze and filter them by reach, authority, influence, and engagement. Follow directly within the platform and add to Twitter lists. Track their activity (what they share, how often, and where).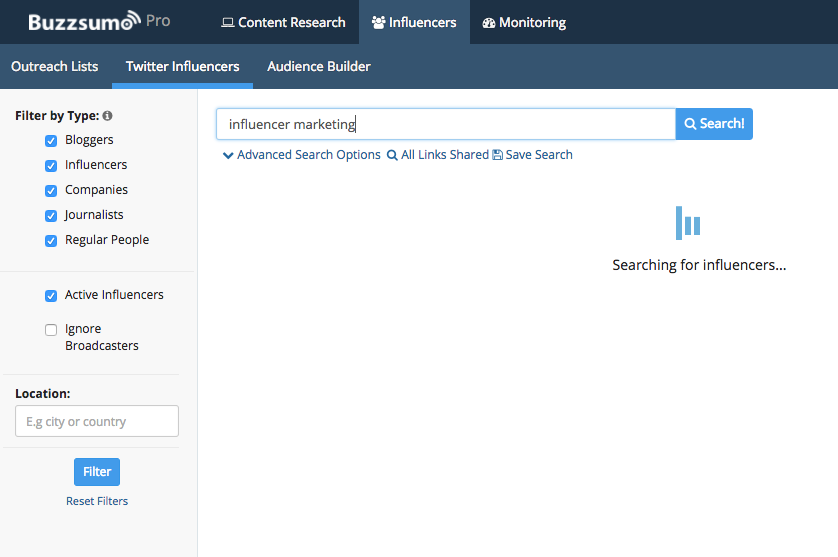 Traackr allows you to upload lists of Influencers, assign ownership to your team members, and track conversations and engagement. Better though, Traackr makes it possible for you to identify the influence of your Influencers with a comprehensive analytics platform.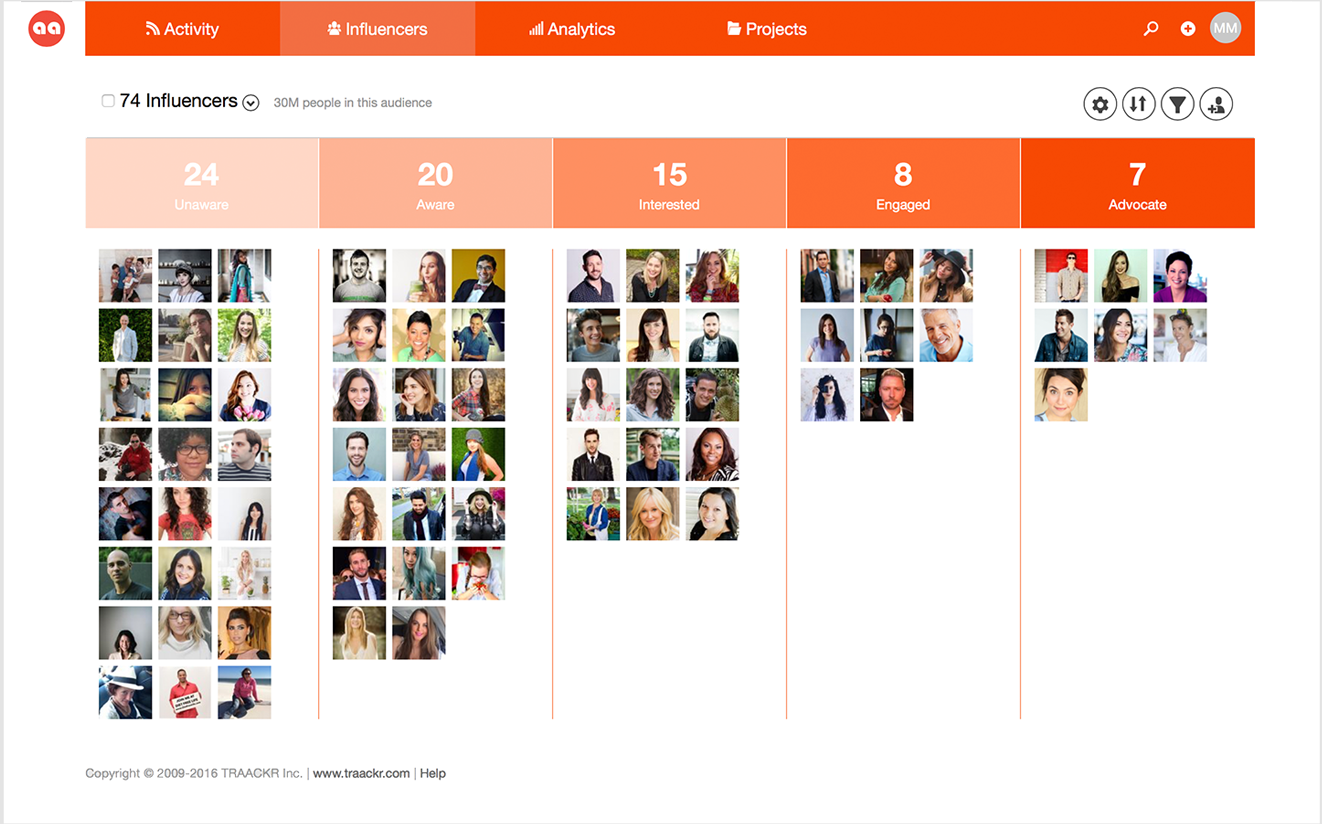 Incentivizing Influencers
Do a blog trade. Write on their blog and ask them to write on yours.
Trade promotion. If you have an email list, tell an influencer that you'll share their content if they share yours.
Include a link to an influencer's content (helps them with SEO as well as brand awareness) and ask them where they'd like the link to send people.
Pay for a guest contribution (on your blog) and a share with their audience.
If you're investing in Instagram, be prepared to pay. But it can be incredibly lucrative. Here's an example of a sponsored post from fashion Influencer Louise Roe, a model and blogger from LA with 560,000 Instagram Followers: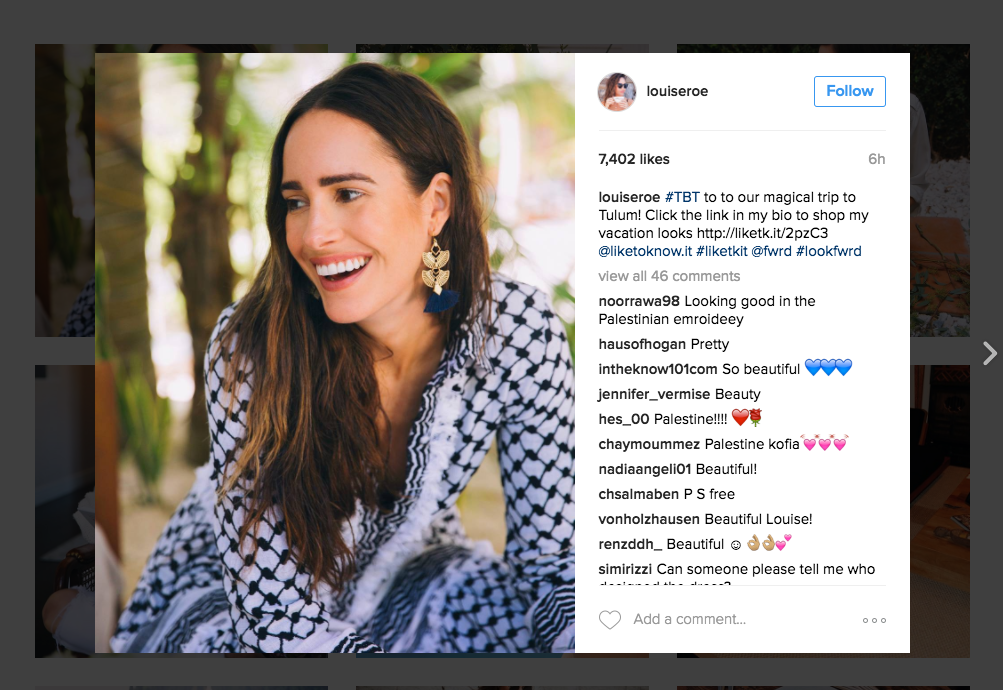 Step 8: Find & Create Your Content
To make sure your social media marketing plan succeeds, you can't just publish the same cat photo over and over again, and nor can you consistently post promotional content.
Content sharing on social media is about two primary things…
1. Curated Content
Curated content is the stuff you find which is relevant to your business but not written by it.
Sources for content to curate:
Here's a snapshot of my "Growth Hacking" feed of content I can curate from Feedly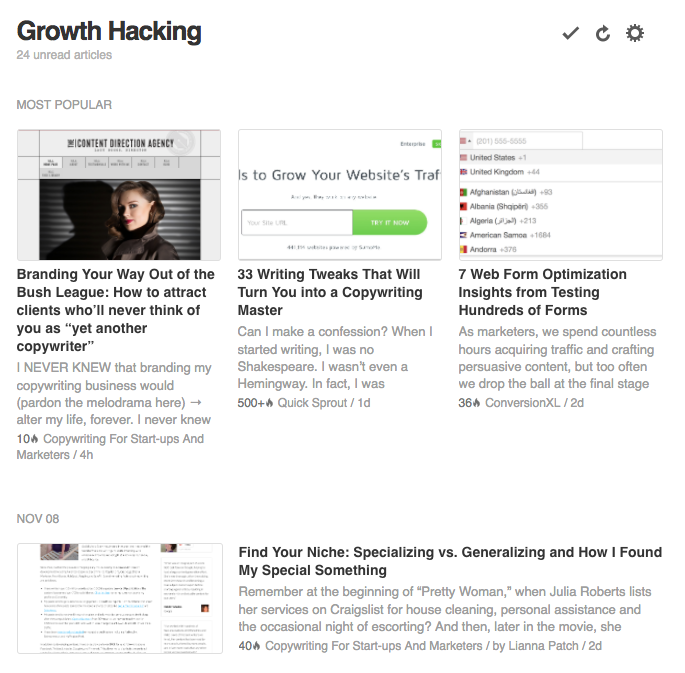 Influencer content is a great type of curated content. Many platforms (including Feedly and BuzzSumo) will allow you to "subscribe" to an influencer's content publications.
Top influencer marketing strategy: Follow an influencer and then share their content with creative analysis and thoughts (and remember to @mention them when you do) for a few weeks. This will increase the chance they'll follow you back and recognize your name when you reach out with a request for feedback or a quote or a "preferred link."
2. Created Content
Create the content your audience wants to read. Ask yourself these five questions before starting any content strategy:
What are they interested in?
What are their pain points?
What kind of content do they want?
What is a confusing or complex part of your industry?
What do they need to accomplish their goals?
For instance, Wishpond creates lead generation and management software. Our products are social promotions, landing pages and popups, as well as email marketing and lead management/behavioral triggered tools. Because of the social promotion side of what we do, a significant portion of our audience cares about social media marketing.
Thus, this guide. I create something which our prospective customers and target audience need.
For more, check out my article on "Creating a Complete Content Marketing Strategy."
Step 9: Posting
If you want to create a social media marketing strategy that achieves a greater impact, you'll need to post at the right time.
When to Post:
"The less people want to be at work [or working], the more they are on Facebook."_ _– Buddy Media (now part of Salesforce' Marketing Cloud)
And this is true no matter what social media platform you're on. Most people do most of their work in the three hours before lunch and the last hour before they leave. And most people do most of their work on Monday – Wednesday. As a result, many businesses find that the best time to post is 8-9:30am and then 1-4pm on Wednesday – Sunday.
Here's a graphic from *CoSchedule which lays it out:*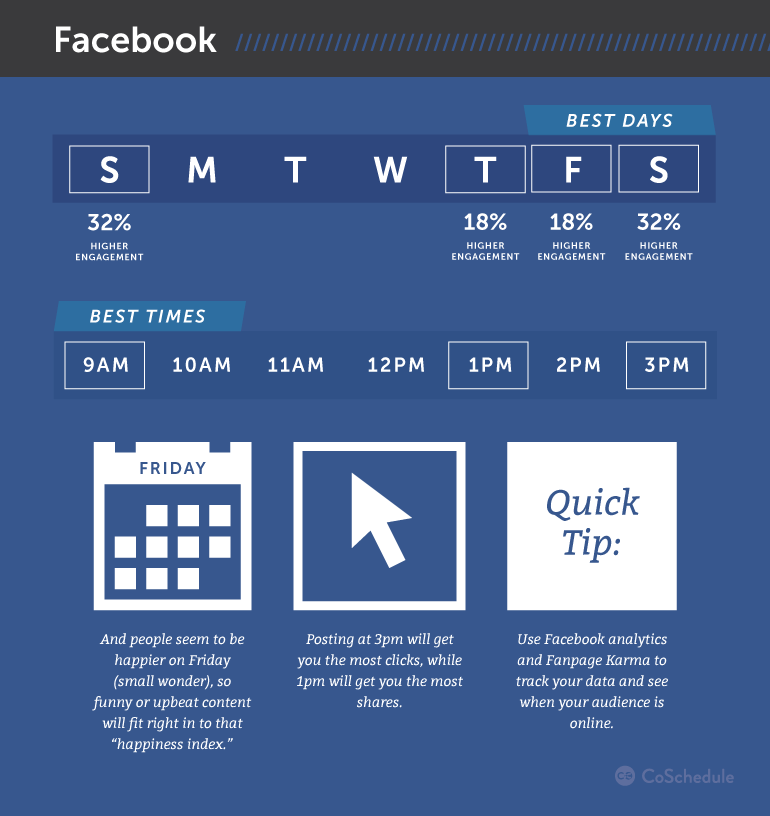 Social Media Posting Best Practices:
Target your Post (Facebook allows post targeting by location and interest)
Tap into what people are thinking about with holidays & current events
Share user-generated content
Stick with the 80:20 rule – 80% educational, entertaining, fun content and 20% promotional (this can change if you're in eCommerce).
Use images or videos in every post
Use quotes
Ask questions
Use testimonials
Tag influencers, users and other brands you like
Be helpful
Use Hashtags
Use short-form video (TikTok, Reels)
Keep posts short
Offer social media-exclusive Discounts
Activate the comment section by starting the conversation and responding to comments
Include a CTA
Show behind-the-scenes
Offer How-to guides
Offer facts and trivia
Try "fill-in-the-blank" posts
Try "Caption this photo" posts
Try "Remember when?" posts
Step 10: Tracking
There's no point in implementing a social media marketing plan if you can't track your results.
Here are five of the most important metrics to keep tabs on with your social media marketing strategy.
1. Don't just track link clicks, track click-through with bounce rate
Set up on Google Analytics or Another analytics provider. Go to the "Acquisition" tab, and look under "All Traffic" for the "Channels" segment. Click on the "Bounce Rate" button and it should rank all of the channels from lowest bounce rate to highest.
2. Don't just track web referrals, track the share of traffic driven
Within Google Analytics, under Acquisition and Channels, click on the "Sessions" field. This will rank all of the channels based on the number of sessions they drive. In the column, beside the actual number, you should also be able to see a small percentage figure. This percentage represents the share of traffic being driven by each channel.
4. Don't just track shares, track amplification rate
Take the number of times your content was shared (or Retweeted, or repinned, or regrammed—or all of the above) during your reporting period and divide that number by your total number of followers (or Page Likes). Multiple that number by 100 to get your amplification rate as a percentage.
5. Don't just track likes, track applause rate
Add up the total number of likes your posts received during your reporting period. […] Divide that number by the overall number of followers (or Page Likes). Multiple that number by 100 to get your applause rate as a percentage.
6. Don't just track numbers, track leads
Your social media Fans and Followers are just prospective customers who haven't bought from you yet.
For many businesses, there's a stage between Fan and sale – lead. You need to be getting these people's email addresses. The view-rate (reach) of a Facebook post is 2% of your Fans, and the view-rate of an email is between 80 and 100%. The click-through rate on a Facebook post is about .05 and the click-through rate on an email is 20%.
For businesses not in the eCommerce industry, it's going to be significantly easier for you to turn email contacts into sales than it is to turn Fans.
The best strategy for tracking prospective leads from social media is with a UTM code.
"UTM" stands for "Urchin tracking module." Urchin Software Corporation was acquired by Google in 2005, and their software laid the groundwork for what we now known as Google Analytics.
UTM codes are bits of text you can add to a link that tell Google Analytics (as well as other analytics tools) a little bit more information about each link. Here's a sample of what one looks like:"

Essentially, a UTM code allows you to see what link drove what traffic to a page of your website.
Google can help you make a UTM code here: https://ga-dev-tools.appspot.com/campaign-url-builder/
For more on turning Fans into Leads and Sales, check out my article "How to Use a Fan-Only Promotion to Turn Followers into Leads"
Step 11: Automate
Automation tools allow you to schedule your social media marketing plan's posts for multiple platforms and days in advance. They save you serious time and energy.
Social media management tools often include:
Social media content calendar
Analytics tools to make it easy for you to determine what content is working best and at what times
Keyword-targeted content recommendations
Social share toolbars to embed in your site
Image and gif creators
Link shortening and tracking
Keyword alarms
The top social media management tool options with pricing:
Wrapping Up
Hopefully, these 11 steps will start you on the road to success with your social media marketing plan.
No matter what platform you're on, and what your social media strategy looks like, remember a few main things:
Be social. Engage with your audience. Ask them questions and respond. Don't forget about the "social" part of your social media marketing strategy.
Invest in visuals. Stand out by being beautiful. Invest in a high-quality camera and try video.
Post consistently. If you're going to start on a platform and want to succeed on it, you need to stick with it. Social media success doesn't come overnight.
Test and Measure. If you've invested all this energy into your social media marketing strategy, don't throw it away down paths that aren't going to yield the return you want. If something isn't working, you need to know, and you need to stop. Invest in analytics as much as you invest in posting.
Start with the 80:20 rule. Test the ratio and go from there.
At the end of the day, any good social media strategy is all about creating the right content for your target audience. Any social media campaign you run needs to have your audience in mind. This means posting on the right channel and posting quality content that you know your target audience will love. Get this right, and you'll be halfway to achieving your social media marketing goals.
Related Reading:
---
james-scherer-2