In recent years, Facebook (the largest social media platform by a serious margin), has seen the spread of its Live video streaming platform, the introduction of of 360-degree (and VR) photos, its Workplace service, and the continued rollout of chat bots on its Messenger service.
With this constant stream of innovation and its continuing status as the consistent leading force in the social media world, marketers continue to use Facebook as a platform to share content, connect with consumers, and build brand identity.
As a result, it's home to some magical marketing moments. I've compiled X of them here to create The Best Facebook Posts for Businesses: The Ultimate Guide.
Let's get started!

1. Mark Zuckerberg
---
Why this Facebook post is great:
When you're Mark Zuckerberg, you get to do some pretty cool things. The first thing I want to highlight is the unique, high-quality nature of the content. It's an exciting, in-depth look into the lives of astronauts on the International Space Station, and it's a great viewing experience because it's shot in high quality with great audio.
Next, I love that he's used the Facebook Live platform to allow viewers to engage in real-time – in fact, he encourages them to leave their questions in the comments so he can pass them onto the astronauts. Overall, an out-of-this-world Facebook post!
2. Facebook Messenger
---
Why this Facebook post is great:
This post is a fun one. Not only does it offer new and interesting statistics on something that's relatable to the Page's target audience (Messenger users), it's visually pleasing and short, which makes it easy to watch.
On top of this, the video features text, meaning sound isn't necessary to find value in it. This is important on a platform like Facebook because many people browse through their News Feeds in public places, where listening to audio might not always be possible.
Finally, we love that they've taken time to respond to comments in a truly genuine way.
3. Star Wars
---
Why this Facebook post is great:
If I had to describe this Facebook post in one word, it'd be "iconic".
Star Wars is one of the biggest film franchises of all time – and it knows that. Darth Vader's utterance of "I am your father," resonates through time as one of the most memorable moments in movie history.
This post is simultaneously understated and full of hype – this is Star Wars using their brand properties to their fullest. A short clip of Darth Vader with a note about the upcoming film Rogue One and the date for ticket sales is an incredibly effective way to build excitement for the movie and drive sales. If you need proof, check the comments section – it's full of people excited to buy tickets.
I also like that the caption is short – it focuses attention on the video itself, which is where the value of the content lies.
4. Red Bull
---
Why this Facebook post is great:
The most noticeable part of this post is the crazy content and the clever caption. It's unique, exciting, and incredibly shareable (this post alone got over 27,000 reactions, 600 comments, and nearly 3,000 shares).
The post is the product of a co-promotion between Red Bull and GoPro – not only can both companies share this post to increase exposure and awareness, but they can tag each other which helps to increase engagement and reach both companies' Facebook fans.
Red Bull also tags a location, which can help to increase reach.

5. KFC
---
Why this Facebook post is great:
KFC has built its social brand on a wacky, offbeat brand personality. This post is a good example of that.
The post is humorous – it's silly, features a relatable (but strange) caption, and is comically Photoshopped. KFC does a great job in honing in on a specific segment of their target market with this post by targeting younger Facebook users.
KFC almost defies best practices in this Facebook post by shamelessly plugging their $5 Fill Ups – but it somehow works in the context of this hokey advertisement.
KFC's biggest success in this post is merging product promotion and a strong social media brand into a cohesive marketing campaign.
6. Google
---
Why this Facebook post is great:
Pretty much everyone has used Google, and pretty much all of those users has seen a Google Doodle, whether they know it or not.
Google leverages their enormous presence by highlighting the making of one of their Doodles in this post. It's great because it gives fans a behind-the-scenes look at one of Google's longest-standing traditions – this type of content is unique and allows fans to take a look at the cogs in the Google machine.
Better yet, this post is actually just a preview of a larger piece of content. Google has a shortened link in the caption of the post that links to a YouTube channel Google has partnered with. This is a great way to drive viewers to content from other channels, and is something you can adopt for your own content strategy.

7. National Geographic
---
Why this Facebook post is great:
This is another great use of Facebook Live by National Geographic. Using new forms of content is a strategy that helps you reach the top of your followers' News Feeds, as the Facebook algorithm favors new types of content.
Like Mark Zuckerberg's Q&A with the astronauts at the ISS, National Geographic engages its live viewers by encouraging them to ask questions to the guides in the video.
Furthermore, #safariLIVE is an ongoing series of live videos. Though hashtags aren't generally as effective on Facebook as they are on other platforms like Twitter and Instagram, using a hashtag to connect videos in a series is an awesome way to link multiple pieces of content.
8. Nike
---
Why this Facebook post is great:
This is the ultimate influencer marketing post – one of the best I've ever seen.
Where do I even begin? First, it's topical. This post was created during the Olympic Games in Rio as part of the Nike Unlimited Campaign.
In terms of content, it's visually stunning in black and white, featuring the USA basketball teams projected across buildings. The cinematography is breathtaking and it covers a wide range of emotions from the players and the performer.
That's where the value of this content lies – it's an homage to the best of the best in American basketball, showcasing basketball greats like Kevin Durant, Kyrie Irving, and Brittney Griner among others. Fans of these players will be all over this post.
And the influencer madness doesn't stop there – this video features an original song by Chance the Rapper, one of hip-hop's biggest names. Basketball is a sport that's deeply ingrained in hip-hop culture, so it makes total sense to mix the two. This is a timeless post that truly deserves the engagement it received – nearly 90,000 reactions and over 27,000 shares.
9. Oreo
---
Why this Facebook post is great:
This is a simple but incredibly effective post from Oreo. It's a cute, easy-to-watch video with a simple premise: Oreo brings people together. The caption is clever and relevant to the content, and the content itself is drawn and animated in a unique style – this helps it stand out on users' crowded News Feeds.
Furthermore, It's short, which is great in an era where people tend to scroll quickly through their feeds. The video was viewed nearly 5 million times and received 97,000 reactions, a testament to its engaging and viral nature.
10. PlayStation
---
Why this Facebook post is great:
We love giveaways here at Wishpond, and this is no exception. This post is automatically in our good books because contests and giveaways are some of the best ways to increase engagement and widen reach.
The first thing a viewer notices is the simple and engaging contest image, which clearly highlights the prizes for the giveaway, as well as the brand that's hosting it (the PlayStation logo is clearly visible in the center of the image).
The caption is great as well – it clearly outlines prizes, entry conditions, and features a hashtag to help boost campaign awareness to friends of entrants. It actually doubles as a survey, as Sony can use response data to determine which games people are most excited about.

11. Converse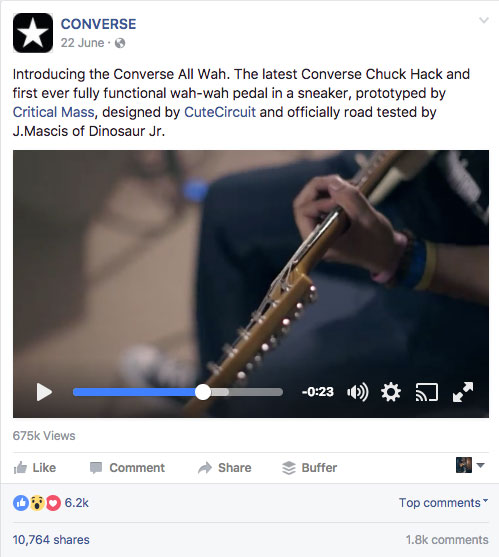 Why this Facebook post is great:
Converse highlights and targets a rather specific section of their market in this post by creating a post that appeals to musicians and guitar players who are fans of the shoe brand.
First off, it's totally wacky – for those of who might not know, a "wah-wah pedal" is a guitar effects pedal that does exactly what it says: it makes a guitar sound like it's saying "wah wah". Converse took this pedal and worked with several other brands (who are tagged in the post!) to fit one into a Converse shoe.
Second, it actually has a wide appeal. Even non-musicians can appreciate the unique value of the post, which is reflected in its 10,000 shares and over 6,000 reactions. Because of the content's unique nature, it's engaging, which draws people to comment and interact with the post. This helps to boost it even further, expanding reach organically.
Even better, Converse partnered up again with Joe Trohman of Fall Out Boy to showcase the pedal. Because of the sheer number of influential figures in music, a campaign like this has high potential to go far.
12. Starbucks
---
Why this Facebook post is great:
Starbucks is arguably the world's biggest coffee franchise, and its Pumpkin Spice Latte has become synonymous with the arrival of autumn.
With this post, Starbucks capitalizes on the PSL craze by allowing users to chat with "The Real PSL" on Facebook Messenger, using Facebook's new support for chat bots. This is an awesome, unique way to market a product that generates as much hype as a Pumpkin Spice Latte does.
Starbucks helps users interact with the bot by giving chat suggestions in the image (which, by the way, is well-composed and shot). Starbucks continues its interaction with customers by responding to nearly every comment on this post.
It's an engaging marketing campaign that definitely succeeded in generating excitement for the yearly launch of the PSL.

13. Instagram
---
Why this Facebook post is great:
Instagram does a great job of driving Facebook traffic to its other social channels with this post. It uses a piece of content from its Instagram Story to give users a preview of what they can expect, along with a CTA to "Share your story!"
I like this post because it's topical, has a clear call-to-action, and links to another social platform (in this case, Instagram – go figure). This is a good template for brands looking to increase engagement on all of their social platforms, not just Facebook.
I like the emoji, too.
14. NESCAFÉ
---
Why this Facebook post is great:
NESCAFÉ covers a lot of ground in this campaign.
First, it's a humorous and relatable concept. Coffee is seen by many as a symbol of adulthood, along with other things mentioned in this post, like RRSPs and taxes. NESCAFÉ capitalizes on this association with a video with a mock "Adult Help Line". It's funny and relatable – the perfect recipe for a sharable, highly-engaging post.
On top of this, there's actually a freebie giveaway sandwiched in this post. NESCAFÉ uses a "head to…" CTA to link viewers to more content and free samples of their creamer sachets.
Pretty neat!
15. Walmart
---
Why this Facebook post is great:
Looking at this post's high engagement, it's clear that it resonated with tens of thousands of Walmart fans. Why?
Well, first of all, it's topical (or was, at least). At the time, Pokemon Go was at its peak – it was a worldwide craze that reached people both young and old. The image is clever – it's almost a direct copy of the Pokemon Go interface.
Furthermore, the image features Walmart's own Pokemon toys, subtly leading viewers to their own products without being overly promotional.
Finally, the caption features two CTAs – "Catch some great deals…" and "tell us…". They're engaging and invite viewers to interact in the comments section, which helps to drive engagement and increase organic reach.
16. Nutella
---
Why this Facebook post is great:
This is a great, heartwarming campaign from our favorite hazelnut spread.
The caption is simple and topical – it's a post that directly celebrates International Women's Day, which is relevant to 50% of the population (and probably around 50% of Nutella's Facebook fans).
Nutella also uses a GIF with a clever premise – it's an homage both to women and Nutella as a brand and product. It's a daring tactic, linking Nutella to women everywhere, but it seems to have worked based on the post's engagement.
17. Adidas
---
Why this Facebook post is great:
Though Facebook can often be a platform for product promotion, this post from Adidas is great because they don't focus on their product.
Instead, Adidas focuses on and documents the efforts they've put forth towards the creation of three Sound Labs in New York, Chicago, and Los Angeles.
Though it probably doesn't do much to increase sales directly, this is a branding play – and a good one, at that. It's a nice break from the typical product posts that plague the pages of most shoe brands as it highlights Adidas' values as a brand which reinforces the strength of the bond they've created with their target market.
18. Netflix
---
Why this Facebook post is great:
Netflix created this post in support of the release of the new season of Gilmore Girls, a show whose main characters are a mother-daughter duo. This image is targeted towards other mother-daughter pairs who will be watching the show together – because youth tend to be more prone to Netflix-binging, Netflix created a guide on hiding "Netflix cheating".
It's a simple image presented in a how-to/infographic format, which is easily digestible and highly shareable. It's highly relatable (everyone's thought about continuing a show they promised to watch with someone else) and actually provides some value, for real Netflix-cheaters-to-be.
19. Marvel's Luke Cage
---
Why this Facebook post is great:
Along with the second season of Marvel's Daredevil, Luke Cage was one of Netflix's biggest hits. For those who aren't watching the Marvel universe as it unfolds on television (but really, who isn't), these shows are leading up to the team-up show "The Defenders".
To help promote the show (and the upcoming ones), the Luke Cage Facebook Page hosted a Live stream featuring a Q&A with the shows' stars. Live streams with celebrities are always a treat, as it's not often social media users feel really connected to these big-name stars.
The post also tags all of the other Pages involved in this huge stream, including Marvel, Netflix, Daredevil, Jessica Jones, Iron Fist, and the Defenders. Talk about a team-up…
20. Pizza Hut
---
Why this Facebook post is great:
Pizza Hut parodies hokey infomercials in this post about their new Triple Treat Box. This post works because it's relatable – it seems like everyone has been drawn into watching an infomercial for half an hour at least once in their lives.
This post gets away with being very promotional and product-focused because it makes fun of itself, while still actually highlighting the real benefits of the new box. Though Pizza Hut doesn't do much else that's exciting in this post, the content itself was strong – and funny – enough that I decided to include it.
21. Volkswagen
---
Why this Facebook post is great:
Ah, the joys of modern dating. Volkswagen connects with the younger end of its target demographic here by making a direct reference to dating apps like Tinder in this post, playing on the ever-familiar "It's a match!" to suggest its vehicles are a perfect fit for its fans.
Though this short video didn't receive much engagement on Facebook, it's a cute and clever departure from the excessively product-centric photos that seem to be the norm for most car manufacturers who post on Facebook.
22. Amazon
---
Why this Facebook post is great:
This isn't just one of the best Facebook posts – it's one of the year's best marketing campaigns.
Amazon has a unique position in that its product is a service – it can be hard to advertise features or benefits in a way that's easy for audiences to understand.
The company circumvents this issue by telling a heartwarming story of two friends and how Amazon brings them closer together. There are no hashtags here, no influencers, no giveaways – the post stands tall on the strength of its content alone. It succeeds because it crafts a story that feels real, and uses this story to create an emotional connection with both potential and existing customers.
23. KitKat
---
Why this Facebook post is great:
Customers love seeing how other people use the products they use. KitKat takes advantage of this by sharing a video from Tastemade, featuring a recipe for a KitKat pie.
Though I'm not sure whether or not the Tastemade post was sponsored by KitKat, I love that KitKat is sharing a post from another Page or brand. It's a great way to build connections with other brands and reach previously untapped portions of your target market.
Videos from Pages like Tasty and Tastemade are highly, highly engaging (second probably only to memes…) – it's always a good idea to look at what people in your industry are doing well and how you can leverage these things to find success on social.
24. Domino's Pizza
---
Why this Facebook post is great:
This is a killer post from Domino's. It does a couple things well…
First, it's relevant. This post came out just in time for Black Friday, with imagery that represents the people who camp out at shopping centres, lining up to get in early. Making the post topical helps it to resonate with audiences who know the Black Friday shopping struggle all too well. It also does a great job associating Domino's Pizza with the Black Friday weekend in the caption.
Next, it features a discount. You can create all the great content you want – but when it comes down to it, almost nothing beats a discount when it comes to increasing sales… and 50% is nothing to sneeze at.
25. United
---
Why this Facebook post is great:
Airlines can be pretty polarizing – I'm sure United has their fair share of detractors. However, this exchange between United and a disgruntled flier is one wonderful example of social media at its finest.
Here, the United social media representative does a great job of following up with the customer and listening to his concerns without being defensive or combative. The United poster is apologetic and genuinely cares about the flier's flight experience, turning a rough experience into a great exchange that's sure to keep this customer around in the future.
Conclusion
---
There you go: the 25 best Facebook posts of the year.
Which are your favorites? I'm sure I missed some – are there any other posts you loved this year? Let me know in the comments below.
See you in the new year!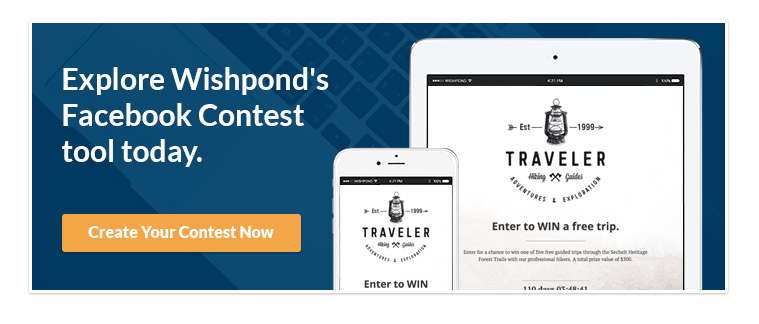 carlo