Want to know how to do a giveaway on Facebook?
A Facebook giveaway is the easiest way to generate leads and grow your following on social media. Facebook giveaways help you spread brand awareness like crazy, and they can help your business make more sales.
Sure you could pay to send traffic to your website but there's no guarantee it will result in sales. You might say consistent audience engagement and posting high-value content is important on social media.
I wholeheartedly agree but even so, is doing that getting you valuable leads to turn into sales? Probably not.
In this guide, I'll show you step-by-step how to do a Facebook giveaway for your business. Start using social media to grow your following and generate leads.
Understand the Rules for Your Facebook Giveaway
Before putting together your Facebook contest, you need to understand the rules involved with running a Facebook contest. Facebook has a few guidelines that all Facebook contests need to follow. These include things like:
Only being able to run Facebook contests from business accounts and not personal profiles
Make it clear that the Facebook contest is in no way connected to, administered, or sponsored by Facebook
All official Facebook contest rules, terms, and entry requirements need to be clearly visible
All Facebook contest promotions and prizes need to be done in line with all applicable rules and regulations
It's essential that you understand all the rules before running a Facebook contest. You can follow this guide for a more complete understanding of the rules for a giveaway on Facebook.
How to Do a Facebook Giveaway: 7 Steps
Running a Facebook giveaway is easy if you follow the right process. Follow these steps when you run a giveaway on Facebook, and you will be sure to achieve great results.
Step 1: Set Your Goal
Before you run a Facebook giveaway, you need to have a clear objective for what you want the Facebook giveaway to achieve. Establishing this allows you to set up the most appropriate type of giveaway on Facebook, choose the right prize, and improve your promotions.
Some different Facebook giveaway goals include things like boosting brand awareness, increasing engagement, gathering new leads, getting more user-generated content, increasing your followers, sending more traffic to your website, or promoting a certain product.
Try to make this goal measurable, and set clear KPIs that you can monitor to understand the success of your Facebook page giveaway.
Once your Facebook giveaway goal has been established, you can start to put together your contest on Facebook.
Step 2: Choose a Prize
Possibly the most important piece of the Facebook giveaway puzzle is the prize. The prize is what tempts your audience to enter your Facebook giveaway. It must be worth the cost of entry, that is, their personal information.
In other words, it's gotta be good. It's gotta be something your audience actually wants to win.
When coming up with a prize idea there are two things to keep in mind:
Pick something that is tied to the business you run. Give away something like an iPad, for example, and you would only get entries interested in the iPad. Instead, give away a gift card, store credit, your product itself, or a mix of related items. This way it guarantees all entries will be at least somewhat interested in your product/service. SO now when you run a Facebook giveaway, everyone who enters could become a potential customer.
Make it a prize package. Speaking from experience, we find that prize packages get better results than a single prize. Simply because a prize package made up of smaller items appeals to more people. Offering one prize someone already has is a missed opportunity. A prize package helps you reach more people, making it easier to grow your business.
Step 3: Decide On a Giveaway Theme
Like all school dances, your giveaway needs a theme (under the sea anyone?).
Is there a national holiday to celebrate?
A business anniversary?
A major sporting event? The Superbowl?
Are the seasons changing? Is summer approaching?
Are you launching a new line of products?
Whatever theme you choose for your contest on Facebook, it should be unique to your business. The theme will dictate the design, communication, and entry rules for your giveaway. More than anything, it tells your fans why you're putting on a Facebook contest in the first place. Because the last thing you want is your fans to think your giveaway is an underhanded marketing ploy.
To celebrate Halloween, UrDogs put on a Facebook giveaway to find the cutest dog costume. Also known as a photo contest. According to the theme, fans submitted photos of their dogs in cute Halloween costumes. The one with the best outfit took home the grand prize.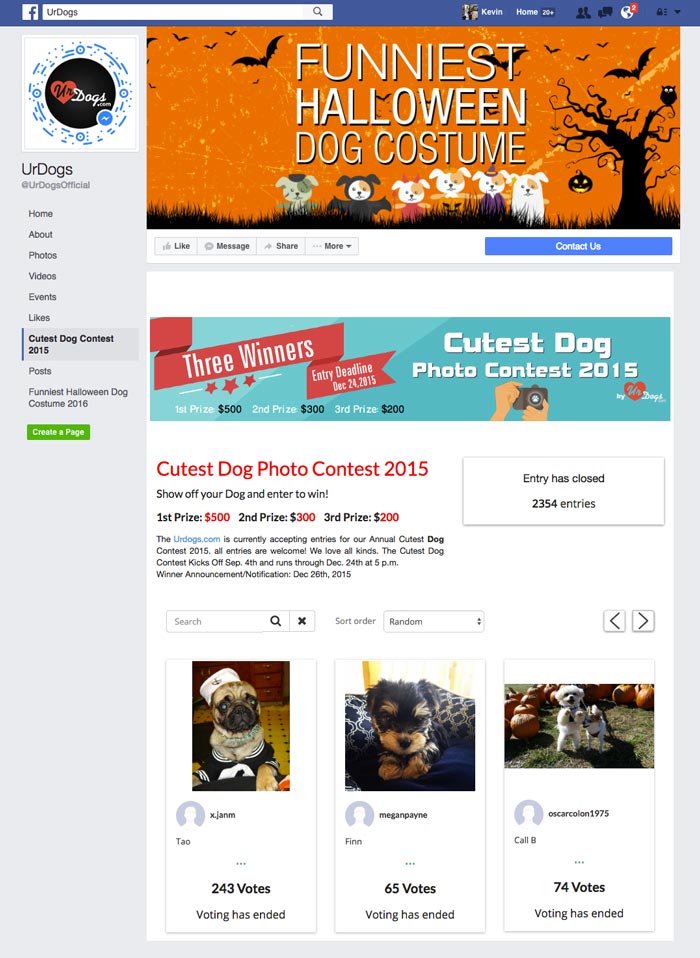 Want to run high-impact marketing campaigns but don't have the time or expertise to make it happen? At Wishpond, we offer a team of marketing experts who can create powerful campaigns for you. Book a demo to learn more.
Step 4: Set Your Facebook Giveaway Rules
Now you need to write the rules for your Facebook contest. This includes what people have to do to enter your Facebook contest, who can and can't enter, how long the contest will run for, and how a winner will be chosen.
There are all kinds of Facebook contest ideas that you could run. For example, you could do a selfie contest or a photo caption contest. You might also need to limit your entries based on requirements like age or location.
Once you've established your Facebook contest rules, write them out and make them clear. This needs to be available so that you can get people to enter.
Step 5: Build and Publish Your Facebook Giveaway Page
Now it's time to bring your giveaway to life. It's important to note that building and publishing a Facebook giveaway is exponentially easier with a giveaway building tool (like Wishpond). Plus you won't need to start from zero. There are hundreds of beautiful templates to start from. No need for a designer.
All the creative work is done right inside the app. Once you're done building you have the option to publish your giveaway landing page on your website or directly on your Facebook business page. Either way, it'll save you hours of work.
Next, we can talk about the design. If your giveaway is going to be a massive success it needs to be exciting and simple. It needs to get people pumped on the prize and be easy to enter into.
To make sure your giveaway goes off without a hitch it needs:
An attention-grabbing, benefit-oriented headline. Something like "Enter to win a Vitamix blender" grabs attention and tells readers what you want them to do.
Visuals like photos and videos. The higher the quality, the better. An exact photo of the prize builds excitement. Detailed photos allow fans to imagine themselves winning and all the glory that follows.
An entry form. Self-explanatory, it's where you'll accept the entries.
Entry and prize information. Include information on what qualifies as an entry and what does not. Include details on the prize. Descriptive things like color, model, dollar value all help build appeal.
Social share buttons. Share buttons on the page make it easier for participants to share the giveaway with friends. Again, if you're using a giveaway tool you can reward those who share your giveaway with bonus entries and a better chance at winning.
Step 6: Promote and Share Your Giveaway
Once you have your Facebook giveaway looking pixel perfect, it's time to market and promote it. Just because you've built it doesn't mean your audience will find it. We need to send it traffic.
You have two options to promote your Facebook giveaway: paid or organic.
For those who are just getting started with Facebook, paid promotion can deliver immediate traffic to your giveaway page. It's a viable option if you have a budget to spend. Facebook ads provide a vast amount of targeting options to find your demographic quickly and at a marginal cost.
If a paid promotion isn't in your budget there are ways to promote your giveaway organically.
This includes:
Changing the banner images on all your social media channels. Updating your profile and including a link to your giveaway.
Send periodic emails to your email lists reminding them about the giveaway and prompting them to share it with friends.
Add a banner or popup to your website to alert all visitors about your giveaway.
Cross-promote your giveaway on all your social media channels, not only Facebook.
Add inline calls-to-action to blog posts that you share on social media.
When you promote your giveaway, you will need to have a clear understanding of your audience's interests. Facebook interests can drive up engagement for your giveaway because understanding your audience's interests in detail will allow you to offer a giveaway targeted to their needs.
Step 7: Follow Up
At the end of your Facebook giveaway, the last thing you'll need to do is follow up.
Again, if you're using a giveaway app it should pick a random winner for you. It should also automatically email an alert to everyone telling them the giveaway has ended.
Announce the winner on all of your communication channels. Share the winning entry or a photo of the winner on social media if appropriate. Everyone who has entered your giveaway will want to know a winner was chosen and a prize was given away. Not doing so might deter people from entering your next giveaway.
In addition to sharing it on social media, send a follow-up email to everyone who entered. This is your chance to include information on the winner, the prize, information about your business, a prompt to look out for your next giveaway, and maybe even a discount code/coupon.
Do your best to continue to engage with the folks who entered your giveaway. This could mean reaching out with a few personalized emails, sending a special offer, or just adding them to your regular newsletter list.
Following up is the first step in the process of turning those leads into paying customers.
Facebook Giveaway Ideas
Now that you know how to run a Facebook contest, you'll need to know exactly what type of contest you'll add to your Facebook page.
When thinking of Facebook giveaway ideas, always keep your original goal in mind. The contest needs to help grow your business according to that specific goal that you originally chose.
The good news is that there are loads of different Facebook giveaway ideas out there. The type of Facebook giveaways you choose can differ based on how you pick a winner, how people enter your Facebook giveaways, whether your entrants refer a friend, and more.
When planning your Facebook giveaway ideas, just make sure that the giveaway clearly translates to your brand, that it has a clear purpose, and that it makes sense for your customers.
To help get your creative juices flowing, here are just a few effective Facebook giveaway ideas that you could use:
Tell us how you would use [product] to win it
Take a photo of yourself using [product] to win
Caption this to win [prize]
Vote for your favorite product to win
Sign up for a chance to win
Selfie contest
Co-promotion contest with another brand
Solve the puzzle to win
Everyone's a winner (prizes for everyone if they perform a certain action)
Of course, you can also just do a general giveaway where you direct entrants to a landing page, capture their entry details, and pick a random lucky winner.
You can spread this Facebook giveaway even further by making it a referral contest. This means participants can get an extra entry for each successful referral, which will help you get users sharing and promoting our Facebook giveaway for you!
These are just a few ideas for contests that will work well on your Facebook page. If you're looking for more inspiration, then check out these 30 Facebook contest ideas and examples. They will certainly help you decide which type of contest is best for your objective and target audience.

Final Thoughts
Hopefully, this step-by-step guide shows you just how easy it is to run your very own Facebook giveaway. Anyone can do it with great results!
To repeat, the steps were:
Set your goal
Choose a prize
Decide on a giveaway theme
Set your Facebook giveaway rules
Build and publish your Facebook giveaway page
Promote and share your Facebook giveaway
Follow-up
Related Reading
Wishpond's Facebook Contest Apps make it easy to create sweepstakes, photo contests, Instagram hashtag contests & more. You'll need a tool like this if you're planning a facebook giveaway.
jordan-lore