How to Run a Selfie Contest: A Step-by-Step Guide
Put down your phone for a second.
Drop the duck lips. Lose the downward angle and the Snapchat cat ears.
If you don't know what I'm talking about, it's probably because you're not a 19-year-old girl. And that's okay.
But it doesn't mean you haven't taken a selfie…
A study from late 2016 "predicts the average millennial will spend about an hour a week [and] take up to 25,700 selfies in their lifetime."
As of February 2017, 80% of adults aged 18 - 55 have taken a selfie.
2014 was the "Year of the Selfie." But that doesn't mean we're doing it any less or that it's any less of a cultural institution.
So let's start taking advantage of this phenomenon for your business. This article will walk you through how to run a selfie contest online.

I'll cover…
An introduction to selfie and photo contests, and why you might want to run one
Creating a selfie contest with the best chance to go viral on social media
Maximizing the spread of your selfie contest through share incentives and optimization tools
Increasing the rate at which your selfie contest entrants become customers (so we can actually generate some real-world dollars)
Let's get rolling!
Sources: Teenvogue and Statista
An introduction to selfie and photo contests
---
So we know that people take selfies,  and that's all well and good. But for our social media strategy we want to know if people are sharing the selfies they're taking. Our selfie contest isn't going to be a success if people simply take a selfie, we want people to want their selfies to be seen.
Luckily for us, Instagram tracks the number of times someone uses a hashtag…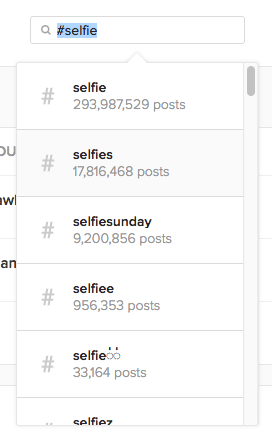 So almost 300 million posts using the hashtag #selfie. Almost 18 million using #selfies and more than 9 million just on Sunday. And this is only including the people who used that hashtag when they uploaded their selfie.
Industries in which a selfie contest is super straightforward...
---
Fitness: "Submit your before and after selfies for a chance to win a year's supply of AcmeFitnessBars!"
Fashion: "Use hashtag #AcmeScarves to submit your Fall fashion selfies. You could win…"
Cosmetics: "Prom is just around the corner. Submit a selfie of your makeup and enter to win two tickets to a summer music festival!"
Pets: "Love your pet? Submit a selfie of you both smiling, get your friends to vote for you, and you could win a year's supply of AcmeChow!"
Travel: "Have you ever travelled off the beaten track? Take a selfie and use hashtag #explorenowhere and you could win a…"
Sports: "Send us a selfie of your team giving its all!" or "Send us a selfie of you shredding up the slopes this winter!"
Of course every industry can run a successful selfie contest. If you keep reading, there's a very successful and real-world example from a propane company, for heaven's sake.
Creating a selfie contest
---
A selfie contest is a bit more complicated than a simple giveaway or sweepstakes. Because we're talking about the submittal of photos, you'll need to ensure your contest page has somewhere that entrants can upload their photos.
Alternatively, you could run an Instagram hashtag contest, which automatically populates your campaign page when someone uses your campaign's hashtag when they upload their photo to Instagram.
Either way, there are two options for how you choose the winner of your selfie contest:
The simple way:
The simple way is to select the photo which you like the most. People upload or use a campaign-specific hashtag and, at the end of the contest
The awesome way:
The awesome way is to introduce an element of voting into your selfie contest. With voting, the contest entrant wins if their submitted photo gets the most votes from the general public. As a result, entrants are incentivized to share your selfie contest with their friends, asking them to share.
And your business can require voters to put their contact information in to vote as well, thereby using the power of your entrant's network to get even more results.
Click on one of the thumbnails below to see the gallery of successful selfie contests:
Spreading the word about your selfie contest
---

Simply by running a vote-based selfie contest, you'll have gone a long way in spreading your contest to new prospective customers.
The problem is getting it to a good number of people off the bat. Here are a few top strategies for doing that:
Subscriber Mailout
---
Unless you're running a Fan-only promotion, there's no reason you can't tell your current email list about your selfie contest.
Say they submit a photo. You don't need their contact information (as you already have it) but they'll share their submission with their friends. And you'll get their friend's contact information.
"Share for Bonus Entry"
---
This is a really cool feature, which you'll only get if you decide to run your selfie contest with third-party contest software: the "Bonus Entry" popup.
Essentially, as soon as someone enters your selfie contest, a click popup appears which prompts them to Share the contest and Like your Facebook or Instagram pages to get bonus entries and improve their chance of winning.
It looks like this: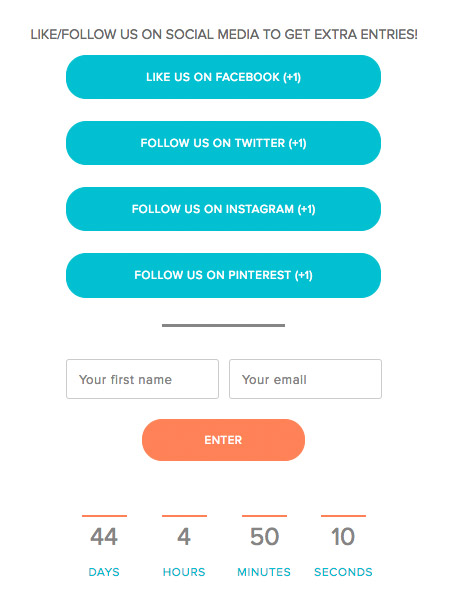 It's powerful because you ask people to Share or Like at the exact moment they enter. This is the moment that they're most interested, most "sold." Increasing their chance of winning is never more desirable than right here, so they're more likely to complete the action you want them to.
Advertising
---
Bear with me, because you'll need to do some math before you dive down the paid advertising path.
Firstly, when promoting a contest we exclusively use social media ads (Facebook and Instagram). The cost is far more likely to work out than if we venture into the world of display or search ads with Google.
What's the average purchase value of one of your customers? How much do they spend in a lifetime?
Let's say it's $40.
Will spending $300 on Facebook and Instagram ads be profitable?
Let's say you pay $1.00 per click for your ads. And, with half of the visitors to your selfie contest converting, you're paying $2.00 per new contact.
Now here's the rub: how many of your new contacts can you get to become customers?
If you spend $300 on ads at $2/lead, you're generating 150 new prospective customers. If a purchase is worth $40, you need to convert 7.5 of them to break even.
You'll need a post-contest campaign which is able to convert 5% of your contest entrants in order to break even on your ad budget.
Does that make sense, what I just did? Let me know in the comment section if you have any questions.
Advertising Best Practices:
Target by age and gender, and create ad sets which deliver relevant design to those demographics.
Feature the value of your selfie contest prize front and center in copy within the advertisement image.
Use a question in the ad copy to hook viewers.
Use a colorful border to get your image to stand out from the social media newsfeed
Here are a couple examples: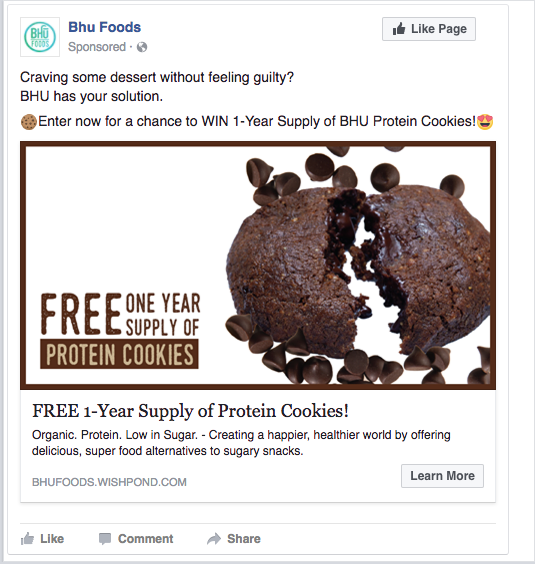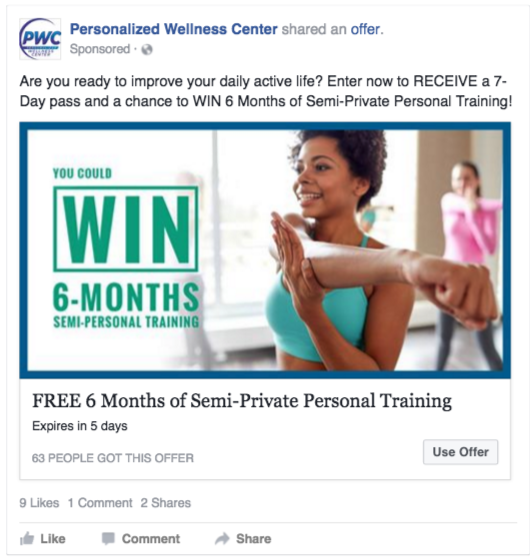 Increasing the number of selfie contest entrants that become customers
Voting on a friend's photo, or submitting one to win a prize, isn't exactly the same as submitting a demo request or buying a product.
But it does mean you have someone's contact details.
A step by step guide to turning cold email contacts into customers with email
Step 1: Add all your contest entrants into a segment of your contact list. (Wishpond does this automatically, by the way)
Step 2: Send a "Thank you for Entering Email" as soon as they submit their information to your selfie contest.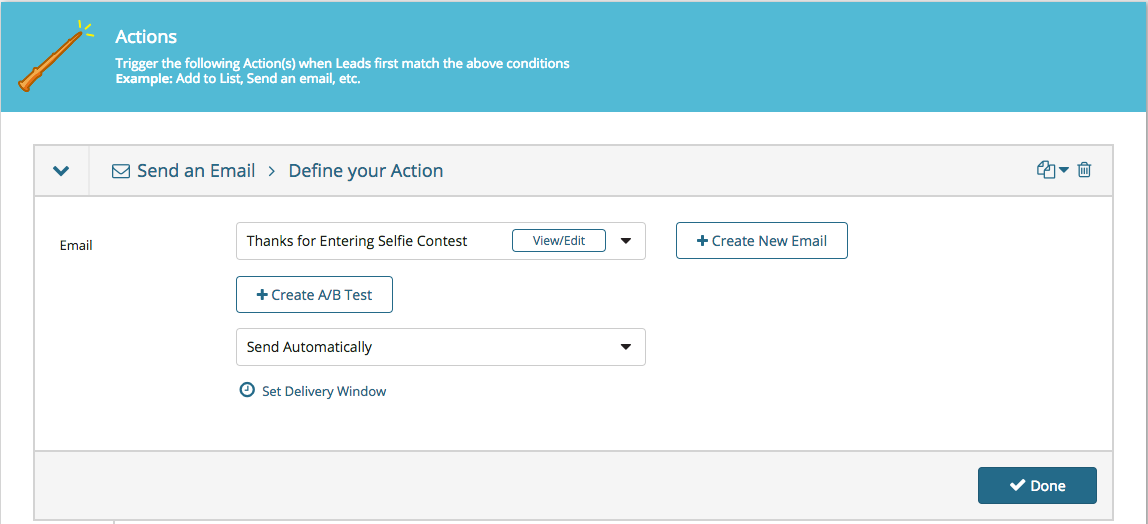 Step 3: As the contest draws to a close, send another email reminding them to share their submission with their network.
Step 4: Once the contest has come to an end, send an email notifying entrants that the contest is over, who won, and a contest-exclusive discount (15-20% off a product related to the contest's prize). This will encourage a few of your entrants to convert there and then. Make the discount limited-time.
Step 5: A day before the discount expires, send another email to people who didn't click through on the first.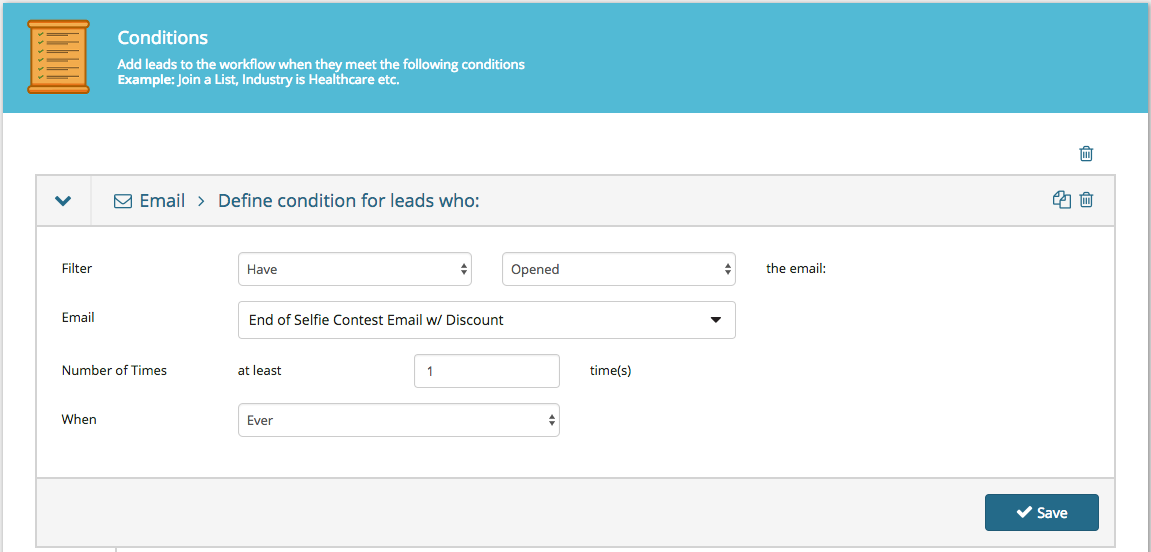 Step 6: Retain the list of selfie contest entrants to re-target down the line. You can add them to your subscriber list to receive product updates, but also keep them as their own segment. Next time you run a promotion on a product related to the one they wanted to win, send them a personalized email.
Wrapping it Up
---
Hopefully this article will give you a solid foundation to run a successful selfie contest. There's no getting around the fact that people love taking and sharing selfies, so there's no reason your business can't tap that trend and drive social engagement and sales from it.
If you have any questions about running your selfie contest (or any type of contest) don't hesitate to reach out in the comment section below!