Are you looking to drive engagement and sales from Instagram?
With more than 600 million users, Instagram gives your business an almost limitless potential for driving brand awareness and turning users into prospective customers.
The challenge, of course, is figuring out how to compete with the millions of brands and competitors on the platform. How do you stand out? And how can you be sure you're doing everything right on a platform as competitive as Instagram?
This article will give you 18 actionable Instagram business tips. I'll show you real-world examples of these tips in action from some of the most successful business accounts on the social media network. These are actionable strategies you can see and try for your business today.
Let's get started!

#1. Brand your Instagram Content
---
People should know they're looking at your company's content even if they don't see your name. You should have your own style, and stick with it.
Why? It increases brand recall and gives your profile a visually-appealing and professional look.
Here's an example of branded Instagram content from Converse: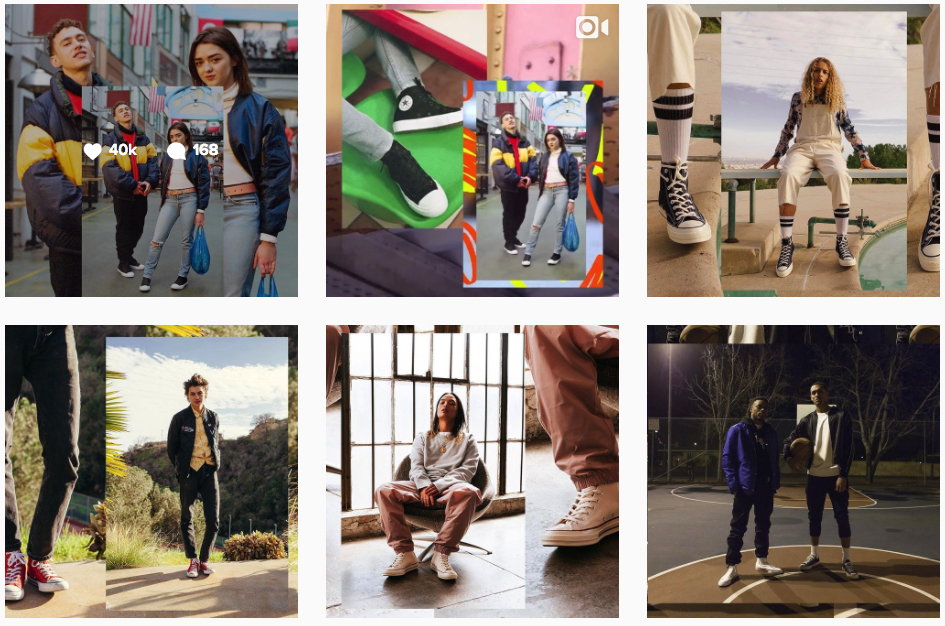 #2. Use Hashtags
---
Identify a set of 5-20 hashtags that are relevant to your business, your campaign and the content of your Posts. Add them beneath whatever caption you select for your post.
Why? Hashtags massively increase the spread of your posts on Instagram. People use hashtags to find content that is relevant to them and their interests, and you want them to find your business.
Here's an example of a great use of Hashtags from Keen Footwear: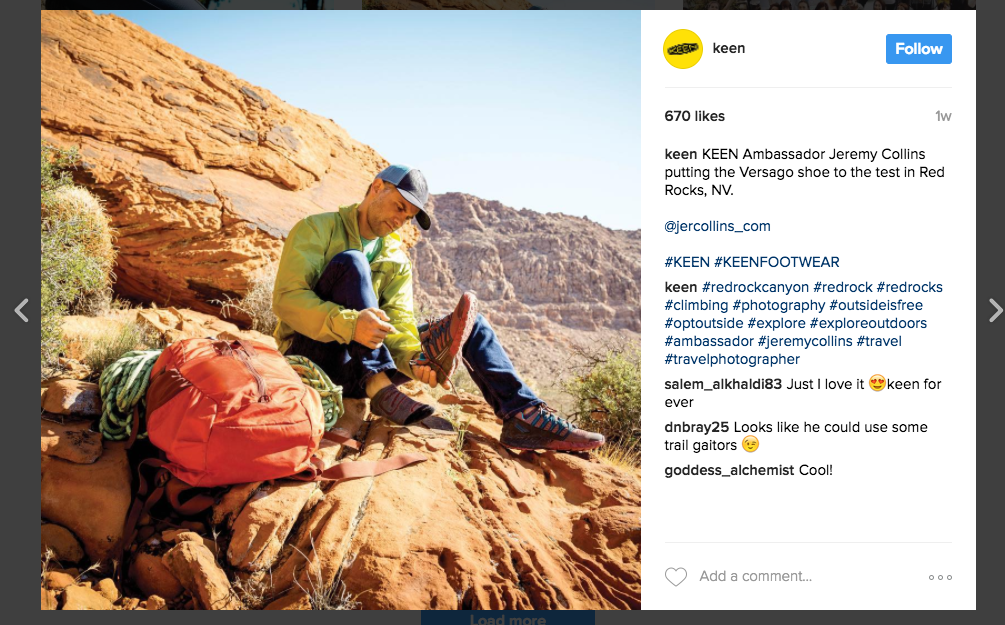 #3. Invest in Video
---
Consider investing in a studio, high-end DSLR camera, tripod and lapel mic. You'll take better pictures (see below) and be able to take video of your products and your team.
Why? Nothing says "we know what we're doing" more than a professionally-done video with great sound, entertaining content and high quality visuals. Video does more to communicate professionalism than any other type of media.
Here's an example of video posts from Monster energy drinks: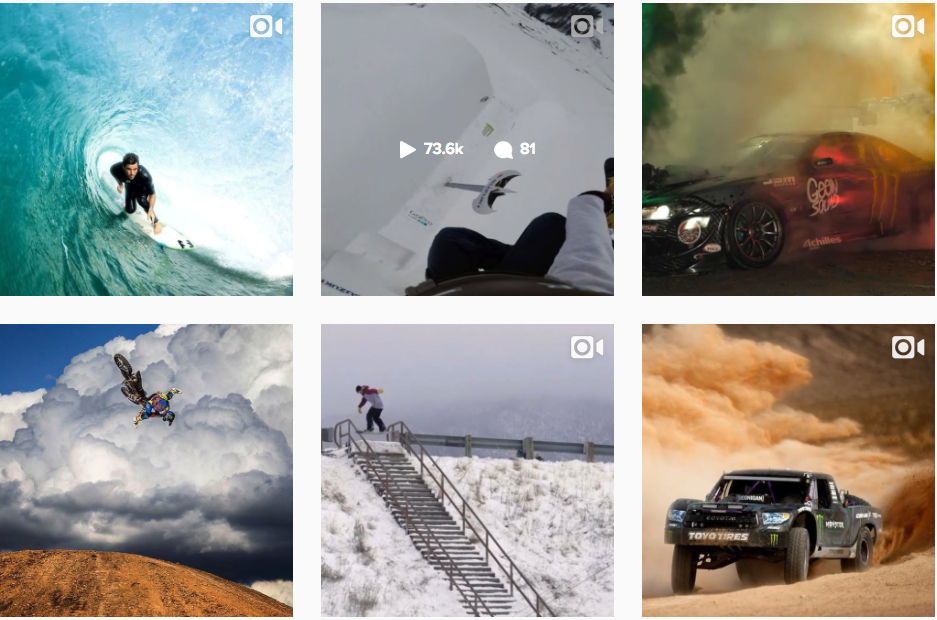 #4. Build your Following with an Instagram Hashtag Contest
---
An Instagram hashtag contest is the fastest way for your business to generate new Instagram followers and turn users into prospective customers. Prompt Fans (and non-Fans) to Like your page, tag a photo with a campaign-specific hashtag, and get entered for a chance to win a prize related to your business.
Why? More Fans means greater reach to your content on Instagram. A contest can also turn Fans into leads, who you can email and turn into real-world sales.
For more on Instagram hashtag contests and a walkthrough on how you can run one and why, check out "Instagram Hashtag Contests: Examples and Best Practices for Marketers."
Here's an example of an Instagram hashtag contest from WeddingWire: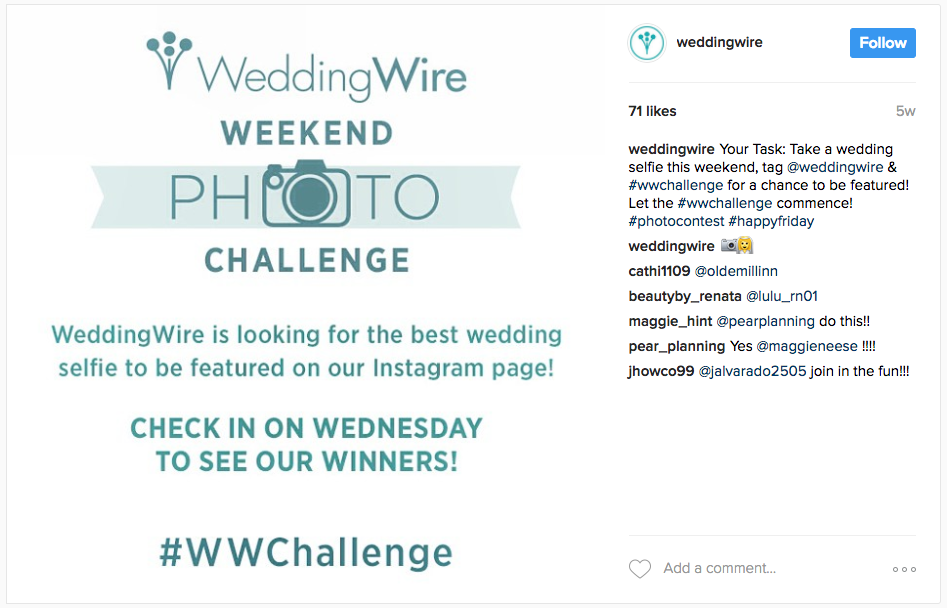 #5. Make your Products Look Good
---
Instagram is a platform where you can showcase your products. If anything, users expect it.
But the worst thing you can do is take low-res, boring photos of your products with your phone and upload them to the Instagram platform. So make your products look good.
Why? People are scrolling through a hashtag newsfeed or the accounts they follow. You want your product posts to stand out.. A great way to do this is to take and post several posts in a row, as APL has done below…
Here's an example of good-looking product posts from APL Shoes: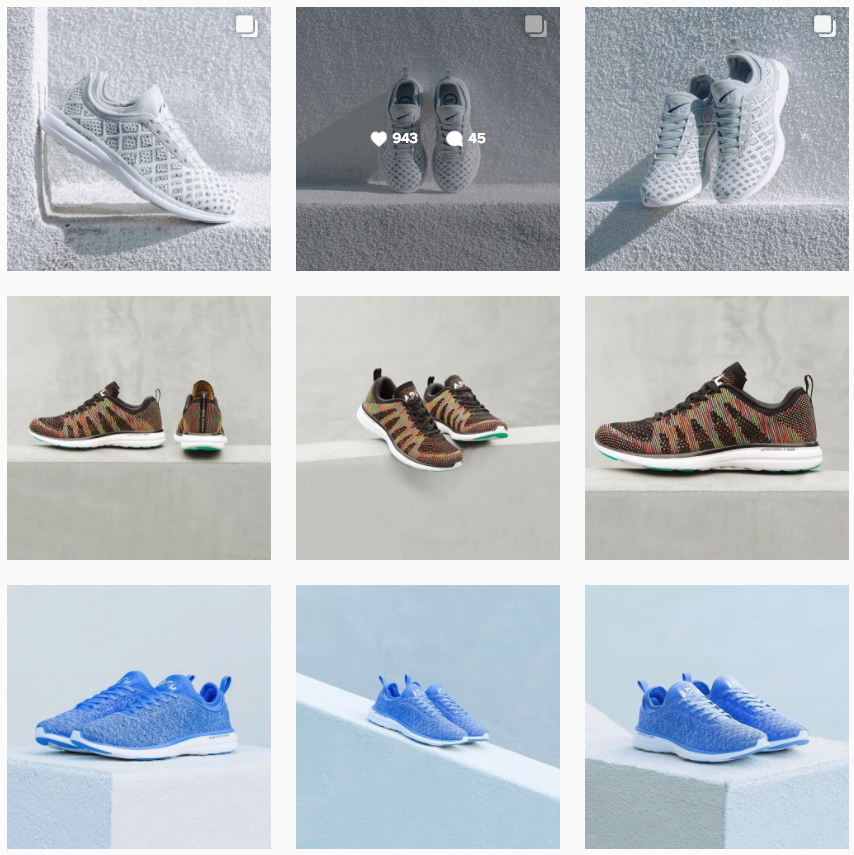 #6. Only Post High-Res, Professional Images
---
Related to the last post, I want to reiterate how essential it is for you to post high-res images. No content is better than content which makes you look bad. Honestly, I'd rather you didn't market on Instagram at all than uploaded a shot which doesn't have the right aspect ratio, is pixelated when I click on it, or looks like it was taken on your 2002 Nokia.
Why? Because a boring product can be made desirable if you know how to take a photo. A professional photographer can make a lug nut sexy. The example below is of cotton candy, which is a pretty cool product. But Bon Puf takes all their product photos for Instagram up a notch.
Here's an example of high-res images from Bon Puf cotton candy: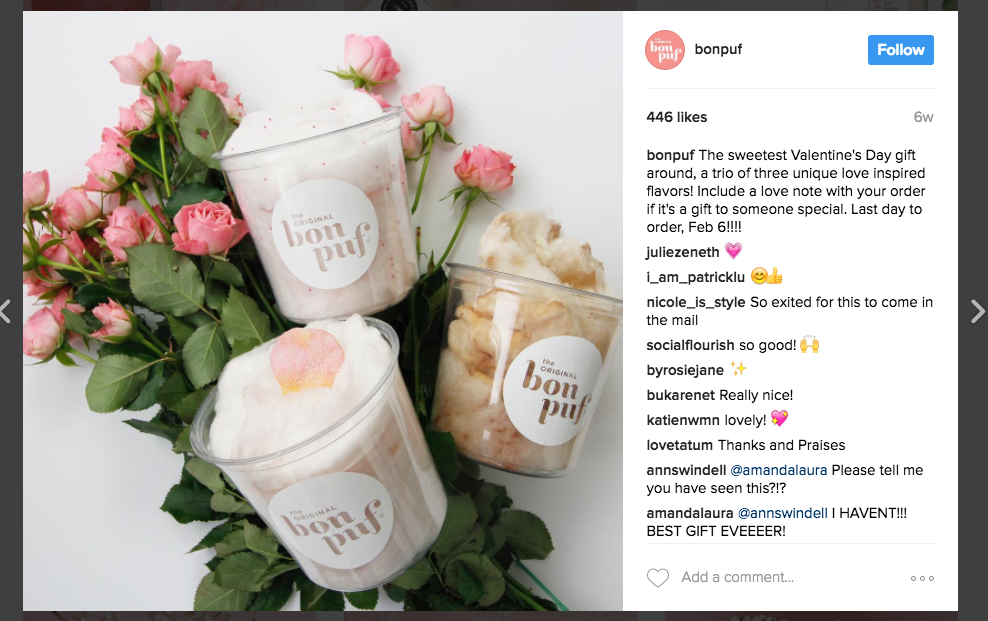 #7. Give People a Behind-the-Scenes Look
---
Take the camera and move it out of the studio. Interview your CEO. Talk to the customer support team. Show a summer barbecue or Friday after-work drinks.
Why? People love seeing behind the curtain (why do you think blooper and "making of" videos are so popular?) Behind-the-scenes content can also personalize your business, turning a faceless corporation into a company made up of real people. And that results in trust. And trust results in sales.
Here's an example of behind-the-scenes content from IBM: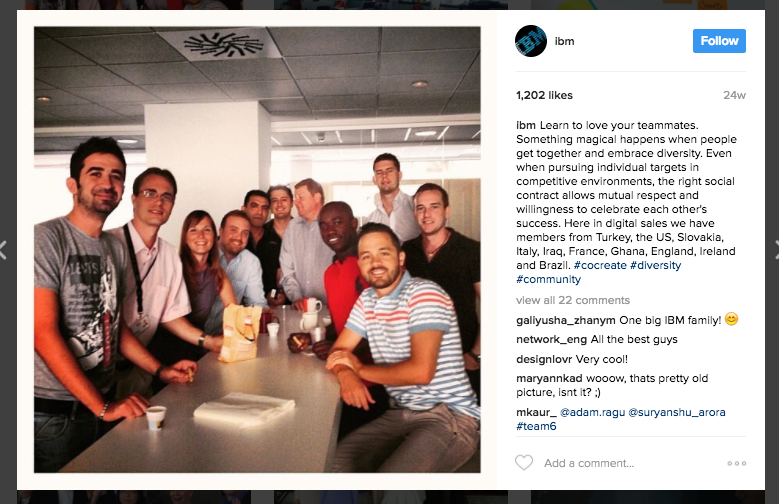 #8. Try a Seamless Feed
---
This is a strategy I've only seen in 2017, and it's an exciting one. A lot of successful Instagram business accounts are considering the experience people have when they see their whole newsfeed (on both mobile and desktop). Doing this allows you to show a big idea in the thumbnails.
Why? Honestly what better reason do you need than that it's really cool. You want to be cool on Instagram, as much as anything else. If you need a better reason, though, check out the Do You Even example below, where an ecommerce company showcases more visually their new product line.
Here's an example of a seamless feed from The OA: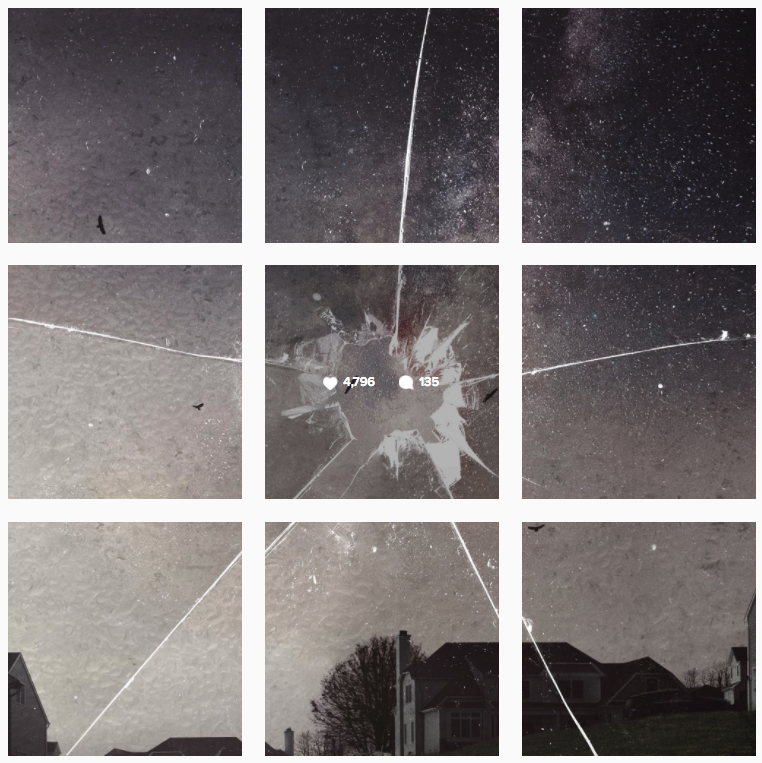 Another cool example is this one from Do You Even, which would work great for ecommerce companies showcasing a new product: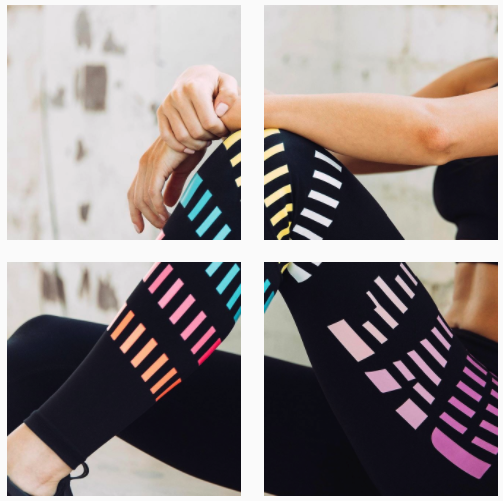 #9. Feature Reviews & Testimonials
---
You're an untrustworthy source of information when it comes to your own business. You can say "The greatest innovation in car sharing since the wheel!" and I'll discount you immediately. If they say, "Honestly the coolest car sharing app I've ever used," I'm going to give a lot more attention and a lot more trust.
Why? Because testimonials and reviews are a powerful way to tell prospective customers about who you and what you do. That's true in your landing pages, so why wouldn't it be in your Instagram posts?
Here's an example of a testimonial-focused post from Beats by Dre: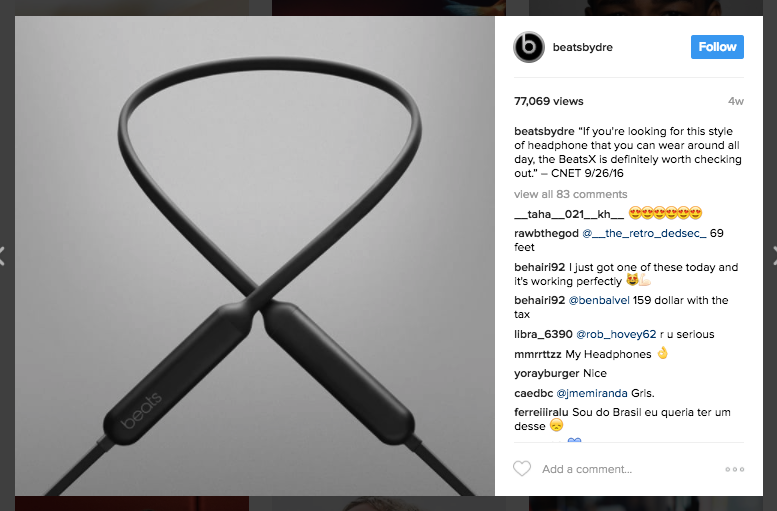 #10. Identify Influencers and Team Up
---
The example I have for this one is Nike and Kevin Hart, and that's a no-brainer.
But you don't have to be Nike, and your influencer doesn't have to be the biggest comedian working today.
You can use tools like Gramfeed, Keyhole, Moju, Upfluence and many more to identify people in your industry who can help your business increase its reach on Instagram.
Why? Because teaming up with an influencer can, faster than any other strategy, expose your business to prospective customers within your target market. It can also boost your brand reputation – i.e. "If [x] person I know of and respect likes [your brand] then [your brand] must also be awesome."
Here's an example of an influencer-focused post from Nike:

#11. Consider What's Trending Before Posting
---
People are far more likely to engage with your business if you post content which coincides with what they're already thinking about or things that are going on in the world around them.
Of course this can be the Christmas season, Mother's day and Valentine's Day, but it can also be #nationalpuppy day or International Moment of Laughter Day (April 14th).
Why? Because people love to be involved in a conversation. If your business is involved in the conversation of Mother's Day or National Women's Day or French Fry Friday, they'll feel a desire to be involved as well.
Here's an example of more typical trend-focused content from Ben & Jerry's: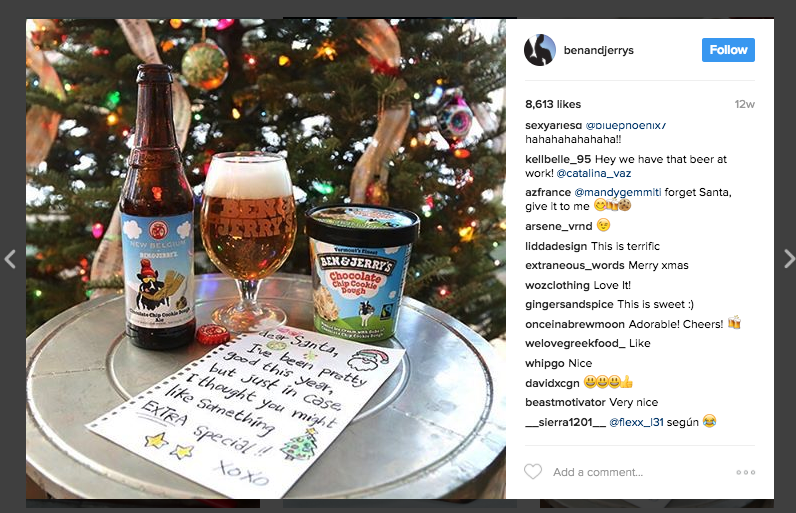 #12. Use Quotes
---
This one's just a no-brainer: people love quotes on social media. They love sharing them and they love commenting. Your business should inspire people.
Plus, they're the thing you schedule when it's 5pm on a Friday and you're still finalizing your social media calendar (let's be honest, here).
Why? Because people love them and they have been a social media best practice since Facebook took its first steps.
Here's an example of a quote post from Postplanner: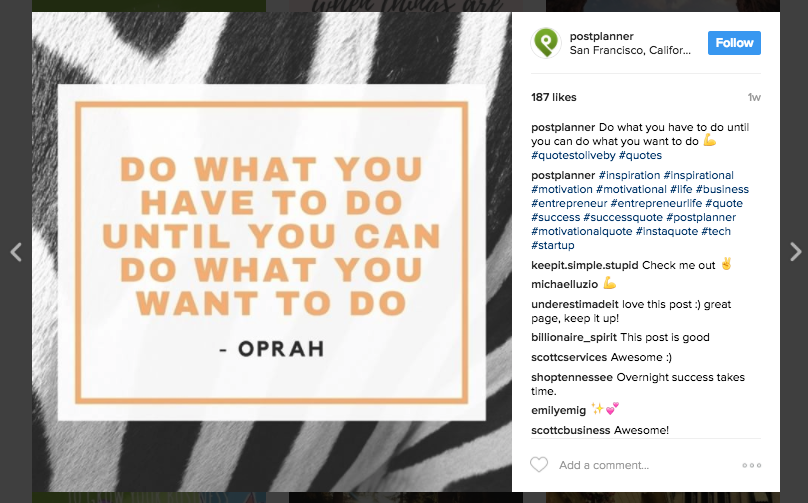 #13. Invest in Instagram Advertising
---
All the best practices in the world can only do so much. And they can be time consuming.
So instead, consider paid ads. Instagram's ad platform (which is part of Facebook's) offers unparalleled targeting and more-than-competitive cost per click.
Why? You can do more with 10 bucks of paid Instagram ads than you can with hours of organic marketing. What's an hour of time worth to you?
Here's an example of a great Instagram ad from HeyFlyWheel: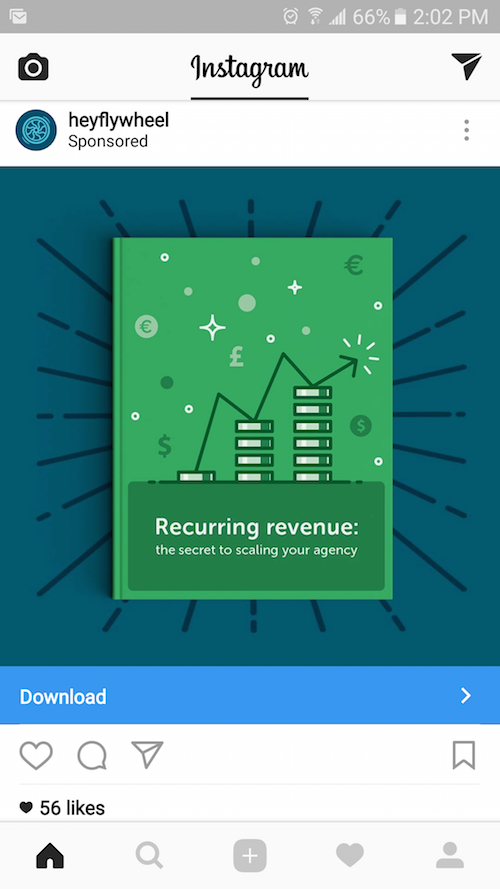 #14. Use Brand and Campaign-specific Hashtags
---
You want to be found, so you use hashtags, but you also want to be recognized. People like to categorize things, and using a campaign or brand-specific hashtag allows them to do that.
Why? Campaign-specific hashtags do more than enable prospective customers to find you, they also allow them to add to the conversation buzzing around your brand on Instagram. Users tag their own photos with your brand and campaign hashtags (REI, for instance, uses #OptOutside) and can get in on the conversation.
Here's an example of a campaign-specific hashtag from Forever 21: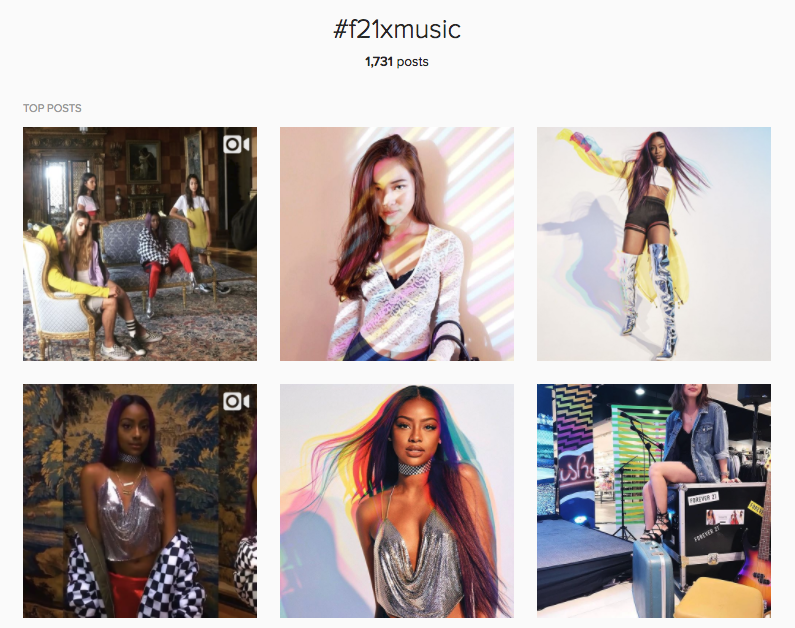 #15. Re-Post the Content of Fans and Influencers
---
People love being featured by a brand (they love being featured, period). And re-posting a Fan or prospective customer's Instagram posts helps to develop your own community.
Why? Re-posting content or "user-generated" content publishing is awesome for a few reasons…
You feature the content of real people, thereby personalizing your own "faceless" corporation.
You develop your own community of Fans, making it feel like a two-way street (rather than you just spouting content and them taking it in).
There are some very popular photographers/Instagram profiles out there. Re-posting and @mentioning their content can boost your own reach if their audience sees what you do.
Here's an example of re-posted Fan content from Mountain Equipment Co-Op: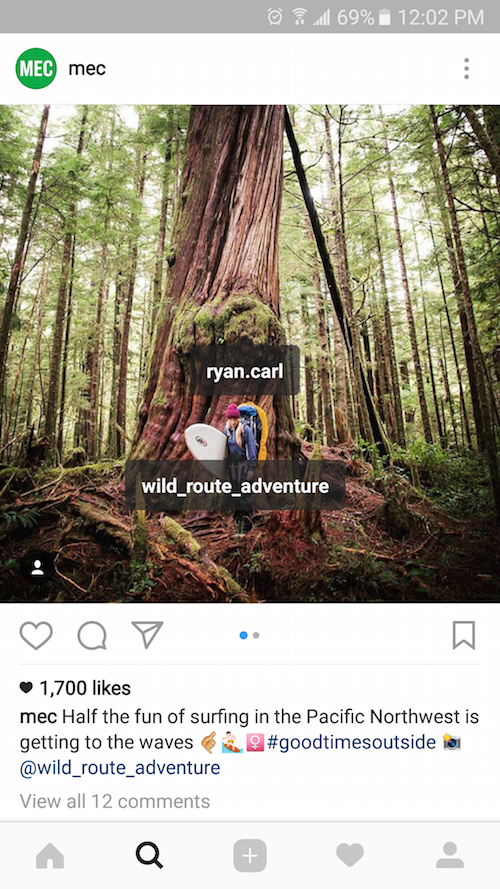 #16. Feature a Brand Lifestyle
---
The best Instagram profiles advertise both their products and their brand lifestyle. Instagram can help develop your company as "cool." And nothing's bigger for that than featuring the lifestyle you associate yourself with.
Why? Because people don't just want non-stop product posts. But you don't want to be completely selflessly posting educational or entertaining content (it doesn't drive your bottom-line anywhere). Publishing lifestyle content is more subtle – creating an associated "feel" which, in the long run, may increase sales even more than a product post would.
Here's an example of lifestyle content from LuluLemon: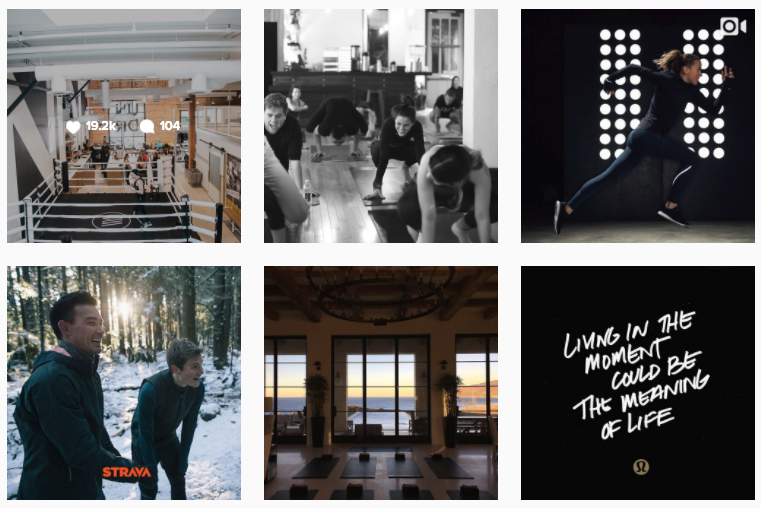 #17. Allow People to Buy The Products in Your Posts
---
By now, you'll have noticed that you can't put product links next to a post featuring your product (this is a bit frustrating…). What you can do is add sales-oriented links to your bio. There's a couple ways to do this:
Add a bit.ly and CTA (call-to-action) message in your bio which sends people to your website's product page.
A better option is to use an Instagram monetization app, like like2buy and have2have.it. These tools populate a page of your website with the products you're promoting on Instagram. People click the link in your bio and can buy exactly what they've seen in your posts, directly.
Here's an example of a Like2Buy link in the Brooks Brothers Instagram bio: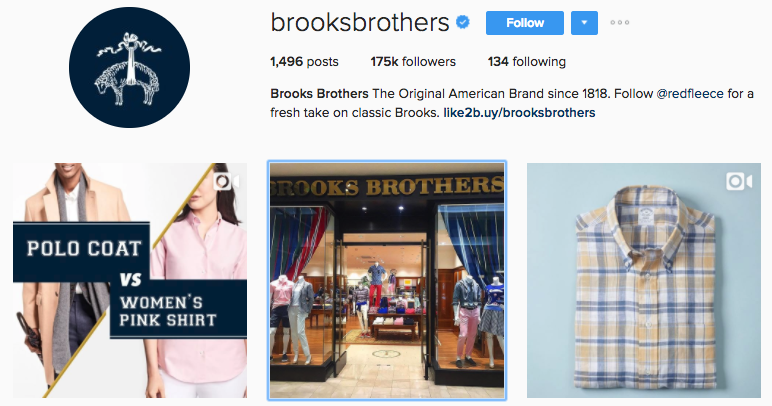 Wrapping it Up
---
Hopefully this article has given you a few Instagram strategies you can act on today. A few vital things to remember:
Balance your posts by interspersing product-focused content within entertainment, lifestyle or educational contest
Never post unless the photo you're publishing is high quality, high-res, and beautiful. Instagram is a platform of very judgmental amateur photographers.
Post as frequently as your audience engages. Anyone who tells you there's an optimal number of posts/week or posts/day is full of it. Every business is different, and you'll have to test to determine what works best for you.
Other than that, just try these actionable Instagram business tips and tell me how it went!
Related Reading:

james-scherer-2