Want to know how to do an online giveaway? Then you've come to the right place.
Online giveaways are incredibly effective at growing brands quickly, gaining followers, and collecting new leads. As a small business, running an online giveaway can be one of the most effective marketing tactics to help you achieve all kinds of goals.
Now, as a company consumed by online giveaways you'd think we have some secrets when we run a giveaway for ourselves. Nope. We run the exact same type of giveaway we recommend to our self-serve users and our fully-managed clients.
That's because the strategy works. Over the years, we've been able to run many iterations of the same structured giveaway, and we've generated thousands of new leads doing it.
This article will give you a step-by-step guide to exactly how we run an online contest and consistently receive upwards of 500 valuable new leads each time we do.
Follow these easy contest steps, and you will be able to create powerful giveaways that add loads of value to your brand.
Step 1: Set a Goal for Your Online Contest
Before getting started with your online contest campaign, you need to have a clear reason for running it. The first step is to set a goal for your online contest. This will help you develop a more successful online contest that helps to reach your marketing campaign targets.
There are various reasons why you might want to run an online contest. It could be to:
Drive more traffic to your website
Increase brand awareness
Gain more social media followers and engagement
Grow your email list
Gather more leads for potential customers
Get more user-generated content
Promote a specific product or service
When you create and promote your giveaway campaign, you will need to know exactly why you are doing what you are doing. This will help you align your marketing efforts with your business goals.
This will help you run a successful online contest campaign that works for your business objective. Having clear goals also makes it easier to measure the success of your contest based on your marketing campaign objectives.
Step 2: Choose Suitable Prizes
Of course, your online contest needs to have enticing prizes if you want to attract more followers and engagement. Your audience may want to win some prizes, but the prizes have to be good enough to get them to take action. Unfortunately, we're all pretty lazy when it comes to signing up for contests, so we need good prizes to help us make the effort.
When thinking of a prize for your giveaways, the most important thing is to make sure the prize appeals to your target audience. The prize needs to align with your brand to help you attract the right audience of potential customers. If your prizes are too general, then your contests may not help you bring in the right traffic that will actually become customers.
Remember, you want your contest to actually grow your business, not just attract a lot of the wrong entrants. The right prizes are critical for this.
For example, if you own a store selling outdoor gear and you design your contests with a big cash prize, you will probably be able to attract a big audience. However, once the contest is over, how many of your contest entries were actually your target audience? Probably not that many, because a cash prize appeals to anyone.
If you grow your email list with followers who aren't interested in your brand, then your contest probably didn't meet the relevant objectives of your business goals.
A better approach would be to offer an adventure holiday or a bundle of your most popular products as a prize. This will help you reach a more relevant target audience. This way, after you pick a winner, your new followers and subscribers will still be interested in your business. Now you can continue marketing towards them to generate new sales from them.
So, choose and create your prize wisely because it will determine who enters your contest.
Step 3: Determine the Contest Rules
Your online contest needs to have a clear set of rules in place for it to be successful. When you design your contest rules, you need to understand exactly what type of online contest it will be, and how your giveaway will be run. Then you can create rules around this.
There are many different types of giveaway options available. If you want more user-generated content, then maybe run a selfie contest. If you want to increase brand awareness as much as possible, then consider a referral campaign. Do you want to focus on getting more social media shares? Do you just want to drive traffic to your website? Whatever your goals are, your online contest rules should align with them.
When figuring out the rules of your giveaway, you should consider the following:
The entry requirements. For example, are you only accepting entries from a specific area? Are there entry requirements based on age? Are there entry requirements based on existing customers?
How to enter the online contest. Is an entry only valid through social media? Can people enter by signing up to your email list? Can you get additional entries?
When can users place an entry, or how long the online contest will last.
How to pick a winner. Winners could be randomly selected from all the entries, chosen by judges, based on certain requirements (such as the most likes), etc.
Again, go back to your giveaway goal and make sure that the rules align with it. If you want to boost your brand awareness and popularity on social media, then add incentives for social media sharing. If you want to get more email subscribers, then consider an email referral campaign. This way, you will get the right contest entries.
With the right goal, prize, and rules, your contest can be designed to attract a very specific audience and achieve a specific purpose. It's a good idea to pay careful attention to these first three areas before you promote your online contest. Careful planning will help to create contests with a much better impact on your business, generating more traffic, engagement, and sales.
Not sure about where to get started when you create your contest's rules? Check out this easy and free contest rules generator to help generate amazing giveaways that hit your objectives.
Step 4: Design Your Contest Landing Page
Now that you've done all the necessary planning, it's time to put your giveaway together. To do this, you will need to start by creating a contest landing page. Your landing page will help to drive traffic to your social networks and website. It should make it easy to gather more email subscribers, and the landing page should promote your prize and your brand.
This is what one of our high-performing giveaway landing page examples looked like: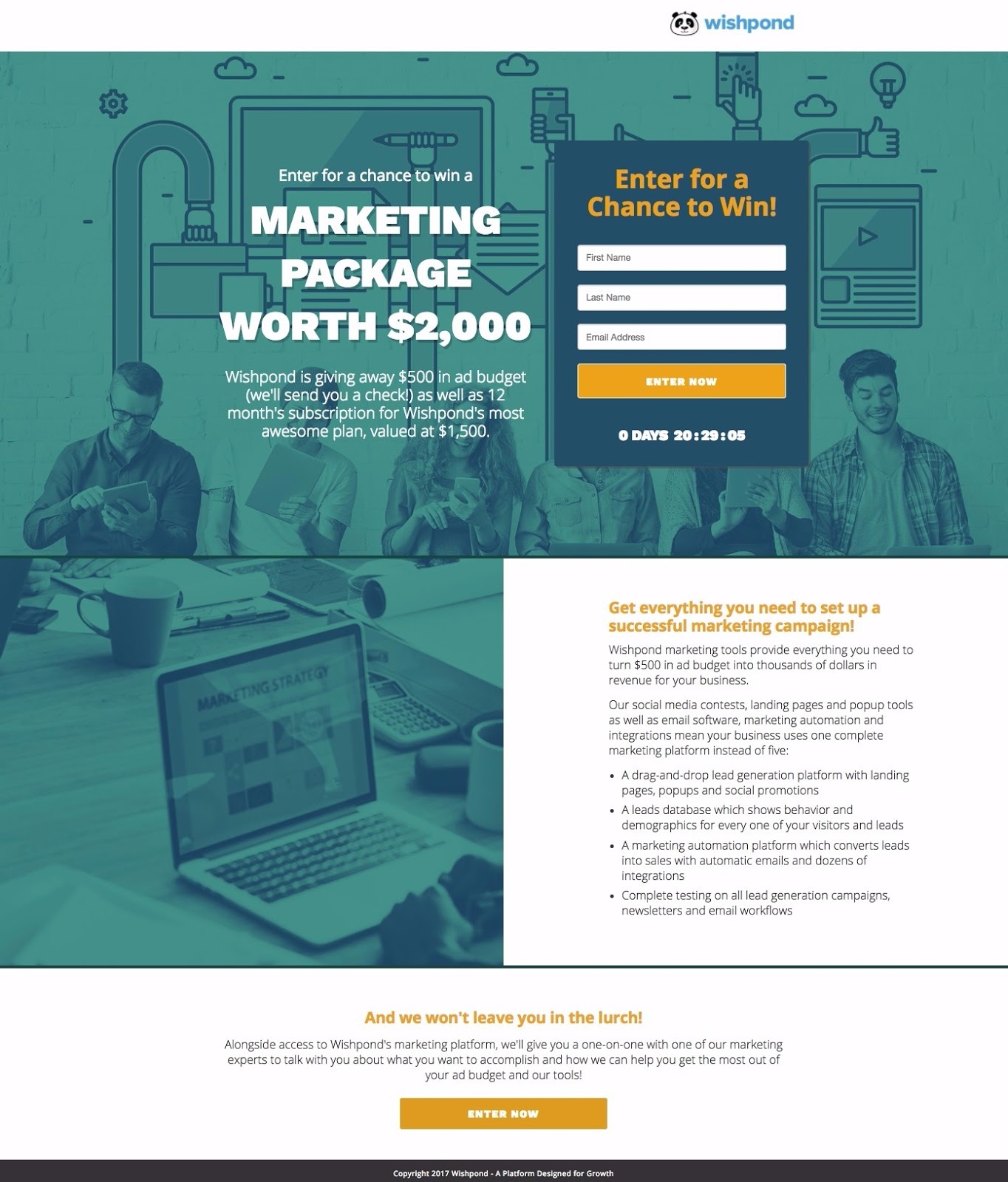 Best practices you see in this page:
Some best practices that you see on this page include:
The giveaway prize value front and center. The giveaway prize is your bait, so don't be afraid to really promote it.
Beautiful design and formatting, with information well spaced out so as not to overwhelm visitors. When creating a giveaway website page, keep the details simple and easy to digest.
Bullet-point information keeps text more palatable than paragraphs. Again, you cover all the details you need in a simple format.
No more information needed than a name and an email address. Any more will reduce conversion rates. However, these details will still allow you to grow your email list and boost your marketing to a whole new audience.
A countdown timer to drive people to enter now, before they lose the opportunity. You will gain a bigger number of entries this way.
Multiple CTAs (if your page has a scroll) in which the bottom CTA sends visitors back up to the form.
Follow these affordable giveaway ideas for more inspiration. You can also check out our list of brilliant giveaway contest examples for inspiration.
Step 5: Add Your Share Incentive Popup Upon Entry
The social share incentive or "bonus entry" popup is a crucial part of promoting your campaign.
Because we (as many businesses do) use our newsletter to drive the majority of traffic to our campaign, we want to maximize the chance that those people share the campaign with their friends and colleagues.
After all, we already have the contact information of our own subscriber list. The goal of this online giveaway is to generate new prospective customers.
So we use Wishpond to create a share incentive popup that appears when someone clicks "Enter Now." This offers your audience more free entries, and it helps promote your giveaway to an even bigger audience.
Here's an example of the share incentive popup we added to an online giveaway: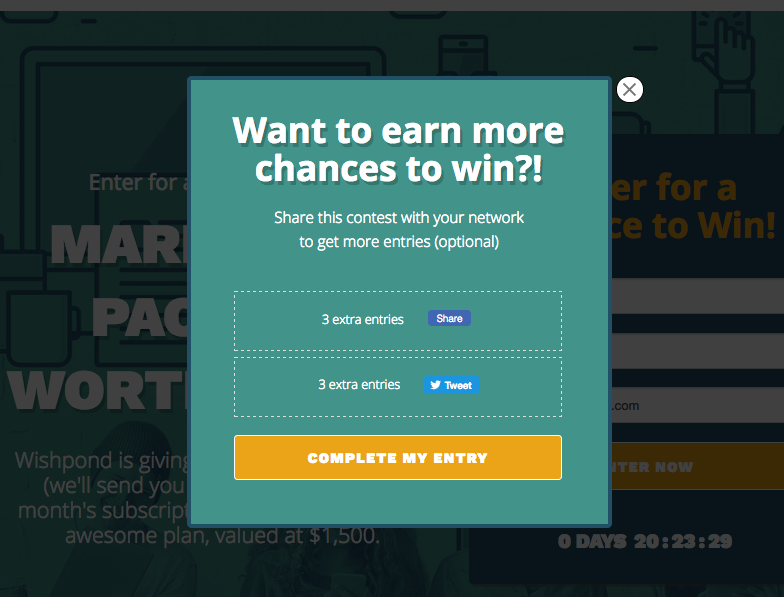 It's an optional thing, but it gives entrants an extra entry (increasing their chance of winning) if they share the giveaway with a friend on Twitter or Facebook. Your audience is never more motivated to do this than right at the point of entry. They're sold on the value of the prize and are determined to win. Give them an increased chance of doing that and suddenly you expose your giveaway to a whole group of people you never otherwise could have. This is an easy way to gain more free giveaway traffic and entries.
Step 6: Set Up Your Auto-Response Email
This is an essential part of creating a giveaway. This email is simply to confirm with people that they have been entered to win.
Beyond that, you should also be sure to include an "in the meantime, remember to share the giveaway on social media!" and provide easy "click to tweet" and "click to share on Facebook" links. These are super easy to create by using clicktotweet.com and ShareLinkGenerator.com.
Here's an email we've sent as our auto-response: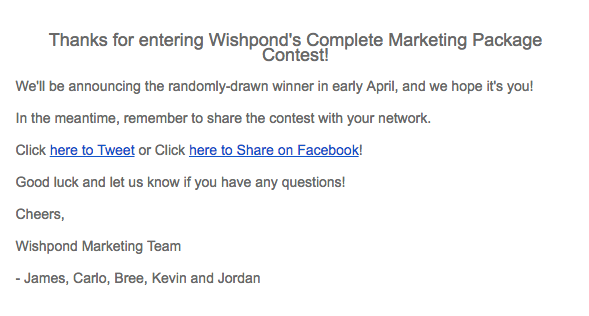 This is a super-simple email, but it does go a long way to personalize interaction and get prospective customers used to receiving valuable emails from real people. Also, even though not every recipient is going to share the giveaway, everything helps when it comes to spreading the word.
In order to send out an auto-response email for your giveaway, you will need to have a good automated email marketing tool. This is essential for your giveaway campaign, as well as any email campaign to follow. Maximizing automation will help you have the peace of mind that you're always responding to your contest participants. With so many professionals losing sleep having nightmares about work going badly, making sure a part of it is covered can help spare you from that major inconvenience.
Step 7: Send Your Subscribers an Online Giveaway Newsletter
This is the primary way that companies, with low lead conversion rates, can promote their online giveaway.
If you're an eCommerce company or retailer, you can more easily find a positive ROI using Facebook Ads. For a guide on how to do that, check out "How to Ensure a Successful Online Contest with Facebook Ads."
Long story short, retailers and eCommerce companies will be able to convert a significant number of your giveaway leads to becoming customers – say, conservatively, 10%. If the lifetime customer value is $30, then generating 1000 leads with an ad spend of $1000 and converting 100 of them means you get an ROI of 200%.
Software and B2B are a bit different, though I'd recommend you test it for yourself. Just make sure that you're able to convert enough giveaway entrants into customers for your ad budget and the rest of the work is worth it.
Here's our newsletter mailout notifying subscribers of an online giveaway:
Subject: Enter to Win a Marketing Package Valued at $2,000!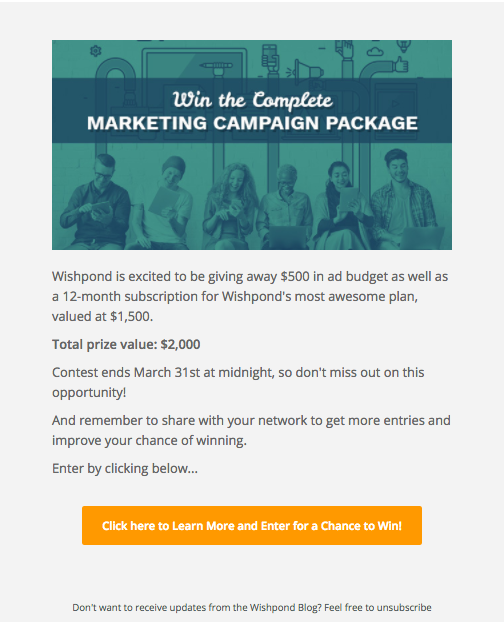 Top Tip: We also add a P.S. to all the newsletters we send while the giveaway is running which reminds subscribers they can still enter and provides a link. This helps to attract more giveaway entries for your brand.
Step 8: Schedule and Send Your Social Media Posts
Social media is a great strategy to promote your giveaway, no matter what industry you're in. Notify your Facebook, Instagram, and any other social media channels about your giveaway. If your followers are already customers, a best practice is to also prompt them to share with their friends and recommend they try to enter to win a product they love.
Here's an example of a Facebook post we created for an online giveaway: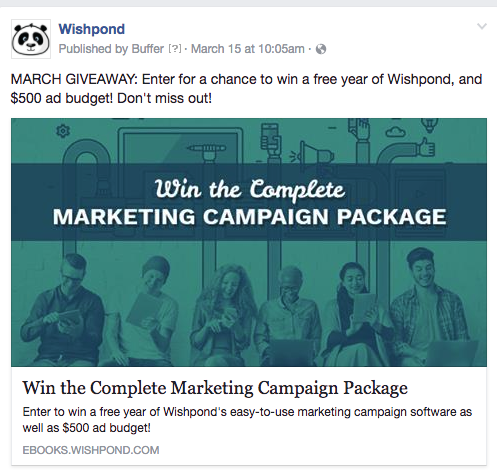 A best practice here is to, as much as possible, take the design and copy from your giveaway page and use it within the post. You want to create cohesion between any social media promotional platform and the giveaway page itself so people feel like they know what's going on.
Any substantial design difference or copy changes will throw off the people who click your social media posts and cause them to bounce/not convert at a greater rate than otherwise.
Follow our guide for more information on how to run an Instagram giveaway.
Step 9: Follow Up With Entrants After the Giveaway is Done
This is the most important step.
After all, no matter what business you're in, there's little point in generating a single giveaway lead if you can't turn them into a customer.
The best way to do this is to send an email after the giveaway is over with a discount code for a product related to the prize they wanted to win. Don't send this during the promotion, because your entrants think, on some level, that they're going to win. They're not going to forfeit the chance that they could win something completely for free in response to 10% off.
Here's a follow-up email we've sent to giveaway entrants once the giveaway has ended: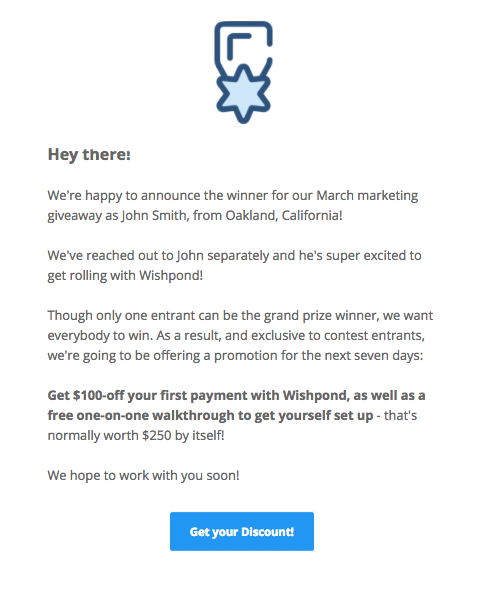 Doing this allows your entrants to feel like they've won a prize, even if they didn't win the actual giveaway prize that they entered to win. And if you offer a discount code for your product or service after the giveaway, you will likely end up gaining more customers for your brand. This is the whole reason you wanted to run a giveaway in the first place, right?
Take a look at our list of the best giveaway tools to make running your giveaway a lot easier.
Wrapping it Up
There you have it – our in-house strategy to run online giveaways. Hopefully seeing a walkthrough of how we do it will inspire you to find the same success we do on a consistent basis.
Use these steps to create your own giveaway, and witness the success that these contests can achieve. If your giveaway offers the right prize value to a relevant audience, then you will certainly see a rise in engagement and sales after the giveaway winners have been selected.
If you have any questions about online giveaways or how to set up a marketing campaign, don't hesitate to reach out in the comment section below!
Related Reading
james-scherer-2