Are you wondering which Facebook giveaway app you should use?
It's a big question. There are a lot out there, and each one offers something just a bit different, or at a bit of a different price.
This article will showcase 6 of the leading Facebook giveaway apps out there, breaking down their features and their pricing in a single place.
I'll also show you how we run our own Facebook giveaways in a step-by-step walkthrough (with screenshots and examples).
Let's get rolling!
Facebook Giveaway App #1: Wishpond
Wishpond was founded as a social campaigns app in 2012. Since that time, we've expanded our marketing suite into other marketing campaigns, including landing pages, popups and forms. We've also introduced email, simple marketing automation and more giveaway types than any other competitor.
Features:
Giveaways can be hosted on your website, Facebook, or both
Mobile-responsive, drag-and-drop templates
Multiple Giveaway Types
Reporting and Analytics
Facebook Like incentive popup
Bonus entry popup
Auto-responder and If/Then marketing automation
Lead profiling
Full email marketing suite
Landing pages for other campaigns
Popups to turn the maximum percentage of website visitors into entrants
Pricing: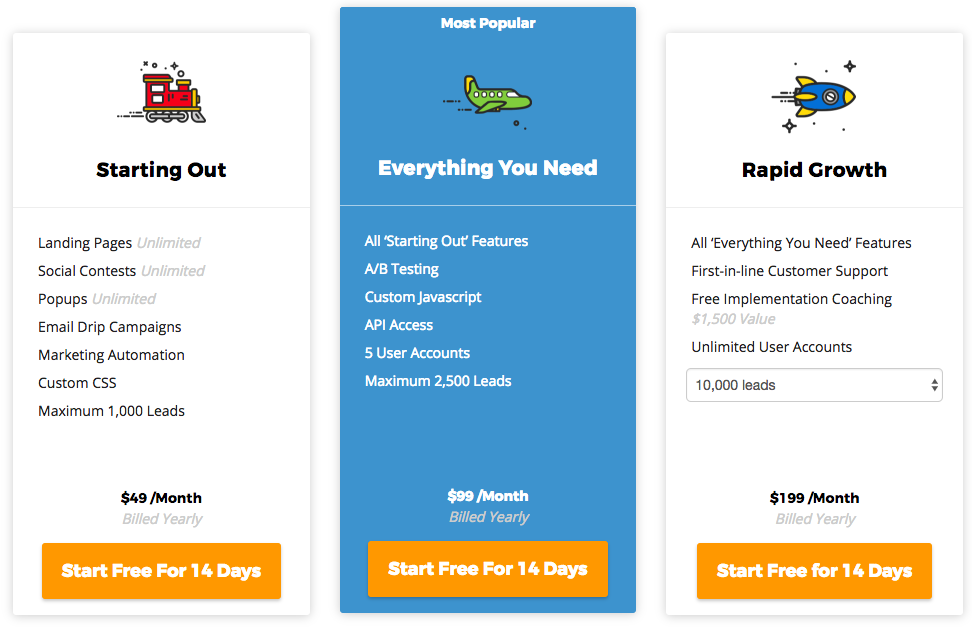 Facebook Giveaway App #2: WooBox
Woobox was founded in 2010 – one of the first Facebook giveaway apps on the market. Their claim to fame is that "Over 4 million brands have collected over 1 billion entries using Woobox."
Features:
Giveaways can be hosted on multiple devices as well as on social media
WordPress Plugin
Integrates with Mailchimp, Zapier and more to export your data
Editable campaign templates
Reporting and Analytics
Printable, redeemable coupons for real-world marketing
Pricing:

Facebook Giveaway App #3: Heyo
Heyo is a subsidiary of the larger Votigo social marketing platform and was also started in 2010. Their platform is very specific, focused on offering simple campaigns for a reasonable price.
Features:
Multiple Giveaway Types
Mobile optimization
Pre-made templates
Sharing features
Pricing: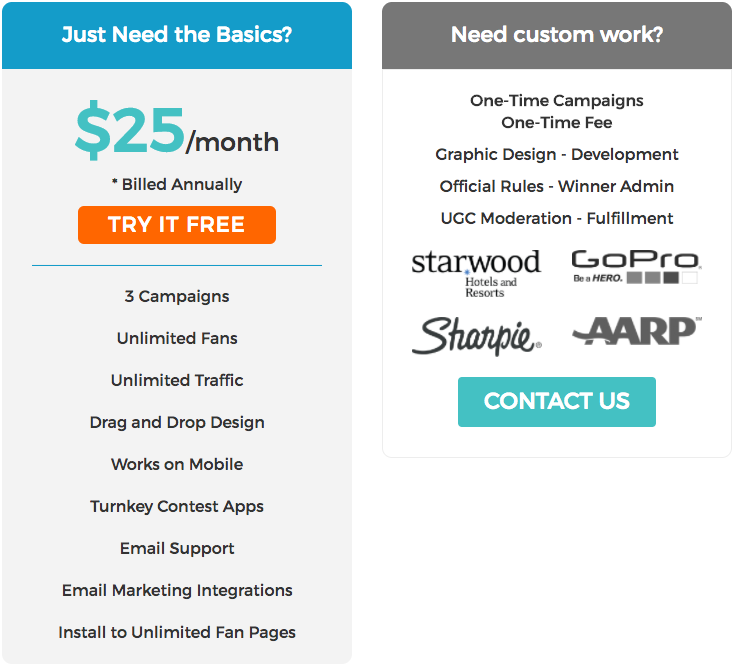 Facebook Giveaway App #4: Gleam
Gleam is an Australia-based Facebook giveaway app started in 2013. It's a small team, but the app powers the campaigns of more than 5,000 paying customers.
Features:
Verified Actions
Mobile responsive
1-Click Entry on Giveaways
Bonus Entry Popups
3rd Party Integrations
Pricing: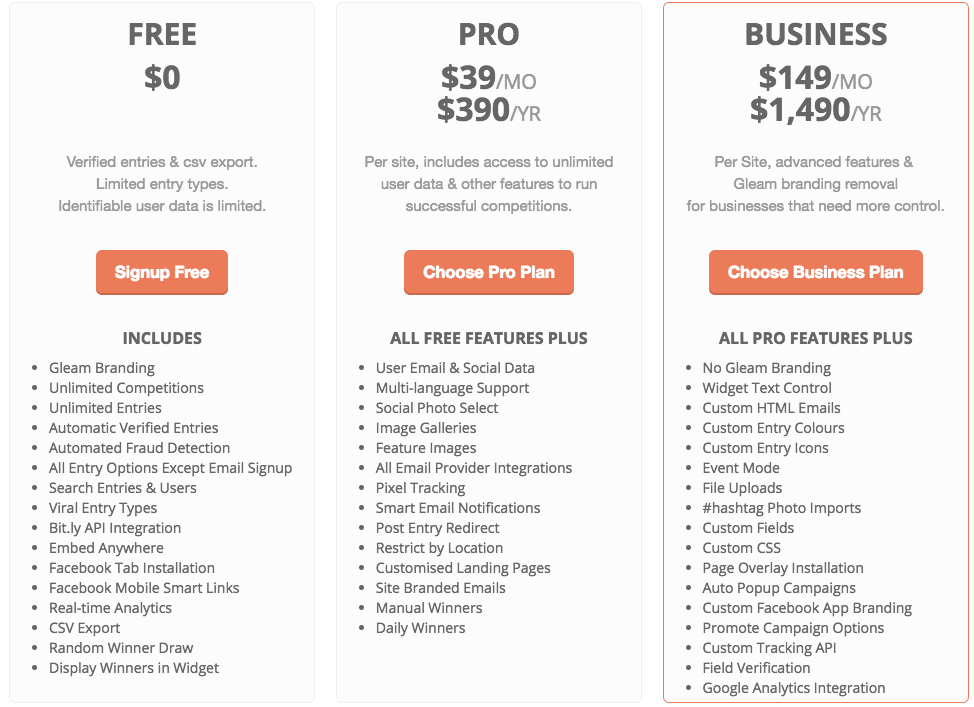 Facebook Giveaway App #5: ShortStack
Users have built more than 5,000,000 campaigns with Shortstack over the years. And the platform is a strong one. The only difficulty you may encounter is with their view-restriction, so be sure you have a good idea of what kind of traffic your campaign is going to generate before you're restricted by your plan.
Features:
Instagram and Twitter campaigns which drive and track traffic off-platform
"If This/Then That" scenarios
Auto-responder feature
Website embedding
Reporting and Analytics
100+ Templates
Bonus Entry Fields
Action-Gating
Pricing: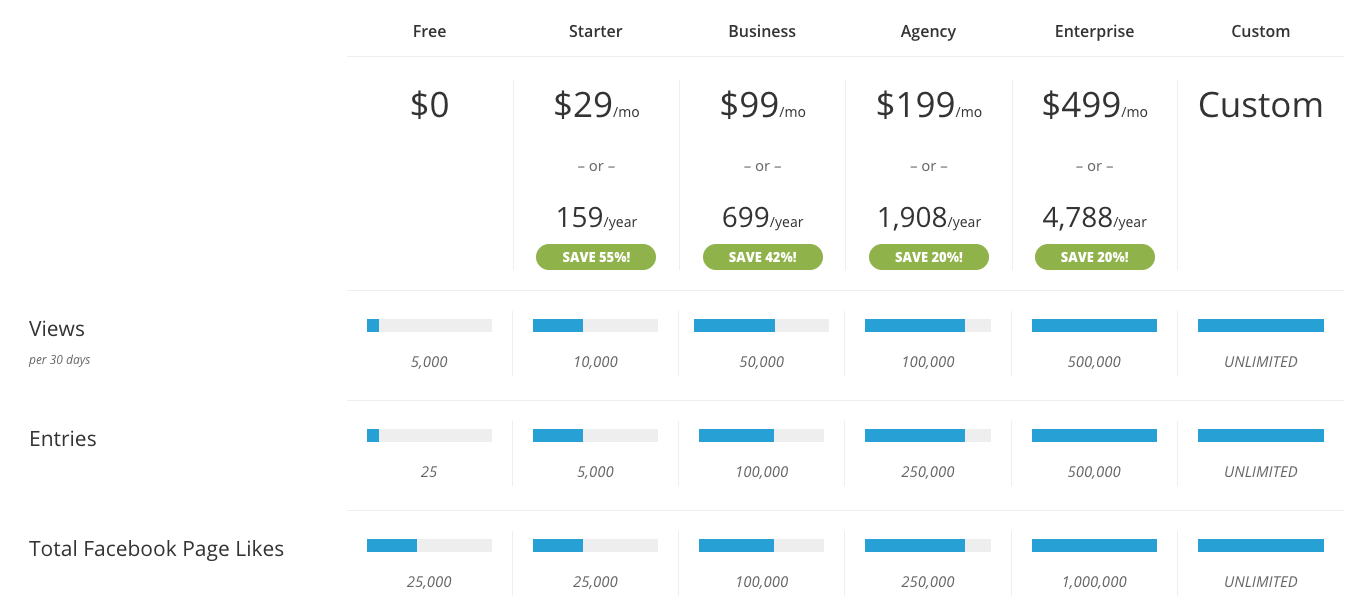 Facebook Giveaway App #6: AgoraPulse
Agorapulse does more than just Facebook and social media giveaways (they're actually more focused on social media management) but their tool is a solid, if simple, one nonetheless. My recommendation would be to see if you need the full suite of Agorapulse tools and then make a decision.
Features:
Facebook Quizzes
Multiple Giveaway Types: Photo Giveaway, Sweepstakes, Vote, Coupon
Content Scheduling
Reporting and Analytics
Pricing: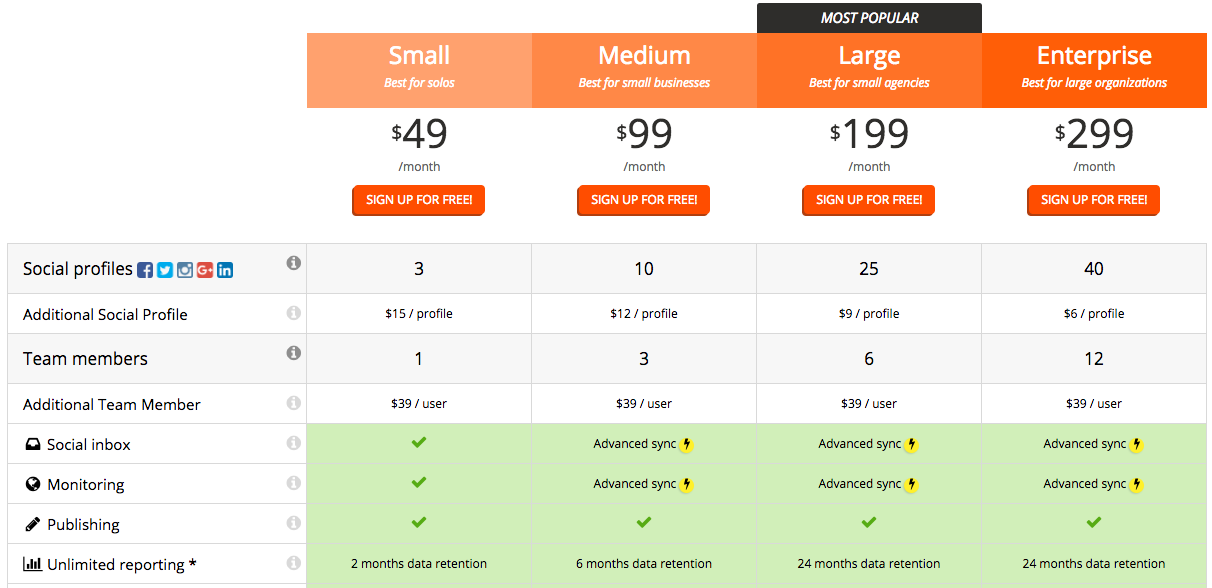 A Step-by-Step Guide to Using a Facebook Giveaway App:
Here's a 6-step walkthrough to how we set up a giveaway we did in March, using the Wishpond platform.
Everything here (except the social media post) was done within our tool…
Step 1: Design your Online Giveaway Page and Embed it on Facebook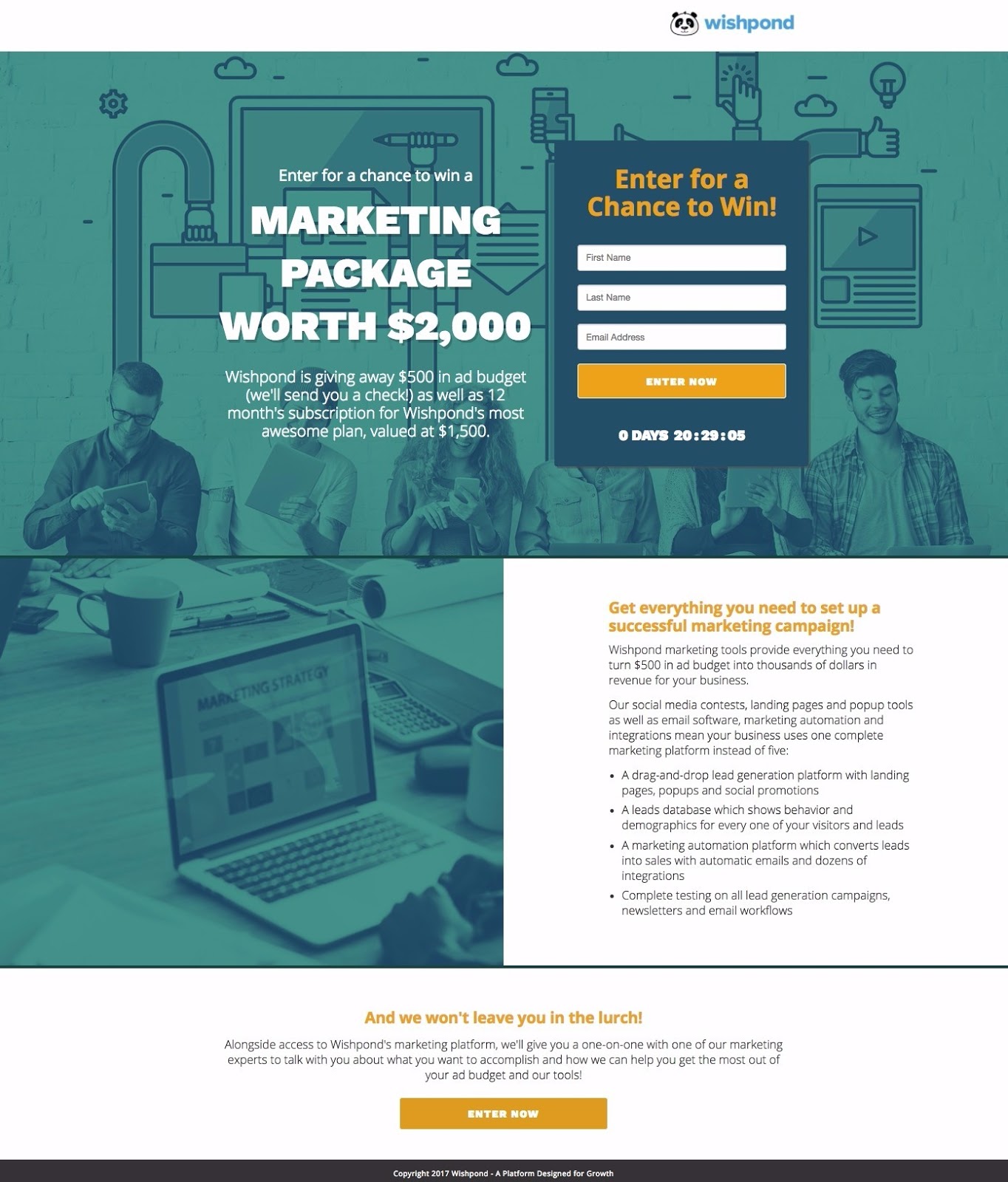 Wishpond's giveaway builder enables you to publish to Facebook (where it will appear on a Tab of your Page):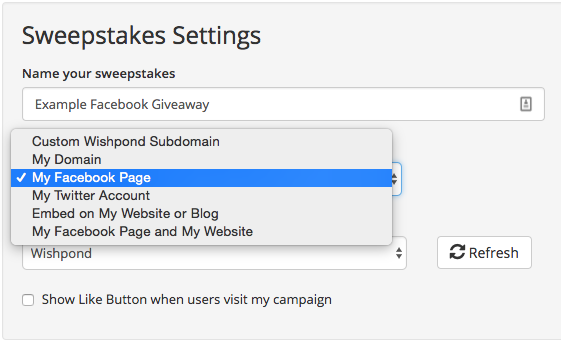 Best Practices:
Countdown timer
Large, dollar-value-focused headline
Contrasting CTA (Call-to-Action) button
Bullet-point information to keep visitors from being overwhelmed
If your page requires people to scroll, feature another CTA button at the bottom as well
Don't ask for more than name and email address, or people will leave
Step 2: Add your Share Incentive Popup upon Entry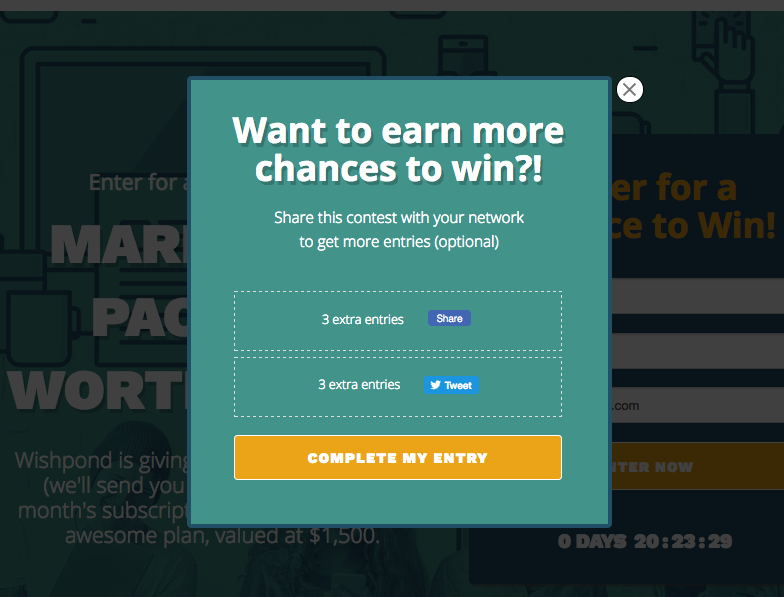 These are a powerful way for your business to drive organic traffic to your giveaway. You utilize the social networks of your entrants (prompting them at the exact moment they enter) to spread the word.
Step 3: Set up Your Auto-Response Email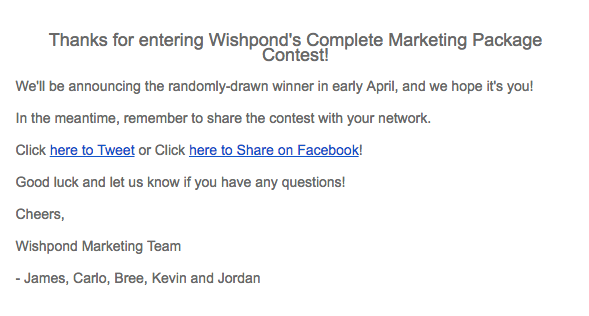 Thank people for entering and then give them an easy way to share the campaign with pre-filled Facebook and Twitter share links.
These can be made with ClicktoTweet.com and Sharelinkgenerator.com.
Step 4: Send your Subscribers an Online Giveaway Newsletter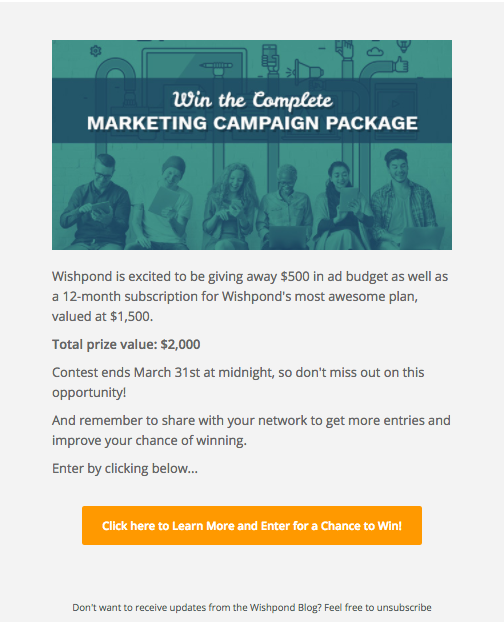 The goal of your Facebook giveaway is to generate new leads and turn them into customers, so it might seem counter-intuitive to mail out your campaign to existing customers or subscribers.
But the fact is, with the bonus entries and share incentives within a modern Facebook giveaway, your existing list can be a powerful force to spread the word to new prospective customers.
Step 5: Schedule and Send your Social Media Posts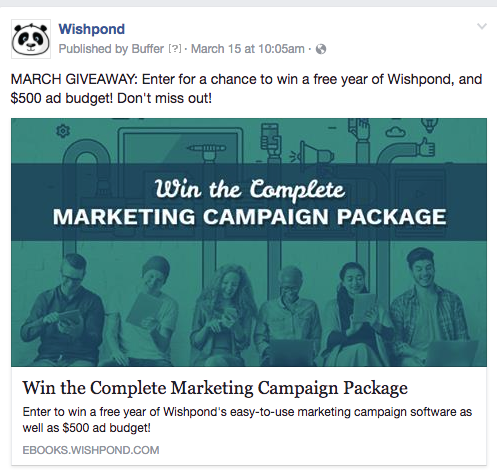 Spreading the word about your Facebook giveaway with your existing Fans is a great way to turn those Fans into leads and prospective customers. It's also a great way to add value to their relationship with you on social media.
And, again, they might share the giveaway with their own networks – thereby increasing your organic reach.
Step 6: Follow Up With Entrants After the Giveaway is Done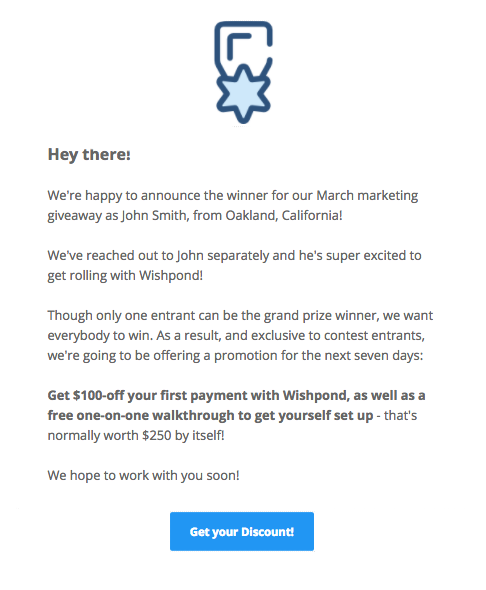 This is a crucial element, as there's no point in generating all those new leads and contacts if you don't have a strategy for turning them into paying customers. My recommendation is to provide a limited-time discount related to the prize they wanted to win.
Send it as soon as the winner has responded in the affirmative and then again 48 or 24 hours before the discount expires (and you actually want to make it expire, as well).
Wrapping it Up
Hopefully this article has given you a better understanding of what Facebook giveaway apps are out there, and how they compare. Each one has something going for it, but at least you're now a bit better informed as you do your shopping around.
And if you have any questions, don't hesitate to reach out in the comment section below. I promise to be completely unbiased in my responses!
Cheers!
Related Reading:
james-scherer-2