20 Best Instagram Marketing Software Tools
Instagram is, without a doubt, one of the best places your business can be right now.
It's an awesome place to share the visual content you've created with your fans and followers, and a great avenue to connect with new customers.
It's also easy to get left behind when it comes to Instagram marketing, as dozens of new apps and tools pop up every day. That's why I've put together this list, featuring 20 of the best pieces Instagram marketing software around.
Let's get started!
Instagram Marketing Software Tool #1. Wishpond
---
Sorry - had to do it! Wishpond's Instagram Hashtag Contest is one of the best ways to turn the engagement you receive on social into real customers for your business. Basically, it's a contest that collects entries using a specific hashtag into a gallery, where people can view other entries and vote on them. This generates leads, who you can then market to using email, a method that's been more proven than social to generate sales.
On top of that, Wishpond makes it simple to create landing pages and other lead generation tools that work perfectly in tandem with a strong Instagram Ads strategy. If you're going to go the paid route in social media, Wishpond's one of the best tools to have in your arsenal.



Instagram Marketing Software Tool #2. Later
---
One of the most important things to have in your Instagram marketing software stack is a scheduling app. Later is one of my favorites, though I'll admit I'm a little biased because they're based in the same city that we are, Vancouver. Later allows you to queue up multiple posts (including captions) for your visual content marketing efforts.
Later's great because it offers a free version, meaning beginner Instagram marketers can still take advantage of this powerful and intuitive platform.



Instagram Marketing Software Tool #3. Buffer
---
Like Later, Buffer is another scheduling tool that will allow you to plan out your Instagram posts days or weeks in advance. An added bonus is that Buffer also supports Twitter and Facebook, meaning you can sync up the visual media you post over multiple accounts.
If you're looking for Instagram marketing software that will also allow you to automate your social media efforts on other platforms, I wouldn't hesitate for a second to recommend Buffer. The platform also features analytics that can help you track the performance of each of your posts.



Instagram Marketing Software Tool #4. Enlight
---
Enlight is a very fully-featured piece of Instagram marketing software. It's got all the typical fixings for image adjustment, but it also has some different tools that make it more useful to artsy Instagrammers. These features include dynamic gradients, extensive typography tools, and photography staples like curve adjustment and healing brushes.
Keep in mind that Enlight is a paid app, so if you're just starting out and you only need the basics, you're probably better off with one of the other apps on this list.



Instagram Marketing Software Tool #5. Afterlight
---
One of the most popular apps for both Android and iOS is Afterlight, another piece of Instagram marketing software that offers a great variety of filters and editing tools for your photos. Though it's not as powerful as some of the other apps I've mentioned, it's incredibly easy to use, featuring dozens of filters, textures and frames to make your photos look unique.



Instagram Marketing Software Tool #6. Snapseed
---
Snapseed has become my photo editing app of choice as of late. It's a Google product, which is a huge plus in my book to begin with. I've found Snapseed (which is free, by the way!) to be the most powerful tool in my kit when it comes to making precise edits to the pictures I take.
In addition to the usual goods, Snapseed offers selective editing (allowing you to edit only certain parts of your photos) and curve adjustment. As far as I'm concerned, Snapseed is an essential tool for any business looking to market on Instagram.



Instagram Marketing Software Tool #7. VSCO
---
I couldn't create a list of Instagram marketing software tools without including VSCO. Arguably the most popular editing app out there, VSCO is a one-stop shop for up-and-coming Instagram marketers. Unlike some of the other apps on this list, this one has it all. It features a wide variety of great editing tools, as well as a number of gorgeous filters that are sure to take your photos from good to great.



Instagram Marketing Software Tool #8. Facetune
---
Facetune is my latest Instagram marketing software discovery. Its primary use is as an app to make adjustments to (go figure) faces, allowing you make even the most candid of photos picture-perfect. The app has tools like whitening, smoothing, patching, and more. Best of all, it uses a "painting"-style interface, meaning you tap the parts of the photo you'd like to edit.
Though it's mean as a touch-up app for people, Facetune's tools are powerful for editing any photos - meaning it can make even simple shots of your product look great. It costs a couple bucks, but it's a worthy investment for any Instagram marketer.



Instagram Marketing Software Tool #9. Over
---
Moving into typography apps, we have Over: a modern and trendy tool that makes it simple to put text on your photos. It features a variety of tools that allow you to add things like simple text, logos and quotes to any of your images. The app has a ton of preset styles, which means it's easy to create a text-based graphic that looks great.
The ability to add text to your photos is a must-have for marketers, whether you're highlighting your latest social media contest or your seasonal promotion.



Instagram Marketing Software Tool #10. Font Candy
---
Font Candy is my other typography app of choice. Though Over is, no doubt, stylish, Font Candy is incredibly powerful when it comes to typography options. It has a ton of editing tools, as well as spot editing, which allows you to more precisely fine-tune your text edits to make them perfect.
Font Candy also features an import tool, allowing any marketer to import images (like logos!) and even other font files to use in the app. This means anything you can create great-looking content that's totally on-brand, even while they're on the go.



Instagram Marketing Software Tool #11. Iconosquare
---
One of the Instagram marketing analytics tools I recommend to people is Iconosquare. It's a big player in the analytics industry, giving marketers the power to shape their social marketing strategy and track their progress in a single app.
In terms of growth tools, Iconosquare gives users the ability to monitor their follower growth, see where followers are from, and identify follower influence, which means marketers can better strategize when it comes to who to follow and who to interact with.
On top of that, Iconosquare helps users find their optimal post timing, monitor post engagement rate, and even benchmark social performance against competitors.



Instagram Marketing Software Tool #12. Crowdfire
---
If you're looking to dial in your Instagram marketing strategy when it comes to followers, Crowdfire is the way to go. It's an Instagram marketing software app that analyzes the accounts you follow, the accounts that follow you, and the accounts you probably should be following. It does all of this through an intuitive interface that makes it simple to follow (and unfollow) other accounts.
One of the best ways to drive success through social is through intelligent interactions, meaning the people you engage with are important. Having a tool that gives you detailed insight into the people you interact with can be a make-or-break strategy.



Instagram Marketing Software Tool #13. Like2Buy
---
Like2Buy is what I call an Instagram "monetization platform". Let me try to explain. Basically, Like2Buy makes your Instagram feed shoppable by creating a separate webpage featuring a gallery of your Instagram photos. Each of these photos links to a page, meaning you can direct followers to places they can buy your products.
Because Instagram only supports a single link in your entire profile (you can't post clickable links in your the media you post), having a monetization platform like Like2Buy is invaluable. It means you won't lose any customers who go "huh?" after the link your bio isn't what they're expecting.



Instagram Marketing Software Tool #14. Have2HaveIt
---
Have2HaveIt is another Instagram monetization platform. Just like Like2Buy, Have2HaveIt creates a replica of your feed that's shoppable. It's definitely one of the best ways to direct the traffic you generate on social media to places where you can make sales, like your website.
What I like most about Have2HaveIt is its interface - it lets you link one photo to multiple destinations, in case you've featured multiple products in a single post. On top of that, it has a subscription box that allows you to collect emails for future marketing efforts.



Instagram Marketing Software Tool #15. Layout
---
Layout is Instagram's proprietary collage app. Put simply, Layout allows you to stitch together several photos, so you can share different photos of your newest product or your latest company outing. It's my collage app of choice due to its incredibly versatility and ease of use.
Another option you have to achieve a similar purpose is Instagram's new Carousel feature, which allows you to share several photos and videos together in a single post. Though this makes things easier and gives each of your photos a little more room to breathe, there's still a time and place for a well-made collage.



Instagram Marketing Software Tool #16. Repost
---
Repost is probably the most popular app that nobody really thinks about. It's used by tons of Instagram users to help them share content they love. Because Instagram doesn't natively support re-posting or sharing content, Repost fills a niche with its much-needed app.
The app does the heavy lifting for users, making it simple for them to repost content they love from accounts they follow. For businesses, it's a particularly effective tool if you're looking to share user-generated content from your fans and followers.



Instagram Marketing Software Tool #17. Instagram for Business
---
Though it's not technically a piece of Instagram marketing software, Instagram for Business is a super useful set of tools that can really give your Instagram marketing a boost. Basically, you "convert" your account into a business account through the Instagram app.
Instagram for Business gives you a couple extra perks. The first is the ability to add a location and a "contact" button to your accounts. This is particularly awesome if you've got a retail location, because it helps customers have simpler access to connecting with your business. Next, you have access to analytics, so you can check your follower growth as well as the performance of your posts. It's totally free to do - there's no reason not to!



Instagram Marketing Software Tool #18. Yotpo
---
Yotpo is an all-in-one Instagram marketing machine. It's built around the concept of helping you generate customer reviews to boost traffic and drive sales. Yotpo's platform helps you to sell, collect user content and run new great on Instagram.
On top of that, it allows you to create shoppable Instagram feeds like Like2Buy and Have2HaveIt - it's a veritable suite of Instagram marketing tools that's perfect for any company that's looking to take their Instagram marketing to the next level.



Instagram Marketing Software Tool #19. Sprout Social
---
Sprout Social is similar to Buffer and Later in that it's a social media management platform. However, it features a couple of extra bells and whistles that make it a powerful piece of Instagram marketing software. In addition to an intuitive scheduling tool, Sprout Social gives you the ability to manage and monitor comments and hashtags, as well as create reports so you can more accurately track your performance.



Instagram Marketing Software Tool #20. Hopper
---
Hopper is another scheduling tool, with a twist. Most scheduling apps are actually more accurately described as reminder apps - they don't actually post, they just notify you when it's time to post so you can do it yourself. However, Hopper has figured out a way to interact with Instagram in a way that allows it to fully automate your content scheduling, without those potentially annoying post reminders.
For marketers who really don't have the time to attend to their social platforms all that often, Hopper is a great investment.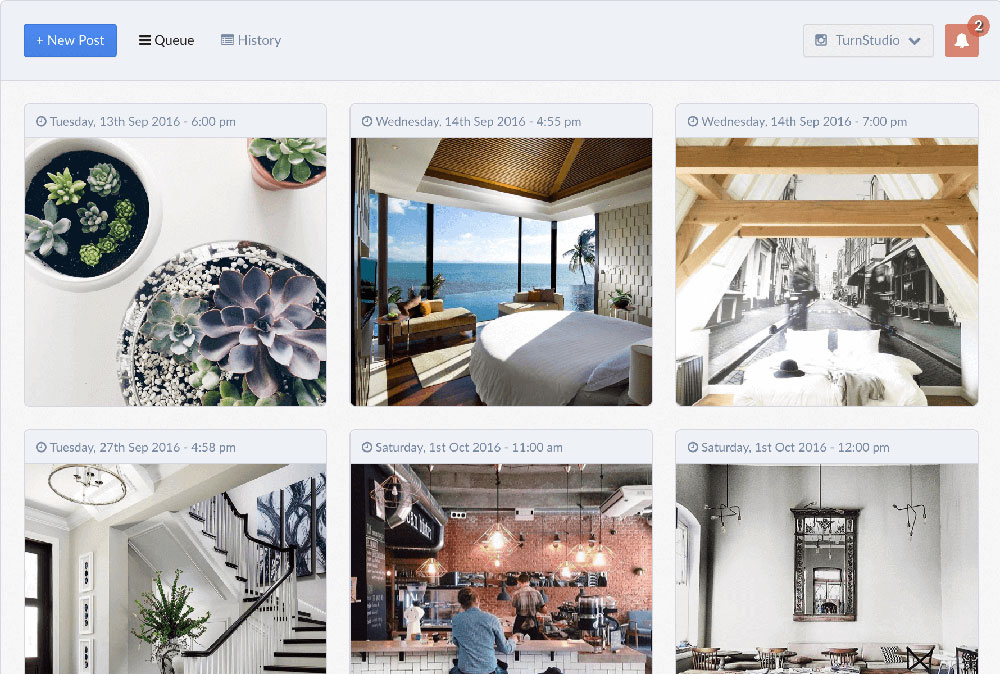 Wrapping it up
---
There you go - 20 of the best pieces of Instagram marketing software out there. Are there any I missed? Any Instagram marketing app discoveries you've made? Share them with me in the comments below!
Related Reading
---