This is an official reminder to all sons, daughters and partners out there: Mother's Day is coming soon.
For marketers (at least the smartest ones out there) this means one thing – an opportunity for sales.
Any time you can capitalize on a topical, current event, it's a win.
Whenever we run campaigns for our clients we recommend they identify a holiday or event which they can jump on to. Imagine a topical event or holiday like a runaway train – you'll go a lot farther by jumping on than if you try to walk by yourself.
This article will focus on Mother's Day contests. I'll give you five real-world successful contest examples, 10 great prize and strategy ideas, and 5 of the most essential best practices you can't ignore.
Let's get rolling!

Mother's Day Contest Example #1: Disney Cakes and Sweets
Bright and very Spring-like, this contest features the prize front and center (which is best practice).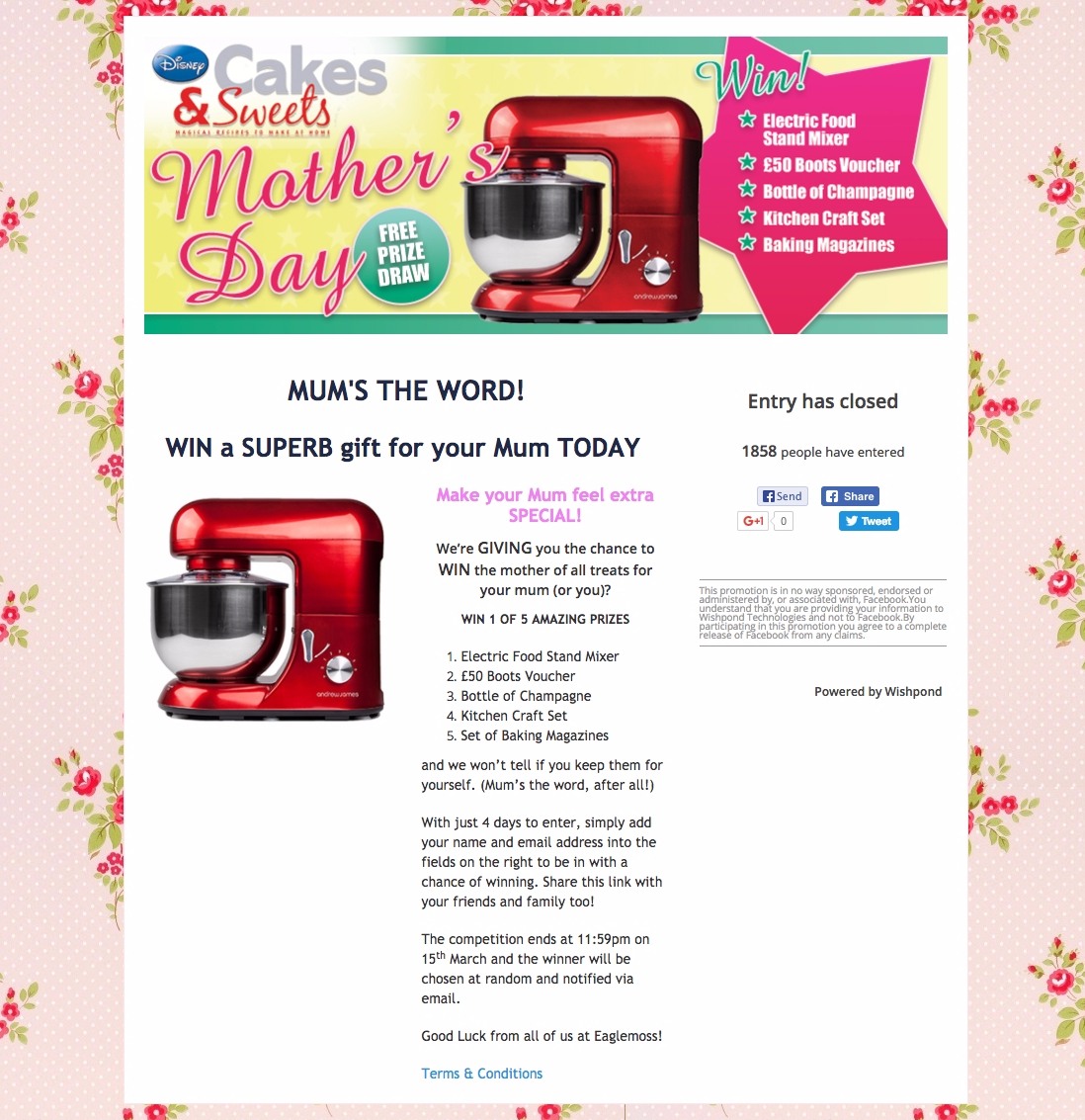 When this Mother's day contest was run, it drove 1,858 new contacts for Disney Cakes and Sweets..
Mother's Day Contest Example #2: Duluth
This contest is a great example of how a high-quality header image is all you need to find success with a contest. Make sure you don't have an overwhelming amount of text in the rest of the page, and the header (with the prize and value in text) does the job all by itself.
Here's how the Mother's Day contest looked, automatically optimized for people's smartphones with the contest software Duluth used:


When this Mother's day contest was originally run, it drove 1,156 new contacts for Duluth.
Mother's Day Contest Example #3: TruDog
People love sharing pictures of their dog, so TruDog doesn't need a lot of help to find success with a photo contest. That said, it doesn't hurt to theme your contest.
This successful contest just goes to show that any business can use Mother's Day, even if you don't think your business' product is perfect for it.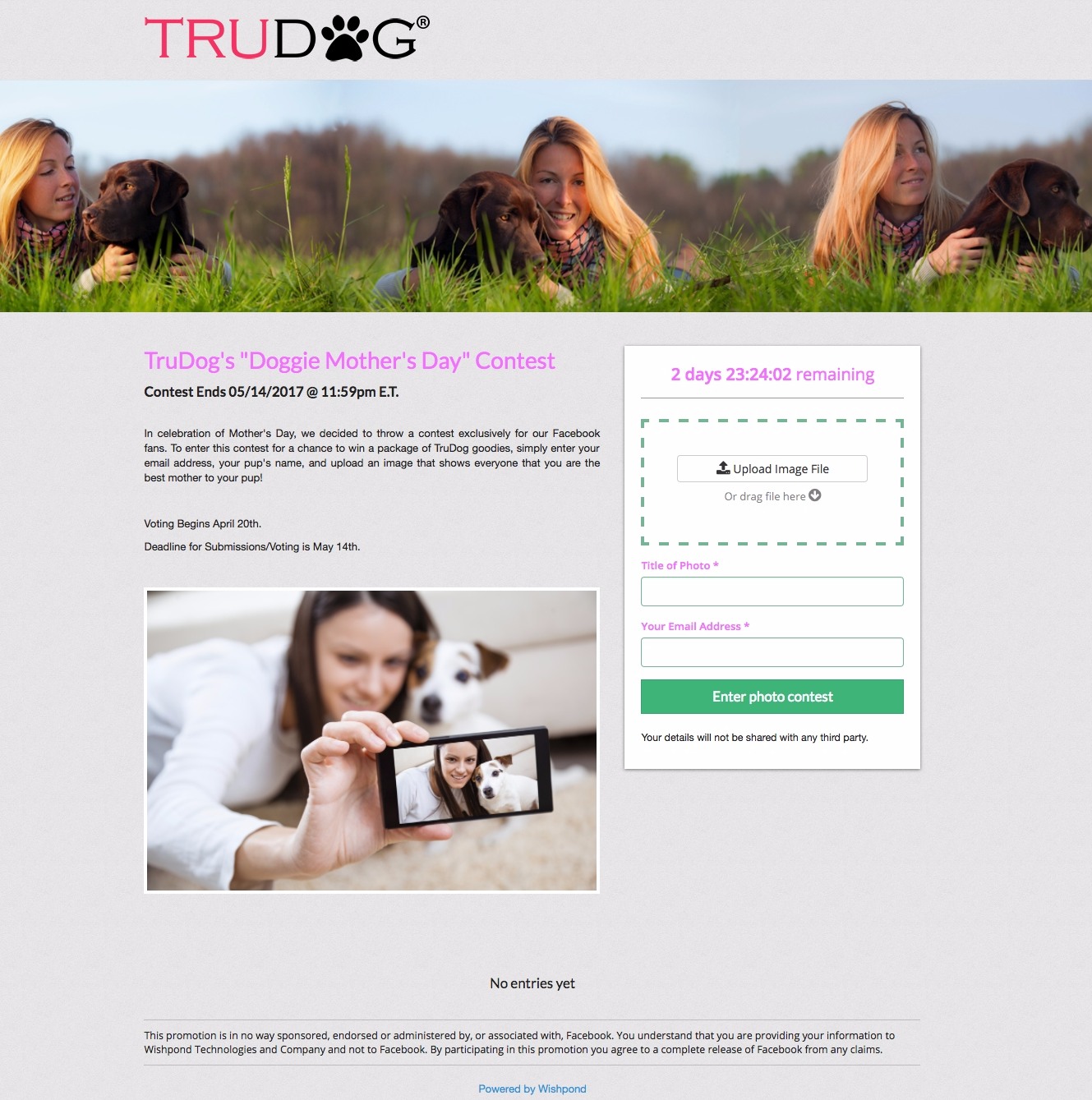 When this Mother's day contest was originally run, it drove 6,983 new contacts for TruDog.
Mother's Day Contest Example #4: JP Moulin Photography
I love JP Moulin's idea for this mother's day contest. The #MomToModel theme is such a cool way to incorporate Mother's Day into a standard photography business.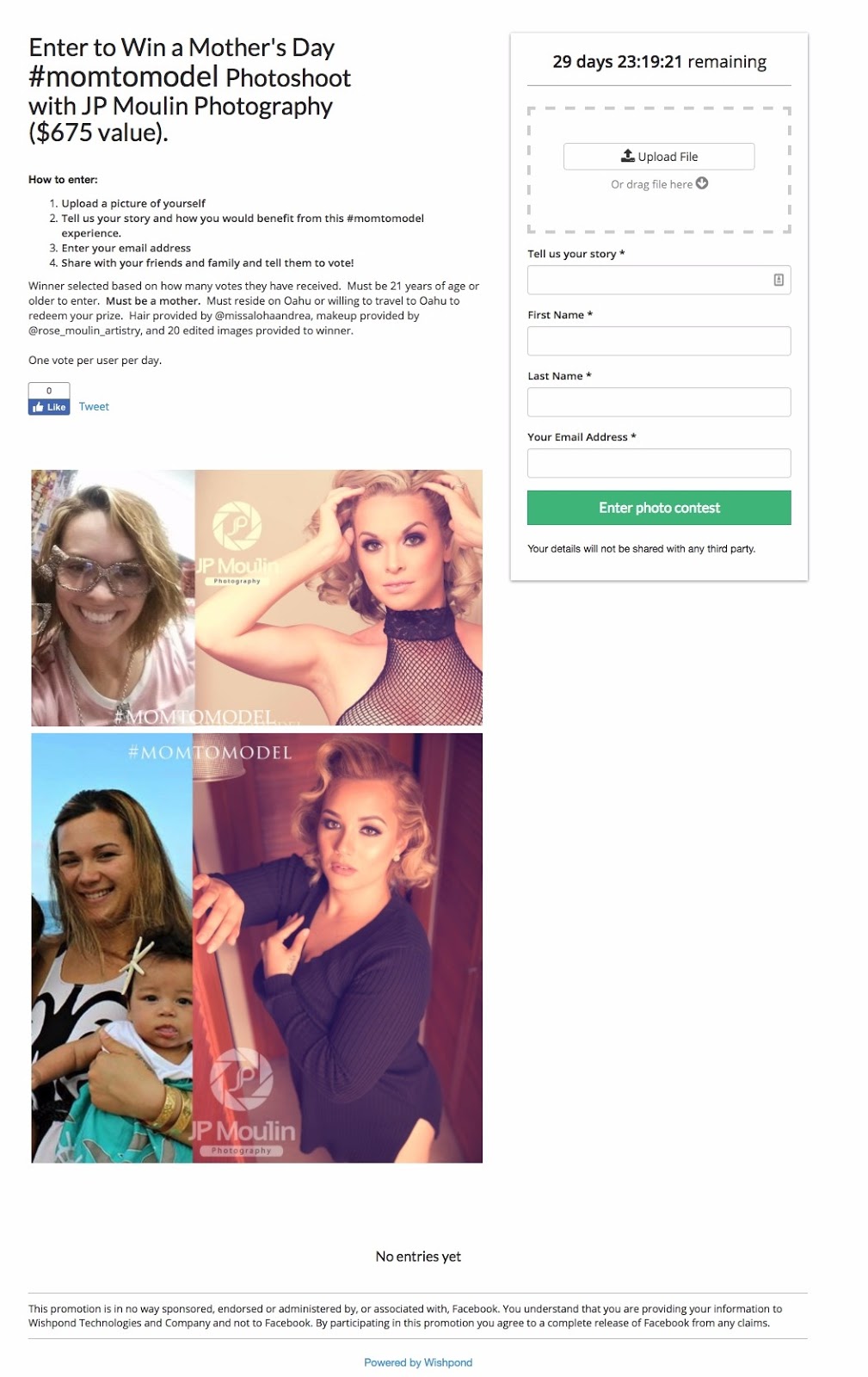 When this Mother's day contest was originally run, it drove 246 unique entries and 7,290 (yes, 7,290) votes from the networks of entrants.
Mother's Day Contest Example #5: Little Debbie
I love this mother's day contest. Little Debbie has prompted mothers everywhere to share their "Mom hacks," promoted their products and offered (a best practice) several mini-prizes as well as one grand prize. This is the kind of contest that achieves multiple objectives for the company running it.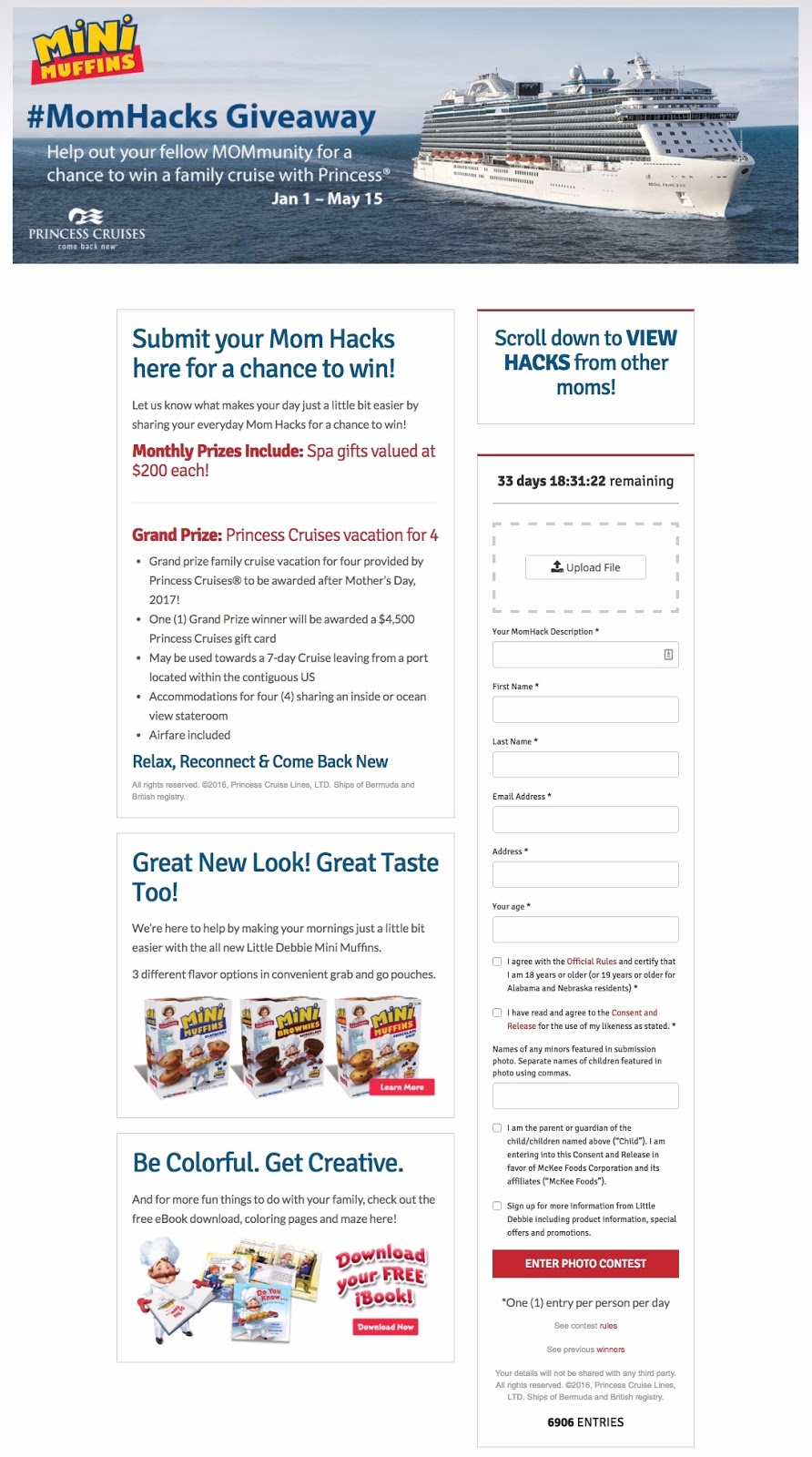 This Mother's day contest is currently being run, and has driven more than 7,000 unique entries.
Mother's Day Contest Prize Ideas
Below are 10 of the top [prize ideas](https://blog.wishpond.com/post/112699897054/101-best-prize-ideas-to-give-away-in-online) we've seen work for Mother's Day contests. I've also given a headline example that would grab attention on social.
1. Spa Day: Does Mom deserve a day to herself? Enter for a chance to win a Mother's Spa Day worth $350.
2. Babysitting Service w/ Dinner: Give her the Mother's Day she really wants. Enter for a chance to win a free night from AcmeBabysitting plus dinner at Sombrero's – prize valued at $300
3. Romantic getaway: Enter for a chance to win a Mother's Day she'll never forget. Dinner
4. Beauty treatment or Makeover: Give Mom the special treatment she deserves. Enter for a chance to win a $250 makeover for Mother's Day!
5. Shopping Spree: Every mother loves a new wardrobe! Enter now for a chance to win a shopping spree at AcmeFashion worth $500!
6. Gift Card: Does the Mom in your life deserve to look her best? Enter for a chance to win an AcmeFashion gift card worth $250!
7. Garden Prize Package: Spring is here and so is Mother's Day! Enter for a chance to win a garden package for the deserving Mother in your life.
8. Girls Weekend: Moms need a break! Enter for a chance to win a girls getaway weekend at AcmeSpas for four of the most deserving moms!
9. Theater Tickets: Mom deserves a night on the town. Enter for a chance to win two tickets to the upcoming Hamilton show in Atlanta!
10. Wine/Food: Give Mom a break. Enter for a chance to win a month's supply of dinners, delivered to the door!
Mother's Day Contest Best Practices
Here are the top 5 best practices for any Mother's Day contest…
1. Focus on Visuals
As you can see in the Duluth example above, all your Mother's Day contest really needs is a good image and a bullet-point list of how to enter and some brief information that encourages people to share and tells them how long your contest lasts.
But that good image is essential. If you don't have graphic design skills yourself, you can find a lot of great freelancers on Upwork and Fiverr to help you out for this single campaign.
2. Choose the Right Prize
It might be tempting for your business to identify a prize which you think Moms would want, buy it, and then give it away to get Moms to enter.
Don't do this. There's no point in giving away a prize unrelated to your business. All you'll do is get entrants who wanted the prize. They don't care about your business and they're extremely unlikely to become customers down the line.
Giving away a prize unrelated to your business is the fastest way to get 1000 new leads and then have 1000 new leads unsubscribe from your email list.
Instead, get creative with giving away your products or a gift card. There's a few examples above to help you out.
3. Feature that Prize (and its Value)
Who are we kidding? The whole point of entering a contest is to win the prize. People aren't doing so because they love your company or are super excited about giving you their email addresses. They're doing it to try to win.
So if your prize isn't front and center – in the header image, headline and the posts/ads you use to spread the word – people aren't going to engage.
My recommendation is to create a header image like the one below and then use it (or change it slightly) for your social media posts and advertisements.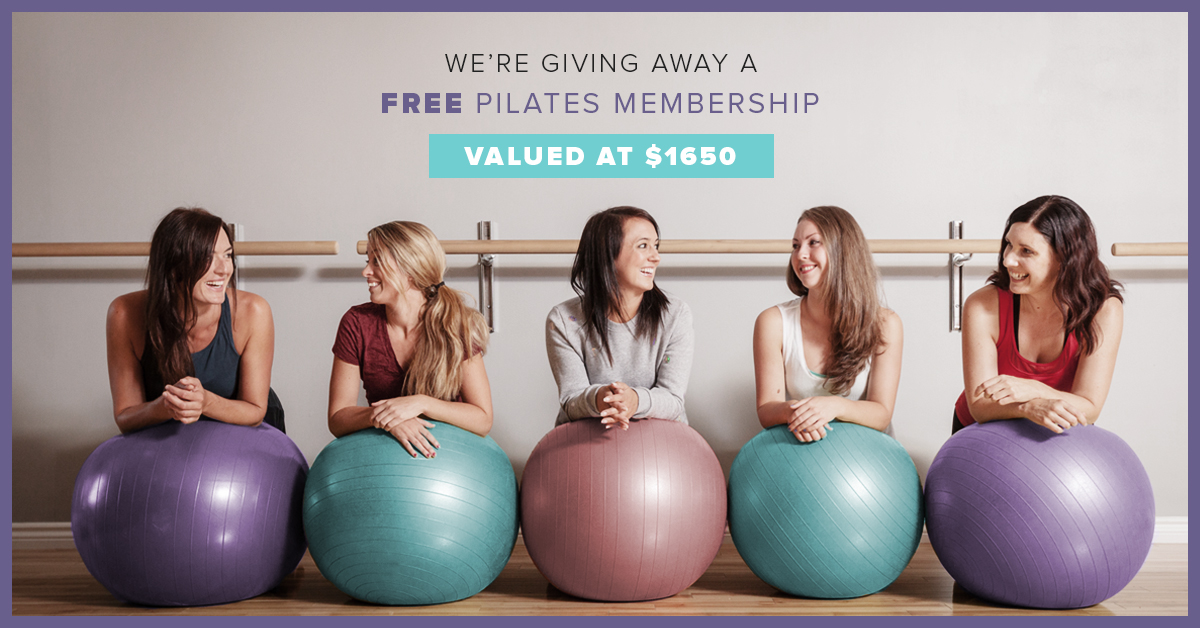 4. Encourage Contest Entrants to Share
The biggest untapped resource when it comes to increasing awareness about your Mother's Day contest is the entrants themselves.
These people have their own social networks and (when it comes to mother's day, in particular) that network is likely made up of your target market (Moms are friends with Moms. Their kids are friends with other kids. Their husbands are friends with husbands, etc).
So incentivize them to share your contest. The best way to do this is to use a bonus entry popup (available if you use a third-party contest tool to build your contest), like this one, which would appear as soon as people click "Enter" on your contest page: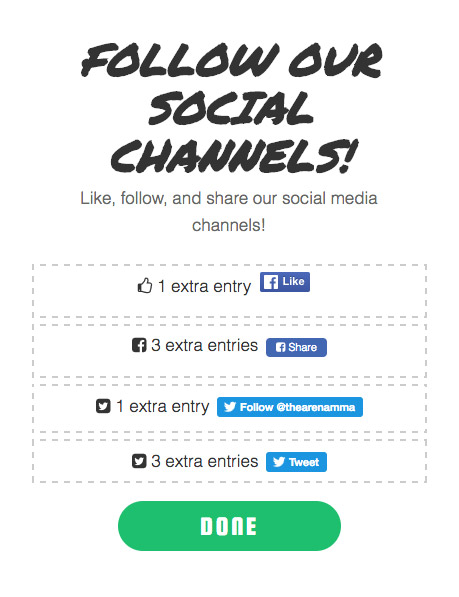 5. Follow up with Contest Entrants to Turn them into Sales
There's little point in generating a single lead from your Mother's Day contest if you don't have a strategy for how to turn them into a paying customer.
The best way to do this is to send a limited-time coupon or discount code to all your contest entrants once your promotion has ended. Be sure the discount code is for a product related to the one they entered to win (that's just common sense), and then send a reminder email 48 hours before the limited-time coupon expires to everyone who hasn't taken you up on the offer.
Here's an example from women's gym Lucille Roberts: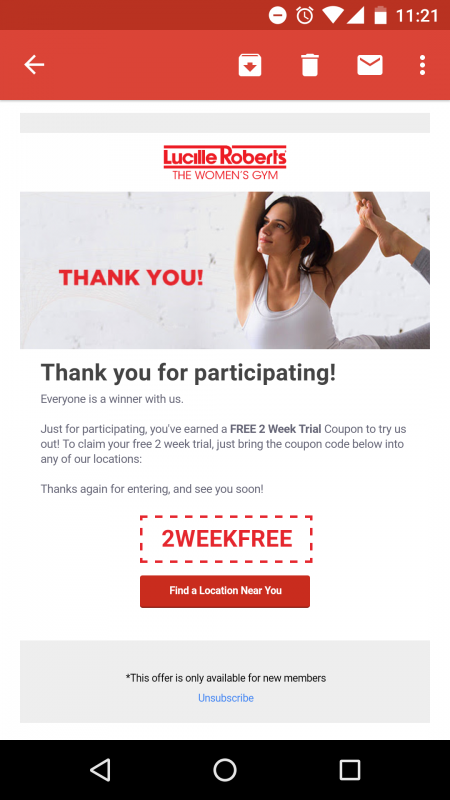 Wrapping it Up
Hopefully this article will help your Mother's Day contest strategy succeed. It's a great holiday for your business to use to boost that bottom line before the summer season.
Remember to choose a great prize, feature its value, focus on visuals, encourage entrants to spread the word and (most importantly) establish a strategy to get contest entrants to actually become customers, through email.
Good luck!
Related Reading:
james-scherer-2