7 Best Giveaway Tools: The Ultimate Guide
Running a giveaway is one of the best ways to increase engagement and awareness of your brand and social platforms. It's an awesome avenue through which you can promote your products, reach out to your target market, and generate sales for your brand.
Though you can run contests yourself through a post, photo, or video on your various social platforms, investing a little into a third-party giveaway tool takes a lot of work out of the process. Using a giveaway tool allows you to easily design a contest page with custom branding that's optimized for conversion and lead generation..
If you've decided you're going to use a giveaway tool to run your contest, your next step is to choose the app that's right for you.
That's why I've put together a quick guide to 7 of the best giveaway tools of 2017. Let's get into it!
Giveaway Tool #1: Wishpond
---
We couldn't create a list like this without including our giveaway tool of choice, Wishpond.
Wishpond features ten different types of social contests and promotions including sweepstakes, photo contests, coupons, vote contests, and referral promotions, among others. These social promotions can be run on any platform, like your website, Facebook and Twitter - but rest assured, no matter where you run them, they'll work on desktop, tablet, and mobile.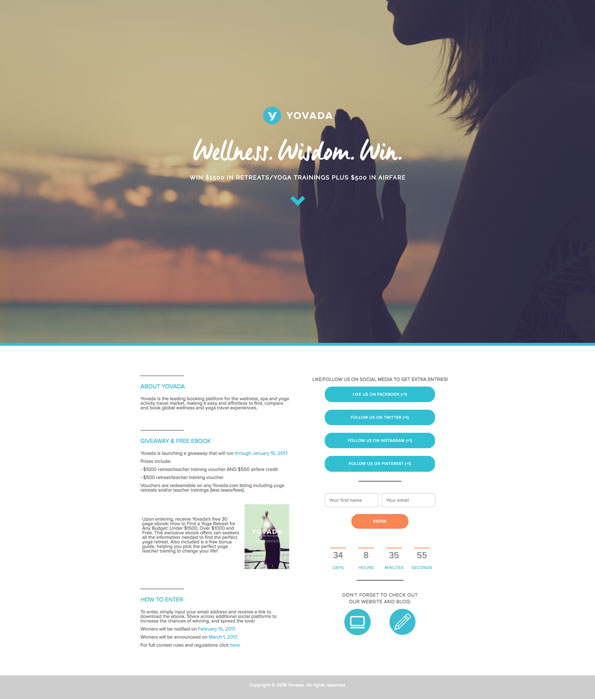 Key features for Wishpond's social promotion apps include data collection from voters, Facebook Like button popups and share buttons to encourage social engagement, referral rewards, custom form fields, and entry restrictions (for example, allowing users to vote only once a day).
With Wishpond's intuitive drag-and-drop page builder and many gorgeous templates, it's easy for your business to create contests with custom branding that work seamlessly and look great. The platform's real-time analytics tracking allows you to measure your success in real-time, and its built-in A/B testing features means you can try out a few variations to maximize engagement.





Best of all? Wishpond features other tools like landing pages, popups, forms, email marketing, and marketing automation, meaning you can run your entire contest campaign with a single platform. Take the leads you generate through your contest efforts and market to them with email drip campaigns to turn them into sales.





Wishpond's biggest strengths lie in its simplicity and the breadth of its tools - it's an all-in-one marketing suite, perfect for any business looking to increase social engagement.
Giveaway Tool #2: Woobox
---
Woo! Used by over 4 million brands, Woobox lives up to its name with the sheer number of giveaway tools it offers to its users, including: sweepstakes, coupons, photo contests, video contests, group deals, and more! How's that for variety? Plus, all of these contests types can be embedded in a tab on your Facebook page.





Some highlights within Woobox's giveaway tools include the ability to collect entries through social platforms, bonus entries for referrals, and odds-based winnings (multiple prizes with different odds).
Woobox's user-generated content giveaway tool features submissions through direct upload or automatically by hashtag, content curation and moderation, display galleries, and fraud-protected voting.





On top of this, campaigns can be hosted on mobile, websites, blogs, in popups, or as standalone landing pages. Woobox features ready-made campaigns that you can customize in its drag-and-drop builder, branding control, exportable data, and powerful analytics to track the success of your campaigns.
Woobox also has Facebook page apps, including its "HTML Fangating" tool (a popup box encouraging visitors to Like your page), and support for tabs featuring your other social platforms like Twitter, Instagram, Pinterest, and YouTube.





And if that's still not enough, Woobox features other engagement and lead generation tools, including polls, quizzes, brackets, forms, landing pages, and more. All of these can be hosted on your social platforms (like Facebook) as well, which increases social sharing, drives conversions, and helps to build your community.
Giveaway Tool #3: ShortStack
---
ShortStack is a giveaway tool that allows you to design landing pages, create forms, and run contests and promotions.
While they can be hosted on your website, ShortStack contests can be hosted in Facebook pages, too, in an app on the page or on the page's Timeline.





A contest hosted in an app can take on several forms, such as sweepstakes, photo contests, or voting contests. It has features such as action-gating (which requires entrants to complete an action to gain access to the entry form) and entry restrictions (which allows users to limit entrants to a certain number of votes or entries). ShortStack also has a Share Widget, which can help to increase engagement by allowing fans to share your campaigns on Facebook, Twitter, and other social networks.
ShortStack giveaway tools allow you to host contests on a Facebook's page's Timeline. To do this, you create a post (for example, a photo) and ask fans to comment on your post to enter (for example, "Caption this photo to enter our contest!"





A Timeline contest can be used in conjunction with a contest hosted in an app. You can link to your campaign in your Timeline post with a CTA like "visit this link and vote for [thing] for more chances to win!" Though Timeline posts are great, in-app contests allow you to collect more specific information through customized forms - a big plus for your lead generation efforts.
ShortStack also features campaign analytics, ready-made templates, refer-a-friend incentives, and more.
Giveaway Tool #4: Wyng
Formerly known as Offerpop, Wyng is a "scalable and agile" marketing platform that has useful and powerful giveaway tools to run your next contest.
Its campaigns builder tool allows you to create and customize digital, mobile, and social campaigns. You can choose from a growing library of templates, personalize contest design and options with drag-and-drop functionality, and publish to a landing page, website, or a Facebook tab on your page.





Offerpop features giveaway tools with support for a wide variety of content types, including referral contests, photo/video contests, hashtag contests, vote contests, caption contests, "faceoff" contests, and more.
Content that entrants submit is sent to a content dashboard where you can view and manage it, with the ability to sort it by source (Instagram, Twitter, etc.), type, status, keywords, and more. Wyng gives you the ability to add custom tags to user generated content within its dashboard for further organization, as well as filtering to feed content into a gallery on your Facebook page.





Like most other platforms, Wyng offers a small variety of templates for you to use when building your campaigns. Though it doesn't offer much beyond social promotions, it does feature some cool campaign types, including lookbooks, "unlockable" hashtag campaigns (content becomes available once your specified hashtag has been used a certain number of times), quizzes, and content carousels.
Wyng offers a few integrations with platforms like SproutSocial and Salesforce, but these are limited. Chances are you'll need to export your data into your marketing automation suite of choice before you can start marketing to the leads you generate.
Giveaway Tool #5: AgoraPulse
---
AgoraPulse is a social marketing platform with a focus on helping brands manage social conversations quickly and efficiently.
More than just a giveaway tool, AgoraPulse features tools for publishing on multiple networks, monitoring engagement on social platforms, and creating comprehensive reports for analytics and key metrics. On top of that, it has a built-in social CRM platform that allows you to monitor your brand's followers and fans, rank them according to engagement, and identify influencers and ambassadors.





But let's to the good stuff - AgoraPulse also features tools to help you implement Apps on your Facebook page to drive engagement within your social platforms. Types of contests you can run with AgoraPulse include photo contests, sweepstakes, instant win, and more - the platform also features other campaign types like quizzes, personality tests, and fan voting.
Though AgoraPulse doesn't feature as wide a breadth of contesting tools as many of the other tools on this list, it's an awesome option for businesses who want to consolidate their social media management in one platform.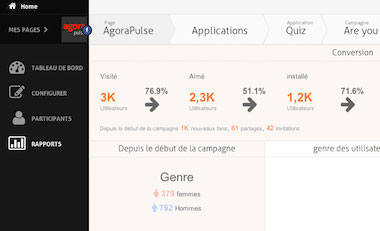 Running contests with AgoraPulse means they'll be automatically added to the platform's CRM, allowing you to further monitor and track interactions with your various entrants. Higher-tiered plans also allow you to monitor ad campaigns on Facebook, which is another big part of social media success.
That being said, AgoraPulse doesn't have an email marketing or marketing automation platform - and no integrations that I can find on their site. Depending on how the platform collects data on its contests, it may be difficult to continue your lead nurturing efforts without another product.
Giveaway Tool #6: Gleam
---
Gleam is a "business growth platform" featuring multiple giveaway tools to help brands grow by running competitions, capturing emails, presenting visual galleries, and offering rewards. Of course, we're focused on the first part here.





Like most contest platforms, Gleam features photo, video, hashtag, and voting contest types. It's a powerful contest app with a variety of features, including verified actions (Gleam can verify whether or not someone has completed the social action you requested of them), mobile-responsiveness, 1 click entry, customizable entry conditions, integrations with email providers and social networks, and fraud protection.





The platform also features "smart email notifications", which help to drive conversion rates by informing entrants of other potential entry methods they can use to gain more chances to win.
Giveaway Tool #7: Votigo
---
Votigo is a simple giveaway tool for social, mobile, and web. They feature two main types of contests.
First, their user generated contests tools include photo contests, video contests, hashtag campaigns, Instagram contests, and essay contests, all of which can be run in a tab on your Facebook page if you so choose.





Next, their sweepstakes branch of tools features random-draw, refer-a-friend, instant-win, trivia quiz, Twitter sweepstakes, and photo sweepstakes.
Though Votigo's giveaway tool is quite simple compared to the others on this list, it's a great option for brands looking to run social promotions at a low price. It promises a "no coding necessary" experience, mobile-friendly templates, attentive customer support, and easy customization to all of its users.





Votigo does feature a simple landing page tool and signup form tool, but doesn't feature any tools for email marketing, meaning the leads you collect through Votigo will need to be exported to another platform. Votigo does have some email marketing integrations, so it shouldn't be any trouble to get it working with your platform of choice.
Wrapping it up
---
There they are: the seven best giveaway tools of 2017. Hopefully, this guide has given you a good foundation when it comes to finding the perfect giveaway tool for your next contest or promotion.
Related Reading
---