Trying to decide between social media contest apps?
It's a tough decision. Luckily for you, a lot of competition means a lot of businesses trying to out-do each other – offering more for less.
This article will break down 7 of the top social media contest apps, giving you features so you can compare them all easily from one place.
We'll also break down how we create our own social media contests so you can start rolling as soon as you make a decision.
Let's get rolling!
Social Media Contest App #1: Wishpond

Wishpond started as a social media contest app in 2012. Since that time, we've expanded into other marketing campaigns and now include landing pages, forms and popups in our suite. We've also added easy-to-use marketing automation (If/Then workflows), email marketing, and more social media contest types than any other competitor.
Features:
Host your contest on social media, your website, or both
Offers social media Sweepstakes contests, Photo Contests, Hashtag and Instagram contests, Coupons, Pinterest contests, Referral contest and more
Complete integrations with Mailchimp, Salesforce, etc. to export your contest entrants and leads
Mobile-responsive templates so your contest looks good on every device
Facebook Like and Share incentive popups help your business grow on social media
Email marketing and If/Then triggers help to turn contest entrants into sales
Lead profiling and databasing allow you to see the profiles and behavior of new leads
Social Media Contest App #2: ShortStack
More than 5,000,000 campaigns have been run with Shortstack since it started a few years ago. It's a great platform, though you should keep an eye on the view-restriction which is such a big part of their plans. Be sure you don't run into that view wall with your expected traffic or you'll have to upgrade halfway through your social media contest.
Features:
20+ campaign templates for several different social media content types
Simple "If This/Then That" scenarios
Auto-response email tool
Analytics and team editing
Share and Action-incentives (bonus entry)
Action-gating (work within the If/Then tool) to require activity from leads
Social Media Contest App #3: WooBox

Woobox is the social media contest tool that has been around the longest (since 2010). Trusted by over 4 million brands, their clients have driven more than a billion actions since its origin.
Features:
WordPress Plugin
Campaigns can be hosted on social media, your website and more
Integrations with the leading software providers for email and CRM
Different strategies for different industries are offered, including printable coupons for brick-and-mortar stores
Social Media Contest App #4: Heyo

Heyo was also one of the first social media contest apps out there. They were bought by larger social marketing platform Votigo a couple years ago, and are focused on creating the simplest and quickest social media contests.
Features:
Offer multiple social media contest types including sweepstakes, referral, instant-win, trivia, hashtag and photo contests, and trivia contests with simple templates
Share incentive tools
Integrations with most email marketing tools
Mobile optimization
Social Media Contest App #5: AgoraPulse

AgoraPulse is, primarily, a social media management tool. But their social media contest app has been a part of their platform since the beginning. Like Wishpond, AgoraPulse does more than just contests, so if you're looking for a social media management provider as well, look at AgoraPulse.
Features:
Offers the most common contest types including photo, sweepstakes, quizzes, instant-win and coupons
Content and social post scheduling
Reporting and Analytics
User and entrant profiles show how your Fans are engaged with your business
Social Media Contest App #6: Gleam

Gleam's app, run by only a half dozen Australians, powers more than 5,000 paying customers and is a simple, clean contest provider. Being as small as they are, the "self service" aspect of their app is a big part of it, as there's not huge resources to help you get set up.
Features:
1-Click entry
Mobile optimization
20+ languages supported
Bonus entry and "viral sharing" popups
Integrations with email and CRM platforms
Social Media Contest App #7: Kickoff Labs

Kickoff Labs is a small team who focus on marketing campaigns in general rather than exclusively social media contests. Their platform is based around landing pages and "viral boost" tools (referral incentives).
Features:
Referral Incentive campaigns
Landing page and campaign templates
Mobile responsive
Contest entrant leaderboard
A/B testing
A Step-by-Step Guide to Using a Social Media Contest App:
Now that you're more informed about what's offered by the leading social media contest apps, let's dive into how you might set your next promotion up on social.
Here's a six-part step-by-step walkthrough of how we set up a recent campaign using the Wishpond social media contest app.
Step 1: Design your Social Media Contest Page and Embed it on Social Media
---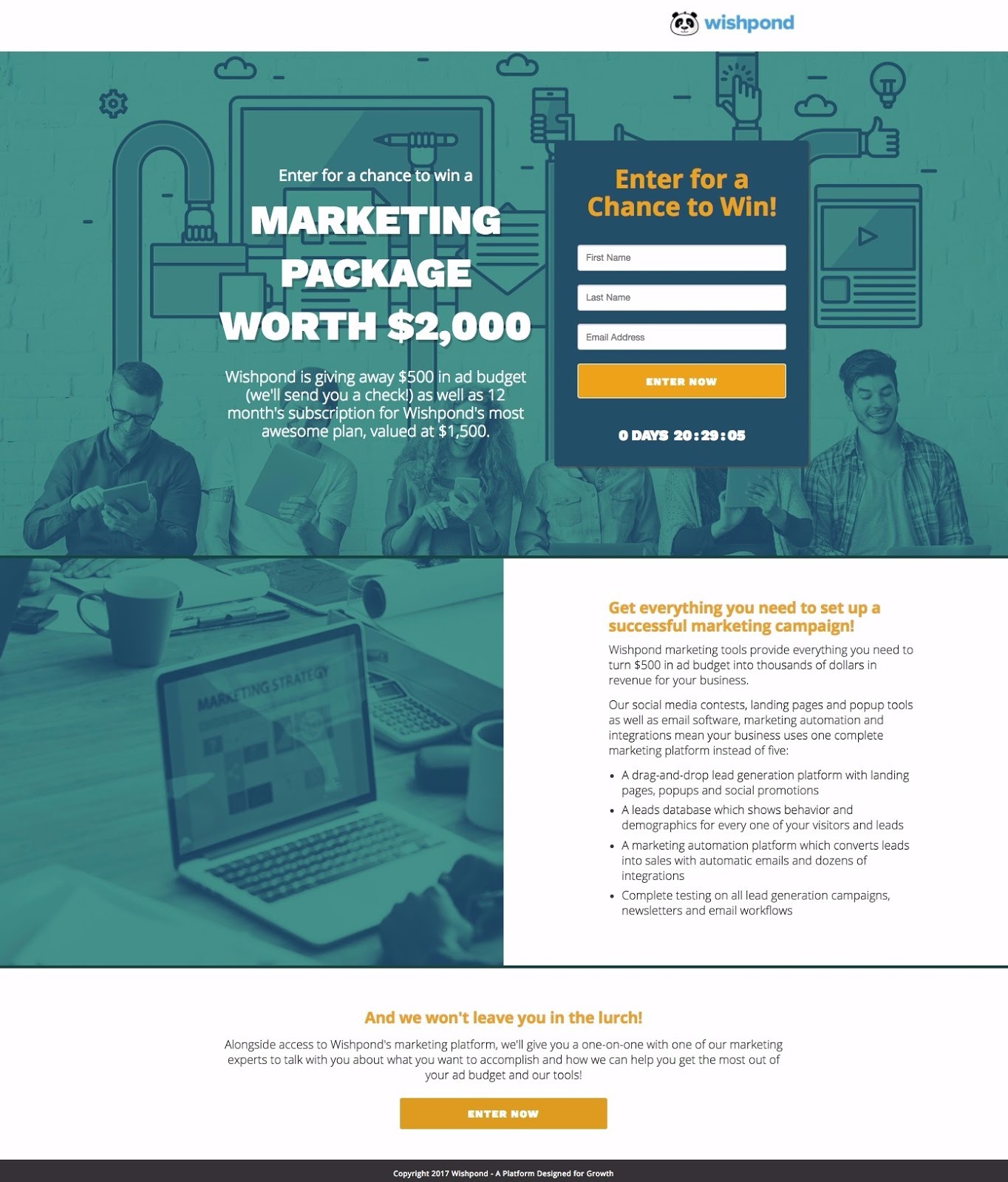 Wishpond's social media contest app makes it easy to choose where you want your contest to show: your website, your Facebook Page, your blog or both your Facebook Page and your Website…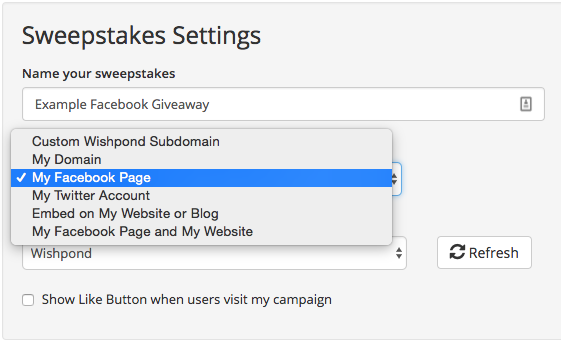 Step 2: Add a Bonus Entry Popup to Get People to Spread the Word
---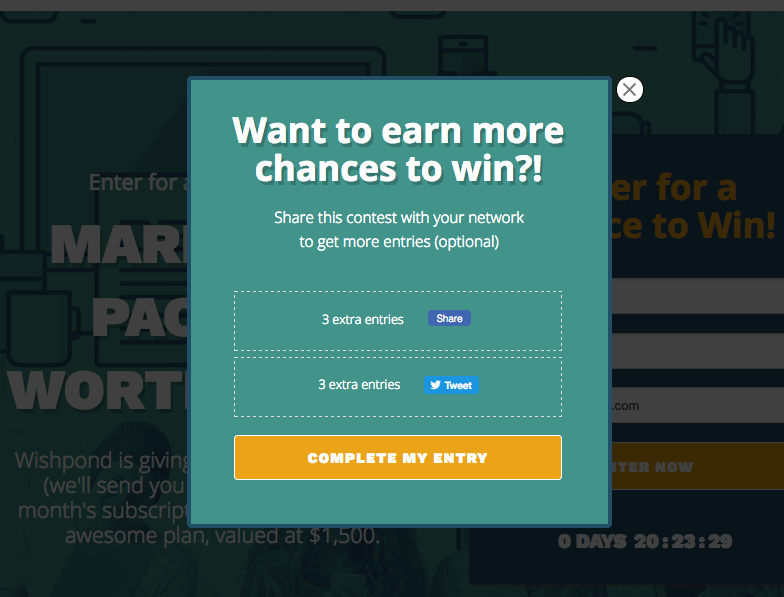 Bonus entry popups can appear as soon as someone clicks "Enter" within your contest page. They're an awesome way to get your newsletter and existing social media fans to share your contest with people you don't yet know.
Step 3: Set up An Auto-Response Email
---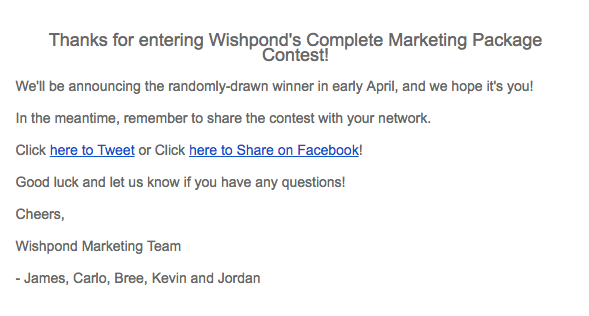 The most important element of an auto-response email is to thank people for entering and then give them easy, clickable, ways to share your contest with their network: Click to Tweet and Click to Share on Facebook
Check out ClicktoTweet.com and Sharelinkgenerator.com to make adding these links easy.
Step 4: Tell your Newsletter Subscribers About your Social Media Contest
---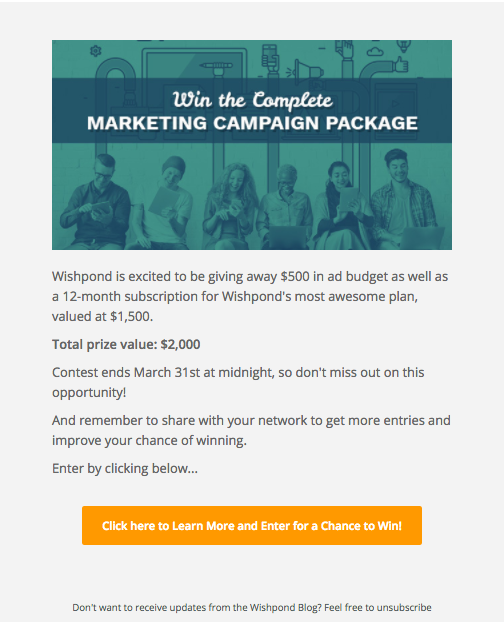 The bonus entry popup helps your business spread the word about your contest, but you need to get people to the page in the first place. And that's where your blog subscribers or existing customers come in. These are people you know are interested in your products or platform, so they'll be super interested in winning free stuff.
Step 5: Schedule and Send your Social Media Posts
---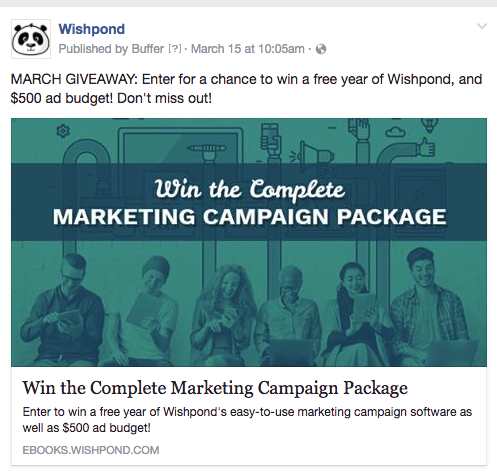 Alongside your newsletter, you can use social media itself to raise awareness about your contest (and contests are an awesome way to get the contact details of Fans).
Create 3-5 social media posts to be published throughout the two-week span of your contest which raise awareness. Best practice is also to remind people (in the last couple posts) that their chance to win only has 72 or 48 hours left.
Step 6: Follow Up With the People who Entered After the Contest
---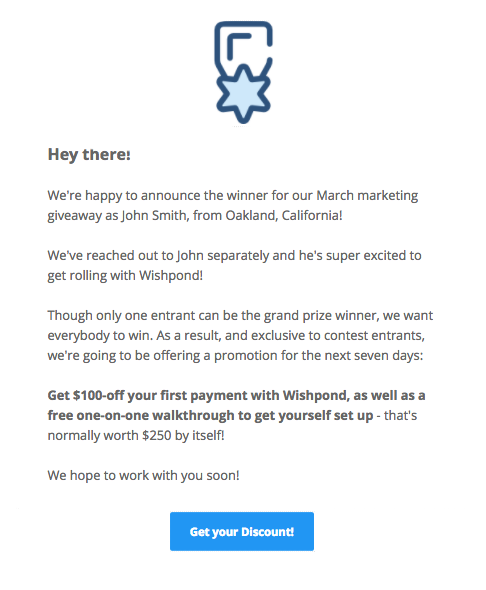 Social media contests can boost your engagement on Facebook and Twitter, provide value to Fans, and raise awareness about your business.
But ultimately, they're primarily about getting the contact information about prospective customers. But there's no point in getting an email address if you aren't going to use it.
The best strategy is to send all contest entrants a limited-time discount or coupon code for the product or platform they wanted to win.
Schedule a couple emails:
Send one as soon as the contest has ended and you've gotten in touch with your randomly-selected winner (not before you've gotten in touch with them, though). Inform your entrants that the coupon is only available for a week or two, and then it will expire.
Send another email 48 or 24 hours before the coupon expires letting them know they only have a few more hours to take advantage before it goes away.
Wrapping it Up
Hopefully this resource has given you a better understanding of what social media contest apps are out there, and how they compare. Each one has something going for it, but at least you're now a bit better informed as you do your shopping around.
And if you have any questions, don't hesitate to reach out in the comment section below. I promise to be completely unbiased in my responses!
Cheers!
Related Reading:
james-scherer-2