Do you own a restaurant, or do marketing for one?
One of the best ways to drive interested, local business for your restaurant is to run a contest on social media. It's exciting, engaging, and awesome for getting more people through the door.
I've put together 20 awesome restaurant contest ideas for your next social media promotion. This features prize ideas, contest themes, promotion methods, and more.
Let's dig in…

Why Run a Restaurant Giveaway?
Before we get into all of our restaurant contest ideas, let's quickly go over the importance of a contest like this for your business.
Running an online promotion is a highly effective way of increasing engagement, boosting your restaurant's brand awareness, and generating excitement around a much bigger audience.
You can run the contest through social media and direct people to a landing page on your restaurant's website. This allows your business to draw in a bigger customer audience while using the contest as a lead generation strategy. Each time someone enters, you can capture their details and remarket to them. This is a great example of how you can turn a contest entry into a customer.
Yes, you will have to pick and announce a contest winner and provide a prize. However, for any good contest, this will be a small price to pay for the bigger audience that you will reach. Loads of your contest entrants will end up coming to your restaurant after the contest has finished. This means more sales and a larger customer base.
One important consideration is to establish goals for your contests. Before you post a giveaway, think about what you want to achieve from it. Yes, the main goal is to get more customers, but restaurants could post contests for various reasons. This could include gaining more reviews, boosting sales as a result of the contest, generating leads, or increasing brand awareness, to name a few reasons.
Restaurants will have to give away some kind of free prize. This could be done once off, annually, monthly, or weekly. Whatever the case, make sure that your contest first has clear goals so that you can structure the contest around these goals.
How Do Restaurant Giveaways Work?
How do online giveaways work?
Essentially, your restaurant enables people to enter to win a prize. They're asked to complete an action (usually the submittal of contact details) to be entered.
You have a few options for how to run a giveaway…
You can run them casually, offering your Facebook or Instagram Followers a chance to win if they comment, use a hashtag or Like a Post. Give a prize to a randomly-selected Fan. This is an effective way to increase the value of Following you, and a great (though expensive) strategy for increasing social media engagement.
You can run them more seriously, using a third-party giveaway tool (like Wishpond) to host your contest page. This will allow you to get people's email addresses as well as tap into the really valuable stuff like social share incentives, referral links, Like prompt popups, and more.
What does my restaurant get out of online giveaways?
If promoted well and with a solid strategy behind them, online giveaways can be used to achieve a number of different objectives for your restaurant…
Instagram giveaways can actually require people to Follow your account to enter. They're a great way to increase your number of social followers on Instagram..
Social share incentive giveaways increase your social media following by getting entrants to share your Page or profile with their networks to get extra entries to win.
Photo, vote and essay giveaways give you content (photos and testimonials) from prospective or existing customers.
You get a general buzz around your restaurant from having a lot of people talking about you.
You get the excitement, enthusiasm and loyalty of the winners.
You get the potential to increase the organic reach of your social media posts.
You drive traffic to your website.
Boost the number of contacts you have to drive back to your restaurant down the line.
Restaurant Prize Ideas
Any good restaurant contest ideas need to start with the right prize. When running a contest, the prize is what attracts new customers and gathers more attention across social media. So before you create any giveaways for your restaurant, you will need to select a prize to attract entrants. Here are some great ideas that you can use.
Restaurant Contest Idea #1: Gift Card
One of our favorite prize ideas here at Wishpond is a gift card. They're great because they ensure that everyone entering your contest is already interested in your restaurant, so you can market to them effectively through email after the contest is over.
Giving away a gift card also means the winner is going to be business for your restaurant – and that means potential return customers. Something simple like a gift card dinner for two is a great way to attract potential customers, and it shouldn't set you back too much. You could also give away a gift card for a free dish, but the winner will still end up buying drinks. They might also bring friends who end up paying. This means you give away one free meal, but you still get to generate additional business from it.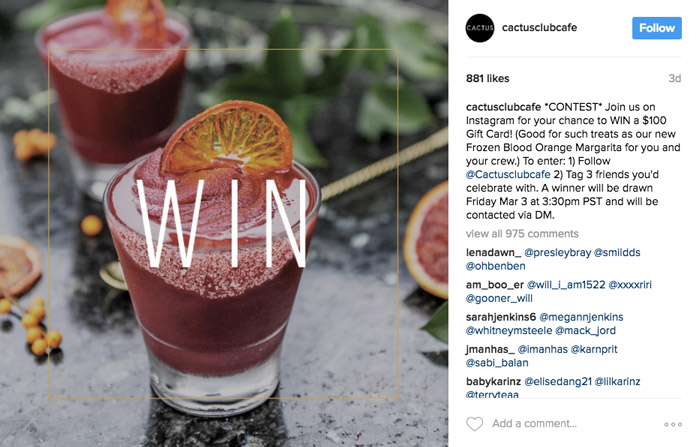 Restaurant Contest Idea #2: Night Out
One of the best ideas for your giveaway is to partner with another local company to put together an awesome prize bundle. Though anything goes, I'd recommend you partner with another local experience. Something that pairs well with a nice lunch or meal, like a theatre production or something a little more thrilling. Pair up to offer a "night out" prize bundle. This is great because it also allows you to attract the other business's customers during marketing.
Restaurant Contest Idea #3: Free Dinner for a Year
One of the most popular prize ideas for a contest is the "free [product] for a year," and you can use this idea for your next contest as well. Giving away free dinner for a year or something similar is an enticing prize idea that will help you maximize the number of conversions you get on your restaurant contest page.
When it comes to restaurant contest ideas, this is a big giveaway prize. However, that also means more entrants. It's also a great way to build loyalty because the winners will get in a routine of coming back to your restaurant regularly, and they will probably bring friends who will help drive up your sales.
Restaurant Contest Idea #4: Restaurant Recipe Book
Here's an idea that's a little out of the box. Though your end goal should be to get people into the door of your restaurant, a prize idea that could be exciting is a book of recipes from your restaurant. I'm not saying you should give away all of your trade secrets, but giving away a tailor-made book of some of your favorite restaurant (or even restaurant-inspired) dishes is an enticing and interesting prize idea.
Restaurant contest ideas like this can help to generate more buzz around your restaurant and get people more excited to try your food. A promotion based on a specialized recipe book is also quite exclusive, so the prize will bring in a lot of attention.
Restaurant Contest Idea #5: Cooking Class
This is another fun giveaway. Creating an exclusive giveaway experience like hosting a special cooking class creates an attractive offer that people can't get anywhere else. People who are interested in your restaurant and the food you serve (or just local eats in general!) are likely to enter because it's something that's incredibly unique. If you're not up to a cooking class, try some other experience – food photography, for example! If the experience is good, then the participants will likely become customers of your restaurant after the promotion.
Restaurant Contest Idea #6: Merchandise
If you're the trendy type of restaurant that has its own merchandise (whether that's clothing or fancy beer mugs), you can give it away as part of your prize giveaway. There's a definite possibility that people like entering contests because they get something tangible. Pairing restaurant merchandise with a free dinner can make for the perfect prize package.
When thinking of restaurant contest ideas, you could also offer smaller merchandise as a second or third prize. This could even be done each week or month. The branded merchandise you give away will also help to promote your restaurant.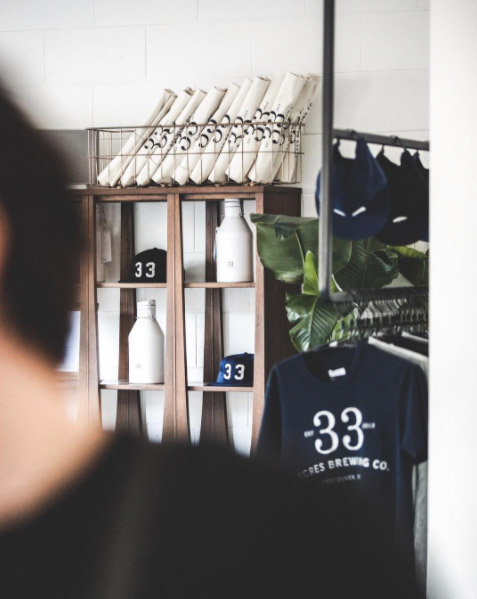 Restaurant Contest Idea #7: Behind-the-Scenes Restaurant Tour
Another experience-based prize idea you can use is to give contest winners a behind-the-scenes look into your restaurant and how it works. If you've got a particularly interesting restaurant, you can take people behind the scenes into your kitchen (and beyond) to show them how your company operates and how you do what you do best. And, of course, offer them tastings of menu items and a meal on the house.
This is a fun and cost-effective way to increase your restaurant's popularity. The winner of the tour will also probably end up spreading positive news about your restaurant to their circle.
Restaurant Contest Idea #8: Cocktail Party
A final restaurant contest prize idea you can use is to host a cocktail party (or some type of evening event) for the winner and their friends. It's a little more extravagant, but that's what makes it so exciting – the winner will have your restaurant all to themselves (and their friends of choice). They'll get food and drinks for the evening – a great time for all!
When it comes to restaurant contest ideas, this is an exclusive offer. If you document the evening well, you will be able to use it as an example of what other customers could book. This is an effective way of generating more interest in your restaurant and enticing people to use your space for their events.
Restaurant Contest Ideas
Now that you've given your customers a chance to win something exciting, you will need to have a clear plan on how the contest will roll out. Here are some great contest ideas to help boost your marketing and get you more customers.
You can also take a look at these free contest templates and these 50 best competition ideas to help you get started.
Restaurant Contest Idea #9: Tag a Friend
Instagram is the perfect social media platform for food, which tends to be a visual spectacle. As Instagram continues to grow, social media contests on the platform continue to rise rapidly in popularity. A popular type of Instagram contest is the simple "comment-to-enter" contest. You can run this type of contest for your restaurant by posting a photo of one of your dishes on Instagram with the caption, "tag two friends you'd like to have dinner with for the chance to win a free meal on us!"
This is one of the best social media channels to promote your restaurant because you can really show off the visual appeal of your food. Getting your followers to tag their friends will also create a snowball effect which helps to get your promotion seen by more potential customers. Even if people don't win the giveaway, they will still want to come and eat at your restaurant after being enticed through social media.
Restaurant Contest Idea #10: Your Favorite Dish
Another type of contest you can run is a photo contest. Photo restaurant contests are exciting because they add another dimension to your contest – people are naturally more engaged when they need to submit their own content to enter a contest. Get them to take a photo with their favorite dish from your restaurant – this gets more people in the door and makes for some great user-generated content.
Besides getting your food and restaurant out there on social media, you might also get more customers coming in to post photos online for the giveaway. Alternatively, you could try this as a selfie contest with an interesting backdrop.
Restaurant Contest Idea #11: Restaurant Memories
Here's another great idea for a photo contest. Instead of highlighting the food, get participants to submit photos of their favorite memories from your restaurant. Again, it's a great source of user-generated content. This content can be used in future marketing campaigns to show how much people love your restaurant. If you want to increase the effectiveness of this content, get entrants to talk about the memories they've had there as part of their contest entry.
This encourages your audience to think about your brand and create helpful content. Their posts will help to bring in new restaurant customers, as well as promote their own loyalty.
Restaurant Contest Idea #12: Seasonal Themes
Contest best practices dictate that running certain promotions that are directly related to a certain event or season generally get more entrants. This is because they're connected to something that's top of mind. For a restaurant, Thanksgiving and Christmas are two seasons that are perfect for restaurant contests and giveaways. There's not much you need to do differently here – just "theme" your contest image, page and copy to be seasonally relevant. For example, your headline might be "'Tis the Season: Celebrate with a Free Christmas Dinner!"
Because these contests are being assisted by an already popular holiday, they will end up attracting more engagement and customer interest. This is also one of the best contest ideas to help your business gain popularity on social media because users are already searching for specific holiday events.
Restaurant Contest Idea #13: Event Themes
In the vein of the previous contest idea, the Superbowl is another huge time of year for some businesses. Capitalize on this by hosting a Superbowl (or Olympics, or Stanley Cup, or March Madness) contest, if it fits your restaurant's atmosphere. You can do a simple themed sweepstake, and make the prize relevant by marketing it as a "Superbowl Dinner" that you host for the winner and their friends.
When following contest ideas like this, remember that these big events are already at the front of your customers' minds, so it's the perfect time for your business to attract engagement from these customers.
Restaurant Contest Idea #14: Celebrate a Loved One
Here's one last themed contest idea! These holidays naturally lend themselves to contests – you can host one under the pretense that they'll win a "Free Dinner for Your (Mom/Dad/Significant Other)". People are often itching to get good gift ideas around this time of year – and a free meal isn't so shabby. Photo or essay contests are great for this, as people can talk about why they want to win a prize for their loved ones.
Contest ideas like this can help you to generate more engagement and reach a bigger audience. This is a great way to get your brand out to loads of people without having to spend a fortune on promotions or giveaways.
Restaurant Contest Idea #15: Design a Menu Item
And another one of our creative contest ideas – get people to think up a cool menu item for your restaurant. I'd keep it at least somewhat themed; for example, make every entrant think up a new set of toppings for a burger or a new type of nacho dish. This works great as a vote contest so your fans can weigh in on their favorite creations. As part of your prize, feature the winning dish as a menu item in your restaurant for a limited time (or even permanently, if it's good!).
This is a great idea for a giveaway for a couple of reasons. It helps to engage your audience and get people to start thinking about your food and menu. You get to enjoy all of the promotion benefits of running an online giveaway, and you get a new menu item. This will help to entice the people who voted for this dish, as well as new customers who want to try a limited-edition dish on your menu.

How to Promote Your Restaurants Contests
Now that you have plenty of ideas for prizes and giveaways, you will need to start marketing your contest. To make sure that you attract a big enough audience online, you can try the following approaches.
Restaurant Contest Idea #16: Run Ads
If you're running a contest, one of the best ways you can market your contest is through social media ads. Facebook and Instagram share an incredibly powerful ad platform. It will help you target local, interested social media traffic and direct it towards your contest. Though you shouldn't spend too much (more than the expected return on your contest), put some serious thought into crafting an engaging and effective ad campaign.
Beyond your Facebook page, you could also get the contest onto other platforms, like TikTok. This could help your business to attract a whole new audience.
Restaurant Contest Idea #17: Partner With a Local Influencer
Influencer marketing can be huge for local businesses. Whether it's a community account or a single influencer, partnering with a social media profile that has a significant local presence can massively boost the reach of your contest. Get them to be the "face" of your contest, promoting it on all of their social platforms and putting your contest link in their bio. This helps take advantage of interested local traffic, who are most likely to convert to your promotion.
There are loads of local foodie influencers on Instagram and Facebook that could attract a big audience to your online giveaway. Just make sure that you choose the influencer wisely, and that their posts help to create the right buzz around your contest.
Restaurant Contest Idea #18: Advertise on In-Store Materials
As a restaurant, you have a ton of opportunities to market to your existing clientele. Though your ultimate goal is to get new customers, getting existing ones to share your contest with their friends and family is a good place to start in terms of campaign promotion. Advertise your contest on things you have in-store – add it to receipts, post signage, and get your employees to tell customers to enter the contest and share it on their social platforms.
Restaurants should always try to use their space to create awareness around their contest. This is one of the easiest ways to start marketing your contests.
Restaurant Contest Idea #19: Community Events
As a local business, one of the best things you can do to drive success and create connections is to attend events that put you directly in touch with the people who have an impact on your business: your community. Attend big community events and set up a booth to spread the word about your business and promote your contest.
Set up tablets or laptops at your booth so people can enter right away, and of course, have engaging signage that pulls people towards your stand. Who said grassroots marketing was dead?
Restaurant Contest Idea #20: Update Online Assets
Finally, it's kind of a no-brainer, but something you should do anyway: update your online assets to promote your contest. At the simplest level, this means updating your Instagram bio and Facebook and Twitter cover photos to point profile viewers towards your contest. On top of this, you can update your website, post a new update, or even add a website popup to get people to view your contest page and convert.
You should also have a dedicated landing page for your giveaway. This will help your business to gather new leads for future marketing efforts. Post your restaurant giveaway regularly, and make sure that the contest is clear on your website.
10 Restaurant Giveaway Best Practices
Make it obvious and clear how people can enter.
Feature your giveaway's prize in the headline. If applicable, feature the prize value.
Put energy and resources into a high-quality image. Good resolution, large. Your restaurant's food or table settings are beautiful – feature them.
Don't be afraid to ask your followers to share your giveaway with their own networks. In your "how to enter," make one of the steps "share with your friends!" (even if it's not actually required).
Add a Like prompt popup to your Facebook giveaway (if you're running on Facebook). This doesn't require people to Like your Page to enter, but it does encourage them to do so. If you're running a giveaway on Instagram, consider a third-party platform which allows you to make Following you a required part of the giveaway.
Limit the information you request from entrants to a name and email address. The more information you ask for, the fewer people who see your giveaway's page will actually enter.
Ensure entrants know that you're only accepting people who reside/work in your restaurant's local area. There's no point in getting entrants from Seattle if you're in Tallahassee.
Write your rules and regulations and publish them on a separate page of your website. Link to this page from the giveaway page, or you'll have too much text, and people will get overwhelmed.
Try to come up with a prize that will attract people you'll be able to sell to again in the future. If you're a sports bar, make your prize directly related to a sporting event. If you're fancy, consider a wine-and-cheese night. Don't give away something which will attract people who won't be interested in going to your restaurant after your giveaway is over.
Be sure you have a follow-up strategy. How are you going to get your giveaway entrants back to your restaurant after the contest is over? A discount? A promotion? If so, how are you going to communicate with them?
The Last Bite
That's a lot to digest! Hopefully, these ideas have cooked up some new inspiration for your next successful contest.
Contests and giveaways are an excellent way to boost engagement, brand awareness, and attract a larger customer audience. If done correctly, running a hospitality contest should offer an amazing ROI.
Anything I missed here? Maybe there's something you've tried in the past that's done awesome for your restaurant. Let me know in the comments below!
Related Reading
carlo