Facebook Marketing Tools: The Ultimate Resource (2017)
Are you looking to make your life a bit easier when it comes to Facebook marketing?
Do you have more on your marketing plate than Facebook, and wishing there were a way for you to make your time more efficient without losing results?
No matter if you're just starting to use Facebook as a marketing tool or you've been a social media manager since Facebook was still in Zuckerberg's dorm room, there's always room to grow.
This article will give you 90 of the top Facebook Marketing Tools, including the top Facebook management apps, tools to grow your following, tools for influencer research, and tools for visual marketing. All in one place!
Facebook Marketing Tools for Platform Management
The easiest way to save yourself time is to get someone to help you. And it's cheaper to pay a platform management tool than it is to hire another marketer.
These platforms give you another set of hands to publish when you want, and many of them can identify, curate and recommend content which you may want to share based on the past performance of your posts.
And the analytics side? Well I wouldn't put my nose up at the ability to see the performance of all my posts side by side and over time.
Here are 17 of the top Facebook Marketing Tools for Platform Management:
Facebook Marketing Tools to Grow your Following
---
Once you have a tool to help you manage being on Facebook for your business, you need to start growing your Fans. After all, there's no point in publishing a single thing if there's no one out there to see it!
Here are 7 of the top Facebook Marketing Tools for Growing your Following:
When shopping around for a Facebook marketing tool to grow your following, ensure you get one with the "bonus entry" feature. Essntially, this allows you to give contest entrants more chances to win if they Share or Like your Facebook Page. This is a huge boon when growing your Fanbase.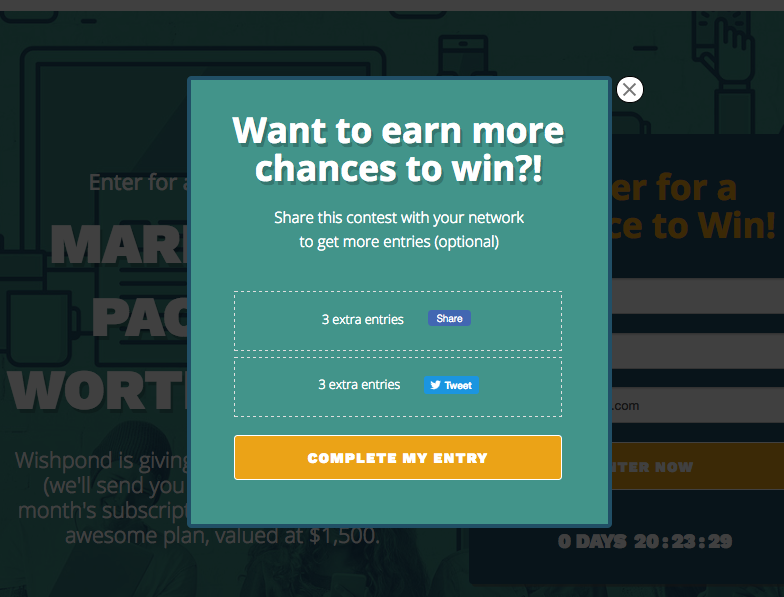 For more on these Facebook marketing apps, check out Social Media Contest Apps; The Ultimate Guide 2017
Facebook Marketing Tools for Influencer Research
Facebook, like other social media platforms, has its influencers and thought-leaders. And identifying who these people are in your industry allows you to reach out to them and create a relationship.
And, believe me when I say, having an influencer Share your content or brand on Facebook can yield huge returns.
Here are 6 of the top Facebook Marketing Tools for Researching and Finding Influencers in your Industry:
Facebook Marketing Tools for Visual Marketing
There's no argument anymore - visual content does better than non-visual.
Whether this is video, images or gifs doesn't matter. What does it that any self-respecting Facebook marketer doesn't post a single word unless there's a picture alongside it.
This section will give you free image resources, font, icon and color recommendations, and the tools to combine images and text into a beautiful, professional-looking graphic.
Free Images and Backgrounds
Font, Icon & Color Recommendations
Fonts:


Icons:
Color:
Facebook Visual Creation Tools
---
Here are my top 10 visual creation tools - tools allowing you to take images, font, icons and more and turn them into a quote graphic worthy of 100 comments:
Wrapping it Up
---
Hopefully this resource guide is one you can save and come back to from time to time.
Facebook can be a challenging platform to get right, and (more than that) compete on.
There are thousands of other businesses on the platform, all vying for the attention of your target market. Through the use of the Facebook marketing tools in this article, you can get there, though.
If you have ay questions, don't hesitate to reach out in the comment section below!
Related Reading: