Everything You Need to Create a Winning Facebook Marketing Strategy
In the morning of June 27, 2017, Facebook hit the 2 billion user milestone.
2 billion.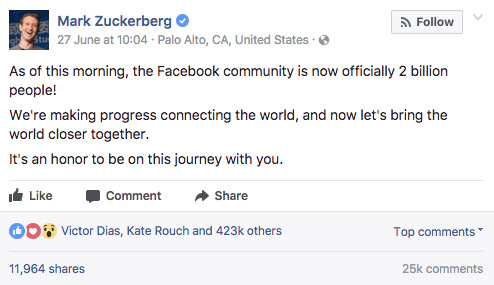 To put this into perspective, if Facebook were a continent, it would be the second-largest in the world behind only Asia. This massive population is made up of every kind of person, meaning your target market is somewhere in there just waiting to be tapped on the shoulder.
Maybe you're a business owner looking to broaden your marketing channels, or a marketer searching for some social media marketing inspiration. Either way, you're convinced of the value Facebook marketing can bring to you.
So I've put together an in-depth guide to Facebook marketing strategy. We'll cover getting started, building your fanbase, creating content, advertising, and more.
Let's get started!
Setting Up Your Facebook Page
If you're looking to market on Facebook, the first thing you'll need to do is create a Facebook Page for your business. Visit the Pages hub and click the green "Create Page" button on the top right. From here, just choose your Page type and fill in some information to get started.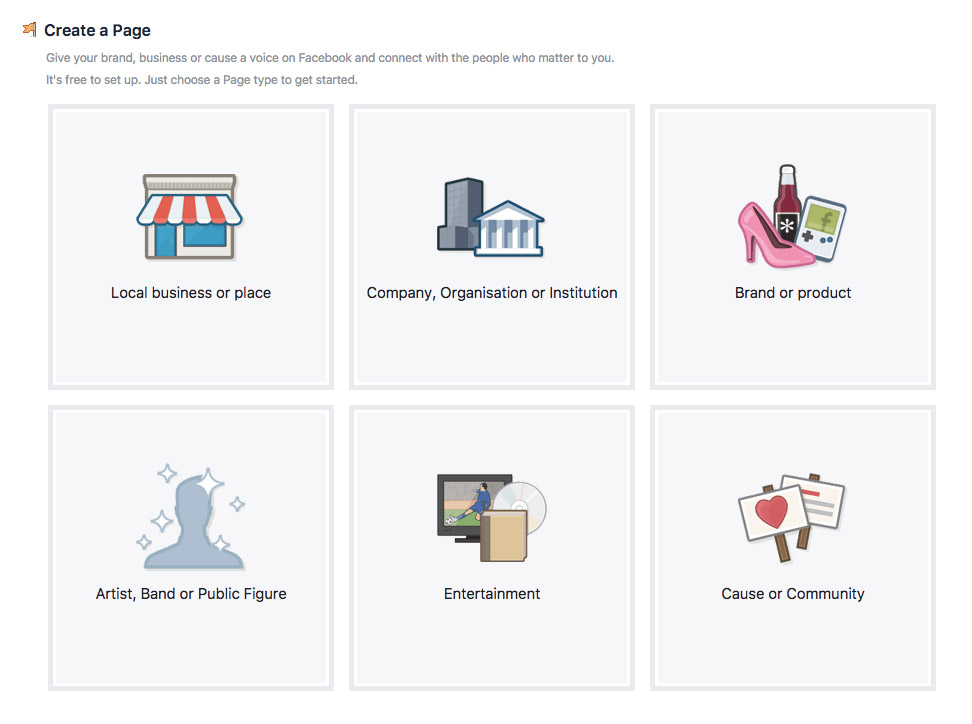 Facebook Page To-Do List:
Add a profile picture
Think of your profile picture as your Page's signage - like your front window or awning. When choosing a profile picture, it's important to select an image that's representative of your brand. Because of this, logos tend to work best here. You want to choose an image that's synonymous with your brand, so it's easily recognizable and identifiable on your Fans' news feeds.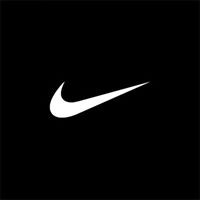 Some quick tips:
Choose a high-resolution photo with a 1:1 aspect ratio (I'd recommend a photo that's at least 500 x 500px). This helps your photo look good at larger sizes.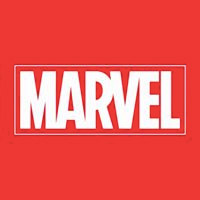 Use your logo. It's the best representation of your business, and will go a long way towards brand recognition on social media.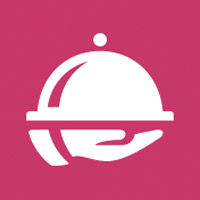 Avoid text. Your profile image is generally seen at small sizes, which means text will be basically unreadable.
Add a cover photo
If your profile picture is your Page's face, your cover photo is its storefront. Like any retail storefront, your cover photo should be constantly changing to highlight any new promotions or products from your business. Like an effective sign, keep detailed information at your cover photo to a minimum to maximize the clarity of your promotion.
Cover photo tips:
Make your cover photo 851px wide and 315px high. This is Facebook's native cover photo resolution, and will ensure no part of your photo gets cropped out on your profile.
Try to keep the photo under 100kb - this reduces Facebook's automatic photo compression, meaning your cover photo won't be victim to extensive artifacting.
Update it often! Your cover photo is most effective when you use it to its fullest potential. Create engaging images with new promotions or products (as I mentioned above) to get page visitors excited about the latest and greatest.
Make it move - Facebook now supports video in cover photos, meaning you can create an even more engaging experience. Cover photo videos do need to be between 20 and 90 seconds, with a resolution of at least 820 x 312px (and a recommended size of 820 x 462 px).
Some great cover photo examples:
NCIX:

ASOS:

OnePlus: (This is actually a video)

Add Page information
There's a possibility that your business' Facebook Page may become its primary online presence (as it often does for small businesses without standalone websites), it's your job to make sure that Page visitors can quickly and easily understand what your business is and the products you offer. Add a concise description to your Page that highlights your business' main value proposition.
There's also other information to add depending on your business type, including:
Parking availability
Price range
Services
Payment methods
Contact details
An example of page details, from SUGARFISH: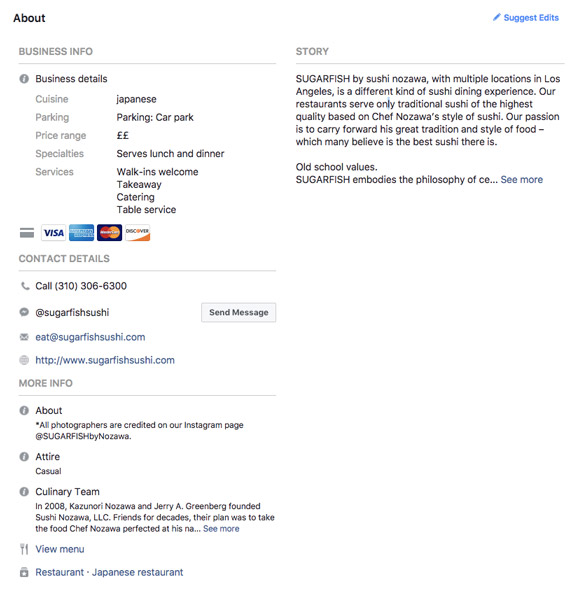 Getting Fans
Let me preface this section by making one thing clear: the number of Fans you have isn't all that important. Yes, they're great to have (for reasons I'll explain below), but they can often be a vanity metric - and not a great way to track the success of your business online.
That being said, getting more Likes on your Facebook Page to generate Fans is a key way to measure the growth of your business (at least as it relates to social media). Let's cover a few ways to get more Fans for your page:
Leverage existing customers
To help you build a solid foundation for your Facebook Page, consider reaching out to your current customers to get them to Like your Page. This strategy is super simple if you've already spent some time building a strong email list for your digital marketing efforts.
Simply send out a newsletter to your list informing them that you've created a Facebook Page, with a CTA to Like it so they can better stay up to date with new products and promotions. Remember, these are people who have already purchased from you or have signed up for your newsletter - they're much more likely to respond positively to an email like this.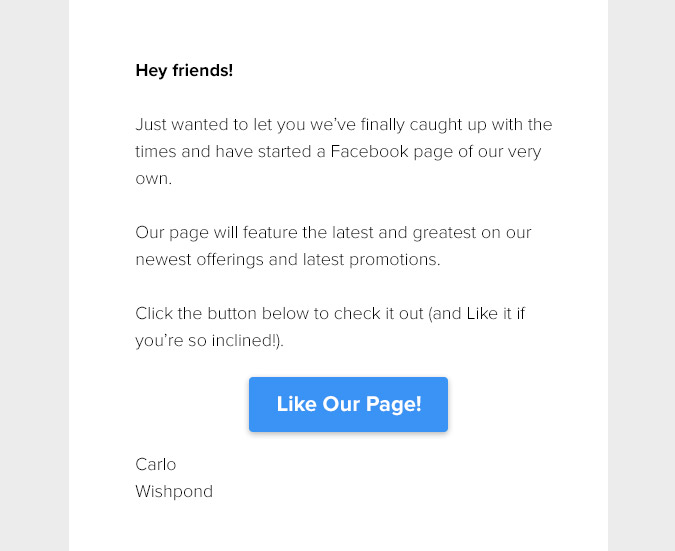 After this email, feel free to include a link to your Facebook Page in the footer of your future emails. This helps you promote the Page to newer subscribers, and can get other existing customers who didn't click through your initial announcement.
In-store advertising
If you have a retail location, you can use it to your advantage to get more likes. Most stores I've seen put up signage near their cash register (or behind their reception, depending on the business) that urges customers to Like their Facebook Page. You can go beyond this and add your Facebook profile to other in-store materials, like your bags or receipts.
Wherever you decide to promote your Page, add a short blurb that gives customers a reason to Follow ("For the latest discounts, biggest promotions and newest products, Like us on Facebook!"). Frankly, this isn't the most effective strategy because it's relatively passive - there's no real sense of urgency with an ask like this, which minimizes its impact.
Fan discounts
A more compelling, reliable way to turn people into Facebook fans is to give them some sort of incentive in exchange for Liking your page. The most direct, effective way to do this is to offer a discount (either ongoing or occasional) to your Facebook Fans. Make sure to spread this discount far and wide, promoting it to your social media profiles (including Facebook, of course), your email list, and in your retail location.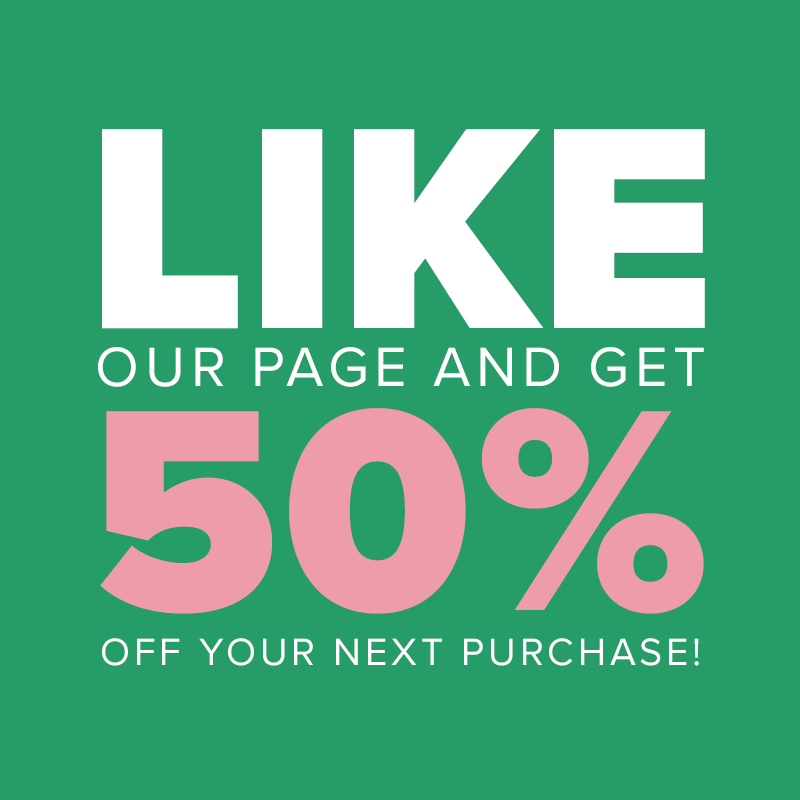 Consider updating your cover photo as well to highlight this discount, as it will immediately make Page visitors aware of your offer, increasing the chance that they'll Like your Page. This is a strategy that's more viable for retail businesses, as Facebook no longer allows you to "like-gate" promotions you run.
Contests
One of the best ways to generate new Facebook Fans is to run a contest. Contests are incredibly popular amongst even the biggest businesses on social media, and with good reason: they're one of the best ways to drastically boost engagement and pull in a large number of new Facebook Fans.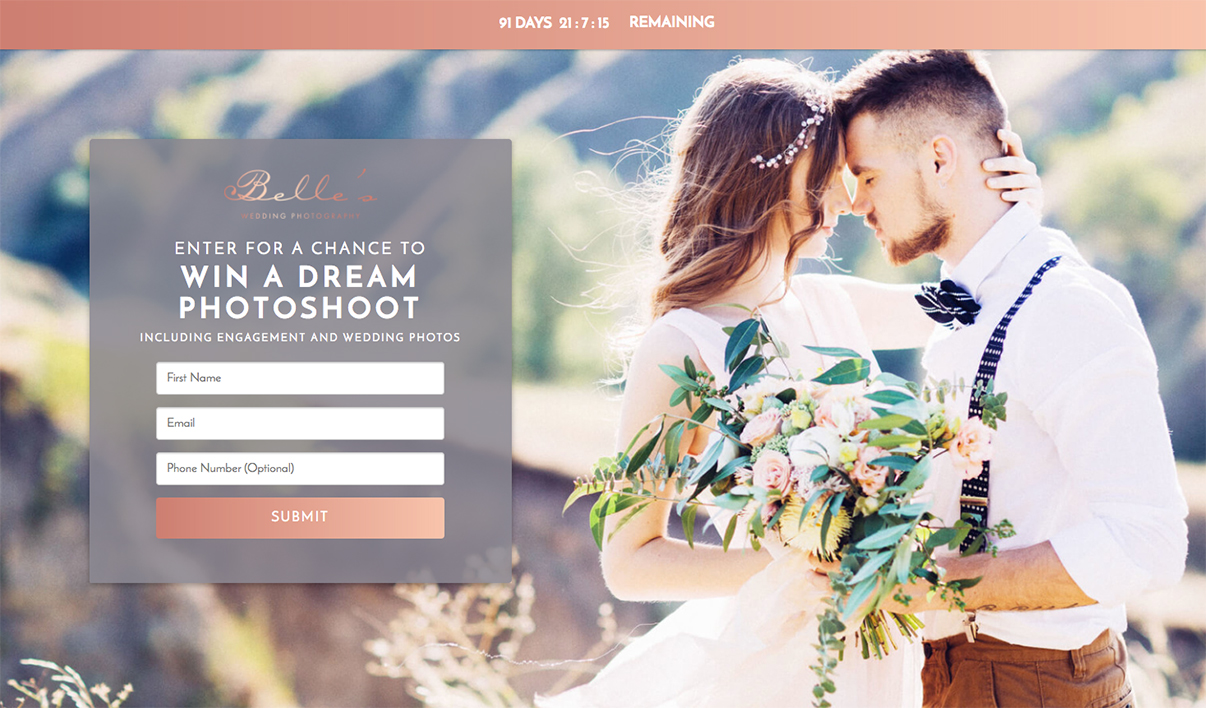 Use a third-party tool like Wishpond to run a contest like a sweepstakes, photo contest or referral contest, promote it on your social channels and add a social share popup to encourage entrants to Like your Page and share the contest to their friends and family. If you've got the budget for it, running ads to your contest (more on Facebook Ads later) can dramatically increase the number of entrants you get.
With most third-party software, you'll be able to run your contest inside a Facebook tab, meaning you can also add a Facebook "Like" popup to it. Though you can't require any entrants to Like your Page, they'll usually do so because they want to keep up to date on the contest's status.
Content Creation
So now you have yourself a great-looking Page with a ton of info, and a couple of fans. If you really want to adopt Facebook as a marketing platform for your business, you'll want to put together a sound content strategy that helps you share new information about your products and business with your (hopefully loyal) Facebook Fans.
There are a ton of different content types that you can use to promote your business on Facebook. Here are the most popular:
Text posts: Though they're now a little dated, a text post is still a viable option when it comes to making a Facebook post. Generally, I'd say they're only really usable for small things like store closure announcements, questions and things of that nature. Pretty much any other post deserves at least some sort of media companion.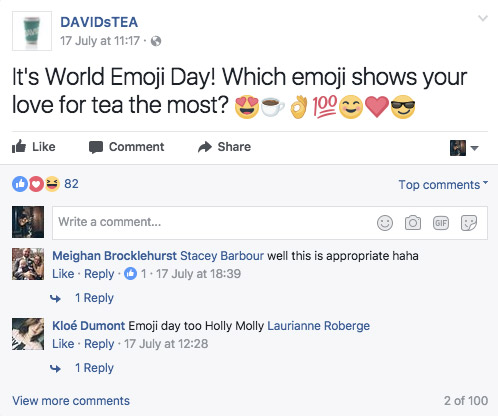 Photos: Images are great for multiple reasons. First, they're incredibly easy to create and post. Whether it's a simple photo or an image with a text overlay, you can put together awesome-looking images with just your smartphone. They're also more engaging than simple text posts - instead of using a text update to announce a sale or promotion, use an image to do the same job.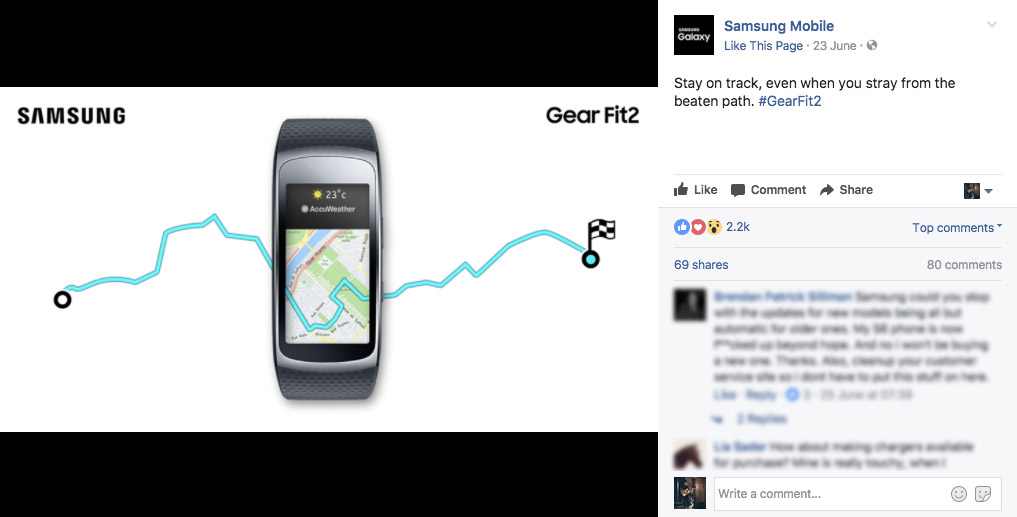 Videos: Though videos do take a little more time to put together, they're another engaging form of content that have been dramatically rising in prominence on Facebook as of late (though they're usually memes). Facebook autoplays videos on users' news feeds, so if you have an engaging one you're likely to catch Fans' attention.
Offer: One post type I don't see too often is an offer, which is a type of Facebook post that allows you to create a sales promotion of some sort. It lets you link to a specific online URL or create a coupon code, which people can redeem in-store later. Facebook also allows people to save these offers, meaning they're more likely to redeem them in the future. Pretty nifty!
Now that we've gone over the content types, let's look at a couple Facebook posting ideas and best practices:
Product photos: As shamelessly self-promotional as it is, posting product photos is a part of the Facebook posting territory. When you do this, you want to make sure you're presenting your products so they look as awesome as possible. Use a good camera (even a higher-end smartphone works) and keep lighting bright to make your product shine. Couple it with a short description and a CTA to buy!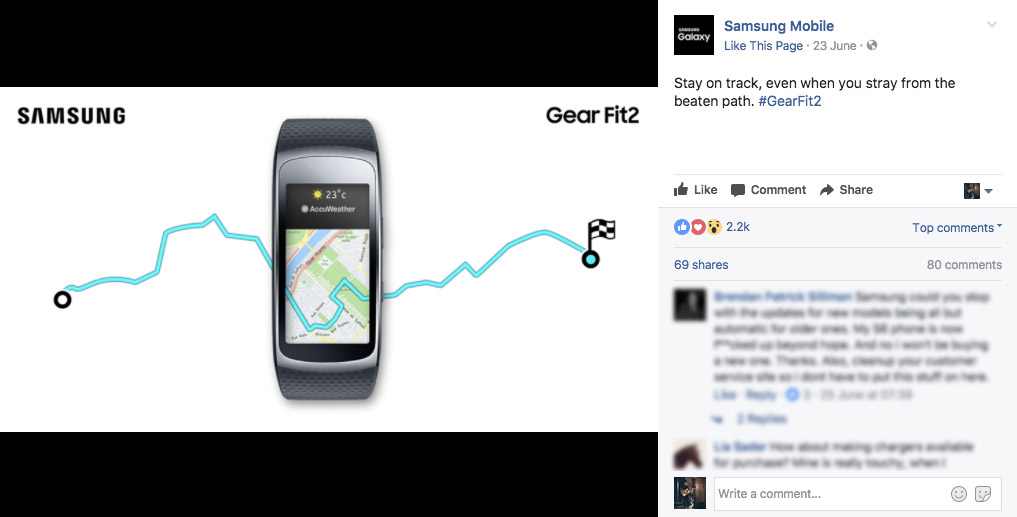 Live video: Though it's now been around for a little while, Live video still receives a huge boost in news feed ranking, meaning your Live videos are more likely to be viewed by a larger number of your Fans. Live videos ideas include a product launch, a Q&A, or an office behind-the-scenes!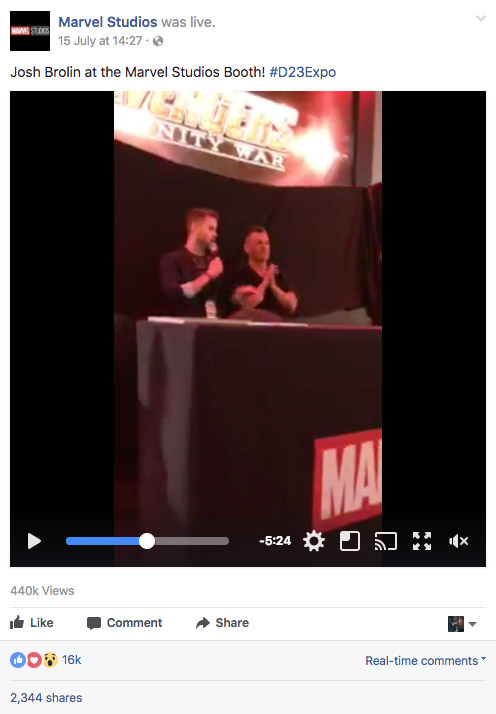 Partnered posts: Compared to Instagram, Facebook is much less an influencer-run platform. However, linking up with a popular figure within your industry to create content can help maximize your reach and introduce your product to more people. If you're a fitness apparel company, look for popular fitness YouTubers or Instagrammers to promote your products with.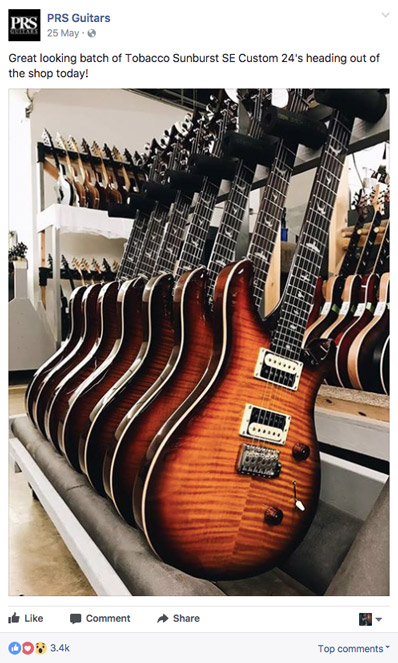 Seasonal discounts: Take advantage of Facebook's Offer tool to create promotions that are specific to certain times, like Christmas or the 4th of July. Creating a discount that only lasts a certain time is a great way to increase urgency and get Facebook Fans to buy your product.
User-generated content: One awesome perk of social media is the fact that it allows you to interact on a more personal level with fans and customers. Reward loyal fans by reposting their content (and maybe sending them a small gift) - it's a great way to beef up your content calendar and show you're listening to fans.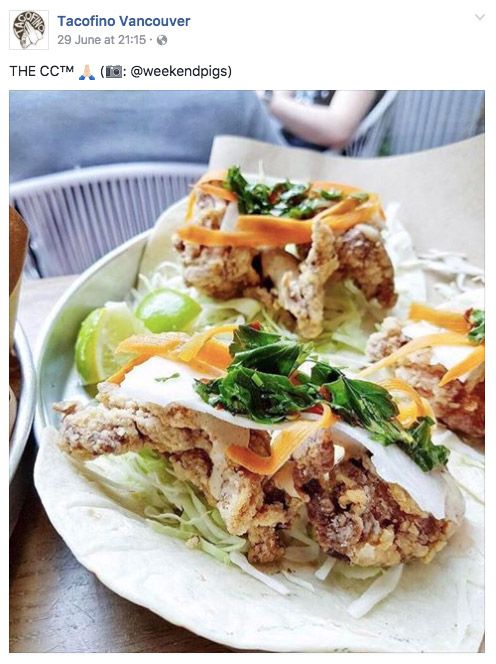 Respond to comments: Part of having a Facebook Page is allowing others to comment on your page. Whether it's a great review or an unhappy customer, make sure to respond to each and every Facebook comment. You might want to consider offering support on Facebook too, as it's quickly becoming a common platform for customers looking for product assistance.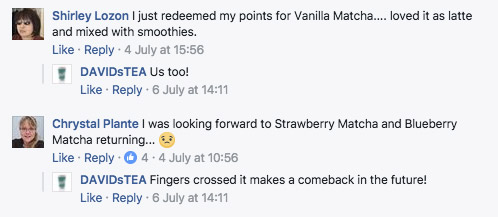 Link to content: If blogging (or another content form) is a big part of your marketing strategy, link to this content to drive more social media followers to your other channels. This can boost traffic and improves the chances of one of your content pieces going viral through Facebook sharing.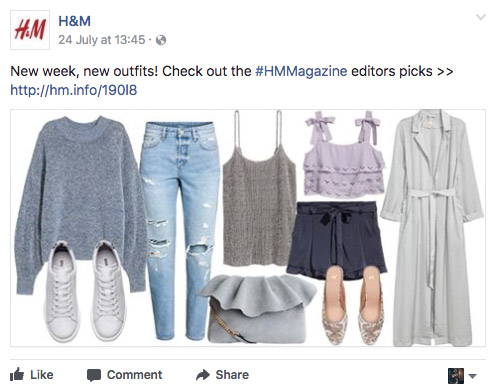 Advertising
Let's move into pay-to-play territory.
Facebook Ads has become huge - as is expected of the only native ad platform for the nearly 2-billion user social media giant. If you decide to use them, they'll become an incredibly important part of your Facebook marketing strategy.
Why? They're incredibly powerful when compared to traditional posts. They're not nearly as volatile, due to their ability to bypass the news feed's generally unpredictable algorithm. Ads are also awesome because Facebook allows you to choose an incredibly precise ad audience - this lets you market to a specific population with characteristics you choose.
Long story short? Facebook Ads can be a game-changer for your business, if they're used correctly.
There are a ton of Facebook Ad guides out there, so I'll focus on a few ad best practices:
Target intelligently: Though Facebook offers incredibly powerful ad targeting tools, you still need to understand them to use them correctly. Understand your target market - their location, age, gender, demographics, interests, and behaviours - and use this understanding to create an ad audience that matches them directly to maximize the effectiveness of your ad campaigns.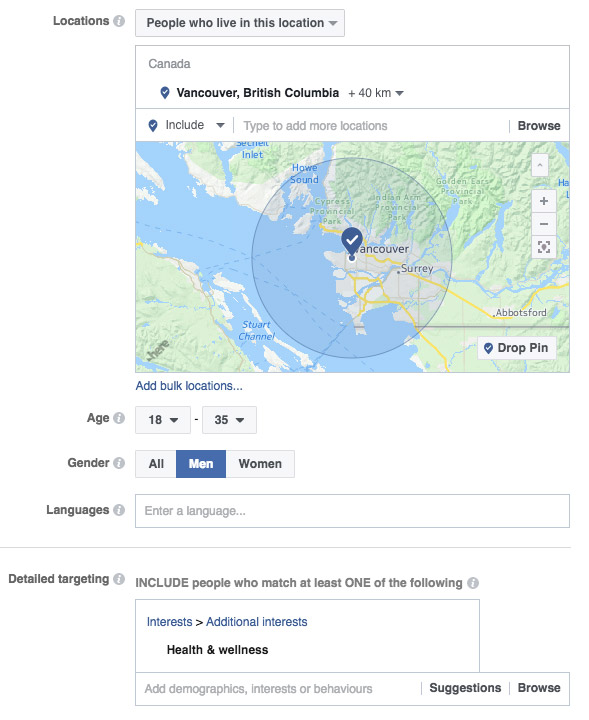 Choose your destination wisely: Depending on your business, product, and the effectiveness of your sales funnel, you'll want to determine the best place to send people who click through. A sales page or landing page (for lead gen) usually works best, but even content works - make a decision based on the size of your ask.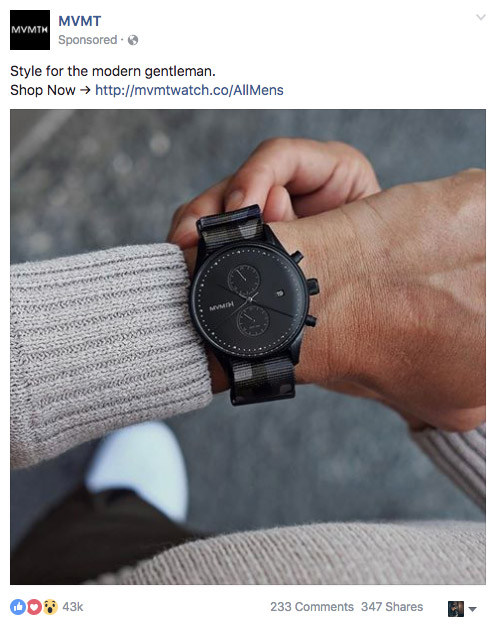 Use a compelling ad image: Your ad image might actually be the thing that decides whether or not someone stops to read your ads. I recommend choosing a high-quality image that highlights your offer well, and maybe adding a bright border (our project managers swear by them).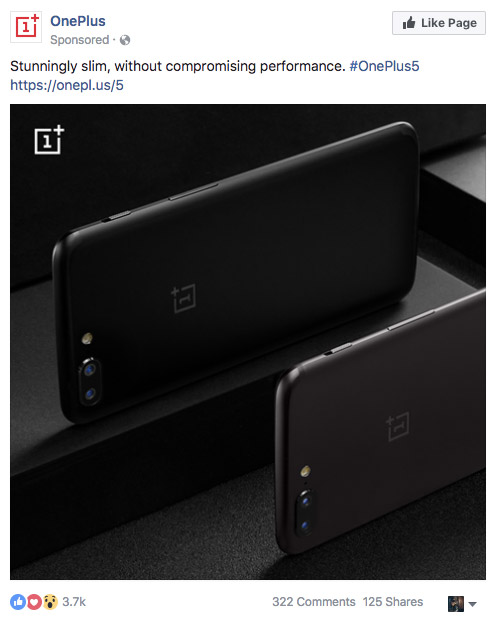 Budget wisely: Because this is a paid marketing method, you'll want to keep a close eye on your budget to make sure you're not needlessly spending money. Track the traffic you're driving through Facebook closely (you should be sending people to a dedicated landing page anyways) to see if these people are actually making you money. If not? Well, it's time to re-evaluate your ad strategy.
A/B test: One of the most valuable exercises you can do when it comes to your digital marketing is to run A/B tests on different parts of your marketing funnel, including your advertisements. Try different variations with specific hypotheses in mind (what effect will this change have on my audience?)
Copy is important: Though copy can vary greatly based on your offer, you want to write in a way that gets your ad audience excited. Utilize powerful words that command attention and demand urgency ("exclusive", "free", "limited-time"), and make sure you clearly state the offer, product or promotion you're highlighting in your ad.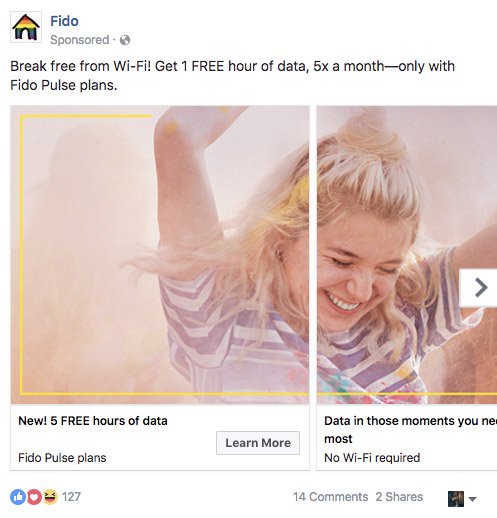 Wrapping It Up
If you've covered all of the above and put it into place - congratulations! You've successfully created a Facebook marketing strategy and made it a formidable part of your marketing funnel.
If this is your first foray into Facebook, you'll find that the next few weeks (or months, or even years) will be full of learning - from both your victories and your mistakes. Continue to look for new strategies and refine the ones you're already using.
Keep in mind, however, that this just a piece of the puzzle. If you want to drive real results - you know, money - through Facebook marketing, it's imperative you optimize the other parts of your funnel, whether they're landing pages, e-commerce pages, or sales calls with your employees… but that's another discussion entirely.
Hopefully, this guide has given you an in-depth look into building a strong Facebook marketing strategy. Questions? Ask me in the comments below!