Whenever I speak to a customer, they talk to me about their objectives with social media.
Whether it's a company CEO or a junior social media marketer, they seem to, inevitably, focus on a single goal. They want more Fans, more sales, more customers, more loyalty or more engagement through social.
The fantastic thing about social media is that it can do all of this for your business.
But doing it well? That's a bit more complicated.
This post will break down a six-step social media strategy example from a business not too different from yours (a health-food company called Bhu Foods). Even if you're B2B, there's a lot here you can take away.
Here are the six steps, right off the bat:
Step 1: Identify your primary social media objective, and determine what campaign works best to achieve that objective.
Step 2: Determine the most valuable prize or incentive which is attractive to your business' target market. Use it to incentivize completion of your objective.
Step 3: Create the page (either on your website or on social media) which enables prospective customers to get a chance to win your incentive.
Step 4: Create the collateral to drive traffic to the promotion through social media and website traffic.
Step 5: Create the advertising campaign to drive traffic to the promotion.
Step 6: Create the email marketing strategy which, if applicable, works to achieve your objective.
Let's get rolling!
Step 1: Choose the right campaign for your social media objective
---
Trying to achieve everything you want with a single campaign just results in you diluting your results.
You're far better off choosing the right social media strategy for your objective.
So let's break down the type of campaigns which work best to achieve your goals:
If you're looking for new Fans and Followers, create a referral promotion. It's the easiest way to drive new Fans, as (particularly on Instagram) you can still require people to Like your business' social media profile to enter a promotion.
If you're looking for brand awareness, create a sweepstakes with either a high-value prize or a new prize each week for a month. And use a bonus entry popup (more on that below) to incentivize sharing.
If you're looking for contact information/leads, create an online giveaway which asks for lead information to enter, and then create a bonus entry popup which incentivizes sharing (this is the strategy we'll be breaking down below, from a real ecommerce company).
If you're looking for engagement, create a promotion which shows off your Fans. Consider a photo contest where you use the winner's photo as your website homepage or magazine cover.
By the way, Wishpond makes it super easy to create all these campaigns, as well as a half-dozen others, with easy-to-use templates. Learn more by clicking here.
Step 2: Choose the Best Prize for your Objective
---
The best prize, almost across the board, is your product or service. The exception would be something like that last suggestion above: the photo contest where the prize is recognition and fame for your contest winner.
But, 9 times out of 10, the right prize is a discount on your product or a giveaway of your product itself.
Why?
Your product is only appealing to your target market, meaning only your target market will enter to win or enter to get the discount. You might think that's too restrictive, but you'd be wrong.
Selling to your target market down the line is going to be significantly easier than selling to people who entered to win a prize unrelated to your business.
My recommendation is to go with the strategy that Bhu Foods did, giving away a single line of products every time you run a new campaign, and run them on a regular basis.
As a health-foods business looking to expand their ecommerce sales, they've run three promotions in 6 months. The campaigns gave away, first, a 6-month supply of protein bars, then a 6-month supply of protein cookie dough and finally a 6-month supply of cookies. Their next campaign will be targeting the vegan market with a new line of bars they're producing.
Step 3: Create the page for your promotion
---
To achieve your social media objective, you need to have a page separate from your website which is dedicated to achieving that objective. Anything else will simply distract.
There are a couple options: publish your campaign page on social media itself or on your website.
Which publishing choice you make depends on your social media objectives. If you want social media engagement or to build your following, publish your campaign page on a Facebook tab. If you're looking for new contacts or non-Facebook engagement (Instagram perhaps), publish on your website and drive traffic from there.
Essential Elements of a Social Media Promotion Page:
Have your prize (and its value) front and center in your headline.
Include an image of your prize, or, if it's a service/software, an image of what you can accomplish with it
A countdown timer, to add urgency to the decision-making process
Share incentives to encourage entrants to share your campaign with their network (see below)
A simple form which doesn't require entrants to submit more than a couple pieces of information
A checkbox ensuring entrants have opted in and agreed to your terms and conditions (linked elsewhere)
Here's an example of a social media campaign page from Bhu Foods (notice all the best practices I mentioned above):
And a look at the share incentive tool which popped up as soon as someone clicked "Enter Today" on a Bhu Foods social media campaign:
Step 4: Create the collateral which drives traffic from your website and social media to your promotion's page
---
What gets more traffic, do you think, your website or your social media pages?
The answer, almost universally, is your website.
If you're looking to achieve your social media objectives, directing that website traffic is crucial.
The best way to move traffic to your social media campaign is through a welcome mat or opt-in bar – tools which appear to all your website visitors, but aren't intrusive because your promotion simply adds value to their experience with your business.
Here's an example of a welcome mat which Bhu Foods had on their homepage.
Social media is, of course, also a crucial element of any social media campaign. But, unless your social media objective is engagement, promoting to your existing Fans shouldn't be your top priority.
That said, encouraging your Fans to share with their networks (through the bonus entry/share incentive popup I showed above) can be a crucial part of a successful campaign. Plus, who doesn't like to deliver value to Fans?
Here's an example of a Facebook post focused around Bhu's social media giveaway:
Step 5: Create the advertising campaign to drive traffic to the promotion
---
This is where this whole thing really takes off: advertising.
Whether you've used Facebook Ads or not, I recommend you try them out for your next social media campaign. They often cost less than a dollar per click, and (Bhu Foods, for instance) managed to pay less than $2 for each new business lead they acquired.
Top Tip:
Bhu Food's strategy (and this is one I love) was to create several promotional posts (non-advertised) and see how they did on Facebook organically. Whichever their audience responded to best became their Facebook Ad.
Here's the Facebook Ad which Bhu Foods ran:
Bhu foods has trialled several different ad audiences, and continues to do so for every one of their campaigns. This is because, like any good digital advertiser, they're never satisfied. But here's an example of a successful ad audience they targeted recently for a vegan product social media promotion:
Location: United States
Age: from 18 – 55
Gender: Female
Interests: Vegan recipes, organic food, CrossFit, Gluten-free diet, Lululemon Athletica, Vegan nutrition, natural foods, Whole Foods market, veganism
Placement: Desktop Feed, Mobile
This gave them a sizeable ad audience – specific enough to exclusively drive their target market to their promotion, but large enough that the naturally-low click through rate on Facebook Ads resulted in enough traffic.
Step 6: Create your email marketing strategy
---
As strong as social media is for exposing your brand to a new audience, once you've turned that audience into a contact, email is the way forward.
Email has significantly higher view-rates than any social media platform, and enables you to communicate more reliably with your prospective customers.
If your social media objectives are purely social-media related (awareness, building your following, engagement) then use email to achieve those objectives:
Prompt your email list to Follow and Like your page.
Prompt them to Share your newest article.
Incentivize them with an Instagram giveaway which requires them to Follow your account in order to enter
Prompt them to share your Facebook Page with their network in order to get bonus entries in your next subscriber-only promotion
Create (and promote with your newsletter) social media Fan-only coupons.
If your social media objectives are focused on more "bottom-of-funnel' conversions, use email to drive those as well.
Here's an example of an auto-responder email sent by Bhu Foods to all of their contest entrants: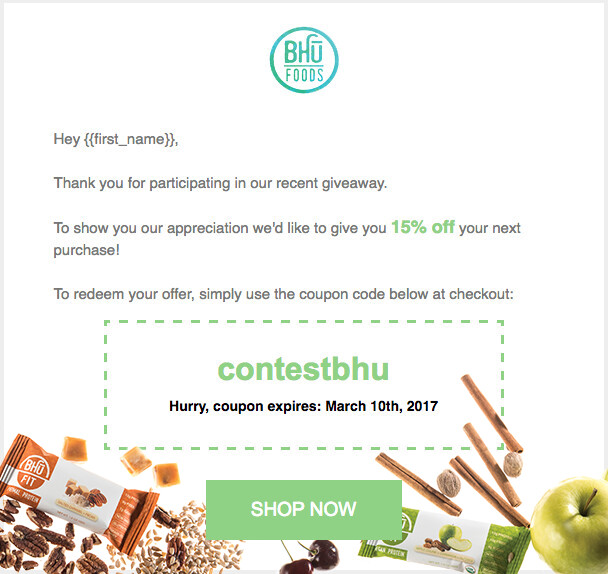 Wrapping It Up
---
By using this social media strategy on a semi-frequent basis (about four times in the past six months), Bhu Foods has driven more than 10,000 new leads and increased their online sales by about 35%.
It works.
If you have any questions about how you can implement a social media strategy like this for your business, don't hesitate to reach out in the comment section below.
james-scherer-2